The HyperTexts

Donald Trump Nicknames
Trump Family/Friends/Associates/Lapdog Nicknames

Welcome to the largest online collection of Trump-related nicknames, puns and jokes—all completely free and without annoying ads (we too loathe pop-ups). Now you can astound your friends and confound your political foes with the perfect nicknames for every occasion! Trump nicknames range from A to Z, from Agent Orange to the Zodiac Biller. Our favorites include Putin's Puppet, Hair Hitler, Hair Fuhrer, The New Furor, Adolph Twitler, Tweety, Tsarzan, King Gorge, Conigula, Gingervitis and Dire Abby. There are "superhero" nicknames like Bratman, Stuporman, Captain Shamerica and The Super Duper. But perhaps no nickname captures the "surreal Donald Trump" better than Donald Drumpf and Drumpfkopf. You can employ your browser's search feature or use CTRL-F to find nicknames for Trump's family, friends and lapdogs such as Melanoma (Melania Trump), Proxy Wife (Ivanka Trump), Aide de Kampf (Jared Kushner), Wrongway Conway (Kellyanne Conway), Koch Addict (Mike Pompeo/Mitch McConnell), Cruella DeVile (Betsy DeVos), Paul Ruin (Paul Ryan), Detourney General (Jeff Sessions) and HUD Ornament (Ben Carson). We also have Trump family nicknames like The Brooklyn Hillbullies and Trump administration nicknames like Moscow on the Hudson, the Ogle Office and The White Supremacist House, so please prepare to be entertained!

Donald Trump is now ahead of Hillary Clinton in the polls. This was just reported in The Washington Post, and 2,000 years ago in the Book of Revelation. ― Conan O'Brien

Let's get this straight: Trump releases the Nunes memo and the stock market immediately crashes 666 points. The federal budget deficit Trump's first fiscal year was 666 billion dollars. Trump's family owns 666 Fifth Avenue, a street symbolic of money (Mammon). The Trump Tower is 203 meters tall, or 666 feet high. On the Ides of March, Trump had 666 delegates. He was born on a blood moon. His ancestor who started the Trump family business died on 6-6-6. Her name was Elizabeth Christ Trump. Elizabeth means "oath" so her name can be interpreted as "oath for Christ to be trumped." Is it just me, or are we living in a real-life Omen movie?

The Top Ten Donald Trump Nicknames

(#1) THE ANTICHRIST — when the prophets spoke of the "Trump of Doom" and a "little horn" were they speaking literally? (For a YUGE slew of 666 connections, see Is Donald Trump the Antichrist?)
(#2) Short-Fingered Vulgarian — by Graydon Carter (a nickname Trump hates because he thinks it implies that he's under-endowed "down there")
(#3) Agent Orange — by Anonymous (a lethal product of deMonsanto and DonSatan)
(#4) Golden Wrecking Ball — by Sarah Palin (who was not trying to be funny)
(#5) Fuckface von Clownstick, Comedy Entrapment and Unrepentant Narcissistic Asshole (the UNAbomber?) — by Jon Stewart
(#6) The White Kanye ― by Bill Maher (or is Trump more accurately the Yellow-ish-Orange Kanye?)
(#7) Lord Voldemort, Orange Anus and Snake Oil Salesman — by Rosie O'Donnell
(#8) The Trump of Doom — by Michael R. Burch (adopted from the Bible and first used in a possibly prophetic Facebook post on September 11, 2015)
(#9) The White Pride Piper — Trump is the poster boy for the "Make AmeriKKKa Grate Again" movement of white supremacists, neo-nazis and skinheads
(#10) Man-Baby — by Jon Stewart (this one inspired an avalanche of jokes and similar nicknames; for instance, Robert De Niro called Trump "our Baby-in-Chief")

This sad, embarrassing wreck of a man-baby. — George F. Will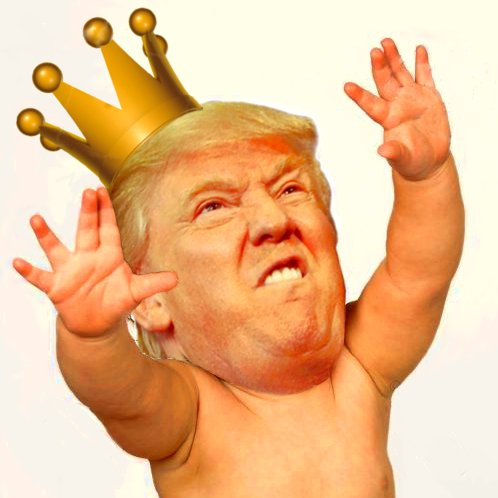 The picture above―the earliest known image of The Donald―is evidence that he was suckled in Emperor Palpatine's romper room. Now in the American Game of Thrones, he is Donald Littlefinger, a master of lies, deceit, treachery and treason.

He' a Man-Baby. He has the physical countenance of a man, and a baby's temperament and tiny hands. ― Jon Stewart

I'm sick of being a Wet Nurse for a seventy-one-year-old. ― Steve Bannon

Trump has run through his nannies at a frightening pace: Steve Bannon, Reince Priebus, Rex Tillerson, John Kelly ... now it's down to Scary Poppins, aka Mick Mulvaney. But the first time Mick messes up, he'll be forevermore known as Nanny Boo-Boo!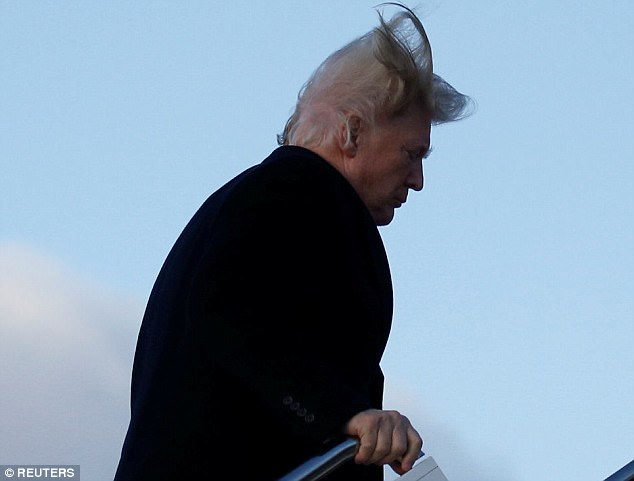 Call him Fragile Man and Fragile Psyche after Trump tweeted "Wasn't I a great candidate!" while the nation mourned the deaths of 17 children in the Parkland, Florida high school shooting. While visiting the devastated community Trump was photographed grinning and flashing thumbs-up signs, so call him Mr. Inappropriate. Later he had to be reminded, via a cheat sheet, to tell the student survivors, "I hear you." A few days later, the slaughtered students apparently forgotten, Trump hammed it up at CPAC, saying "everything is wonderful" while praising the NRA and leading cheers for the Second Amendment. Then as the frightened child survivors marched for their lives, Trump took yet another golf vacation, so call him The Bogeyman. Trump is also The Hollow Man, after this statement by the publishers of AGNI: "We collectively refuse to accept this hollowing out of who and what we are."

The president has zero psychological ability to recognize empathy or pity in any way. — former White House chief of staff Reince Priebus

He's an idiot. It's pointless to try to convince him of anything. He's gone off the rails. We're in Crazytown. — departing White House chief of staff John Kelly

Trump is a "terrible human being." — acting White House chief of staff Mick Mulvaney

Folks, this is what Trump's nannies say about him. Before Trump, the White House chief of staff was someone who respected and represented the president. With Trump the position is very different and the main goal is to try to keep him from going completely off the rails. For instance, by hiding dangerous things he intends to sign, until he forgets about them!

Oldies But Goodies

Don the Con, The Wrath of Con, and Conigula
Bratman, Stuporman, Captain Shamerica and The Super Duper
Captain Chaos (NBC)
Cadet Bone Spurs (Tammy Duckworth)
The Lyin' King

The news is real. The president is fake. — Stephen King

The Wall Nut

Trump wants us to believe that his wall is "real" and "being built." In reality a few preexisting fences have been repaired and/or upgraded. But Congress has not funded an actual wall because Trump swore to the American people that Mexico would pay for the wall. Was Trump lying through his teeth to get elected or is he just crazy as a loon? ... Ooops, I take it back! Trump has built an impassable wall after all — the Democratic resistance!

Angry Creamsicle (Stephen Colbert)
Screaming Carrot Demon (Samantha Bee)
Cheeto Benito and Cheato Benito
Hair Hitler, Hair Führer, Hair Furor Trump, The New Furor, Adolph Twitler and Shitler
Donald Drumpf (his real name, per John Oliver and other sources) and Drumpfkopf
Creep Throat (Seth Meyers)

Donald Trump is his own Deep Throat. He's Creep Throat. ― Seth Meyers

Tiny Hand Sir (Stephen Colbert)
Tweety and the Twits (Michael R. Burch)

Dishonorable Mention Nicknames: Le Petite Pee Pee, Orange Julius (The Nation), Cheeto Jesus (Rick Wilson), Tangerine Tornado (Dana Carvey), The World's Greatest Troll (Nate Silver), Trumplethinskin, Prima Donald, Vanilla ISIS

Trump Russian Collusion Nicknames

Putin's Puppet
Putin's Poppet
Putin's Rasputin
Putin's Dupe (DailyKos)
Comrade Trumputin (Michael R. Burch)
The Brooklyn Bolshevik (Michael R. Burch)
Polezni Durak (Russian for "Useful Idiot")
Putin's Useful Fool (ex-CIA director Michael Hayden)
Unwitting Russian Agent (ex-CIA director Michael Morrell)
The Idiot (FBI agents assigned to the Russia investigation)
Goddamn Dumbell and F---ing Liar (John Dowd, Trump's personal attorney for the Russian collusion case)
The Moron (ex-Secretary of State Rex Tillerson)
The Kompromat (ex-CIA Director John McLaughlin says Trump was compromised by Mr. Putin)
Putin's Asset (James Clapper, former Director of National Intelligence)
Putin's A$$et (Michael Steele, former Chairman of the Republican National Committee)

That's how a press conference sounds when an Asset stands next to his Handler.—Michael Steele

Treasonous Trump (Steve Bannon said the Trump Tower meeting with Russian agents was treasonous)
Donny Moscow (Rob Hoadley)
Tsarzan (Michael R. Burch)
Tsar Baby (pun on "tar baby" after Jim Himes said Trump tarred the reputations of US intelligence agencies)
Suite 'n Low (Rachel Maddow after Trump offered his master Putin a free $50 million penthouse)
The Russian Project

Trump is as much a Russian project as an American president.—Charles M. Blow

The Grand Collusionist
President Pee-Pee le Pew
Jailbird (Adam Schiff says Trump may face jail time)
Pinhead Pinocchio (Michael R. Burch)

The Washington Post gave Trump its Bottomless Pinocchio award for claiming 86 times that his imaginary wall is being "built." In reality Congress has not approved the funds required to build a real wall, nor has Mexico agreed to pay for it (another frequent Trump lie). Trump has also lied about Russia repeatedly, claiming one day that he "knows" Putin and they're very good friends, then claiming the next day that he doesn't know Putin and has absolutely nothing to do with him or Russia, even though Donald Trump Jr. once bragged that the Trumps had money "pouring" in from Russia and golf reporter James Dodson said Eric Trump told him that the Trumps no longer needed to borrow money from American banks to finance golf courses because they got all the money they needed from Russia!

NOTE: After our captioned pictures of Widdle Donnie Whinydiaper, there are literally thousands of Donald Trump nicknames sorted into categories like Trump 45 Nicknames, Trump Swamp Nicknames, Immature Trump Nicknames, Senile Trump Nicknames, Trump Sexual Assault Nicknames, Trump Coloration Nicknames, Trump Hairdo (and Hair-don't) Nicknames, etc. If you're looking for something in particular, just keep scrolling down and you're sure to find it.

Q: What do you call it when a Man-Baby takes over the American government?
A: Coup d'Tot!