The HyperTexts

Donald Trump Nicknames
Trump Family/Friends/Associates/Lapdog Nicknames

Welcome to the largest online collection of Trump-related nicknames, puns and jokes—all completely free and without annoying ads (we too loathe pop-ups). Now you can astound your friends and confound your political foes with the perfect nicknames for every occasion! Trump nicknames range from A to Z, from Agent Orange to the Zodiac Biller. Our favorites include Putin's Puppet, Hair Hitler, Hair Fuhrer, The New Furor, Adolph Twitler, Tweety, Tsarzan, King Gorge, Conigula, Gingervitis and Dire Abby. There are "superhero" nicknames like Bratman, Stuporman, Captain Shamerica and The Super Duper. But perhaps no nickname captures the "surreal Donald Trump" better than Donald Drumpf and Drumpfkopf. You can employ your browser's search feature or use CTRL-F to find nicknames for Trump's family, friends and lapdogs such as Melanoma (Melania Trump), Proxy Wife (Ivanka Trump), Aide de Kampf (Jared Kushner), Wrongway Conway (Kellyanne Conway), Koch Addict (Mike Pompeo and Mitch McConnell), Cruella DeVile (Betsy DeVos), Paul Ruin (Paul Ryan), Detourney General (Jeff Sessions) and HUD Ornament (Ben Carson). We also have Trump family nicknames like The Brooklyn Hillbullies and Trump administration nicknames like Moscow on the Hudson, the Ogle Office and The White Supremacist House, so please prepare to be entertained!

Donald Trump is now ahead of Hillary Clinton in the polls. This was just reported in The Washington Post, and 2,000 years ago in the Book of Revelation. ― Conan O'Brien

OMG, Trump just claimed to be the King of Israel, the Second Coming of God and the Chosen One!

Let's get this straight: Trump releases the Nunes memo and the stock market immediately crashes 666 points. The federal budget deficit Trump's first fiscal year was 666 billion dollars. Trump's family owns 666 Fifth Avenue, a street symbolic of money (Mammon). The Trump Tower is 203 meters tall, or 666 feet high. On the Ides of March, the day when the Roman republic became a dictatorship, Trump had 666 delegates. He was born on a blood moon. His ancestor who started the Trump family business died on 6-6-6. Her name was Elizabeth Christ Trump. Elizabeth means "oath" so her name can be interpreted as "oath for Christ to be trumped." Is it just me, or are we living in a real-life Omen movie?

For a YUGE slew of 666 connections, see Is Donald Trump the Antichrist?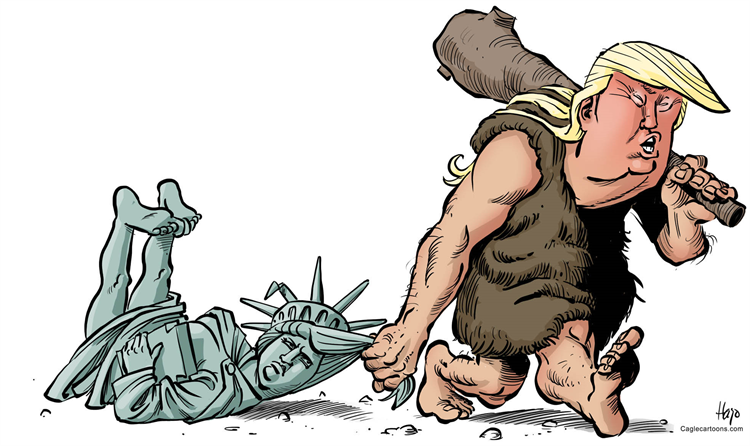 Trump Shutdown Nicknames: Cave Man (New York Daily News), The Wall Nut, Where's Wall-Dough?, Blarney Rubble (Michael R. Burch)

Our latest nickname page is for Trump's newest nanny, Scary Poppins, aka Mark Meadows

Our ranking of the TOP TEN TRUMP NICKNAMES OF ALL TIME appears after our Trump Coronavirus Nicknames.

Trump Coronavirus Nicknames:

Don the Con
The Teflon Con (Dave Denison)
Condoofus (Michael R. Burch, a pun on Confucius)
Confusedius
Conigula
The Wrath of Con
Conman the Barbarian
Genghis Con
King Con
OptiCon
Con-Way Tweety

It turns out that in a time of crisis a conman is not up to the task.―Rolling Stone

DEAF CON 1
Tone Deaf Trump
Tone Deaf Drumpf

Thanks to Trump's handling mishandling of the coronavirus pandemic, the United States has been placed on its highest-ever state of alert: DEAF CON 1.―Michael R. Burch aka "The Loyal Opposition"

According to Tone Deaf Drumpf, "A lot of good things are happening. The mortality rate is, in my opinion, ... way, way down." He said this on a day when more than 200 Americans were reported to have died, and with the US having become the world leader in confirmed coronavirus cases.

Tone Deaf Drumpf insists: "I haven't heard about testing being a problem." Every American with ears has heard about problems with the tests.

The HIPPOcratic Oaf

Trump has changed his tune again, by saying 2.2 million Americans might die if extreme measures are not taken. Whatever happened to the coronavirus being "fake news" and a "Democratic hoax"? Returning to normalcy by Easter is now just a discarded "aspiration." Trump's latest tune is: "Nothing would be worse than declaring victory before the victory is won." But of course that's what he did for three months, himself.

President Pandemic
President Pandemonium (emphasis on "demon")

President Trump has responded to the coronavirus outbreak by (among other things) promising it would go away by itself, playing golf, blaming China, blaming the media, blaming Democrats, lying about it, attempting to bribe Germany's vaccine industry and saying he's responding to it perfectly.―USA Today

Tokyo Rose Trump
The Serial Spinner

Trump is "a serial spinner of his own political realities."―Stephen Collinson

During WWII, Tokyo Rose would spread disinformation on a daily basis, hoping to mislead Americans during a time of intense peril. During this new time of intense peril, Tokyo Rose Trump spreads disinformation on a daily basis.

Deep Denial Donald
Dilly-Dallying Donald
The American Nero

While Trump fiddles, the United States burns. Dilly-Dallying Donald's failure to act quickly and decisively in the early stages of the pandemic will cause the mobilization to come too late for the peak period of infections, which is rapidly approaching. Meanwhile Deep Denial Donald continues to attack reporters who simply quote what he actually said about the coronavirus, when quicker, more decisive actions could have saved thousands of American lives.

The Glory Hog
The American Midas
President Pyrite
Fool's Gold

The American Midas may have a golden touch for himself, but it's been lethal for many Americans. And how did Trump turn a $436 million inheritance into a billion dollar bankruptcy? Is he really just President Pyrite and Fool's Gold?

Big Rocket Man

No one had ever thought of rockets before Trump. He knew about rockets before anyone else. And he knows more about rockets than rocket scientists, who are amazed at how much he knows. It must be a natural gift! Rockets are amazing and beautiful, even when they kill people (which is nothing to worry about, because more people die from the flu). Trump will claim all the credit for everyone saved by rockets, theoretically, while accepting absolutely no responsibility for anyone who actually dies if he fails to protect the nation from incoming missiles, because that's what a Great Leader like Trump does.―Michael R. Burch aka "The Loyal Opposition"

Mr. Inappropriate
President Inappropriate
President Photo-Op

President Photo-Op jetted to Norfolk to pose and preen while a Navy hospital ship set sail to aid coronavirus patients. As the coronavirus threatened to kill more Americans than 9-11 and the Korean and Vietnam wars combined, Mr. Inappropriate boasted that the hair being ruffled by the wind was really his, and that he was numero uno on Facebook (another lie).

The Rank Amateur (emphasis on "rank")

Professional criminals don't make up excuses for things they claim they didn't do. Trump keeps making excuses and blaming others for things he claims are going smashingly well, thanks to him. He can't keep his story straight and it stinks to high heaven.

The Lyin' King
The King of the Whoppers
P. T. Burn 'Em
President Pantsonfire

A Trump attorney has confirmed that Trump has been "patently false, misleading and deceptive" in a cease-and-desist letter he sent to American TV stations regarding an unflattering campaign ad. "On behalf of Donald J. Trump for President, Inc., President Trump's principal campaign committee, this letter notifies you that your station is airing a patently false, misleading, and deceptive advertisement," wrote Alex Cannon, special counsel to Trump's campaign. The ad simply replays Trump's recorded public statements about the coronavirus, in his own voice, saying things like: "The coronavirus ... is their new hoax," and "We have it totally under control," and "One day, it's like a miracle, it will disappear," and "People are surprised that I understand it." The ad ends with the self-damning: "No, I don't take responsibility at all." Trump obviously doesn't want to be quoted now that the truth has come out. We are reminded of Trump viciously attacking Megyn Kelly when all she did was quote things he had said publicly about women. Even Trump can't stand to hear how awful he sounds.

The False Profit
The Wrathematician
Mr. Magical Math

Trump talked to two people and decided the numbers are not so bad, really: "Many people have it. I just spoke to two people that had it. They never went to a doctor, they didn't report it." Trump used the fact that some cases are mild to justify his rush to reduce distancing measures and reopen closed businesses. Trump concluded: "The people that actually die, that percentage is much lower than I actually thought." But talking to two people who weren't tested is far from a scientific investigation. Trump's "math" seems to be mostly wishful thinking. But even if he's correct that the fatality rate is lower than projected by experts, if half the US population becomes infected there could still be millions of deaths. The best solution is to vastly reduce the number of new infections, not to engage in wishful thinking and magical math. Is Trump seeing dollar signs while ignoring the human cost?

The Toxic Narcissist
Germophobic Trump (Maureen Dowd)
Lethal Donald
Typhoid Don
Typhoid Tweety (Michael R. Burch)

Typhoid Don refuses to set a good example and wear a mask in public. How many Americans will emulate him and die as a result, while infecting others?

Mr. Mixed Messages
President Moronavirus

Trump is the Moron-a-virus infecting the White House. Deceitful Donald said he didn't know that people died from the flu. His grandfather died from the flu! Now this six-times-bankrupted real estate salesman who claims he's "smarter" than scientists and medical experts is managing the coronavirus pandemic, which he's called "fake news" and a "Democratic hoax." In the past Trump advocated nuking hurricanes, waterbombing Notre Dame Cathedral, denying charity to sharks, tilting at windmills, and raking forest "floors" to combat wildfires. What could possibly go wrong?

Mr. Perfect
The Perfect Ten

Trump told reporters that he would rate his administration's response to the coronavirus a perfect ten, on a scale of one to ten. Trump takes all the credit for anything positive and none of the blame for anything negative, so he is, in effect, saying that he's perfect.

I accept no responsibility!
The buck stops with everybody
but me! WHEEEeeeee!
―Donald J. Trump

The Authoritarian Weakman (Politico)
The Backseat Writher
The Backseat Driveler

Trump has been leading from behind while talking out his A$$.―Michael R. Burch aka "The Loyal Opposition"

The Snazzy Nazi
Hair Hitler and the Whigs
Fearless Pleader

Trump has Americans playing a lethal game of Follow the Pleader.―Michael R. Burch aka "The Loyal Opposition"

Reelect your Fearless Pleader! Trump has returned to portraying the coronavirus pandemic as a "hoax" that can be safely ignored, this time starting with his magical timeline of Easter. Why? Trump's motivation is apparent in this tweet: "The LameStream Media is the dominant force in trying to get me to keep our Country closed as long as possible in the hope that it will be detrimental to my election success. The real people want to get back to work ASAP. We will be stronger than ever before!" Thus the coronavirus, which started as a next-to-nothing "hoax," then became the pandemic Trump had always seen and recognized, is now back to "hoax" status. Never mind about Americans who may suffer and die, while putting their loved ones at risk, if they return to work too soon. They are not "real people" to Trump! What really matters to Trump is that Trump gets reelected. To do that he needs everyone to work, whether they live or die, and whether or not they infect their loved ones in the process. Get your priorities straight, Americans, and put your Fearless Pleader first, as he does Himself! He is completely fearless as far as you and your families are concerned! Now we know why he's imperially called The Donald. How many Americans will suffer and die, to give Trump a better shot at getting reelected?

After reading the tweet mentioned above, Aldous J. Pennyfarthing called Trump a Monster and a Gormless Sack of Fruit Bat Scrotums.

CDC-Neutering Death Merchant
Orange Corona-ed Virus Infecting Mankind (Michael R. Burch)

The weird corona of orange-ish hair is a dead giveaway that Trump is Corona Virus in Human Form ... no, make that Corona Virus in Semi-Human Form!

imPOTUS (emphasis on the devilish "imp")
FAUXTUS
The Flatulist (Trump blows hot air out his enormous A$$ while the world goes to pot)
Scaremonger-in-Chief (Maureen Dowd)
Viral Donald

After coming in contact with Viral Donald, senators Ted Cruz, Lindsey Graham, Rick Scott and Matt Gaetz have announced plans to self-quarantine.

Shipwrecked by the laughter of the gods? Ron Paul, a former Republican Presidential candidate, recently wrote an article in which he called the coronavirus pandemic a "big hoax." That might come as a surprise to his son, Kentucky Senator Rand Paul, who just tested positive for the coronavirus. After years of pandering to a conman, Republicans finally have a reality check they can't ignore. Ironically, Rand Paul was the was the only senator to vote against a bipartisan deal to provide $8 billion in emergency coronavirus funding earlier this month.

Trump and the GOP have gone from Serial Shillers to Serial Killers with their lethal lies about the coronavirus pandemic.―Michael R. Burch aka "The Loyal Opposition"

Vultures of a feather, flocking together? Republican senators Richard Burr and Kelly Loeffler sat together during the Senate impeachment trial. After being briefed by medical experts on the very real dangers of the coronavirus, they pooh-poohed the risk to the public while selling millions of dollars worth of stocks. They presumably laughed all the way to the bank with the money they saved, but how many lives could have been saved if they had told the public the truth?―Michael R. Burch

Trump is the MESSiah after claiming to be the King of Israel, the Second Coming of God and the Chosen One. For his unholy trinity of heresies, Trump is also the False Profit. After Trump extolled his "great and unmatched wisdom" he is The Grand Wizard of the White House and The Blunderful Wizard of Ahs (Michael R. Burch). The self-alleged Stable Genius is a Horse's A$$. Trump is the News Fakir after falling for his own propaganda and being exposed by whistleblowers. Once again Trump summoned the venomous cobras of right-wing disinformation and once again they bit him, explaining his jaundiced complexion. Trump is also America's pallid Squid Pro Quo, after he sold national security down the river to shore up his sagging campaign. And he's the TOTUS (Trumper of the United States) for the same and other reasons.

Impeach the Peach Imp! Or will the Self-Impeacher pop a peach mint, sip a Peach Nehi and do it himself? Impeach the Peach Knee-High! Will the Gorge-ia Peach self-implode? Will the Peach Perón abdicate his gilded throne? Will the Son of a Peach finally admit he's the Pits?

The Top Ten Donald Trump Nicknames

(#1) THE ANTICHRIST — when the prophets spoke of the "Trump of Doom" and a "little horn" were they speaking literally?
(For a YUGE slew of 666 connections, see Is Donald Trump the Antichrist?)
(#2) Short-Fingered Vulgarian — by Graydon Carter (a nickname Trump hates because he thinks it implies that he's under-endowed "down there")
(#3) Agent Orange — by Anonymous (a lethal product of deMonsanto and DonSatan)
(#4) Golden Wrecking Ball — by Sarah Palin (who was not trying to be funny)
(#5) Fuckface von Clownstick, Comedy Entrapment and Unrepentant Narcissistic Asshole (the UNAbomber) — by Jon Stewart
(#6) The White Kanye ― by Bill Maher (or is Trump more accurately the Yellow-ish-Orange Kanye?)
(#7) Lord Voldemort, Orange Anus and Snake Oil Salesman — by Rosie O'Donnell
(#8) The Trump of Doom — by Michael R. Burch (adopted from the Bible and first used in a possibly prophetic Facebook post on September 11, 2015)
(#9) The White Pride Piper — Trump is the poster boy for the "Make AmeriKKKa Grate Again" movement of white supremacists, neo-nazis and skinheads
(#10) Man-Baby — by Jon Stewart (this one inspired an avalanche of jokes and similar nicknames; for instance, Robert De Niro called Trump "our Baby-in-Chief")

This sad, embarrassing wreck of a man-baby. — George F. Will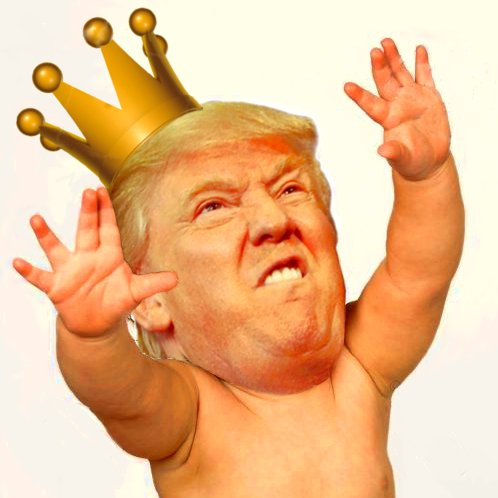 The picture above―the earliest known image of The Donald―is evidence that he was suckled in Emperor Palpatine's romper room. Now in the American Game of Thrones, he is Donald Littlefinger, a master of lies, deceit, treachery and treason.

He's a Man-Baby. He has the physical countenance of a man, and a baby's temperament and tiny hands. ― Jon Stewart

The Best Trump Nicknames of Michael R. Burch: Little Horn, The Trump of Doom, The False Profit, The MESSiah, Gingervitis, Cheeto Magneto, Orange-Vanilla ISIS, Persimmon Satan, The Albino RINO, The Dermagogue, Baby Fingers Trump, Le Petit Prince Daisyfingers, Sir Leakalot, Sir Pissypanties, The Human Urinal, Boldfinger, Jack the Gripper, The Holey Roamin' Emperor, Julius Seize Her, Seize Her Disgustus, Mark Anatomy, The Roamin' Seizer, Hair Gropenfuhrer, Der Fuhrer Feltersnatch, Feel Marshall Trump, Groper Cleave Hand, The Great Gropesby, The Great Gutsby, The Gaud Father, Conigula, Condoofus, The Wrath of Con, Con Man the Barbarian, The SillyCon Boob, Stuporman, Captain Shamerica, Optimus Grime, The Teflon Don, Felonius Punk, Rigger Mortis, The Zodiac Biller, The New York Pork Dork, Uncle Ream US, Comrade Trumputin, Putin's Gambit, Putin's Poppet, Putin's Protégé, Putin's Rasputin, Tsarzan, The Brooklyn Bolshevik, The Boychurian Candidate, The Snazzy Nazi, Hair Hitler and the Whigs, Saddam Le Pompadour, Calamity Mane, Mr. Wiggy Piggy, Genghis Can't, Genghis Con, Bling the Merciless, Ole King Coal, The Lyin' King, Foxymoron, Malice in Blunderland, The Blunderful Wizard of Ahs, Widdle Donnie Whinydiaper, Little Donnie Diaperpants, Shark Dressed Man-Boy, The Shillsbury Dough Boy, The Hypocritic Oaf, The Hot Air Buffoon, The Bouffant Buffoon, E Pluribus Loon 'em, Tweety Blurred, The Twitter Terror, Conway Tweety, Tweety and the Twits, POTUS WRECKS, The Hocus Pocus POTUS, TyRANTosaurus Wrecks, Tie-Rant-o-Sore-A$$ Rex, The West Wing-Nut, Demander-in-Chief, Quasi Dodo the Hunchback of Notre Shame, Sparkly Princess Trumpelina, Ronald McDonald Trump-Bozo, Bizarro Bozo, The Grate White Wail, The Grate Divider, The Grate Pretender, Alexpander the Grate, The Poll Cat, The Tirade Warrior, Mr. Freeze, the ICEman, the vICEman, Dire Abby (for his bleak relationship advice), Tribalist Trump, The Hinternationalist, Blarney Rubble, The Crow-Magnon, The News Fakir, CDC-Neutering Death Merchant, Orange Corona-ed Virus Infecting Mankind, Fearless Pleader, Typhoid Tweety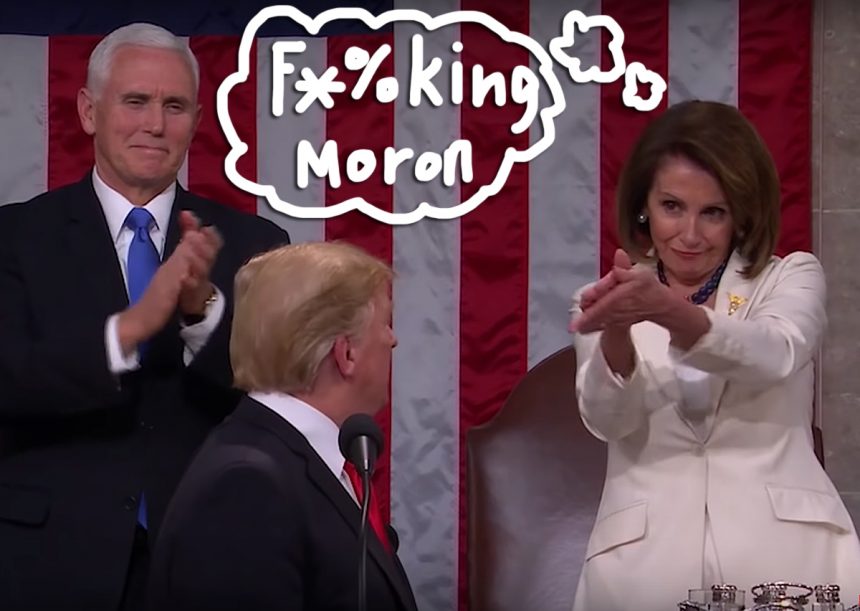 Nancy Pelosi's "seal" of disapproval was the highlight of Trump's lie-filled, self-glorifying State of the Union Address. The Pelosi clap-back came in a meme-able moment after Trump whined about "the politics of revenge" even as he wallowed in it.

Sarah "Suckmypee" Sanders explained away Truant Trump's "executive time" as his need to have a "more creative environment." All those golf vacations are like a kindergartner's recess! Watching TV for hours on end is like Sesame Street! Shutting down the government for a month is like time out! But perhaps we're better of with a Part-Time President, considering how much damage Felonious Punk could do if he worked full-time!

According to witnesses, Little Donnie Two Scoops was delighted by roadblocks for his motorcade, exclaiming gleefully: "The roads are closed for me!"

"I have the absolute right to do national emergency if I want!" Trump insisted to reporters, sounding like a Huffy Kindergartner in need of a nice long nap. Because he whines like sleep-deprived terrible tyke, Trump is also Whiny the Pooh.

After his retirement as head nanny to Widdle Donnie Diaperpants, General John Kelly was asked what he thought about Donald the Menace being "proud" to shut down the federal government over his wall. "To be honest, it's not a wall," Kelly replied.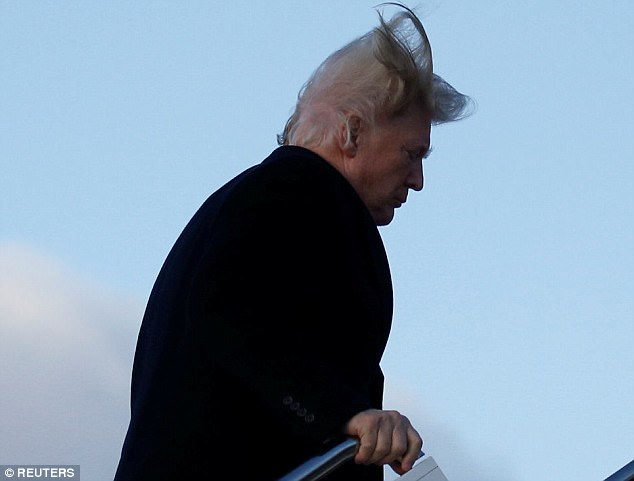 Call him Fragile Man after Trump tweeted "Wasn't I a great candidate!" while the nation mourned the deaths of 17 children in the Parkland, Florida high school shooting. While visiting the devastated community Trump was photographed grinning and flashing thumbs-up signs, so call him Mr. Inappropriate. A few days later, the slaughtered students apparently forgotten, Trump hammed it up at CPAC, saying "everything is wonderful" while praising the NRA and leading cheers for the Second Amendment. Then as the frightened child survivors marched for their lives, Trump took yet another golf vacation, so call him The Bogeyman.

The president has zero psychological ability to recognize empathy or pity in any way. — former White House chief of staff Reince Priebus

He's an idiot. It's pointless to try to convince him of anything. He's gone off the rails. We're in Crazytown. — departing White House chief of staff General John Kelly

Trump is a "terrible human being." — incoming White House chief of staff Mick Mulvaney

Folks, this is what Trump's nannies say about him. Before Trump, the White House chief of staff was someone who respected and represented the president. With Trump the position is very different and the main goal is to try to keep him from going completely off the rails. For instance, by hiding dangerous things he intends to sign, until he forgets about them!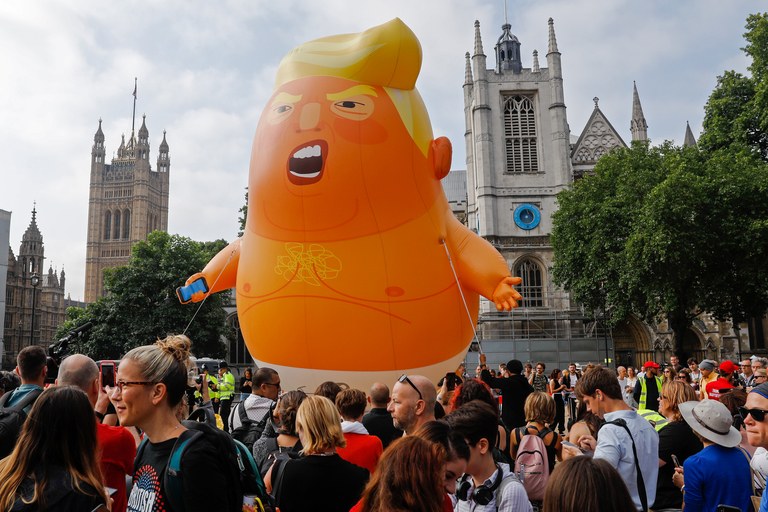 In England the Prince of Wales met the Prince of Wails.

Scottish and British Nicknames for Trump: President Fart ("trump" is English slang for "fart"), American Idiot, sTRUMPet, Crumpet, White House Wanker, Nutless Nutter, Sex Pest, Orange Arsehole, Orange Shitgibbon, The Shamerican President, Whey-Faced Windbag, Tweeting Twat Twit, Tosser Trump, Fossil Fool, Cheese Eating Surrender Monkey (formerly reserved for the French), Gormless Gerrymanderer, Toupéed F*cktrumpet, Cockwomble, Witless Cocksplat, Diaper Don, Daft Cow, Mangy Mingebag, Feckless Lip Flapper, Mad as a Bag of Ferrets, Barmy Blowhard, Dodgy Don, Prince of Wails, Prince of Whales, Plug-Ugly Hairpiece, Chav (white trash), Numpty, Fascist Tangerine, Spoon (because he can't be trusted with a knife and fork), Witless F*cking Cocksplat, Huffy Wee F*ckin Bampot, Mangled Apricot Hellbeast, Baby Trumpkins

NOTE: After our captioned pictures of Widdle Donnie Whinydiaper, there are literally thousands of Donald Trump nicknames sorted into categories like Trump 45 Nicknames, Trump Swamp Nicknames, Immature Trump Nicknames, Senile Trump Nicknames, Trump Sexual Assault Nicknames, Trump Coloration Nicknames, Trump Hairdo (and Hair-don't) Nicknames, etc. If you're looking for something in particular, just keep scrolling down and you're sure to find it.

Q: What do you call it when a Man-Baby takes over the American government?
A: Coup d'Tot!