The HyperTexts

Donald Trump Nicknames
Trump Family/Friends/Associates/Lapdog Nicknames

Welcome to the largest online collection of Trump-related nicknames, puns and jokes—all completely free and without annoying ads (we too loathe pop-ups). Now you can astound your friends and confound your political foes with the perfect nicknames for every occasion! Trump nicknames range from A to Z, from Agent Orange to the Zodiac Biller. Our favorites include Putin's Puppet, Hair Hitler, Hair Fuhrer, The New Furor, Adolph Twitler, Tweety, Tsarzan, King Gorge, Conigula, Gingervitis and Dire Abby. There are "superhero" nicknames like Bratman, Stuporman, Captain Shamerica and The Super Duper. But perhaps no nickname captures the "surreal Donald Trump" better than Donald Drumpf and Drumpfkopf. You can employ your browser's search feature or use CTRL-F to find nicknames for Trump's family, friends and lapdogs such as Melanoma (Melania Trump), Proxy Wife (Ivanka Trump), Aide de Kampf (Jared Kushner), Wrongway Conway (Kellyanne Conway), Koch Addict (Mike Pompeo and Mitch McConnell), Cruella DeVile (Betsy DeVos), Paul Ruin (Paul Ryan), Detourney General (Jeff Sessions) and HUD Ornament (Ben Carson). We also have Trump family nicknames like The Brooklyn Hillbullies and Trump administration nicknames like Moscow on the Hudson, the Ogle Office and The White Supremacist House, so please prepare to be entertained!

Donald Trump is now ahead of Hillary Clinton in the polls. This was just reported in The Washington Post, and 2,000 years ago in the Book of Revelation. ― Conan O'Brien

OMG, Trump just claimed to be the King of Israel, the Second Coming of God and the Chosen One!

Let's get this straight: Trump releases the Nunes memo and the stock market immediately crashes 666 points. The federal budget deficit Trump's first fiscal year was 666 billion dollars. Trump's family owns 666 Fifth Avenue, a street symbolic of money (Mammon). The Trump Tower is 203 meters tall, or 666 feet high. On the Ides of March, the day when the Roman republic became a dictatorship, Trump had 666 delegates. He was born on a blood moon. His ancestor who started the Trump family business died on 6-6-6. Her name was Elizabeth Christ Trump. Elizabeth means "oath" so her name can be interpreted as "oath for Christ to be trumped." Is it just me, or are we living in a real-life Omen movie?

For a YUGE slew of 666 connections, see Is Donald Trump the Antichrist?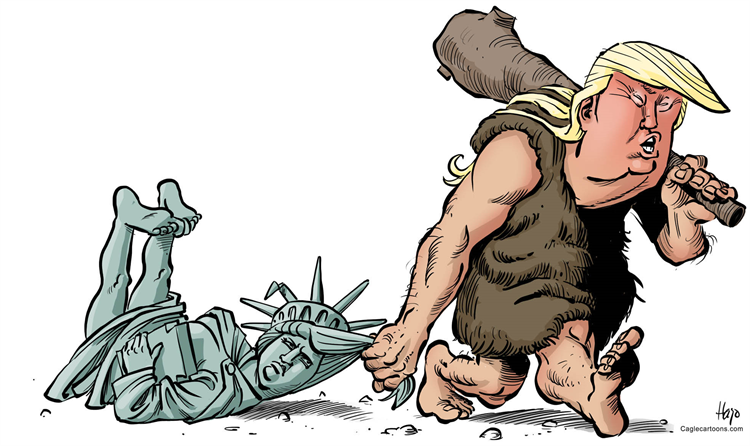 Trump Shutdown Nicknames: Cave Man (New York Daily News), The Wall Nut, Where's Wall-Dough?, Blarney Rubble

Rising/Trending: Trump is the MESSiah after claiming to be the King of Israel, the Second Coming of God and the Chosen One. For his unholy trinity of heresies, Trump is also the False Profit.

Trump is the First Offender after he told 9-11 first responders that he was one of them and had been "down there" with them at ground zero. But Trump called WWOR/UPN on the day of the attack and said that he was in his luxurious penthouse watching the disaster safely from afar. During that interview Trump bragged about an "amazing" phone call in which employees told him that he now owned the tallest building in downtown Manhattan! Trump has shamelessly claimed that he was there, helping to clear rubble, not knowing "what was going to come down on all of us." But Trump was more than four miles from ground zero and didn't show up for two more days.

The Top Ten Donald Trump Nicknames

(#1) THE ANTICHRIST — when the prophets spoke of the "Trump of Doom" and a "little horn" were they speaking literally?
(For a YUGE slew of 666 connections, see Is Donald Trump the Antichrist?)
(#2) Short-Fingered Vulgarian — by Graydon Carter (a nickname Trump hates because he thinks it implies that he's under-endowed "down there")
(#3) Agent Orange — by Anonymous (a lethal product of deMonsanto and DonSatan)
(#4) Golden Wrecking Ball — by Sarah Palin (who was not trying to be funny)
(#5) Fuckface von Clownstick, Comedy Entrapment and Unrepentant Narcissistic Asshole (the UNAbomber) — by Jon Stewart
(#6) The White Kanye ― by Bill Maher (or is Trump more accurately the Yellow-ish-Orange Kanye?)
(#7) Lord Voldemort, Orange Anus and Snake Oil Salesman — by Rosie O'Donnell
(#8) The Trump of Doom — by Michael R. Burch (adopted from the Bible and first used in a possibly prophetic Facebook post on September 11, 2015)
(#9) The White Pride Piper — Trump is the poster boy for the "Make AmeriKKKa Grate Again" movement of white supremacists, neo-nazis and skinheads
(#10) Man-Baby — by Jon Stewart (this one inspired an avalanche of jokes and similar nicknames; for instance, Robert De Niro called Trump "our Baby-in-Chief")

This sad, embarrassing wreck of a man-baby. — George F. Will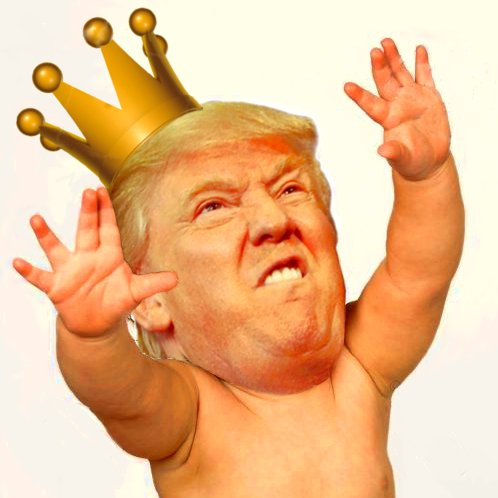 The picture above―the earliest known image of The Donald―is evidence that he was suckled in Emperor Palpatine's romper room. Now in the American Game of Thrones, he is Donald Littlefinger, a master of lies, deceit, treachery and treason.

He's a Man-Baby. He has the physical countenance of a man, and a baby's temperament and tiny hands. ― Jon Stewart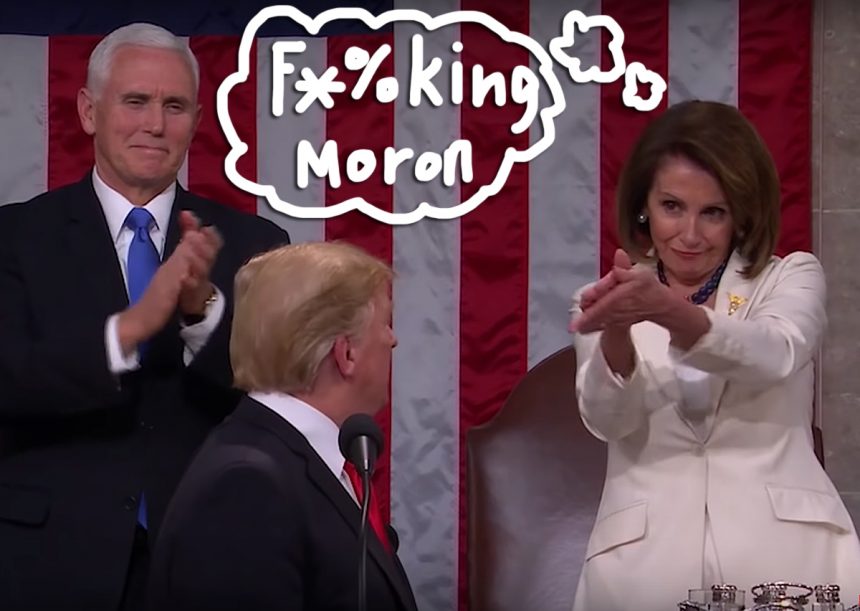 Nancy Pelosi's "seal" of disapproval was the highlight of Trump's lie-filled, self-glorifying State of the Union Address. The Pelosi clap-back came in a meme-able moment after Trump whined about "the politics of revenge" even as he wallowed in it.

Sarah "Suckmypee" Sanders explained away Truant Trump's "executive time" as his need to have a "more creative environment." All those golf vacations are like a kindergartner's recess! Watching TV for hours on end is like Sesame Street! Shutting down the government for a month is like time out! But perhaps we're better of with a Part-Time President, considering how much damage Felonious Punk could do if he worked full-time!

According to witnesses, Little Donnie Two Scoops was delighted by roadblocks for his motorcade, exclaiming gleefully: "The roads are closed for me!"

"I have the absolute right to do national emergency if I want!" Trump insisted to reporters, sounding like a Huffy Kindergartner in need of a timeout.

After his retirement as head nanny to Widdle Donnie Diaperpants, General John Kelly was asked what he thought about Donald the Menace being "proud" to shut down the federal government over his wall. "To be honest, it's not a wall," Kelly replied.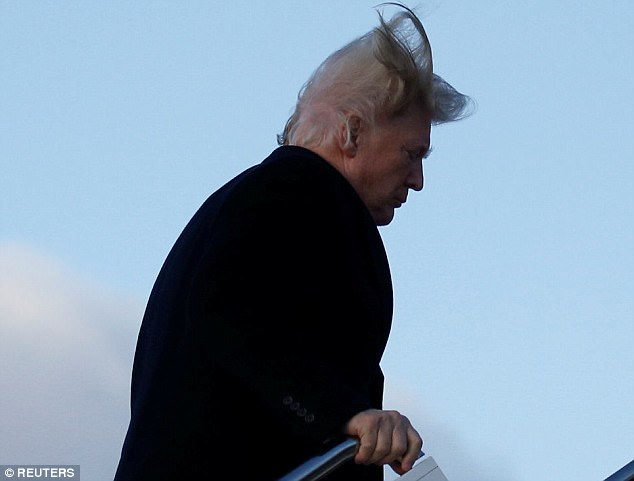 Call him Fragile Man after Trump tweeted "Wasn't I a great candidate!" while the nation mourned the deaths of 17 children in the Parkland, Florida high school shooting. While visiting the devastated community Trump was photographed grinning and flashing thumbs-up signs, so call him Mr. Inappropriate. A few days later, the slaughtered students apparently forgotten, Trump hammed it up at CPAC, saying "everything is wonderful" while praising the NRA and leading cheers for the Second Amendment. Then as the frightened child survivors marched for their lives, Trump took yet another golf vacation, so call him The Bogeyman.

The president has zero psychological ability to recognize empathy or pity in any way. — former White House chief of staff Reince Priebus

He's an idiot. It's pointless to try to convince him of anything. He's gone off the rails. We're in Crazytown. — departing White House chief of staff General John Kelly

Trump is a "terrible human being." — incoming White House chief of staff Mick Mulvaney

Folks, this is what Trump's nannies say about him. Before Trump, the White House chief of staff was someone who respected and represented the president. With Trump the position is very different and the main goal is to try to keep him from going completely off the rails. For instance, by hiding dangerous things he intends to sign, until he forgets about them!

But in reality, Trump is not in charge. Ann Coulter is the Acting President of the United States, as proved by her edicts on the border wall and how Trump slavishly obeys them. As further evidence, here are Trump nicknames coined by his xenophobic far-right overlords:

Cave Man (Rush Limbaugh predicted Trump would "cave" on his wall; also because Trump is a Neanderthal)
Amnesty Don (Breitbart)
The Turncoat (Sean Hannity accused Trump of failing to keep his election promises)
The Rollover (Ann Coulter: "What's the only thing easier to roll than Trump? An Easter egg!")
The Joke President (Ann Coulter)
Low Energy Jeb (Ann Coulter)
Gigantic Douchebag (Ann Coulter)
Shallow Lazy Gutless Lying Incompetent Ignoramus Wimp (Ann Coulter)
The Ultimate Loser (Steve Doocy of Fox & Friends)

Trump is Rat-Man according to the Baltimore Sun, which pointed out that it's better to have a few vermin around than to be one!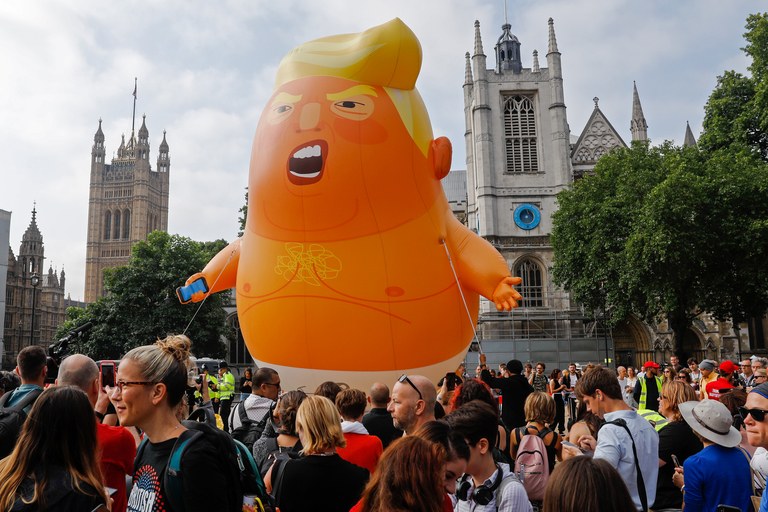 In England the Prince of Wales met the Prince of Wails.

These are our favorite Signs of the British Resistance from Trump's recent visit to London:

God save the Queen from the Fascist Tangerine.
Just say 'anon' to Diaper Don.
All in all, you're just another Prick With No Wall.
So much wrong, so little cardboard.
Wag off, White House Wanker!
Please Queen, don't offer him the good biscuits!
No tea for Tosser Trump!
We're British. We're Polite. But fuck off (please).
The Queen loathes you. (We all do.)
Sod off, Trump!
Free bags of fish guts to throw at Trump!
Feed him to the corgis!

Scottish and British Nicknames for Trump: President Fart ("trump" is English slang for "fart"), American Idiot, sTRUMPet, Crumpet, White House Wanker, Nutless Nutter, Sex Pest, Orange Arsehole, Orange Shitgibbon, The Shamerican President, Whey-Faced Windbag, Tweeting Twat Twit, Tosser Trump, Fossil Fool, Cheese Eating Surrender Monkey (formerly reserved for the French), Gormless Gerrymanderer, Toupéed Fucktrumpet, Cockwomble, Witless Cocksplat, Diaper Don, Daft Cow, Mangy Mingebag, Feckless Lip Flapper, Mad as a Bag of Ferrets, Barmy Blowhard, Dodgy Don, Prince of Wails, Prince of Whales, Plug-Ugly Hairpiece, Chav (white trash), Numpty, Spoon (because he can't be trusted with a knife and fork), Baby Trumpkins

Trump's disrespect for a departed American war hero, John McCain, resulted in a number of new Trump nicknames and reminded us of some older ones as well: Cadet Bone Spurs, McStain, McShame, McLame, McCain's Bane, Ghost Fluster, Pathetic Man-Child (coined by Barbara Morrill after the White House had a tarp placed over the name of the USS John McCain to avoid a Trump tantrum), Fragile Man, National Disgrace, The Weakling, Deeply Disturbing Donald (the last three were coined by John McCain himself)

While speaking to a faith group, Trump said he was "very happy" that John McCain is dead. Trump also seemed to be happy with the thought that McCain might be in hell, suggesting that he had moved on to "far less green pastures."

Trump is now enjoying a chilled Mueller Lite, served up by his personal Barr tender.

Currently Rising & Trending Trump Nicknames: Pele (Trump's caddies, because he kicks golf balls back onto fairways), The Bogeyman, Donald Dorf, Mr. Mulligan, THE JERK (Ann Coulter said Trump keeps jerking Americans around on immigration), Mr. ReBUTTal (who issues rebuttals of a "complete exoneration"?), Mr. Perfect (Trump said calling neo-Nazis who terrorized a Charlottesville synagogue "fine people" was the perfect answer!), President Pants on Fire (according to the Washington Post, Trump has told over 10,000 lies to the American people), The Soul-Eater

Mr. Trump eats your soul in small bites.—James Comey

Just Another Scumbag (Steve Bannon), Just Another Flea-Bitten Jackal (the Hebrew Prophets), The Only Criminal I Couldn't Indict (Robert Mueller III), Mr. Innocent by Insufficient Evidence (DJT), Pudgy McTrumpcake (he'll have his cake and eat yours too)

Trump is Mr. Manifesto after the El Paso shooter released a manifesto/screed that echoed inflammatory language used repeatedly by Trump, such as "fake news" and "invasion." These are terms Trump, Fox News and white nationalist publications spew on a regular basis. Trump is also Mr. Malaprop after he "blessed" the wrong city: Toledo rather than El Paso. And Trump is Mr. Crocodile Tears because 15 minutes after consoling the people of the wrong city, he was all grins at his swanky Bedminster golf club, posing with MMA fighter Colby Covington. Trump is also Cheeto Toledo and Cheat-o Delete-o if we can get rid of him at the polls.

Meanwhile, Ivanka Trump is the Human Torch after getting lit up on social media for her public "prayer" for the victims. She tweeted that white supremacy is "an evil that must be destroyed" but her father is keeping children in cages while she says and does nothing, so call her Little Miss Hypocrisy and Miss Complicit.

Donald Trump—aka Big Rocket Man, Duke Nukem, Dr. Strangelove and The Wrath of Con—has threatened to nuke and "completely destroy" nations like Iran, North Korea and Afghanistan. He said that "all options are on the table" for nations like Venezuela and Syria. And he even said that he wouldn't rule out using nukes in Europe despite our many allies there, not to mention hundreds of millions of people!

Trump Nicknames Coined by his Colleagues

Kook (Lindsey Graham)
Race-Baiting Xenophobic Religious Bigot (Lindsey Graham)
World's Biggest Jackass (Lindsey Graham, which makes Graham the World's Biggest Jackass Kisser)
Moron (Secretary of State Rex Tillerson)
Cancer on Conservatism (Rick Perry)
IMBECILE (Steve Bannon called Trump's firing of James Comey the worst mistake in "modern political history")

Trump CPAC Speech Nicknames

The Madness of King Gorge (Michael R. Burch)
The American Flag's #MeToo Moment

Hanoi Summit Nicknames

Hanoi Bilk 'Em
The Beach Overcomber
The Bubble Dealer (Trump had predicted "fantastic success")
Big Rocket Man
Docket Man

After bowing to Kim Jong-un on the national stage, Trump will write a new book titled The Art of the Kneel.

There are many disturbing parallels between Donald Trump and Damien Thorn of the OMEN movies.

Oldies But Goodies

Don the Con, The Wrath of Con, OptiCon, Conigula
Deaf-Con-1 (he doesn't listen, lies constantly, and claims to be numero uno)
Bratman, Stuporman, Captain Shamerica and The Super Duper
Con Man the Barbarian (Michael R. Burch, after Trump started gassing refugee children at the border)
Captain Chaos (NBC)
Cadet Bone Spurs (Tammy Duckworth)
Celebrity Apprentice President
TV President (Alec Baldwin on SNL)
The Lyin' King

The news is real. The president is fake. — Stephen King

Angry Creamsicle (Stephen Colbert)
Screaming Carrot Demon (Samantha Bee)
Cheeto Benito and Cheato Benito
Cheat-o Delete-o (Michael R. Burch)
Orange Crush (Trump admitted he's being "crushed" by the Trump Shutdown)
The Fanta Menace
Colonel Mustard

Colonel Mustard was an oafish Clue character: "A stock great white hunter and colonial imperialist, a dapper and dangerous military man, he was originally called Colonel Yellow."

Hair Hitler, Hair Führer, Hair Furor Trump, The New Furor, Adolph Twitler and Shitler
Donald Drumpf (his real name, per John Oliver and other sources)
Drumpfkopf
Creep Throat (Seth Meyers)

Donald Trump is his own Deep Throat. He's Creep Throat. ― Seth Meyers

Tiny Hand Sir (Stephen Colbert)
Le Petite Pee Pee

Trump has actually had his fingers digitally enlarged. Why? As Chris Hayes pointed out, "If you can alter something up here, you can alter something down there."

Orange Julius (The Nation)
Cheeto Jesus (Rick Wilson)
Tangerine Tornado (Dana Carvey)
The World's Greatest Troll (Nate Silver)
Trumplethinskin
Prima Donald
Vanilla ISIS

Trump Russian Collusion Nicknames

TЯEASONOUS TЯUMPINSKI
The American Oligarch
Comrade Trumputin (Michael R. Burch)
Putin's Puppet (Hillary Clinton)
Putin's Poppet
Putin's Water Boy
Putin's American Propagandist
Putin's Pet American President (Rachel Maddow)
Putin's Rasputin
Putin's Dupe (DailyKos)
Miss Putin
Mrs. Putin
Russian Rule-ette
Russian Toolette
Russian Foolette
Putin's Parrot (as reported by the Wall Street Journal, Trump has been parroting Russian disinformation)
The GRUsome President (the GRU is Russian military intelligence)
The Potemkin President (The New Yorker)
The Brooklyn Bolshevik (Michael R. Burch)
Polezni Durak (Russian for "Useful Idiot")
Putin's Useful Fool (ex-CIA director Michael Hayden)
Unwitting Russian Agent (ex-CIA director Michael Morrell)
The Idiot (FBI agents assigned to the Russia investigation)
Unfit Dimwit (Michael R. Burch)
Goddamn Dumbell and Fucking Liar (John Dowd, Trump's personal attorney for the Russian collusion case)
The Kompromat (ex-CIA Director John McLaughlin says Trump was compromised by Mr. Putin)
Putin's Asset (James Clapper, former Director of National Intelligence)
Putin's A$$et (Michael Steele, former Chairman of the Republican National Committee)

That's how a press conference sounds when an Asset stands next to his Handler.—Michael Steele

Treasonous Trump (Steve Bannon said the Trump Tower meeting with Russian agents was treasonous)
Donny Moscow (Rob Hoadley)
Tsarzan (Michael R. Burch)
Tsar Baby (pun on "tar baby" after Jim Himes said Trump tarred the reputations of US intelligence agencies)
Suite 'n Low (Rachel Maddow, after Trump offered his master Putin a free $50 million penthouse)
Putin's Bootlicker (Charles Schumer)
The Russian Project (Charles M. Blow)

Trump is as much a Russian project as an American president.—Charles M. Blow

President Pee-Pee le Pew
Leader of the Pee World
Jailbird (Adam Schiff says Trump may face jail time)
The Man-Boy Who Cried Wolf
Serial Murderer of the Constitution (Neal Katyal)
Grandmaster Pinocchio (Neal Katyal)
Pinhead Pinocchio (Michael R. Burch)

The Washington Post gave Trump its Bottomless Pinocchio award for claiming 86 times that his imaginary wall is being "built" and that Mexico will pay for it.

The White House has been renamed the Moscow Concession Stand and its West Wingnuts now report directly to their Russian overseers. Donald Trump aka The Brooklyn Bolshevik has given Mr. Putin very expensive Christmas gifts: Syria, Afghanistan, Crimea and Ukraine, not to mention ceding America's global influence to Russia. This leaves Mr. Putin, the Kremlin's Grey Cardinal, firmly in control. State-controlled Russian TV shows are mocking the United States and its imbecilic and servile "president." Vodka glasses are clinking in Russia's halls of power.

NOTE: After our captioned pictures of Widdle Donnie Whinydiaper, there are literally thousands of Donald Trump nicknames sorted into categories like Trump 45 Nicknames, Trump Swamp Nicknames, Immature Trump Nicknames, Senile Trump Nicknames, Trump Sexual Assault Nicknames, Trump Coloration Nicknames, Trump Hairdo (and Hair-don't) Nicknames, etc. If you're looking for something in particular, just keep scrolling down and you're sure to find it.

Q: What do you call it when a Man-Baby takes over the American government?
A: Coup d'Tot!