The HyperTexts

Donald Trump Nicknames
Trump Family/Friends/Associates/Lapdog Nicknames

Welcome to the largest online collection of Trump-related nicknames, puns and jokes—all completely free and without annoying ads (we too loathe pop-ups). Now you can astound your friends and confound your political foes with the perfect nicknames for every occasion! Trump nicknames range from A to Z, from Agent Orange to the Zodiac Biller. Our favorites include Putin's Puppet, Hair Hitler, Hair Fuhrer, The New Furor, Adolph Twitler, Tweety, Tsarzan, King Gorge, Conigula, Gingervitis and Dire Abby. There are "superhero" nicknames like Bratman, Stuporman and The Super Duper. But perhaps no nickname captures the "surreal Donald Trump" better than Donald Drumpf and Drumpfkopf. You can employ your browser's search feature or use CTRL-F to find nicknames for Trump's family, friends and lapdogs such as Melanoma (Melania Trump), Proxy Wife (Ivanka Trump), Aide de Kampf (Jared Kushner), Wrongway Conway (Kellyanne Conway), Koch Addict (Mike Pompeo/Mitch McConnell), Cruella DeVile (Betsy DeVos), Paul Ruin (Paul Ryan), Detourney General (Jeff Sessions) and HUD Ornament (Ben Carson). We also have Trump family nicknames like The Brooklyn Hillbullies and Trump administration nicknames like Moscow on the Hudson, the Ogle Office and The White Supremacist House, so please prepare to be entertained!

Donald Trump is now ahead of Hillary Clinton in the polls. This was just reported in The Washington Post, and 2,000 years ago in the Book of Revelation.―Conan O'Brien

Let's get this straight: Trump releases the Nunes memo and the stock market immediately crashes 666 points. The federal budget deficit Trump's first fiscal year was 666 billion dollars. Trump's family owns 666 Fifth Avenue, a street symbolic of money (Mammon). The Trump Tower is 203 meters tall, or 666 feet high. On the Ides of March, Trump had 666 delegates. He was born on a blood moon. His ancestor who started the family business died on 6-6-6. Her name was Elizabeth Christ Trump. Elizabeth means "oath" so her name can be interpreted as "oath for Christ to be trumped." Is it just me, or are we living in a real-life Omen movie?

The Top Ten Donald Trump Nicknames

(#1) THE ANTICHRIST — when the prophets spoke of the "Trump of Doom" and a "little horn" were they speaking literally? (For a YUGE slew of 666 connections, see Is Donald Trump the Antichrist?)
(#2) Short-Fingered Vulgarian — by Graydon Carter (a nickname Trump hates because he thinks it implies that he'ss under-endowed "down there")
(#3) Agent Orange — by Anonymous (a lethal product of deMonsanto and DonSatan)
(#4) Golden Wrecking Ball — by Sarah Palin (who was not trying to be funny)
(#5) Fuckface von Clownstick, Comedy Entrapment and Unrepentant Narcissistic Asshole (the UNAbomber?) — by Jon Stewart
(#6) The White Kanye ― by Bill Maher (or is Trump more accurately the Yellow-ish-Orange Kanye?)
(#7) Lord Voldemort, Orange Anus and Snake Oil Salesman — by Rosie O'Donnell
(#8) The Trump of Doom — by Michael R. Burch (adopted from the Bible and first used in a possibly prophetic Facebook post on September 11, 2015)
(#9) The White Pride Piper — Trump is the poster boy for the "Make AmeriKKKa Grate Again" movement of white supremacists, neo-nazis and skinheads
(#10) Man-Baby — by Jon Stewart (this one inspired an avalanche of jokes and similar nicknames; for instance, Robert De Niro called Trump "our Baby-in-Chief")

"This sad, embarrassing wreck of a man-baby." — George F. Will

The Republican party should change its name to Supremacists 'R US. The GOP's racist, sexist roots are showing. White men can do no wrong. Women who are raped or groped should adjust their skirts, smile prettily and keep their mouths shut in public. According to the GOP, it is cruel and unusual punishment for accused sexual abusers to even be questioned! Can anyone doubt that by defending Sludge Kavanaugh our entitled Groper-in-Chief is also defending himself and his "right" to grab women's privates without asking their permission first? The Sexual A$$aulter is tired of paying off his victims, so his new strategy is apparently to save money by silencing them. Here are our top ten Trump sexual abuse nicknames:

The Serial Feeler — see Donald Trump's War on Women
Boldfinger
President Pussygrabber (Keith Olbermann) and President Grabass (SNL's Colin Jost)
President Weinstein
Jack the Gripper and Jack the Grip Her
The Great Gropesby (Michael R. Burch)
Hair Gropenfuhrer and Der Fuhrer Feltersnatch
Feel Marshall Trump (Michael R. Burch)
Donald Douchebag
Julius Seize Her, Seize Her Disgustus and The Roamin' Seizer (Michael R. Burch)

His hands were everywhere. — Jessica Leeds

Dishonorable Mention Nicknames: Don the Con, Le Petite Pee Pee, Cadet Bone Spurs (Tammy Duckworth), Creep Throat (Seth Meyers), Donald Drumpf (John Oliver), Captain Chaos (NBC), Screaming Carrot Demon (Samantha Bee), Orange Julius (The Nation), Julius Seize Her (Michael R. Burch), Angry Creamsicle (Stephen Colbert), Cheeto Jesus (Rick Wilson), Cheeto Benito, Tangerine Tornado (Dana Carvey), The World's Greatest Troll (Nate Silver), Tiny Hand Sir (Stephen Colbert), Trumplethinskin, Prima Donald, Vanilla ISIS, Crass A$$hole, Crasshole

The Best Trump Nicknames of Michael R. Burch: Little Horn, The Trump of Doom, The False Profit, The Fourth Dorkman of the Apocalypse, Sir Leakalot, The Human Urinal, Boldfinger, The Holey Roamin' Emperor, TyRANTosaurus Wrecks, The Great Gropesby, The Great Gutsby, The Gaud Father, Conigula, Condoofus, The Wrath of Con, Felonius Punk, Mr. Wiggy Piggy, Comrade Trumputin, Putin's Gambit, Putin's Poppet, Putin's Rasputin, The Brooklyn Bolshevik, Rigger Mortis, The Hot Air Buffoon, E Pluribus Loon 'em, The Snazzy Nazi, Hair Hitler and the Whigs, Genghis Can't, Saddam Le Pompadour, Ole King Coal, The Lyin' King, Foxymoron, Uncle Ream US, The Boychurian Candidate, Malice in Blunderland, Widdle Donnie Whinydiaper, Captain Shamerica, Optimus Grime, The Hypocritic Oaf, The West Wing-Nut, POTUS WRECKS, Quasi Dodo the Hunchback of Notre Shame, Sparkly Princess Trumpelina, Ronald McDonald Trump-Bozo, The Great White Wail, The Poll Cat, The Tirade Warrior, Mr. Freeze, the ICEman, the vICEman, Dude the Apostate, Dude the Obscure, The Hollow Man (borrowed from Ernest Dowson and T. S. Eliot), Little Donnie Crazydiaper, Conway Tweety

Trending and Currently Rising Nicknames for Trump, his Administration and his Accomplices

National Disgrace, the Weakling and Deeply Disturbing Donald — by the late great John McCain
The Fearmonger and Tricky Trump — by Bob Woodward, who exposed another liar and crook in Tricky Dick Nixon
Tiny, Toadstool Dick and Egotistical Lunatic — by Stormy Daniels, who responded to Trump calling her "Horseface" with "Game on, Tiny!" and by noting his "shortcomings."
The Laughingstock — by world leaders, after Trump claimed that in two years he had done more than "almost any administration"
Crazytown — by General John Kelly, the White House Chief of Staff, describing the Trump administration
Zoo Without Walls — by Reince Priebus, the former White House Chief of Staff
Dysfunctional Rathole — by the New York Times in an op-ed
Lil' Kim's Bump Buddy — after Trump publicly declared his undying love for a mass murderer

Prepare for a new form of the "bump and grind" after Trump said he and North Korean serial killer Kim Jong-un "fell in love" because of Kim's undoubtedly flattering "beautiful letters." And this time the bromance definitely will be consummated because a top Pyongyang official just said "f* you" to denuclearization.—Michael R. Burch aka "The Loyal Opposition"

The Fifth-Grader — by General Jim Mattis, the US Defense Secretary, deriding Trump's ignorance on important matters of state
Delusional Donald and Unhinged — by Carmen Yulin Cruz, the mayor of San Juan, after Trump claimed the Puerto Rico death toll was "fake news"

Only Donald Trump could see the tragedy in Puerto Rico and conclude that he is the victim.—Massachusetts Senator Ed Markey

The Stenchmaster — by The Donald Himself when he vowed to eradicate the "lingering stench" of his own administration
Little Donnie Crazydiaper — by Michael R. Burch after a New York Times op-ed revealed more infantile madness in the White House, with Trump's nannies scrambling to control the damage from a Category Five Shit Storm

Brett Kavanaugh Nicknames: Sludge Kavanaugh, The Hanging Judge, Mr. Dangling Participle, Hot Rod, Caveman, Groper Junior, Forrest Hump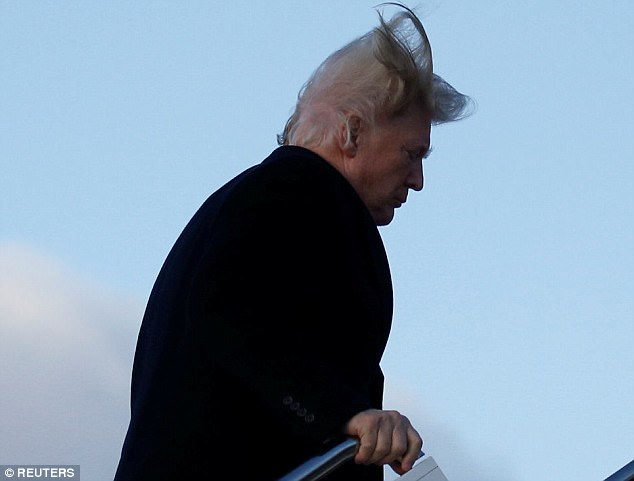 Call him Fragile Man after Trump tweeted "Wasn't I a great candidate!" while the nation mourned the deaths of 17 children in the Parkland, Florida high school shooting. While visiting the devastated community Trump was photographed grinning and flashing thumbs-up signs, so call him Mr. Inappropriate. Later he had to be reminded, via a cheat sheet, to tell the student survivors, "I hear you." A few days later, the slaughtered students apparently forgotten, Trump hammed it up at CPAC, saying "everything is wonderful" while praising the NRA and leading cheers for the Second Amendment. Then as the frightened child survivors marched for their lives, Trump took yet another golf vacation, so call him The Bogeyman.

Also, Trump is The Hollow Man, after this statement by the publishers of AGNI: "We collectively refuse to accept this hollowing out of who and what we are."

The NRA contributed 30 million blood-soaked dollars to get him elected. That makes Trump and his administration the Not Ready For Prime Time Slayers.

A Spur to Action
by J. L. Hoy

You said that when the shootings start,
you'd run right in and do your part.
Well, Donald, if that much is true,
please let me hold the door for you.

Is Trump as brave as he claims? He's terrified of sharks, eagles, germs, unclean hands, women's body fluids, stairs, slopes, food and blood. Especially blood. Cadet Bone Spurs told Howard Stern that he flees immediately at the sight of blood: "If you cut your finger and there's blood pouring out, I'm gone." To demonstrate how intensely he detests and fears blood, Trump recounted turning his back on an elderly man who had fallen and appeared to be dying. Rather than signaling for medics, Trump complained loudly that the man's "disgusting" blood was staining Mar-a-Lago's immaculate marble floors! Incredibly, Trump now claims that he would have rushed into a bloody hallway to confront a madman armed with an AR-15!

Air Force One will be rebadged Air Force Fun after Trump demanded the next-generation plane's super-expensive development be speeded up because "he wants to fly on that plane." More ego gratification for the world's most pampered Man-Baby. Trump also plans to boost his Fragile Psyche by having tanks roll down Pennsylvania Avenue in a third-world-ish military parade, so call him the Banana Republican. As for people who support Trump despite his obvious unfitness for duty, just call those Republicans plain Bananas.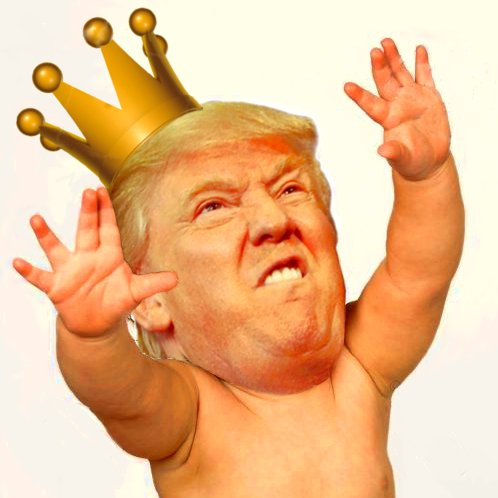 The picture above―the earliest known image of The Donald―is evidence that he was suckled in Emperor Palpatine's romper room. Now in the American Game of Thrones, he is Donald Littlefinger, master of lies, deceit and treachery.

He' a Man-Baby. He has the physical countenance of a man, and a baby's temperament and tiny hands.―Jon Stewart

I'm sick of being a wet nurse for a seventy-one-year-old.―Steve Bannon

Jake Tapper recently said that Trump has lost his nickname "mojo." We don't think he ever had any "mojo" to lose. Nicknames coined by Trump are typically childish, unimaginative and repetitive: Little Rocket Man (Kim Jong-Un), Liddle' Bob Corker, Liddle' Adam Schiff (Trump apparently has no idea what apostrophes are used for; where's the missing letter?), Little George Stephanopoulos, Little Marco Rubio (quintuple repetitive, so sad!), Al Frankenstien (misspelled, stupid!), Psychopath Ben Carson, Psycho Joe Scarborough (repetitive, weak!), Sloppy Steve Bannon, Sloppy Michael Moore (tedious, low energy!), Nuts (Jeff Sessions), Nut Job Glenn Beck, Nut Job Lindsey Graham, Nut Job James Comey, Nut Job Bernie Sanders, Nut Job John Kelly (sextuple repetitive, incompetent loser!), Crazy Bernie Sanders, Crazy Megyn Kelly, Crazy Joe Scarborough, Crazy Jim Acosta (quadruple repetitive, so dumb!), Crooked Hillary Clinton (hypocritical, sad!), Lightweight Megyn Kelly, Lightweight Choker Marco Rubio, Lightweight Lindsey Graham (triple repetitive, lightweight!), Low Energy Jeb Bush, Pocahontas (Elizabeth Warren), Lyin' Ted Cruz, Waterboy & Easy Mark (Marco Rubio), 1 for 38 (John Kasich), Fake Tears & Cryin' Chuck Schumer, Dumb as a Rock & Low IQ (Mika Brzezinski), Jeff Flakey, Killer Kelly (John Kelly), Hopie & Hopester (Hope Hicks), Reince-y (Reince Priebus), Crusty John McCain, Liberal Puppet (Doug Jones), Wacky (Frederica Wilson), Big Luther Strange, Truly Weird Rand Paul, Sleepy Eyes Chuck Todd, Cheatin' Obama, Covfefe (?), Fake News (self-incrimination, moron!), Animal Assad, The Failing New York Times, Crippled America ... or how about the 70+ people Trump has called "loser"?

NOTE: After our captioned pictures of Widdle Donnie Whinydiaper, there are literally thousands of Donald Trump nicknames sorted into categories like Trump 45 Nicknames, Trump Swamp Nicknames, Immature Trump Nicknames, Senile Trump Nicknames, Trump Sexual Assault Nicknames, Trump Coloration Nicknames, Trump Hairdo (and Hair-don't) Nicknames, etc. If you're looking for something in particular, just keep scrolling down and you're sure to find it.

Q: What do you call it when a Man-Baby takes over the American government?
A: Coup d'Tot!