The HyperTexts

Donald Trump Nicknames

This page contains the best Donald Trump nicknames that I have been able to find, and a few that I came up with myself. Trump nicknames range from A to Z, from Agent Orange to the Zen Master of Hate. My personal favorite comes from the Bible, the ominous TRUMP OF DOOM. When God and the Hebrew prophets spoke of the "Trump of Doom" and a "little horn" were they speaking literally? (For a YUGE slew of 666 connections, see Is Donald Trump the Antichrist?)

Nicknames for Trump and his minions have been coined by Alec Baldwin, Glenn Beck, Samantha Bee, Joe Biden, Charles M. Blow, Elayne Boosler, Dana Carvey, Graydon Carter, Hillary Clinton, Stephen Colbert, David Horsey, Garrison Keillor, Jimmy Kimmel, Bill Kristol, Bill Maher, Michael Moore, NBC, Trevor Noah, Keith Olbermann, John Oliver, Rosie O'Donnell, Martin O'Malley, Sarah Palin, Dan Rather, Marco Rubio, Nate Silver, Tom Scharpling, Jon Stewart, George Takei, USA Today, Fareed Zakaria, and even The Donald Himself and his first wife, the former Ivana Trump!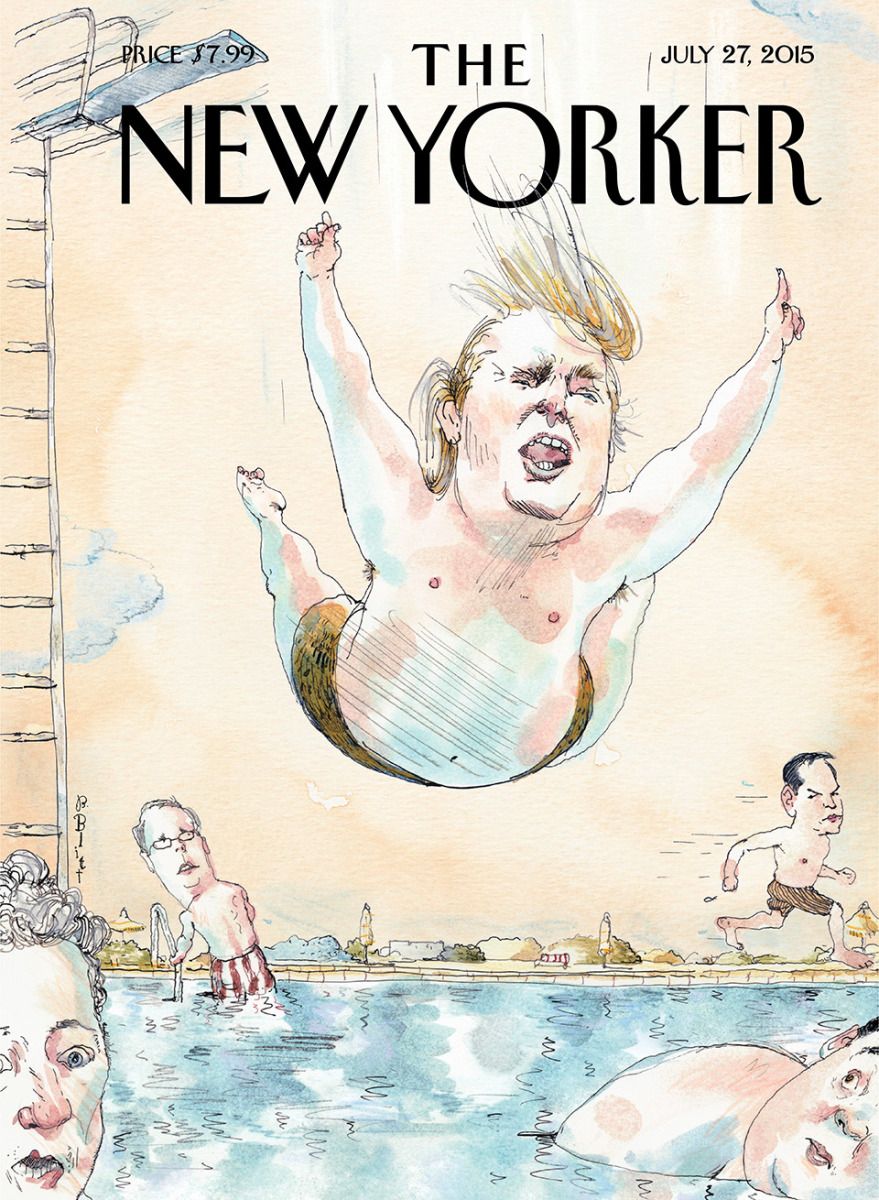 Cannonball! Donald "Trump of Doom" enters the American political waters, causing a mass Exodus ... but can he really walk on water as his fervent and fervid disciples believe?

Related pages: The Best Donald Trump Puns, The Best Donald Trump Insults, The Best Donald Trump Limericks, 2016 Republican First Presidential Debate, Is there a Republican War on Women?, The Donald Trump Bible, The Best Ted Cruz Jokes, Ten Reasons to "Fire" Donald Trump, Ted Cruz Quotes, Donald Trump: 666 Mark of the Beast, Is Donald Trump the Antichrist?, Trump Trivia, Donald Trump in his Own Words: Fact-Checking Trump, Donald Trump Funny Campaign Slogans and Parodies, Donald Trump Halloween Ideas, Donald Trump Inauguration Poetry, Donald Trump Nicknames for his Cabinet, Family, Friends, Associates and Supporters

Top Ten Donald Trump Nicknames

(10) Putin's Puppet, Putin's Putty, Comrade Trumputin, The Brooklyn Bolshevik and The Russian Mole — nicknames that indicate where Trump's true allegiances lie
(9) Cheeto-Dusted Bloviator, Angry Cheeto, Cheeto Jesus, Cheeto Benito, Cheeto Bandito, Cheeto Voldemort, Cheez Whiz, Frito Lay, Mango Mussolini, Talking Yam, Angry Pumpkin, Angry Creamsicle, Fanta Ranter, Orange Julius and Orange Foolius — nicknames that poke fun at Trump's appearance
(8) Lord Voldemort, Orange Anus and Snake Oil Salesman — Rosie O'Donnell
(7) Golden Wrecking Ball — Sarah Palin (who was NOT trying to be funny and seems to have spoken prophetically!)
(6) Fuckface von Clownstick, Man-Baby, Comedy Entrapment and Unrepentant Narcissistic Asshole — Jon Stewart
(5) The White Kanye ― Bill Maher (or perhaps the Yellow-ish-Orange Kanye?)
(4) Short-Fingered Vulgarian — Graydon Carter (a nickname Trump hates because he seems to think it implies that he is under-endowed "down there")
Tiny Hands Trump, Babyfingers Trump, Pixie Fingers Trump, Tiny-Handed Tyrant and Short-Fingered Totalitarian — nicknames inspired by Graydon Carter's nickname above
(3) Agent Orange — Anonymous
(2) The Trump of Doom — Michael R. Burch (first used in a possibly prophetic Facebook post on September 11, 2015)
(1) Number one, with a bullet: THE ANTICHRIST — by God and the Hebrew prophets — when they spoke of "the Trump of Doom" and a "little horn" were they speaking literally? (For a YUGE slew of 666 connections, see Is Donald Trump the Antichrist?)

Oh, the irony! Mike Cernovich warned his followers that Trump's military intervention in Syria was a "Deep State" operation in response to a hoax. One day prior, the ever-sage Donald Trump Jr. had tweeted about Cernovich: "In a time of unbiased journalism, he'd win the Pulitzer." Better pull that Pulitzer, Bozo-Boy!

Sean "Scary" Spicer is apparently either a Nazi sympathizer or a moron. Spicer claimed that Hitler "didn't even sink to using chemical weapons" and "was not using gas on his own people," although he sent Jews to "the Holocaust center." When given a chance to clarify his comments — uttered during Passover, the most celebrated Jewish holiday in the United States — Spicer insisted that Hitler "was not using the gas on his own people in the same way that Assad is doing." But of course Hitler did use chemical weapons (lethal gas) on millions of his own people — German Jews — who were not being held in "Holocaust centers," but in slave labor and death camps. Spittler Spicer seems to be a Hitler admirer like his boss, who kept a book of Hitler's speeches at his bedside according to his first wife, Ivana Trump.

Scientists recently discovered a strange new insect: the Orange-Tufted Twitter Flitterbug. It's a nasty little parasitical midge, but it dreams that it's a Monarch!

What color is Donald Trump's hair―or whatever that is attached to his scalp―and where on earth (or hell) did it originate? We took a scientific poll and here are the results, in order of ascending probability: (10) Trump's chameleon-like hair is the result of a freak mutation and has no permanent color; (9) a mouse underbelly dyed light orange in a lab experiment gone awry has been stitched to Trump's scalp by some modern Dr. Frankenstein, (8) Trump is wearing a yellow-ish-orange sewer rat carcass as a wig, (7) it is not hair, but accumulated orange vulture vomit as they circle above Trump's head waiting for his next kill, (6) bloody buzzard feathers have landed on Trump's head and are taking on yellow-ish and orange-ish hues as they putrefy, (5) Trump's alleged "hair" is actually a decaying possum pelt worn Davy-Crockett-style, (4) or it is Fess Parker's recycled raccoon cap dyed piss yellow, (3) Hitler's moustache has been dyed blonde in a botched job and turned into a wig, (2) Trump's hair is the Mark of Cain, (1) and/or it is a hastily-constructed yellow-ish-orange screen designed to obscure the 666 birthmark on Tump's forehead.

Currently rising: PRESIDENT EVIL (a pun on Resident Evil), AmeriKLAN Idol, The Conswervative, The DREAM Crusher, The Orange DREAM Sickle (Michael R. Burch), The American Terrorist (George Takei), President P*ssy-Grabber (Keith Olbermann), Putin's American Distributor (Keith Olbermann), Donald Dupe, The Neo-Con Puppet (coined by the Alt-Right, after Trump rained cruise missiles on Syria despite having repeatedly blasted Barack Obama and Hillary Clinton for their "stupid" and "short-sighted" interventionism in the Middle East), The Neo-Con-Man, The Warmonger, The War Troll, Deep State Donald, The False Flag Flyer, Deep Hoax, Donnybrook, Donald Darko, The American Caligula, Trumpasaurus Rex, Trumpenstein, Carnage Incarnate, The Feckless Denizen of the White House (Greg Dworkin), Dubious Caesar, President Snowflake (emphasis on "flake"), Orange Sauron, Darth Trump, Inglorious Leader, Der Leader (pun on "Dear Leader" with a Nazi twist), Reverse Midas

Donald Trump is the Reverse Midas because everything he touches immediately turns to s**t ... Trump Casinos, Trump Steaks, Trump Vodka, Trump Mortgage, the Trump Shuttle, Trump the Game, affordable healthcare, women's rights, minority rights, our right to vote without interference from Russia, the environment, our children's education, Syria, North Korea ...

George W. Bush was "The Decider." Donald Trump is "The Reverser." He lies to get votes, then reverses course. For instance, on the campaign trail Trump called China a "currency manipulator" and blasted President Obama as "weak" for letting them get away with it. But after being elected, Trump told the Wall Street Journal that China is not a currency manipulator, and that the real problem is the strength of the American dollar! How, then, was President Obama "weak"? It seems Trump is either weak-minded, an Orange Ball of Confusion, or a liar.

What the Heck: Make It the Top Twenty-Five Donald Trump Nicknames, by Category

Thurston Shitbag the Third (Bill Maher), Poor Little Rich Bitch
Prima Donald and Prima Donna
Vanilla ISIS, Duke Nuke 'Em, Dr. Strangelove, The Fourth Dorkman of the Apocalypse (after George W. Bush, Sarah Palin and Michelle Bachmann)
King of the Whoppers, Liar-in-Chief, The Lyin' King, Conman-in-Chief
Mr. Wiggy Piggy and Wiggly Piggly
Birther Boy, Man-Baby, Man-Toddler, Bratman, the Combover Kid
Tangerine Tornado and Donny (another nickname Trump allegedly hates) — SNL's Church Lady (Dana Carvey)
Porky Pig and New York Pork Dork (because Trump and his companies have taken so much "pork" from federal, state and local governments)
A$$aulter-in-Chief, Hair Groepenfuehrer, Donald DeGonad, Jack the Gripper and Serial Feeler — see Donald Trump's War on Women
Dire Abby (because Trump gives relationship advice like Dear Abby, but his message is invariably dire)
Hair Hitler and Hair Furor (puns on Herr Hitler and Herr Fuhrer)
The New Furor, Mein Furor, Mein Trumpf, Mein Hair, Shitler, Twittler, Adolph Twitler, Cinnamon Hitler, Mango Mussolini, Mussolini's Taint, Hairman Mao, Tsar Trumpov, Dear Leader, Genghis Can't (Michael R. Burch)
Chicken Donald and Fascist Carnival Barker (Martin O'Malley)
Darth Hater, Forrest Trump, Painman, Donnie Darko, Donnie Dorko and Damien Trump (after the Antichrist figure in the Omen movies)
The Beast, Little Horn, and The Great Whore of Babble-On — God and the Hebrew prophets (see Is Donald Trump the Antichrist?)

Honorable Mention: The Swamp Stocker, Whiny Little Bitch (Bill Maher), The Fomentor (Trevor Noah), Humpty Trumpty, Big Donald (coined by Marco Rubio), Pig Donald (a variation coined by feminists), The Presumptuous Nominee (Hillary Clinton), Job Security (Jimmy Kimmel), Tangerine Palpatine, Daddy Warbucks, Tweety, Twat Twit, Boss Tweet, Truthophobic Trump (Elizabeth Harris Burch), Trumpenstein, Stuporman, Dumb Corleone, Puffed Up Daddy, Commander-in-Grief, Gossamer-Skinned Bully (Graydon Carter), Orange-Tufted Taliban, Dead Wombat Toupée, The Loan Deranger, The Tie-Coon, The White Pride Piper, The Orange Mephistopheles, Commander-in-Tweet, Tweet-l-dumb, The Gold Man Sucks President

A number of Trump nicknames are related to fascism, such as "Hair Hitler" (a pun on Herr Hitler) and The New Furor (a pun on Führer). Are such accusations warranted? Well, Hair Hitler talking about Muslims does sound a lot like Herr Hitler talking about Jews. Here's what one prominent American Jew said on the subject. Abe Foxman, former National Director of the Anti-Defamation League, says that Republican presidential front-runner Donald Trump urged supporters at a Florida rally to raise their arms in a Nazi salute to him. "As a Jew who survived the Holocaust, to see an audience of thousands of people raising their hands in what looks like the 'Heil Hitler' salute is about as offensive, obnoxious and disgusting as anything I thought I would ever witness in the United States of America," Foxman told The Times of Israel. Will Donald Trump create an American Holocaust by deporting millions of people, including multitudes of completely innocent children and their mothers? Is Trump the second coming of Adolph Hitler? Yes, nicknames like Hair Hitler, Hair Furor, Hair Gropenfuhrer and Twittler are amusing, but are they also accurate, and perhaps prophetic?

Nicknames Coined by Trump and/or his Family

Donald Drumpf — his German family name is Drumpf, which definitely suits him better!
The Donald — Ivana Trump (she first used the term in a 1989 Spy Magazine cover story)
The Most Fabulous Whiner — after Donald Trump described himself to CNN's Chris Cuomo as the "most fabulous whiner" who keeps "winning by whining"
Mr. "Art of the Deal" — Donald Trump (taken from the title of his 1987 book, which he considers to be second only to the Bible)
John Baron and John Barron — pseudonyms created by Donald Trump, apparently so that he could pose as his own publicist and brag about his sexual exploits to reporters
Humble — Donald Trump's ironic choice when asked to provide a Secret Service codename
Humble Trump — a nickname given to Donald Trump by his son Eric Trump aka "Eric the Red" and "Eric the Brain Dead"