The HyperTexts

Donald Trump Nicknames
Trump Family/Friends/Associates/Lapdog Nicknames

Welcome to the largest online collection of Trump-related nicknames, puns and jokes—all completely free and without annoying ads (we too loathe pop-ups). Now you can astound your friends and confound your political foes with the perfect nicknames for every occasion! Trump nicknames range from A to Z, from Agent Orange to the Zodiac Biller. Our favorites include Putin's Puppet, Hair Hitler, Hair Fuhrer, The New Furor, Adolph Twitler, Tweety, Tsarzan, King Gorge, Conigula, Gingervitis and Dire Abby. There are "superhero" nicknames like Bratman, Stuporman and The Super Duper. But perhaps no nickname captures the "real Donald Trump" better than Donald Drumpf and Drumpfkopf. You can employ your browser's search feature or use CTRL-F to find nicknames for Trump's family, friends and lapdogs such as Melanoma (Melania Trump), Proxy Wife (Ivanka Trump), Aide de Kampf (Jared Kushner), Wrongway Conway (Kellyanne Conway), Koch Addict (Mitch McConnell), Cruella DeVile (Betsy DeVos), Paul Ruin (Paul Ryan), Detourney General (Jeff Sessions) and HUD Ornament (Ben Carson). We also have Trump family nicknames like The Brooklyn Hillbullies and Trump administration nicknames like Moscow on the Hudson, the Ogle Office and The White Supremacist House, so please prepare to be entertained!

Donald Trump is now ahead of Hillary Clinton in the polls. This was just reported in The Washington Post, and 2,000 years ago in the Book of Revelation.―Conan O'Brien

Let's get this straight: Trump releases the Nunes memo and the stock market immediately crashes 666 points. The federal budget deficit Trump's first fiscal year was 666 billion dollars. His family owns 666 Fifth Avenue, a street symbolic of money (Mammon). The Trump Tower is 203 meters tall, or 666 feet high. On the Ides of March, he had 666 delegates. Trump was born on a blood moon. His ancestor who started the family business died on 6-6-6. Her name was Elizabeth Christ Trump. Elizabeth means "oath" so her name can be interpreted as "oath for Christ to be trumped." Is it just me, or are we living in a real-life Omen movie?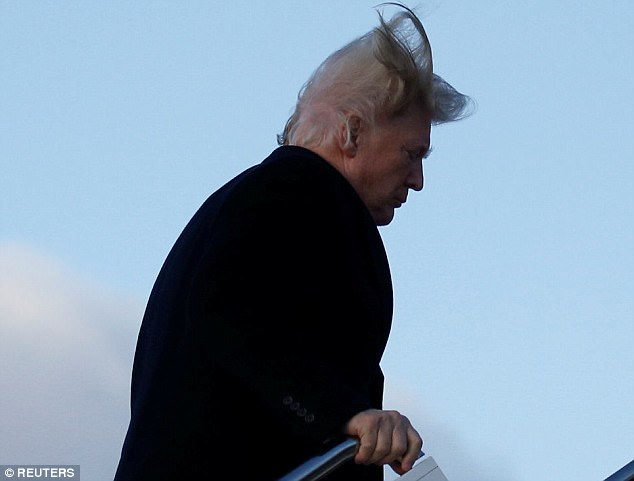 Trending: Fragile Man, after Trump sought to boost his already hyper-inflated ego by having tanks roll down Pennsylvania Avenue in a third-world-ish military parade. Call Trump the Banana Republican, for emulating Fidel Castro, Papa Doc, Augusto Pinochet and Manuel Noriega. Or call him, as Rebecca Solnit did, the Most Mocked Man in the World, after Trump's bald pate was exposed for everyone to see on an airport tarmac. As for Republicans who support Trump despite his obvious unfitness for duty, just call them what they are, Bananas.

The Top Ten Donald Trump Nicknames ... Oh Hell ... So MANY to choose from ... Better make it the Top 25, 50, 100 or 10,000!

(#1) THE ANTICHRIST — when the prophets spoke of the "Trump of Doom" and a "little horn" were they speaking literally? (For a YUGE slew of 666 connections, see Is Donald Trump the Antichrist?)
(#2) Short-Fingered Vulgarian — by Graydon Carter (a nickname Trump hates because he thinks it implies that he is under-endowed "down there")
(#3) Agent Orange — by Anonymous (a lethal product of deMonsanto and DonSatan)
(#4) Golden Wrecking Ball — by Sarah Palin (who was not trying to be funny, but ended up being all too accurate ... so sad!)
(#5) Fuckface von Clownstick, Comedy Entrapment and Unrepentant Narcissistic Asshole (the UNAbomber?) — by Jon Stewart
(#6) The White Kanye ― by Bill Maher (or is Trump more accurately the Yellow-ish-Orange Kanye?)
(#7) Lord Voldemort, Orange Anus and Snake Oil Salesman — by Rosie O'Donnell
(#8) The Trump of Doom — by Michael R. Burch (adopted from the Bible and first used in a possibly prophetic Facebook post on September 11, 2015)
(#9) The White Pride Piper — Trump is the poster boy for the "Make AmeriKKKa Grate Again" movement of white supremacists, neo-nazis and skinheads
(#10) Man-Baby — by Jon Stewart (this one inspired an avalanche of jokes and similar nicknames; for instance, Robert De Niro called Trump "our Baby-in-Chief")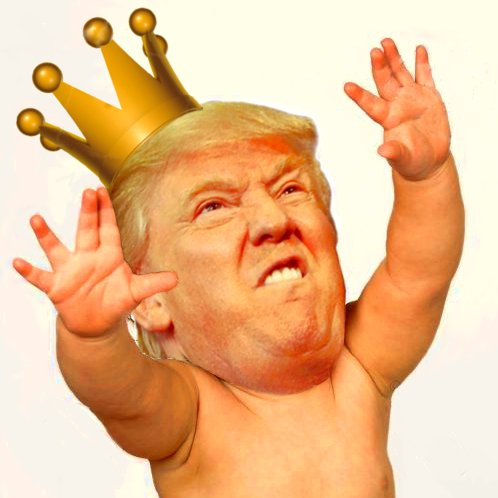 The picture above―the earliest known image of The Donald―is evidence that he was suckled in Emperor Palpatine's romper room.

He' a Man-Baby. He has the physical countenance of a man, and a baby's temperament and tiny hands.―Jon Stewart

Even George Orwell could not have foreseen the rise of Big Baby Brother.—Michael R. Burch aka "The Loyal Opposition"

Nicknames coined by Trump are typically childish, unimaginative and repetitive: Little Rocket Man (Kim Jong-Un), Liddle' Bob Corker (Trump apparently has no idea what apostrophes are used for; where's the missing letter?), Little George Stephanopoulos, Little Marco Rubio, Little Adam Schiff (quintuple repetitive, so sad!), Al Frankenstien (misspelled, stupid!), Psychopath Ben Carson, Psycho Joe Scarborough (repetitive, weak!), Sloppy Steve Bannon, Sloppy Michael Moore (tedious, low energy!), Nuts (Jeff Sessions), Nut Job Glenn Beck, Nut Job Lindsey Graham, Nut Job James Comey, Nut Job Bernie Sanders, Nut Job John Kelly (sextuple repetitive, incompetent loser!), Crazy Bernie Sanders, Crazy Megyn Kelly, Crazy Joe Scarborough, Crazy Jim Acosta (quadruple repetitive, so dumb!), Crooked Hillary Clinton (hypocritical, sad!), Lightweight Megyn Kelly, Lightweight Choker Marco Rubio, Lightweight Lindsey Graham (triple repetitive, lightweight!), Low Energy Jeb Bush, Pocahontas (Elizabeth Warren), Lyin' Ted Cruz, Waterboy & Easy Mark (Marco Rubio), 1 for 38 (John Kasich), Fake Tears & Cryin' Chuck Schumer, Dumb as a Rock & Low IQ (Mika Brzezinski), Jeff Flakey, Killer Kelly (John Kelly), Hopie & Hopester (Hope Hicks), Reince-y (Reince Priebus), Crusty John McCain, Liberal Puppet (Doug Jones), Wacky (Frederica Wilson), Big Luther Strange, Truly Weird Rand Paul, Sleepy Eyes Chuck Todd, Covfefe (?), Fake News (self-incrimination, moron!), The Failing New York Times, Crippled America, ... or how about the 70+ people Trump has called "loser"?

NOTE: After our captioned pictures of Widdle Donnie Whinydiaper, there are literally thousands of Donald Trump nicknames sorted into categories like Trump 45 Nicknames, Trump Swamp Nicknames, Immature Trump Nicknames, Senile Trump Nicknames, Trump Sexual Assault Nicknames, Trump Coloration Nicknames, Trump Hairdo (and Hair-don't) Nicknames, etc. If you're looking for something in particular, just keep scrolling down and you're sure to find it (and a lot more)!

Q: What do you call it when a Man-Baby takes over the American government?
A: Coup d'Tot!