The HyperTexts

Donald Trump Nicknames

This page contains the best Donald Trump nicknames that I have been able to find, and a few that I came up with myself. Trump nicknames range from A to Z, from Agent Orange to the Zen Master of Hate. My personal favorite comes from the Bible, the ominous TRUMP OF DOOM. When God and the Hebrew prophets spoke of the "Trump of Doom" and a "little horn" were they speaking literally? (For a YUGE slew of 666 connections, see Is Donald Trump the Antichrist?). Other personal favorites include Putin's Puppet, Comrade Trumputin, Hair Hitler, Gingervitis, The Great Whore of Babble-On and Quasi-Dodo the Hunchback of Notre Shame. But perhaps no nickname captures the "real Donald Trump" better than his real name, Donald Drumpf.

Nicknames for Trump and his minions have been coined by Alec Baldwin, Glenn Beck, Samantha Bee, Joe Biden, Lewis Black, Charles M. Blow, Elayne Boosler, Dana Carvey, Graydon Carter, Hillary Clinton, Stephen Colbert, David Horsey, Garrison Keillor, Jimmy Kimmel, Bill Kristol, Bill Maher, Michael Moore, Seth Myers, NBC, Trevor Noah, Keith Olbermann, John Oliver, Rosie O'Donnell, Martin O'Malley, Sarah Palin, Dan Rather, Marco Rubio, Nate Silver, Tom Scharpling, Jon Stewart, George Takei, USA Today, Fareed Zakaria, and even The Donald Himself and his first wife, the former Ivana Trump!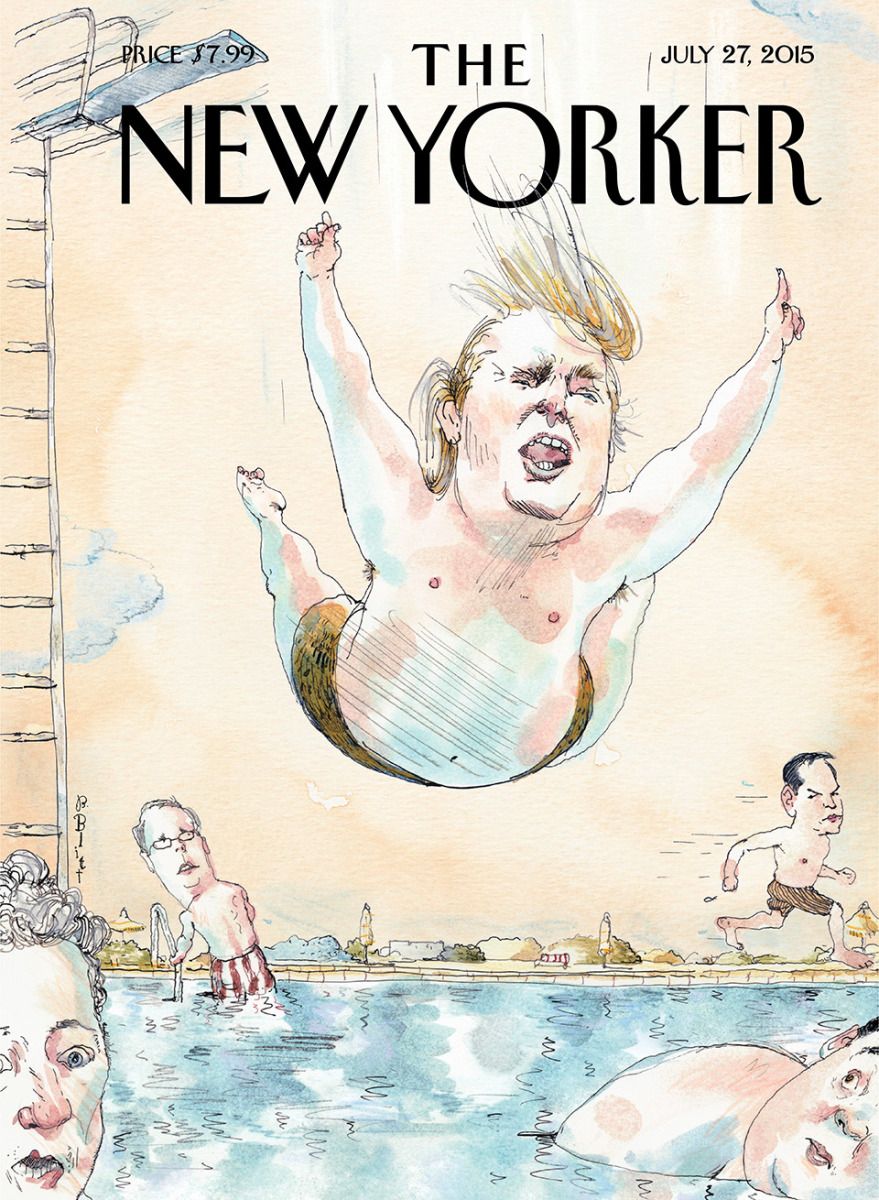 Cannonball! Donald "Trump of Doom" enters the American political waters ... but can he really walk on water or will he belly-flop the world into Armageddon?

Related pages: Donald Trump Curtsy or Bow?, Donald Trump Puns, Donald Trump Insults, Donald Trump Limericks, The Donald Trump Bible, Donald Trump: 666 Mark of the Beast, Is Donald Trump the Antichrist?, Trump Trivia, Donald Trump Nicknames for his Cabinet, Family, Friends, Associates and Supporters

Top Ten Donald Trump Nicknames

(10) Putin's Puppet, Putin's Bitch, Putin's Lapdog, Putin's C*ck-Holster (Stephen Colbert), Putin's Useful Idiot, Comrade Trumputin, The Brooklyn Bolshevik, The Russian Mole
(9) Cheeto-Dusted Bloviator, Screaming Cheeto, Cheeto Benito, Cheez Whiz, Mango Mussolini, Cinnamon Hitler, Candied Yam, Angry Creamsicle, Fanta Ranter, Trumpster Fire, Orange Julius, Orange Foolius
(8) Lord Voldemort, Orange Anus and Snake Oil Salesman — Rosie O'Donnell
(7) Golden Wrecking Ball — Sarah Palin (who was NOT trying to be funny)
(6) Fuckface von Clownstick, Man-Baby, Comedy Entrapment and Unrepentant Narcissistic Asshole — Jon Stewart
(5) The White Kanye ― Bill Maher (or perhaps the Yellow-ish-Orange Kanye?)
(4) Short-Fingered Vulgarian — Graydon Carter (a nickname Trump hates because he seems to think it implies that he is under-endowed "down there")
Tiny Hands Trump, Babyfingers Trump, Pixie Fingers Trump, The Tiny-Handed Tyrant, Stumpy, Chubby Nubby, Short-Fingered Totalitarian — nicknames inspired by Graydon Carter's nickname above
(3) Agent Orange — Anonymous
(2) The Trump of Doom — Michael R. Burch (first used in a possibly prophetic Facebook post on September 11, 2015)
(1) Number one, with a bullet: THE ANTICHRIST — by God and the Hebrew prophets — when they spoke of "the Trump of Doom" and a "little horn" were they speaking literally? (For a YUGE slew of 666 connections, see Is Donald Trump the Antichrist?)

Currently Rising: Prima Donald, Sparkly Princess Trumpelina, Dainty Donald, The Ginger Genuflector, Orange O'Hara, Little Miss Teapot, Quasi-Dodo and The Hunchback of Notre Shame, after Trump curtsied submissively before the Saudi king in his first official act as an American president abroad. The Big Dipper dropped a pretty little curtsey (at least for a Shambling Sasquatch) while receiving the Gilded Collar of King Salman Abdulaziz al-Saud. This, after Two-Faced Trump had blasted President Obama for a much more reserved half-bow several years before, tweeting at the time: "Do we want a President who bows to the Saudis?" But a meek little curtsey, however prettily delivered, is far less presidential than a half-bow. So let's add Hippo-CRAZY, The Hissy-Fit Hypocrite and the Hypocritic Oaf to our ever-expanding list of Trump nicknames.




Trump loyalist and campaign adviser Roger Stone was livid about the curtsey, tweeting: "Candidly, it makes me want to puke #JaredsIdea." But was it a submissive bow, an obsequious curtsey, or both? One Tweeter was happy to explain: "To be fair, first Trump bowed, then he curtsied like a sparkly princess!" Another Twitter user noted: "Unlike Obama, Trump refuses to debase himself by bowing before a king. Diplomat that he is, Trump deftly opts instead for a half-curtsy!" Another Tweeter adopted Trump-Speak: "Trump has all the best curtsies, nobody curtsies like Trump, everybody says so!" In a similar vein, Trump's submissive gesture was described as "one of the best and bigliest curtsies." Another tweet: "For all those that were apoplectic over Obama's bow, I present the Trump curtsy." Someone opined that Trump must have watched reruns of Shirley Temple while practicing his curtsies. Someone else insisted that Melania had taught her husband his "little teapot" moves! But what was it, really? During the debate, Michael Moore tweeted: "It still looks like a curtsy to me." John Aravosis tweeted that Trump will "make America curtsy again." However, there was considerable confusion: was the correct hashtag #TrumpCurtsy or #TrumpCurtsey with an "e"? Well, the "e" seems a bit more feminine to us, so we are voting for "curtsey" as befitting Her Royal Highness Princess Prima Donna.

Melania has repeatedly swatted away the Serial Groper's tentacles in public. There is rumor that after the divorce Trump will issue an executive order allowing him to marry Ivanka, the Norwegian Wood Inducer. But what will Ivanka's title be? Will she be the First Lady, the First Daughter, or the first First-Lady-Daughter?

Also rising, Ole King Coal, after Trump threatened to pull the U.S. out of the Paris Accord on Climate Change. Towering Inferno Trump's motto is "Burn, baby, burn!" He will burn more and more coal until the earth is too hot for humans to live above ground. Then Trump supporters can explain to their Albino Mole Children why they voted for the King of Denial.

Q: What do you call it when a Man-Baby takes over the American government? A: Coup d'Tot. — Michael R. Burch