The HyperTexts

Donald Trump Russia Quotes
Donald Trump Russia Quotes Timeline

These are Donald Trump quotes about Russia and collusion with Vladimir Putin and his government. Trump has repeatedly called the FBI investigation led by Robert Mueller a "witch hunt." But why have Trump and key players in his campaign and administration constantly lied to the American public, the press, and the FBI? What about Trump's close ties to Russian oligarchs and the Russian mafia? How many of the Russian mobsters involved report directly to Putin and his henchmen? Why does Trump seem to be the ultimate kompromat, an unwitting pawn lost in deep denial of the role Putin played in his election?

BREAKING NEWS: On December 10, 2018, Maria Butina aka "Red Sparrow" agreed to plead guilty to conspiring to violate laws prohibiting covert foreign agents and is said to now be "fully cooperating" with prosecutors. Her Russian handler, Alexander Torshin, is reported to be "retiring" according to Russian media. Toshin's "retirement" announcement came as news of Butina's plea deal emerged.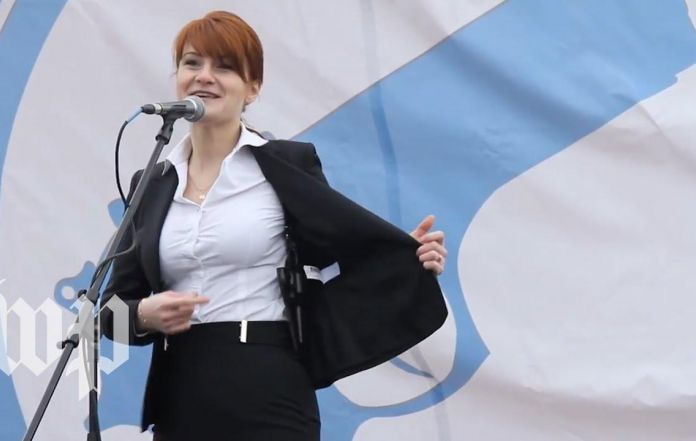 "Red Sparrow" Maria Butina packs heat, modeling a white blouse and holster for gun enthusiasts

This page quotes what Donald Trump has said himself, in his own words. I have also provided a detailed chronological timeline so that anyone interested can see how Trump's quotes evolved over time, creating a maze of lies and contradictions. The timeline shows how the activities of Russian agents like "Red Sparrow" Maria Butina and her handler, Alexander Torshin, mesh with Trump's campaign and his laudatory comments about Russia's thuggish Mr. Putin. The timeline also shows how members of the Russian mob serve and obey the ultimate mob boss, Putin.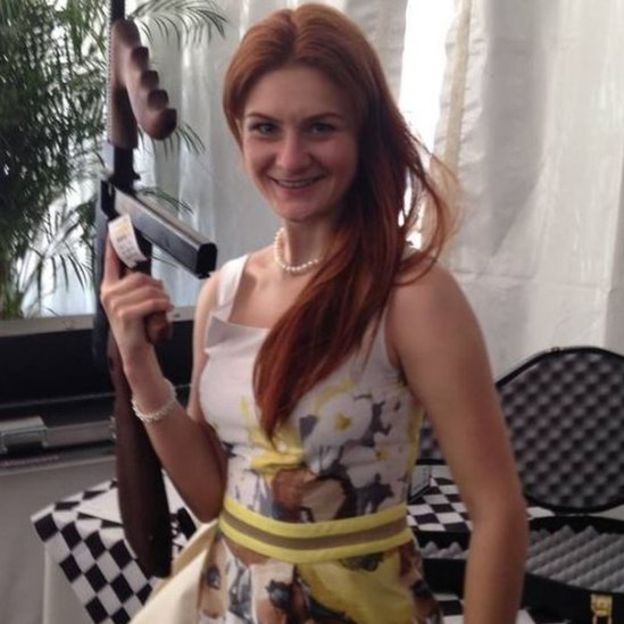 Maria Butina aka "Red Sparrow" packs heat, seducing American NRA leaders

According to Jeremy Bash, a former CIA chief of staff, the Trump administration has produced "the most pro-Russian foreign policy coming out of Washington in our history." A pertinent question is: WHY? The quotes below prove beyond the shadow of a doubt that Trump and his cronies have been lying through their teeth. The timeline explains WHY they have been lying through their teeth.

The Russian agents and accessories involved include Aras Agalarov, Emin Agalarov, Tevfik Arif, Andrey Artemenko, Julian Assange, Maria Butina, Yuri Chaika, Yuri Dubinin, Paul Erickson, Rob Goldstone, Irakly Kaveladze, Sergey Kislyak, Sergey Lavrov, Andrei Nikolaev, Dmitry Peskov, Dmitry Rogozin, Andrey Rozov, Felix Sater, Evgeny Shmykov, Aleksandr Torshin, Natalia Veselnitskaya and Oleg Zhiganov.

Trump family members and associates who apparently interacted and/or colluded with Russians aligned with the Putin government, even as it blatantly attacked American democracy, or who apparently lied in botched cover-ups include: Donald Trump Sr., Donald Trump Jr., Eric Trump, Ivanka Trump, Jared Kushner, Mike Pence, Paul Manafort, Roger Stone, Rick Gates, Michael Cohen, Michael Flynn, Rudy Giuliani, K. T. McFarland, Reince Priebus, Jeff Sessions, Rex Tillerson, George Papadopoulos, Wilbur Ross, Carter Page, Anthony Scaramucci, Steve Bannon, Michael Caputo, Don McGahn, Elliot Broidy, Erik Prince, Peter W. Smith, Rick Dearborn and Nigel Farage.



How is that not treason?



Donald Trump Russia Quotes

I have no deals that could happen in Russia, because we've stayed away. — Donald Trump

It's ridiculous that I wouldn't be investing in Russia. — Donald Trump, testifying under oath in a 2007 court deposition

Trump announced plans for a $250 million investment at a November 1996 news conference in Moscow. At the time he mentioned "tremendous financial commitments" and made it sound like a blockbuster deal. In 2008 his son Donald Trump Jr. told eTurboNews that he had traveled to Russia six times in 18 months, working on prospective deals there. While in Moscow, Trump Jr. informed investors that the Trump Organization had trademarked the Donald Trump name in Russia and planned to build Trump-branded housing and hotels in Moscow, St. Petersburg and Sochi. In reality, Donald Trump Sr. has been trying very hard to build a Moscow Trump Tower for 30 years. He hasn't "stayed away" but seems more like a moth drawn to an irresistible but very dangerous flame.

I HAVE NOTHING TO DO WITH RUSSIA - NO DEALS, NO LOANS, NO NOTHING! — Donald Trump, Jan. 11, 2017, on Twitter in ANGRY CAPS

But in 2014 Eric Trump told golf reporter James Dodson that the Trump Organization was able to expand its golf holdings during a major financial crisis when American banks refused to make such loans, because "We don't rely on American banks. We have all the funding we need out of Russia." Each golf course on the average would cost around $100 million, so Eric Trump was talking about YUGE sums of money being provided "out of Russia." Was Russia laundering money through golf courses?

I have no deals with Russia. — Donald Trump

We see a lot of money pouring in from Russia. — Donald Trump Jr.

According to a Bloomberg investigation into Trump World Tower, which broke ground in 1998, "a third of units sold ... involved people or limited liability companies connected to Russia and neighboring states." Trump World Tower sales agent Debra Stotts told Bloomberg that they had "big buyers from Russia and Ukraine and Kazakhstan." One broker, Dolly Lenz, sold "about 65 units in Trump World Tower […] to Russian buyers looking for real estate."

I have no dealings with Russia. — Donald Trump

Russians make up a pretty disproportionate cross-section of a lot of our assets. — Donald Trump Jr.

The New Republic has extensively documented how the Trump Organization actively sought Russian buyers, so much so that the area around Trump Sunny Isles in Florida became known as "Little Moscow." Have the Trumps been laundering Russian rubles through American real estate megadeals?

I have nothing to do with Russia. I have nothing to do with Russia. — Donald Trump

I've done a lot of business with the Russians. — Donald Trump, Oct. 17, 2013, in an interview with David Letterman

I have nothing to do with Russia. I promise you I've never made ... I don't have any deals with Russia. — Donald Trump

I have plans for the establishment of business in Russia. Now, I am in talks with several Russian companies to establish this skyscraper. — Donald Trump, Nov. 9, 2013, in an interview with RT (Russia Today)

I had Miss Universe there a couple of years ago. Other than that, no, I had nothing to do [with Russia]." — Donald Trump

Reuters reported that a group of 63 Russia billionaires have invested nearly $100 million in several Trump properties in Florida. Is this part of a giant money laundering scheme?

I don't know who Putin is. He said I'm a genius. I never met Putin. — Donald Trump, July 27, 2016 in a news conference (Putin did not call Trump a genius, but "colorful" — perhaps like Bozo the Clown?)

I do have a relationship [with Putin]. — Donald Trump, November 2013, in an interview with MSNBC's Thomas Roberts before the Miss Universe pageant in Moscow

I have no relationship with Putin. I don't think I've ever met him. I never met him. I don't think I've ever met him. — Donald Trump, July 31, 2016, in an interview on ABC's This Week (Trump claims to have the world's best memory, but can't remember if he met the world's second or third most powerful man, after trying very hard to meet him for years?)

Putin even sent me a present, beautiful present, with a beautiful note. I spoke to all of his people. — Donald Trump, March 6, 2014, at CPAC

Trump told reporters that he spoke with Putin "indirectly and directly" while he was in Moscow. — Donald Trump, May 27, 2014, at the National Press Club

I don't know Putin. I think it would be great if we got along with Russia ... But I don't know Putin. — Donald Trump, October 9, 2016, during a presidential debate

On the campaign trail, Trump said that he "knows" Putin. — Donald Trump, July 11, 2015, at a town hall in Las Vegas

I don't know Putin, have no deals in Russia. — Donald Trump, Feb. 7, 2017, on Twitter

I got to know him [Putin] very well ... we were stablemates. — Donald Trump, Nov. 10, 2015, in a Republican presidential debate

All his denials about Russian collusion are contradicted by things Trump and his children have said, when they bragged about how much money they were getting from the Russians and all the megadeals they were doing in Russia. Like most liars, Trump can't keep his story straight. In reality, he and his family were secretly meeting with Russian agents, making "back door" and "back channel" deals, working with WikiLeaks and Russia to influence the 2016 presidential election, and jeopardizing national security by compromising themselves in their lust for money, power and blockbuster real estate deals.



Donald Trump Russia Quotes Timeline

March 14, 1869: Frederick Trumpf (or Drumpf) is born in Germany. He would make a sordid fortune by operating a bordello during the Klondike gold rush in Canada. When he returned to Germany, he was accused of income tax evasion and draft dodging. His son Frederick (Fred) Trump was conceived in Germany but the family was evicted before he was born, becoming homeless refugees. The United States took them in, but later the Trumps would rail against other refugees, especially those with darker skin. The Trumps would also claim to be Swedish, rather than German.

October 10, 1880: Elizabeth Christ Trump is born in Germany. Because Elizabeth means "vow" her name literally means "Vow (for) Christ (to be) Trumped." She would die on 6-6-6, leaving the Trump family business to her son, Frederick Christ Trump, who would in turn leave it to Donald Trump, whose inheritance has been estimated at $413 million in today's dollars by The New York Times. Thus Donald Trump's claim to be a "self made man" is yet another bald lie.

October 11, 1905: Frederick Christ Trump is born. Because Rick means "king" his name literally means "King Christ Trumper." He would be arrested at a KKK rally and Woody Guthrie would write angry songs about the racism of "Old Man Trump." He would also be accused of ripping off both the American government and his tenants by overbilling public housing projects.

June 14, 1946: Donald Trump is born on a rare blood moon. The Bible says the moon will turn to blood before "the great and terrible day of the LORD."

Future events: Ivanka Trump and her husband Jared Kushner will purchase the tower at 666 Fifth Avenue, a street symbolic of money (Mammon). The 666 tower will be purchased for 1.8 billion dollars, and that's the product of three more sixes. According to multiple reports, the famous Trump Tower is 203 meters tall, and 203 meters = 666 feet. The Trumps made their home on the 66th floor! Donald Trump will take control of his grandmother's real estate empire after she dies on June 6, 1966 = 6-6-6. The 2016 election was "all Trump all the time" and 2016 = 666+666+666+6+6+6. In the first year of Trump's presidency, the budget deficit swells to 666 billion dollars (per Fox Business and other sources). For many more connections of Donald Trump to the number 666, please click Is Donald Trump the Antichrist? The rest of this page will concentrate on facts and quotations, but the information presented here may be of interest to Christians, Jews and anyone else with an interest in the Bible.

1949: By age three, Donald Trump was earning $200,000 a year (in today's dollars) from his father's business empire. He would be a millionaire by age eight. And it was apparently all part of a tax dodge created by his father to shield as much of his income as possible from income taxes. Donald's biggest payday he received from his father came after Fred Trump's death. According to The New York Times: "It happened quietly, without the usual Trumpian news conference, on May 4, 2004, when Mr. Trump and his siblings sold off the empire their father had spent 70 years assembling with the dream that it would never leave his family. Donald Trump's cut: $177.3 million, or $236.2 million in today's dollars."

1977: This from Politco: "When did the KGB open a file on Donald Trump? We don't know, but Eastern Bloc security service records suggest this may have been as early as 1977. That was the year when Trump married Ivana Zelnickova, a twenty-eight-year-old model from Czechoslovakia. Zelnickova was a citizen of a communist country. She was therefore of interest both to the Czech intelligence service, the StB, and to the FBI and CIA." There was considerable scrutiny: "According to files in Prague, declassified in 2016, Czech spies kept a close eye on the couple in Manhattan. (The agents who undertook this task were code-named Al Jarza and Lubos.)" As with other Eastern Bloc agencies, the Czechs would have shared their intelligence with their counterparts in Moscow, the KGB. According to the Czech files, Ivana mentioned her husband's growing interest in politics. This may have had a major bearing on events leading up to Trump's trip to Moscow in 1987.

January 1984: General Vladimir Alexandrovich Kryuchkov is the head of the First Chief Directorate, the KGB arm responsible for gathering foreign intelligence via more than 12,000 intelligence officers. Kryuchkov instructs his agents to be "more creative" about using money and flattery to cultivate and recruit Americans. And no one was more susceptible to money and flattery than Donald J. Trump ...

As you read this timeline, please keep in mind that Kryuchkov told his agents that these new recruits "should be acquired chiefly among prominent figures in politics and society, and important representatives of business and science." The recruits should not only "supply valuable information" but also "actively influence" a country's foreign policy "in a direction of advantage to the USSR." And Trump would do just that, by praising Vladimir Putin to the skies while ignoring his military adventurism and working to remove economic sanctions that were stifling Russian "creativity."

A promising recruit would be promoted to a "subject of deep study," an obyekt razrabotki. The form employed demanded basic details: name, profession, family situation, and material circumstances. There were other questions, too: what was the likelihood that the "subject could come to power (occupy the post of president or prime minister)"? And an assessment of personality. For example: "Are pride, arrogance, egoism, ambition or vanity among subject's natural characteristics?" Trump would, of course, check all the KGB's boxes.

A major section concerned kompromat. The document asked for: "Compromising information about the subject, including illegal acts in financial and commercial affairs, intrigues, speculation, bribes, graft … and exploitation of his position to enrich himself." Plus "any other information" that would compromise the subject before "the country's authorities and the general public." For instance: "Is he in the habit of having affairs with women on the side?" Naturally the KGB could exploit this information by threatening "disclosure." This explains the "pee tapes" and other kinds of dirt.

April 1985: Kryuchkov's recruitment plan was updated for "prominent figures in the West." The directorate's aim was to draw the target "into some form of collaboration with us." This could be "as an agent, or confidential or special or unofficial contact."

1986: As Trump tells it himself, the idea for his first trip to Moscow came after he found himself seated next to the Soviet ambassador Yuri Dubinin. This was in autumn 1986 at a luncheon held by Leonard Lauder, the son of Estée Lauder. Dubinin's daughter Natalia "had read about Trump Tower and knew all about it," Trump said in his 1987 bestseller, The Art of the Deal. Trump continued: "One thing led to another, and now I'm talking about building a large luxury hotel, across the street from the Kremlin, in partnership with the Soviet government."

The meeting was surely no accident because, according to his daughter's account, the first time Yuri Dubinin came to New York City, he actually sought out Trump personally on his ride from the airport! They parked the car, rode the elevator to the top of Trump Tower, met Trump, and the ambassador proceeded to lay on the flattery thick and heavy. Had he read Trump's KGB profile? That would be my educated guess.

And it worked, according to Natalia Dubinin: "Trump melted at once. He is an emotional person, somewhat impulsive. He needs recognition. And, of course, when he gets it he likes it. My father's visit worked on him like honey to a bee."

According to Politico: "In Dubinina's account she admits her father was trying to hook Trump." And it certainly sounds like Kryuchkov's recruitment and cultivation plan being put into action. Dubinin's other daughter, Irina, said that her father was on a mission as ambassador—a mission to make contact with America's business elite. To quote Politico again: "For sure, Gorbachev's Politburo was interested in understanding capitalism. But Dubinin's invitation to Trump to visit Moscow looks like a classic cultivation exercise, which would have had the KGB's full support and approval." Not to mention the KGB's ever-expanding Trump dossier.

January, 1987: In The Art of the Deal, Trump writes: "In January 1987, I got a letter from Yuri Dubinin, the Soviet ambassador to the United States, that began: 'It is a pleasure for me to relay some good news from Moscow.' It went on to say that the leading Soviet state agency for international tourism, Goscomintourist, had expressed interest in pursuing a joint venture to construct and manage a hotel in Moscow."

According to Viktor Suvorov—a former GRU military spy—and others, the KGB ran Intourist, the agency to which Trump referred. Intourist functioned as a branch of the KGB. Created by Stalin in 1929, Intourist was the Soviet Union's official state travel agency. One of its most important jobs was to vet and monitor all foreigners who entered the Soviet Union. "In my time it was KGB," Suvorov said. "They gave permission for people to visit." The KGB's first and second directorates would receive lists of prospective visitors to the country based on their visa applications. As a GRU operative, Suvorov was personally involved in recruitment, albeit for a rival service to the KGB. Soviet spy agencies were always interested in cultivating "young ambitious people," he said—an upwardly mobile businessman, a scientist, a "guy with a future." Once in Moscow, they would receive lavish hospitality. "Everything is free. There are good parties with nice girls. It could be a sauna and girls and who knows what else." The hotel rooms or villa were under "24-hour control," with "security cameras and so on," Suvorov said. "The interest is only one. To collect some information and keep that information about him for the future." These dirty-tricks operations were all about the long term, Suvorov said. The KGB would expend effort on visiting students from the developing world, not least Africa. After 10 or 20 years, some of them would be "nobody." But others would have risen to positions of influence in their own countries. Suvorov explained: "It's at this point you say: 'Knock, knock! Do you remember the marvelous time in Moscow? It was a wonderful evening. You were so drunk. You don't remember? We just show you something for your good memory.'"

By January 1987, Trump was closer to the "prominent person" status of Kryuchkov's note. Dubinin deemed Trump interesting enough to arrange his trip to Moscow. Another U.S.-based Soviet diplomat, Vitaly Churkin—the future U.N. ambassador—helped put it together.

July 4, 1987: Trump flies to Moscow for the first time, together with Ivana and Lisa Calandra, Ivana's Italian-American assistant. According to Politico: "The top level of the Soviet diplomatic service arranged his 1987 Moscow visit." According to his book The Art of the Deal, Trump and Ivana scoped out possible sites for a luxury hotel that he wanted to build in a joint venture with the Kremlin's hotel and tourism agency. Trump wrote that he toured "a half dozen potential sites for a hotel, including several near Red Square." He also said that he "was impressed with the ambition of Soviet officials to make a deal." The Trumps stayed in Lenin's suite at the National Hotel, near Red Square. The hotel was linked to the glass-and-concrete Intourist complex next door and was— in effect—under KGB control. The Lenin suite would have been bugged. Thus the KGB's dossier on Trump would have gotten larger. Nothing came of the trip—from a businessman's perspective. This pattern of failure would be repeated in Trump's subsequent trips to Moscow. But Russia would earn a tremendous return from its small investment, and perhaps from its eavesdropping. And was it a coincidence that it was around this time that Trump began to talk about running for president, which he mentioned in The Art of the Deal? Or was the idea planted via seeds of flattery? It does seem possible, at least. In any case, according to TV Guide, Trump considered running for president in 1987-1988 but was dealing with massive casino debt at the time and may not have been able to afford either the monetary or time investments required.

1988: Shortly after his return from Russia and the publication of The Art of the Deal, Trump creates the Donald J. Trump Foundation. Trump's "charity" has been locked in an ongoing lawsuit with New York state, which has accused the foundation of "persistently illegal conduct" which includes campaign finance violations, using foundation money in the Trumps' self-interest ("self-dealing"), and illegally coordinating donations with Donald Trump's presidential campaign.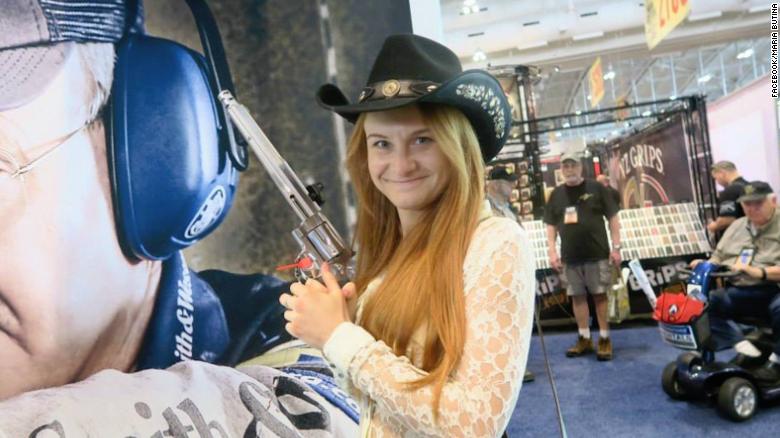 Maria Butina aka "Red Sparrow" seduces American NRA members and National Prayer Breakfast attendees alike

November 10, 1988: The birth of Maria Valeryevna Butina, a Russian agent who has been compared to the sexy Russian spy in the movie Red Sparrow. She told a conservative radio show host that she grew up in the woods of Siberia, where her father taught her and her sister to hunt bears and wolves. "She was like a novelty," said Saul Anuzis, a former chairman of the Michigan Republican Party, who met Butina at a handful of conservative events in 2016. Butina would infiltrate the NRA and the National Prayer Breakfast, compromising influential American conservatives in the process, while creating "back channels" of communication between the Russian and American governments by using conservative organizations as conduits. She would be arrested by the FBI in 2018, charged with acting as a Russian agent, and would eventually plead guilty and agree to cooperate with American law enforcement.

1989: As Donald Trump's failed businesses — Trump Shuttle, the Plaza, his Atlantic City Casinos, etc. — left him drowning in personal debt that eventually soared to around $900 million, his father kept bailing him out, to the tune of $8.3 million in today's dollars, according to The New York Times. But there was more money to come; a lot more ...

1990: During the 1990s, according to a New York Times investigation and report, "The president's parents, Fred and Mary Trump, transferred well over $1 billion in wealth to their children, which could have produced a tax bill of at least $550 million under the 55 percent tax rate then imposed on gifts and inheritances." But the elder Trumps apparently evaded around half a billion dollars in taxes by "gifting" money to their children rather than letting them inherit it and pay the appropriate taxes. The methods employed to avoid inheritance taxes sound illegal, but even if everything was legal, Trump is still obviously lying when he says the "only" help he received from his father was a $1 million loan that he had to pay back with interest! Rather, "The reporting makes clear that in every era of Mr. Trump's life, his finances were deeply intertwined with, and dependent on, his father's wealth." As for that $1 million loan, Fred Trump actually loaned The Donald at least $60.7 million, or $140 million in today's dollars, the Times found. But that doesn't include the much larger sums of money they gave him. Nor does there seem to be any evidence that Donald Trump ever paid back the loans he received from his father.

April 1990: Trump's Taj Mahal casino opens in Atlantic City, but would be bankrupt within six months.

Dec. 17, 1990: Fred Trump dispatched Howard Snyder, a trusted bookkeeper, to Atlantic City with a $3.35 million check. Mr. Snyder bought $3.35 million worth of casino chips and left without placing a bet. Apparently, even this huge cash infusion wasn't sufficient, because that same day Fred Trump wrote a second check to Trump's Castle, for $150,000 more, bank records show. So daddy Trump gave his spendthrift son $3.5 million on a single day, but all his casinos eventually went under, anyway. This was an illegal $3.5 million loan, so daddy Trump had to fork over a $65,000 civil penalty as well. But as much as daddy Trump gave to his son, The Donald was not satisfied. According to the Times it was around this time that Donald Trump tried to convince his father to sign a new will far more favorable to his already pampered son. For once, at least, Fred Trump stood up to his son and refused to sign the new will, going so far as to consult his daughter, Maryanne Trump Barry, then a federal judge. "This doesn't pass the smell test," Fred Trump told his daughter, as she recalled during her deposition. She agreed. Fred Trump's lawyers quickly drafted a new codicil stripping Donald Trump of sole control over his father's estate. Fred Trump signed it immediately. Fred Trump had learned something American voters need to learn: Donald Trump cannot be trusted, even what someone has treated him like a prince.

July 1991: Trump's Taj Mahal files for bankruptcy. According to The Washington Post, Trump "defaulted on interest payments to bondholders as his finances went into a tailspin." Despite all the money he received from his father, Trump could not keep up with debts on two other Atlantic City casinos, and those two properties declared bankruptcy in 1992. A fourth property, the Plaza Hotel in New York, also declared bankruptcy in 1992. PolitiFact uncovered two more bankruptcies filed after 1992, making six in all. Trump Hotels and Casinos Resorts filed for bankruptcy again in 2004, after accruing about $1.8 billion in debt. Trump Entertainment Resorts also declared bankruptcy in 2009, after being hit hard during the 2008 recession. And this doesn't include other Trump business ventures that failed like Trump Vodka, Trump University, and others.

1991: The Russia-born Felix Sater is sentenced to a year in prison in 1991 for stabbing a man in the face with a broken margarita glass at the Rio Grande restaurant and bar in New York. Sater will emerge in 2005 as a connection between Donald Trump and Mr. Putin's personal assistant, Dmitry Peskov. Sater would conspire with Michael Cohen to offer Mr. Putin a free $50 million penthouse suite in the proposed Moscow Trump Tower.

December 1991: Fred Trump apparently gave Donald Trump a "tax free" gift of $15.49 million by selling his $15.5 million equity in Trump Palace to his son for only $10,000. It should have been reported to the IRS as a taxable gift, but there is no evidence that such a gift was ever registered.

1992: Paul Erickson, later accused of acting of an agent for Russia in concert with "Red Sparrow" Maria Butina, manages the 1992 presidential campaign of Pat Buchanan.

Aug. 13, 1992: The Trumps incorporate a company named All County Building Supply & Maintenance that will allow the Trump children to siphon off Fred Trump's enormous wealth by overbilling him for maintenance and repairs provided to his enormous land and property holdings. The bills to Fred Trump's empire were padded 20% to 50% and the overage went to the Trump children and John Walter, a favorite nephew of Fred Trump's.

May 1995: Fred Trump signed documents granting Robert Trump power of attorney to act "in my name, place and stead." It seems significant that he didn't choose Donald Trump, doesn't it?

December 1995: Donald Trump's 1995 tax return, mailed to the Times in September 2016, showed a staggering loss of $916 million. No wonder The Donald wasn't satisfied with $413 million from his father and apparently tried to grab more. But the $916 million was not the complete picture, just Trump's personal fraction. According to Bloomberg, Trump's companies left US banks on the hook for a staggering $3.4 billion in debt. Thus, "In the wake of that collapse, Trump became a pariah among major U.S. banks."

1996: Trump returns to Russia, exploring the possibility of building in the heart of Moscow via a partnership with a group of U.S. tobacco executives. The group got as far as drawing up architectural plans and meeting with city leaders, but once again Trump failed to close the deal. While in Moscow Trump also considered revamping the dilapidated Hotel Moskva next to the Kremlin and raised the prospect of a "super-luxury residential tower" bearing his name on other sites he visited during his three-day stay in the city. At a 1996 news conference Trump announced that he intended to invest $250 million in Russian building projects: "We have tremendous financial commitments from various groups. We're ready to go anytime we want to go." But it was either more hot air, or something flopped.

1997: Donald Trump publishes The Art of the Comeback. He never mentions the vast sums of money that he received in so many ways from his father. He makes it sound like he did it all on his own.

1997: "Moscow is going to be huge," Trump told Playboy magazine during an interview. Trump also told The New Yorker: "We are actually looking in Moscow right now, and it would be skyscrapers and hotels ... We're looking at the Moskva Hotel. We're also looking at the Rossiya. That's a very big project; I think it's the largest hotel in the world."

1998: The cover of the adult magazine Genesis asks "DONALD TRUMP THE NEXT PRESIDENT?" And 1998 = 666 + 666 + 666.

1998: Trump's association with Deutsch Bank began in the late 1990s, when major Wall Street firms would no longer loan Trump money following a series of disastrous ventures such as the Trump Shuttle and Trump's Atlantic City casinos. The Trump-Deutsch Bank relationship began in 1998, when a group of real-estate bankers gave Trump a $125 million loan for renovations to his 40 Wall Street property. Deutsche Bank's real estate business had only been in operation for a year at that point, so the group, led by Mike Offit, was willing to take a risk on Trump, even though he had been essentially blacklisted by American banks and Wall Street. According to Offit, Trump quickly became his best client. Offit's team soon financed the construction of Trump World Tower in New York City and backed his failed bid at redeveloping the site of the New York Coliseum. Deutsche Bank would become infamous for shady deals such as money laundering and engaging in transactions with sanctioned Russian banks. For instance, a Deutsche Bank internal probe revealed that it may have "handled about $150 billion" of the $230 billion that was laundered out of Russia's Danske bank. Did Trump and Deutsche Bank perhaps help Russia launder huge sums of money through gigantic real estate transactions?

1999: Vyacheslav Viktorovich Volodin becomes deputy chairman of the third State Duma. In September 2001 he would become the head of the Fatherland – All Russia political bloc. The Russian newspaper Vedomosti has linked the strategy of public consciousness manipulation through new media (such as social media) to Vyacheslav Volodin. Thus Volodin is apparently the Russian godfather of the troll farm. Legions of Russian trolls would help swing the 2016 presidential election to Donald Trump.

June 25, 1999: Fred Trump dies at age of 93.

2000: Trump enters the presidential race as a Reform Party candidate and receives more than 15,000 votes in the party's California primary.

April 3, 2000: "It's very possible that I could be the first presidential candidate to run and make money on it." (Fortune)

Aug. 7, 2000: Donald Trump's mother, Mary Trump, dies at 88. Most of her vast fortune has already been transferred to her children. The inheritance taxes paid by her children are just a fraction of what should have been paid, according to The New York Times.

2001: Aleksandr Torshin is elected to serve in Russia's upper house of parliament, the Federation Council. He makes his first contact with the NRA. Torshin would become the handler for Maria Valeryevna Butina, a Russian agent who has been compared to the sexy Russian spy in the movie Red Sparrow. Together they would infiltrate the NRA and use its enormous political influence to help swing the 2016 presidential election to Donald Trump. Torshin and Butina would both become "life members" of the NRA and begin traveling from Russia to regularly attend NRA conventions in the United States. They would reciprocate with their own invitations to NRA bigwigs to visit Moscow for Right to Bear Arms events — the first of which would take place in November 2013 and feature a "concealed carry fashion show."

2001: Michael Cohen buys a Trump World Tower apartment. He later helped Trump in his dispute with a condo board and "moved on up" from there.

December 2003: Donald Trump persuades his siblings to sell their father's remaining holdings to Ruby Schron. Mr. Schron paid $705.6 million for most of the empire, which included paying off the Trumps' mortgages. A few remaining properties were sold to other buyers, bringing the total sales price to $737.9 million. On May 4, 2004, the Trump children spent most of the day signing away ownership of what their father had doggedly built over 70 years. The sale received little news coverage, and an article in The Staten Island Advance included the rarest of phrases: "Trump did not return a phone call seeking comment." Even more extraordinary was this unreported fact: The banks financing Mr. Schron's purchase valued Fred Trump's empire at nearly $1 billion. In other words, Donald Trump, the self-alleged master dealmaker, sold his father's empire for hundreds of millions less than it was worth!

2003-2004: Trump begins hosting The Apprentice. The show's theme song is "For the Love of Money" and it warns that someone who loves money will steal from his own mother and family. Trump again mulls a run for president, but ultimately decides not to join the race.

2005: Trump finds a new partner in the Bayrock Group, a company with offices in Trump Tower two floors below Trump's executive suite. The Bayrock Group would obtain deals to build Trump-branded properties in several cities. Trump's point person on the projects was Felix Sater, a Russian-born businessman with a very checkered past who has been described as a "career criminal." Sater once served a year in prison after stabbing a man in a bar fight so savagely that the victim required more than a hundred stitches. Sater also pled guilty to racketeering in a $40 million stock fraud case linked to the Russian Mafia. To avoid more prison time, Sater became an informant for the FBI and cooperated with investigations into organized crime and money laundering. Sater would later play a role in Russia's interference with the 2016 presidential election. According to The New York Times and other sources, Sater wrote and sent to his Russian contacts (probably including Dmitry Peskov, Putin's personal assistant) an email stating: "I will get Putin on this program and we will get Donald elected" and "If he says it we own this election." Sater is reportedly a childhood friend of Trump's personal lawyer and "fixer," Michael Cohen. In January 2017, Sater would meet with Ukrainian politician Andrey Artemenko and Michael Cohen at the Loews Regency in Manhattan to discuss a plan to lift sanctions against Russia.

2006: Tevfik Arif, an ex-Soviet official who co-founded Bayrock Group, a New York-based real estate company, helped Trump fund Trump SoHo in New York, a 46-story, residential-hotel hybrid building later renamed "The Dominick." Felix Sater, the other Bayrock founder, has been a person of interest to Robert Mueller during his investigation into alleged 2016 campaign collusion with Russia. Sater, according to The New York Times, wrote a series of emails in 2015 to Trump's personal lawyer and "fixer" Michael Cohen in which he boasted about his ties to Russia's President Vladimir Putin. "Our boy can be president of the USA and we can engineer it," Sater wrote in one of the emails. "I will get all of Putin's team to buy in on this." The Russian-born and Putin-connected Sater was a senior adviser to Donald Trump and the Trump Organization when construction of the Trump SoHo began. Furthermore, the Trump Organization gave Sater and Bayrock a one-year exclusive deal to hunt for land in Moscow for a development, according to documents obtained by The Washington Post.

2007: Ivanka Trump and her husband Jared Kushner purchase the tower at 666 Fifth Avenue, a street symbolic of money (Mammon). The 666 tower is purchased for 1.8 billion dollars, and that's the product of three more sixes. For many more connections of Donald Trump to the number 666, please click Is Donald Trump the Antichrist?

2007: In a court deposition related to Bayrock, Trump said: "It's ridiculous that I wouldn't be investing in Russia." And he explained why: "Russia is one of the hottest places in the world for investment. We will be in Moscow at some point." And he was investing in Russia, since he launched his Trump Super Premium Vodka brand in Moscow in 2007. But it was yet another flop, fizzling four years later.

2008: Donald Trump Jr. told eTurboNews that he had traveled to Russia six times in 18 months, researching deals.

2008: "In terms of high-end product influx into the US, Russians make up a pretty disproportionate cross-section of a lot of our assets," Donald Trump Jr. said at a New York real-estate conference that year. "Say, in Dubai, and certainly with our project in SoHo, and anywhere in New York. We see a lot of money pouring in from Russia."

2011: Michael Cohen is being described as Trump's personal "pit bull" and "fixer." Later, Cohen would make himself sound more like Trump's personal lapdog and door mat.

2011: Maria Butina aka "Red Sparrow" participates in the Youth Primaries organized by the Young Guard of United Russia, the youth wing of the Putin-led United Russia party. (Butina has been compared to the sexy female spy in the movie Red Sparrow.) Butina is hired as a "special assistant" by Aleksandr Torshin, a Senator in the Federation Council of Russia and a leading member of United Russia. Butina begins traveling back and forth to the U.S. with Torshin. Butina creates an NRA-like organization called "Right to Bear Arms [ru]" that the Russian government will soon use to woo and wow pro-gun Republicans via its connections to the NRA, the National Prayer Breakfast, and other conservative organizations. In 2015 Butina would email Paul Erickson a description of her plan to help the Republicans win the 2016 elections through the NRA. The same year Torshin would became deputy governor of the Central Bank of Russia, with Butina as his "special assistant" for two years. Torshin would actively seek to build a connection with the Trump campaign in 2016, according to various reports, including leveraging his lifetime membership in the NRA to build a relationship with Donald Trump Jr. Federal prosecutors have said that Torshin helped direct Butina's activities in the United States, including an effort to make contacts in the leadership of the NRA. In 2017, Butina told The Washington Post that she never worked for the Russian government. But according to The Daily Beast, Butina has presented herself as a "Russian central bank staffer, a leading gun rights advocate, a 'representative of the Russian Federation,' a Washington, D.C. graduate student, a journalist, and a connection between Team Trump and Russia" in order to gain access to "high-level contacts" in Washington, D.C. One of Butina's primary objectives would be to build a "back channel" through which the Russian government would be able to communicate with and influence American conservatives, and through their influence, the American government.

2011-2012: The dossier by former British intelligence officer Christopher Steele asserts that the Kremlin had been cultivating Trump for "at least five years" before his victory in the 2016 presidential election. And were they ever successful!

2012: Many polls suggest that Donald Trump is more popular than Mitt Romney. While Trump doesn't run, his "birther" attacks on President Obama made him a hero to white supremacists everywhere.

2013

2013: This is what Trump tweeted in June 2013 while announcing the Miss Universe contest would be held in Moscow: "Do you think Putin will be going to The Miss Universe Pageant in November in Moscow—if so, will he become my new best friend?" A source in Moscow told the Guardian that a meeting with Trump had been penciled into Putin's diary by aides, but apparently it got scrubbed from his schedule a few days beforehand. Trump was paid $20 million by a Russian oligarch, Aras Agalarov, who tried to "hook up" Trump and Putin. According to Donald Trump Jr.'s testimony before the US Senate, the Trumps and Agalarovs attempted to build a Trump Tower in Moscow, but the deal petered out. (The name Aras Agalarov will turn up later, as the "prime mover" of the Trump Tower meeting between Donald Trump Jr., Jared Kushner, Paul Manafort, and Russian agents in June 2016.) While in Moscow, Trump scouted a potential building site, but once again he was unable to close a deal. Trump also appeared in a music video with Emin Agalarov, the pop-singer son of Aras Agalarov. No dealings, really?

Mid-2013: Creation of the Internet Research Agency (IRA) also called Glavset and the "Agency." The Agency employs hundreds or thousands of Russian trolls who post pro-Kremlin propaganda online under fake identities, using Twitter and other social media. Novaya Gazeta reported that Internet Research Agency Ltd's office was in Olgino, a historic district of Saint Petersburg. The terms "Trolls from Olgino" and "Olgino's trolls" have since become general terms denoting trolls who spread pro-Russian propaganda, not just those based in Olgino. Vedomosti has linked the strategy of public consciousness manipulation through new media to Vyacheslav Volodin. Several Russian media outlets have claimed the Agency is funded by Evgeny Prigozhin, an oligarch restaurateur called "the Kremlin's chef" in the independent press for his lucrative government contracts and close relationship with Putin. Prigozhin has also been called "Dr. Evil." Journalists have written that Alexey Soskovets, who had participated in the Russian youth political community, was directly connected to the office in Olgino and answered job inquiries there. More than 1,000 paid bloggers and commenters reportedly worked in a single building at Savushkina Street by 2015. Many more employees worked remotely. Each commentator has a daily quota of 100 comments. An employee interviewed by The Washington Post described the work: "I immediately felt like a character in the book 1984 by George Orwell — a place where you have to write that white is black and black is white. Your first feeling, when you ended up there, was that you were in some kind of factory that turned lying, telling untruths, into an industrial assembly line." According to the testimonies of the investigative journalists and former employees of the offices, the main topics for posts included: criticism of Ukraine's and the United States' foreign policies, and of the top politicians of these states; praise for Vladimir Putin and the policy of the Russian Federation; praise for and defense of Syria's Bashar al-Assad, one of Russia's most despotic and murderous allies; criticism of Alexei Navalny, his sponsors, and Russian opposition in general. Did they study Trump's tweets during troll training exercises, perhaps?

Sept. 13, 2013: Trump praises Putin for his criticism of the term "American exceptionalism," saying: "You think of the term as being fine, but all of sudden you say, what if you're in Germany or Japan or any one of 100 different countries? You're not going to like that term," Trump told CNN. "It's very insulting and Putin really put it to him (Obama) about that."

Sept. 16, 2013: Trump invites Putin to Miss Universe: "So we've invited President Putin, that'll be interesting," Trump said on Fox and Friends. "I know he'd like to go."

October 17, 2013: In an interview with David Letterman, Trump says: "Well I've done a lot of business with the Russians. They're smart and they're tough." Trump goes on to say that Putin is a "tough guy" and that he's met him "once."

November 11, 2013: Trump tweets Aras Agalarov: "I had a great weekend with you and your family ... TRUMP TOWER-MOSCOW is next."

2013: "Red Sparrow" Maria Butina meets Republican political operative Paul Erickson in Russia. The two become close, start dating, and eventually shack up.

2014

Maria Butina and Alexander Torshin become regular guests at Golden Ring of Freedom dinners and VIP events reserved for people who typically donate $1 million or more to the NRA.

April 2014: The Russian interference operation forms a department known as the "Translator Project" to focus on operations via social media, according to the Justice Department.

May 2014: Moscow has developed a strategy with the goal of interfering in the 2016 election and "spread[ing] distrust towards the candidates and the political system in general," according to the Justice Department.

June 2014: The Internet Research Agency takes steps to obscure "its conduct by operating through a number of Russian entities," according to the Justice Department.

2015

March 24, 2015: Maria Butina allegedly emails Person 1 to propose a project titled "Diplomacy." This has come to be known as the "Diplomacy Project." (The email subject line apparently makes reference to a former KGB propagandist.) She writes that the Republican Party (identified only as POLITICAL PARTY 1 in the complaint) will likely gain power in 2016 but is "traditionally associated with negative and aggressive foreign policy, particularly with regards to Russia." The time was right, she wrote, to build a relationship with the party, using the "central place and influence" of the NRA on the Republican Party. She noted her relationship with the NRA and past interactions with Republican officials in the email, anticipating a $125,000 budget to be spent on major political conferences. Person 1 responded with suggestions about people with whom she should meet and some strategic recommendations. Butina and her American lover Paul Erikson will continue to work to create "back channels" of communication between the Russian and American governments, using conservative organizations like the NRA and The Fellowship (the secretive sponsor of the National Prayer Breakfast) as conduits. The Fellowship is also known as The Fellowship Foundation, The Family and The International Foundation.

June 16, 2015: Trump announces his candidacy for the American presidency. His announcement speech is riddled with lies. For instance: "I would build a great wall, and nobody builds walls better than me, believe me, and I'll build them very inexpensively. I will build a great, great wall on our southern border and I'll have Mexico pay for that wall." The projected cost of the wall keeps going up, there has been no construction on a wall (only minor repairs and upgrades of existing fences), and Mexico has not paid for either the non-existent wall nor the fences."

July 11, 2015: Maria Butina attended FreedomFest, where Trump gave a speech, and in what now appears to be a staged event, asked him from the audience about ending U.S. sanctions against Russia. (It has been suggested that the question may have been staged via cooperation between the Russian government and the Trump campaign.) Trump replied: "I know Putin, and I'll tell you what, we get along with Putin. Putin has no respect for President Obama. Big problem. Big problem. And Russia has been driven — you know I've always heard, for years I've heard, one of the worst things that can happen is if Russia ever gets driven to China. We have driven them together, with the big oil deals that are being made. We've driven them together. That's a horrible thing for this country. We have made them friends because of incompetent leadership. I believe I would get along very nicely with Putin, okay? And I mean where we have the strength. I don't think you'd need the sanctions." This was, very obviously, what Putin and the Kremlin had wanted to hear. Was this a signal by Trump and his campaign for Russia to aid and abet his efforts to become president of the United States?

July 13, 2015: Maria Butina attends the launch of Scott Walker's presidential campaign. According to reports, he greeted her in Russian.

September 2015: Felix Sater sets up a meeting with Trump's personal lawyer and "fixer" Michael Cohen to discuss a possible deal in Moscow. This became known as the Moscow Project and the centerpiece was to be Trump World Tower in the heart of Moscow, perhaps right across the street from the Kremlin and Trump's hero, Mr. Putin!

October 2015: Andrey Rozov, a Russian real estate developer, signs a letter of intent sent by Cohen to advance the construction of a Trump World Tower in Moscow that would feature 250 luxury condos, no fewer than 15 floors of hotel rooms, commercial and office space, a fitness center and an Ivanka Trump spa.

October 9, 2015: Sater emails Cohen to tell him he plans to meet with a Moscow developer about possible land for a building.

October 12, 2015: Sater informs Cohen via email that his associates would be meeting with Russian President Vladimir Putin and a deputy on October 14, and that VTB Bank would fund the Moscow project. (VTB was and remains subject to sanctions by the US government.)

October 13, 2015. Sater sends Cohen a letter of intent to move forward on the deal in Moscow, signed by Rozov. (While Trump claimed there were "no deals that could happen" in Russia because he and his people had "stayed away," that was obviously far from the truth.) Sater's email to Cohen says: "Lets make this happen and build a Trump Moscow ..."

October 28, 2015: Trump reportedly signs the letter of intent. That evening, he participates in the third Republican primary debate. Meanwhile, Trump continues to insist that he has no investments in Russia, no knowledge of Russia, etc.

November 2015: According to federal prosecutors, there is a phone call between Cohen and an unnamed Russian who claimed to be a "trusted person" in Moscow. The Russian explained to Cohen how the Russian government could provide the Trump campaign with "political synergy" and "synergy on a government level," and offered to set up a meeting between Mr. Trump, then a candidate for the Republican presidential nomination, and President Vladimir Putin of Russia. The Russian told Cohen that there was "no bigger warranty in any project than the consent" of Mr. Putin.

November 3, 2015: Sater emails Cohen: "Buddy our boy can become president of the USA and we can engineer it. I will get all of Putins team to buy in on this, I will manage this process." Sater also says: "My next steps are very sensitive with Putin's very, very close people. We can pull this off."

November 10, 2015: Trump says at a GOP debate that he got to know Putin "very well because we were both on 60 Minutes, we were stablemates, and we did very well that night." However, Trump never spoke to Putin; they appeared on 60 Minutes in completely separate interviews conducted on two very distant continents.

December 2, 2015: Trump is asked about Sater. "Felix Sater, boy, I have to even think about it," Trump said. "I'm not that familiar with him."

December 10, 2015: Retired Lt. Gen. Michael Flynn attends Russia Today's 10th anniversary dinner. He gets paid $45,000 for the RT speaking engagement and sits just two seats from Putin. RT is funded by the Russian government. A 2017 report by the United States Intelligence Community characterized RT as "The Kremlin's principal international propaganda outlet" and said that RT America had been set up as an autonomous nonprofit organization in order to "avoid the Foreign Agents Registration Act." Flynn would become Trump's National Security Adviser and would fail to disclose the income on his government financial disclosure forms.

December 17, 2015: Cohen sends Sater a news article in which Putin calls Trump "talented" and "colorful." Knowing how susceptible Trump is to flattery, Cohen apparently sees an opportunity: "Now is the time," he replies. "Call me." Trump praises Putin in return, even though he has murdered journalists and invaded Crimea and Ukraine: "It is always a great honor to be so nicely complimented by a man so highly respected within his own country and beyond."

December 19, 2015: To facilitate a trip to Russia, Sater asks Cohen to provide information about his and Trump's passports. A contact in Russia, Evgeny Shmykov (who once worked for Russian intelligence according to Sater's later testimony), needs the information to facilitate getting visas through VTB. Cohen sends photos of information from his own passport but not Trump's.

December 30, 2015: An unhappy note to end the year. Cohen, apparently angry with the slow pace of progress, emails Sater: "One month plus since the signing of the [letter of intent] that I wasted my time on," he writes. "I put the others all on hold and still, despite every conversation with you, nothing. … Not you or anyone you know will embarrass me in front of Mr. T when he asks me what is happening." Sater replied that he'd helped bury a story from ABC News in which Trump denied knowing Sater "because I kept my mouth shut for you and your team."

December 31, 2015: Sater informs Cohen that the new funder will be GenBank (like VTB, also subject to sanctions). Sater indicates that meetings in Moscow will include Dmitry Peskov, Putin's press secretary. Cohen responds unfavorably about how things were proceeding: "We're done. Enough. I told you last week that you thinking you are running point on this is inaccurate. You are putting my job in jeopardy and making me look incompetent. I gave you two months and the best you send me is some ... garbage invite by some no name clerk at a third-tier bank."

The Wall Street Journal reports that Donald Trump Jr. and Ivanka Trump are included on email messages about the Moscow project during this period (late 2015 and early 2016) or communicate directly with Cohen about it. Ivanka Trump even recommends an architect! She must have gotten her wish because according to BuzzFeed, "the discussions to build a tower were so advanced that architectural renderings of the proposed skyscraper existed, showing 'a sheer, glass-encased obelisk situated on a river' which 'would have soared above every other building in Moscow.'"

December 2015: "Red Sparrow" Maria Butina and Alexander Torshin invite NRA leaders to Moscow in December 2015, a delegation that includes David Keene, a former NRA president and past head of the powerful American Conservative Union. Documents reviewed by The Washington Post show the group met with Russian Foreign Minister Sergei Lavrov. After the meeting ended, Butina sent Torshin a message in Russian that Assistant U.S. Attorney Erik Kenerson said could be rendered: "We should let them express their gratitude now, and put pressure on them quietly later." In other words, according to Butina they had been compromised and could be subject to blackmail. Butina told Torshin that she predicted a Republican presidential victory, and with her contacts and the NRA's influence, she said, "she had laid the groundwork for an unofficial channel of communication with the next U.S. administration."

2016

While running for president in 2015-2016, Trump would almost invariably speak highly of Putin while criticizing his adversaries and detractors, including NATO, the European Union and American intelligence agencies. Trump's bromance with Putin seldom wavered, even as evidence began to emerge that Russia was interfering in the 2016 presidential election, on Trump's behalf.

2015 and 2016: "Red Sparrow" Maria Butina allegedly exchanges emails with another American ("U.S. Person 2") in an effort to arrange a series of dinners in New York and Washington to introduce Russians to people influential in American politics.

January 9, 2016: At a rally in Iowa, Trump says: "I like money. I'm very greedy. I'm a greedy person. I shouldn't tell you that, I'm a greedy — I've always been greedy. I love money, right?

January 14, 2016: Cohen emails Peskov to ask for help with the Moscow project.

January 16, 2016: Cohen again emails Peskov's office, asking to speak with someone who speaks English.

January 19, 2016: Maria Butina allegedly contacts Alexander Torshin about logistics for the upcoming National Prayer Breakfast.

January 20, 2016: Cohen and Peskov's assistant (identified as "Assistant 1" in the statement of offense) speak on the phone for 20 minutes. From the statement of offense: "COHEN described his position at the Company and outlined the proposed Moscow Project, including the Russian development company with which the Company had partnered. COHEN requested assistance in moving the project forward, both in securing land to build the proposed tower and financing the construction. Assistant 1 asked detailed questions and took notes, stating that she would follow up with others in Russia." Part of this conversation, according to BuzzFeed News, allegedly included the prospect of giving the penthouse property, valued at $50 million, as a gift to Putin. Sater told BuzzFeed: "My idea was to give a $50 million penthouse to Putin and charge $250 million more for the rest of the units. All the oligarchs would line up to live in the same building as Putin."

January 26, 2016: Sater asks Cohen to take a call from Evgeny Shmykov, the former intelligence officer coordinating the deal in Moscow. Cohen says he will.

February 2016: "Maria Butina is currently in the USA. She writes me that D. Trump (an NRA member) is truly in favor of cooperation with Russia," Alexander Torshin tweeted in Russian.

February 2, 2016: Iowa holds its presidential caucuses. Trump comes in second.

February 14, 2016: On Valentine's Day, Alexander Torshin tweets that Maria Butina is in the United States, where she reports that Trump is "for cooperation with Russia," according to Mother Jones. Vodka glasses are tinkling in the Kremlin!

February 17, 2016: "Putin called me a genius!" Trump says at a campaign event in South Carolina. He will repeat the claim at other events.

February to June 2016: Cohen continues to discuss a possible Moscow deal with Trump on occasion. He also "briefed family members of [Trump] within the Company about the project," according to Mueller's team.

March 6, 2016: Around the time George Papadopoulos learns that he will be a foreign policy adviser to the Trump campaign. He has a conversation with a supervisory campaign official. Papadopoulos leaves the conversation with the understanding that "a principal foreign policy focus of the Campaign was an improved U.S. relationship with Russia."

March 14, 2016: Maria Butina allegedly emails Person 2 to say Torshin had informed her that "Putin's side" had approved of her outreach plan to high-profile political figures. And who was higher profile than Trump?

March 21, 2016: When asked who his foreign policy advisers are, during an interview with The Washington Post, Trump names Carter Page and Papadopoulos, whom he calls an "excellent guy." Page is an American banker who had lived in Moscow for three years.

March 28, 2016: Trump hires Paul Manafort to help lead his delegate-gathering efforts. Manafort had worked recently as a senior adviser for pro-Russia Ukrainian President Viktor Yanukovych.

March 30, 2016: Maria Butina allegedly emails an organizer of the national prayer breakfast to suggest Putin might attend in 2017, given certain conditions. The organizer offered ten spots at the 2017 event for Putin!

April 18, 2016: A mysterious professor introduces Papadopoulos to an individual who has connections to the Russian Ministry of Foreign Affairs. Papadopoulos and the individual go on to have "multiple conversations over Skype and email about setting 'the groundwork' for a 'potential' meeting between the Campaign and Russian government officials," according to court documents.

April 25, 2016: Papadopoulos emails a senior policy adviser to the Trump campaign and says: "The Russian government has an open invitation by Putin for Mr. Trump to meet him when he is ready. The advantage of being in London is that these governments tend to speak a bit more openly in 'neutral' cities."

April 26, 2016: Papadopoulos meets the professor for breakfast at a London hotel. The professor says he has just returned from meeting with high-level Russian government officials in Moscow and that "he (the Professor) learned that that the Russians had obtained 'dirt' on then-candidate Clinton," according to court documents. Papadopoulos would later tell the FBI that the professor also said the Russians had "emails of Clinton" and "they have thousands of emails."

April 27, 2016: Papadopoulos emails a high-ranking campaign official saying he would like "to discuss Russia's interest in hosting Mr. Trump. Have been receiving a lot of calls over the last month about Putin wanting to host him and the team when the time is right." Papadopoulos also emails the senior policy adviser to say he has "some interesting messages coming in from Moscow about a trip when the time is right." On the same day, Trump delivers his first major foreign policy address in Washington. He calls for better relations with Russia in the speech. Russian ambassador Sergey Kislyak is seated in the front row.

May 4, 2016: Sater texts Cohen: "I had a chat with Moscow. ASSUMING the trip does happen the question is before or after the convention. Obviously the pre-meeting trip [you only] can happen anytime you want but the 2 big guys where [sic] the question. I said I would confirm and revert." Cohen replies: "My trip before Cleveland" (the site of the convention) and "[Trump] once he becomes the nominee after the convention."

May 5, 2016: Sater texts Cohen to extend an invitation from Peskov to attend an event in St. Petersburg from June 16 to 19. The invitation includes a possible meeting with either Putin or Prime Minister Dmitry Medvedev.

May 6, 2016: Cohen replies, saying the proposed St. Petersburg dates would work.

May 10-11, 2016: Maria Butina allegedly contacts Persons 1 and 2 to set up a series of dinners with influential political figures later that month. At some point in May, Butina is allegedly part of a group seeking a meeting with the Trump campaign, according to The Washington Post.

May 20, 2016: At a dinner on the sideline of the NRA convention, Alexander Torshin and Donald Trump Jr. are seated near each other and finally meet.

May 22, 2016: In a Politico article, journalist David Cay Johnston notes Trump's relationship to Sater and Sater's ties to organized crime.

May 2016: Paul Erickson, the lover of "Red Sparrow" Maria Butina, sends an email with the subject line "Kremlin Connection" to Trump campaign adviser Rick Dearborn, asking Dearborn and then-Senator Jeff Sessions for advice on setting up a meeting between Trump and Putin at an annual NRA convention. Through two different individuals close to the Trump campaign, Torshin tries to set up a meeting with Donald Trump Jr. when the two are at the NRA convention in Kentucky later that month. In one of the emails, Dearborn explained that Russia was "quietly but actively seeking a dialogue with the U.S."

June 7, 2016: The final primaries end. Trump formally clinches the Republican nomination. Around this time Donald Trump Jr. is already setting up a secret meeting with a Russian government agent at the Trump Tower. One of his father's former Russian business partners, Aras Agalarov, had been contacted by a senior Russian government official who was offering to provide dirt on Hillary Clinton. The documents "would incriminate Hillary and her dealings with Russia and would be very useful to your father," read the email which offered "obviously very high level and sensitive information" as "part of Russia and its government's support for Mr. Trump." If the future president's eldest son was surprised or disturbed by the provenance of the promised material — or the notion that it was part of a continuing effort by the Russian government to aid his father's campaign — he gave no indication. He replied within minutes: "If it's what you say I love it!" After a brief flurry of emails, the intermediary proposed a meeting in New York with a "Russian government attorney."

Ironically, Aras Agalarov may have been involved in a previous iteration of the Moscow Project, as it has been reported that he served as an intermediary between Trump and Putin when Trump was in Russia in 2013 for the Miss America pageant. Less than two weeks before the Miss Universe finals, Putin awarded Agalarov the prestigious Order of Honor medal: Was it a reward for bringing the Trumps under Russian influence? Aras Agalarov had paid Trump $20 million to host the pageant and his son Emin, a pop singer, had provided a pretty male face to go with all the lovely female ones. Rob Goldstone, Emin's rotund manager, had been one of the hangers-on. Now they were ready to act as Putin's agents. The "crown prosecutor of Russia" – assumed to be Goldstone's garbled billing for Yury Chaika, the Russian prosecutor general – wanted the Trump campaign to have documents that would "incriminate Hillary." And the Agalarovs and Goldstone would deliver them!

June 7-8, 2016: Goldstone sends Trump Jr. another email about setting up an in-person meeting with a "Russian government attorney" who will be flying from Moscow to New York on June 9, to talk to representatives from the Trump campaign at Trump Tower in New York. Trump loops in Paul Manafort and Jared Kushner, so this will obviously be a very high-level meeting.

June 9, 2016: Donald Trump Jr., Paul Manafort and Jared Kushner meet with a Kremlin-linked attorney, Natalia V. Veselnitskaya, at the NYC Trump Tower. The meeting is set up through the Agalarovs and includes one their top executives, Irakly "Ike" Kaveladze, as the "eighth man." Meanwhile, Sater tries to get Cohen to confirm his trip to Russia, an effort that continues for several days. One of the parties involved in setting up the meeting was Rob Goldstone, a British music publicist who represented Emin Agalarov. Goldstone said in an email to Donald Trump Jr. that Ms. Veselnitskaya had obtained the documents from the top Russian prosecutor. In a July 14, 2017 interview with The Wall Street Journal, Natalia Veselnitskaya acknowledged that she was in regular contact with the Russian prosecutor general's office and with Prosecutor General Yuri Chaika "while waging a campaign against U.S. sanctions." In an interview with NBC News, Ms. Veselnitskaya admitted: "I am a lawyer, and I am an informant. Since 2013, I have been actively communicating with the office of the Russian prosecutor general." When she was shown incriminating copies of her emails by Richard Engel of NBC News, Ms. Veselnitskaya acknowledged that "many things included here are from my documents, my personal documents." She told the Russian news agency Interfax that her email accounts had been hacked and that she would report the hack to Russian authorities! Furthermore, Ms. Veselnitskaya once represented Russia's top intelligence agency in court, according to at least two public records. Ms. Veselnitskaya had represented a Russian military intelligence unit known as the F.S.B. The F.S.B. is the successor agency to the K.G.B. and was once headed by Russia President Vladimir V. Putin, whose code name was Pale Moth.

June 12, 2016: Just three days after the Trump Tower meeting, during an interview on British television, WikiLeaks founder Julian Assange says that the website has obtained and will publish a batch of Clinton emails.

June 14, 2016: The Washington Post reports that Russian hackers infiltrated the Democratic National Committee's computer network. That same day, Sater and Cohen meet in the lobby of Trump Tower, and Cohen says he won't attend the St. Petersburg event after all. In reality, Trump had been trying very hard to build a Trump Tower in Moscow, even while he was campaigning for president. The final attempt was headed by Trump's personal attorney, Michael Cohen. That effort began in September 2015 and apparently ended on June 14, 2016 with the The Washington Post report that Russia was suspected to be behind the hacking of the Democratic National Committee.

June 15, 2016: A Russian hacker going by the name Guccifer 2.0 posts documents stolen from the DNC.

June 19, 2016: George Papadopoulos offers in an email to a high-ranking campaign official to travel to Russia to meet with officials if Trump is unable to. He states he is willing "to make the trip off the record if it's in the interest of the Mr. Trump and the campaign to meet specific people."

June 20, 2016: Aras Agalarov moves approximately $20 million from an offshore account to the US bank account of a just-created Delaware company. The money transfer was reportedly flagged to US Treasury officials as suspicious. On the same day as the transfer, Trump fires his campaign manager, Corey Lewandowski, leaving his Russian-connected campaign chairman, Paul Manafort, in charge. Manafort has extensive business links to the former Soviet Union and allegedly has experience working with Russian hackers as well, from his "consulting" work in Ukraine. Is it just a coincidence that the $20 million fee Aras Agalarov paid to Trump in 2013 seems to "match" the 2016 transaction? Was Lewandowski fired and replaced by Manafort because the Trump campaign was getting into bed with Putin?

June 2016: Cohen and Sater have final conversations about the proposed Moscow Project. It has apparently become too hot to pursue because of the pending Russia investigations.

July 18-21, 2016: The Republican Party holds its convention in Cleveland. Sometime during the week of July 18 three Trump national security advisers — Page, J.D. Gordon and Walid Phares — meet with Sergey Kislyak in Cleveland. They tell him they hope to see improved relations with Russia. The Washington Post reports: "The Trump campaign worked behind the scenes last week to make sure the new Republican platform won't call for giving weapons to Ukraine to fight Russian and rebel forces, contradicting the view of almost all Republican foreign policy leaders in Washington." It really did seem that Mr. Putin was dictating US foreign policy at this point.

July 22, 2016: WikiLeaks publishes about 20,000 emails stolen from the DNC.

July 25-26, 2016: American intelligence officials inform the White House that they have "high confidence" that Russia is behind the DNC hacks. The FBI announces pubicly that it believes the DNC cyberattacks are linked to Russia.

July 27, 2016: Trump invites Russia to hack Hillary Clinton's emails from the private server she used as secretary of state. "I will tell you this, Russia: If you're listening, I hope you're able to find the 30,000 emails that are missing," Trump said at a news conference. "I think you will probably be rewarded mightily by our press." Or perhaps by Trump and his administration?

July 2016: "How many times do I have to say that?" Trump complained at a news conference in July 2016, after WikiLeaks published thousands of Democratic Party emails hacked by Russian operatives. "I have nothing to do with Russia. I have nothing to do with Russia." At the time Trump insisted his only connection to Russia was a single house sale: "What do I have to do with Russia? You know the closest I came to Russia, I bought a house a number of years ago in Palm Beach, Florida. Palm Beach is a very expensive place. There was a man who went bankrupt, and I bought the house for $40 million and I sold it to a Russian for $100 million including brokerage commissions. So I sold it. So I bought it for 40, I told it for 100 to a Russian. That was a number of years ago."

Around this time Trump added in a tweet: "For the record, I have ZERO investments in Russia." Perhaps, but how many investments did Russia have in Trump?

We now know that Donald Trump Jr., Jared Kushner and Paul Manafort met with a Russian agent with ties to the Kremlin, Natalia Veselnitskaya, at the Trump Tower in June 2016. And we know that Trump Junior was lured to the meeting because there was an offer to produce "dirt" on Hillary Clinton that could (and did) sway the 2016 presidential election. We know Trump Junior wasn't honest about the reasons for the meeting. We know Trump Senior dictated Junior's original misleading statement, with the help of Hope Hicks, when the news of the meeting became public. We know that the American intelligence community unanimously agrees that Russia interfered in the 2016 election, and yet Trump Senior has repeatedly expressed skepticism—once with Russia's Vladimir Putin standing beside him!—of that fact. We know former Trump national security adviser Michael Flynn had ties to Russia, received payments from Russia, and eventually pled guilty to lying to the FBI about the nature and extent of his contacts with Russian officials. We know that Trump, in the Oval Office, told Russian ambassador Sergey Kislyak and Russia Foreign Minister Sergey Lavrov that he had "just fired the head of the FBI. He was crazy, a real nut job," and added: "I faced great pressure because of Russia. That's taken off." We know that Trump told NBC's Lester Holt that the real reason he had fired FBI Director James Comey was "this Russia thing." So how can Trump say that he "had nothing to do with Russia" and knows nothing about Russia?

July 15, 2016: Michael Flynn, the former lieutenant general who would very briefly became Donald Trump's national security adviser before resigning in shame, was giving a speech in Cleveland just as Turkish soldiers were taking over the bridges and airports of Istanbul. "There's an ongoing coup going on in Turkey right now—right now!" Flynn told his audience. The Turkish military, he continued, was a secular institution, whereas the country was heading "toward Islamism" under the leadership of President Recep Tayyip Erdogan. Flynn's audience burst into applause; the event was hosted by a local branch of ACT for America, a national security group with strong Islamophobic tendencies. "Yeah," Flynn said, "that is worth applauding." Flynn has described Islam as a "cancer" and at one point tweeted: "Fear of Muslims is RATIONAL." But after the Turkish government paid Flynn's company, the Flynn Intel Group, a reported $530,000, Flynn quickly changed his tune and began lobbying on behalf of the "Islamist" government and helping it to discredit Fethullah Gülen, the person it accused of engineering the coup that Flynn had been applauding! Flynn would retroactively register as a foreign agent of Turkey, something he had failed to do until being investigated. According to the Wall Street Journal, Flynn later met with senior Turkish officials—including energy minister Berat Albayrak, Erdogan's son-in-law—to discuss kidnapping Gülen and delivering him to Turkey, an allegation now being investigated as part of special counsel Robert Mueller's probe into Russian interference in the 2016 presidential campaign.

August 8, 2016: Trump ally and friend Roger Stone tells a group of Florida Republicans that he has "communicated with Assange."

August 14, 2016: The New York Times publishes an exposé on Ukrainian documents that appear to show that $12.7 million in cash was earmarked for Manafort by the Russia-aligned Party of Regions. The illegal cash payments to Manafort were listed in a secret ledger linked to former Ukrainian President Viktor Yanukovych, who resigned amid street protests. Manafort had worked as an adviser to Yanukovych and his associates dating back at least a decade.

August 19, 2016: Paul Manafort resigns as Trump's campaign chairman.

August 2016: "Red Sparrow" Maria Butina moves to the United States on a student visa, but the FBI has already been watching her, according to U.S. officials familiar with the matter. After the FBI began monitoring her, Butina infiltrated the NRA, compromised NRA higher-ups, attended Trump inauguration ball, and tried to arrange a meeting between Trump and a senior Russian government official at the annual National Prayer Breakfast.

October 2016: Trump says: "What do I know about the Russians? What do I know about the Russians? Then they said he borrows money from—I don't borrow money from the Russians. I promise you I've never made—I don't have any deals with Russia. I had Miss Universe there a couple of years ago other than that no. I had nothing to do."

October 6, 2016: DCLeaks, a self-described collective of "hacktivists" seeking to expose the influence of special interests on elected officials, publishes a batch of documents stolen from Clinton ally Capricia Marshall. DCLeaks is later identified as a front for Russian military intelligence.

October 7, 2016: The Department of Homeland Security and the Office of National Intelligence on Election Security issue a statement declaring that the intelligence community is "confident that the Russian Government directed the recent compromises of emails from US persons and institutions." According to the statement, document releases on websites WikiLeaks and DC Leaks mirror the methods and motivations of past Russian-directed cyberattacks.

September 5, 2016: The Washington Post reports that U.S. intelligence and law enforcement agencies are investigating "a broad covert Russian operation in the United States to sow public distrust in the upcoming presidential election and in U.S. political institutions."

September 7, 2016: Trump prefers Mr. Putin to the American president: "He's been a leader far more than our president has been a leader."

September 8, 2016: Trump prefers the word of Mr. Putin and the Kremlin to the word of American intelligence agencies. He tells Russia Today that "it's probably unlikely" Russia is interfering in the election.

September 19, 2016: Michael Flynn meets Turkish contacts in New York and discusses US policy on the Islamic cleric Fethullah Gülen, a green-card holder residing in Pennsylvania. Flynn was reportedly paid $530,000 to consult for a Turkish businessman in a deal directed by the Turkish government. Flynn does not disclose his Turkish contracts until after his resignation from office, with federal prosecutors closing in. Trump would name Flynn, a foreign agent, his national security adviser a month later. In the meantime, Flynn was allegedly trying to work out a deal to kidnap Gülen or otherwise turn him over to the Turkish government he had accused of being "Islamist" in exchange for $15 million!

October 3, 2016: Roger Stone tweets: "I have total confidence that @wikileaks and my hero Julian Assange will educate the American people soon #LockHerUp"

Oct. 4, 2016: Paul Erickson, Person 1 in the federal complaint against Maria Butina, allegedly emails an acquaintance: "I've been involved in securing a VERY private line of communication between the Kremlin and key POLITICAL PARTY I (i.e., the Republican Party) leaders through, of all conduits, the [NRA]." Apparently, Alexander Torshin and Maria Butina have been successful in their efforts to create a back channel to the GOP through the NRA. (The NRA would contribute more than $30 million to Trump's campaigns and there are allegations some of the money was provided by Russia.)

Oct. 5, 2016: Butina tweets Torshin: "We made our bet. I am following our game. I will be connecting the people from the prayer breakfast to this group. ... Yesterday's dinner showed that American society is broken in relation to Russia. This is now the dividing line of opinions, the crucial one in the election race. [The Republicans] are for us, [Democrats] — against — 50/50. Our move here is very important." (The complaint obscures the identity of the parties.)

October 7, 2016: WikiLeaks publishes emails hacked from Clinton campaign chairman John Podesta's personal email account. The release comes just hours after a tape emerges in which Trump brags about groping women by the genitals. James Clapper, the director of National Intelligence, says hacked documents posted on DC Leaks, Guccifer 2.0 and WikiLeaks appear linked to Russian intelligence and accuses "Russia's senior-most officials" of directing the hacks.

October 7, 2016: Trump says "I love WikiLeaks" at a Pennsylvania rally. He specifically cites some of the hacked emails to attack Clinton.

October 7, 2016: Stone tells a Florida TV station that he has "back-channel communication" with Assange.

October 19, 2016: At the third and final presidential debate, Clinton comments that Putin backed Trump because he "would rather have a puppet as president of the United States."

November 8, 2016: Trump is elected the 45th president of the United States. Vodka glasses tinkle merrily in the Kremlin. The NRA has spent more than $30 million supporting his campaign. "Red Sparrow" Maria Butina has accomplished her plan to perfection! Butina and Torshin allegedly discuss the election results. Butina writes: "I'm going to sleep. It's 3 am here. I am ready for further orders." The Russian Official (Torshin) replies: "Think about in which areas of life we could towards bringing us closer. ISIS–understandably, what else we need to look at the American agenda." Trump is their man, Putin's man, Russia's man in the White House.

November 9, 2016: The Russian parliament bursts into applause at news of Trump's victory.

November 9, 2016: Just a few minutes after Donald Trump was elected president of the United States, a man named Vyacheslav Nikonov approached a microphone in the Russian State Duma (their equivalent of the US House of Representatives) and made a very unusual statement. "Dear friends, respected colleagues!" Nikonov said. "Three minutes ago, Hillary Clinton admitted her defeat in US presidential elections, and a second ago Trump started his speech as an elected president of the United States of America, and I congratulate you on this." Nikonov is a leader in the pro-Putin United Russia Party and, incidentally, the grandson of Vyacheslav Molotov — after whom the "Molotov cocktail" was named. His announcement that day was a clear signal that Trump's victory was, in fact, a victory for Putin's Russia.

On Election Day 2016, a very curious op-ed article appeared in The Hill, under the headline: "Our ally Turkey is in crisis and needs our support." The author — Michael Flynn, soon to be named Trump's national security adviser before quickly resigning in shame — struck a remarkably positive tone toward Turkey and its controversial president, Recep Tayyip Erdogan (especially considering the fact that Flynn had previously accused the Erdogan government of being "Islamist" and a danger to the world!). The op-ed took a series of shots at Fethullah Gulen, the man accused by Erdogan of promoting a failed July 2016 coup against the Turkish government. (This was also very curious because Flynn had previously praised and applauded the coup.) The op-ed became even more curious in March, after the author belatedly registered his consulting firm under the Foreign Agents Registration Act, or FARA, and disclosed that his firm had received over $530,000 from Turkish interests closely aligned with President Erdogan. The Hill, obviously embarrassed, tacked on an Editor's Note flagging the conflict of interest, and the failure of Flynn to disclose it.

Nov. 10, 2016 — Trump meets with President Barack Obama at the White House. Obama reportedly warns Trump against hiring Michael Flynn. Trump of course pays no heed. He will select Flynn as his National Security Adviser on Nov. 18.

November 10, 2016: Two days after Trump was elected president, a top Kremlin official caused a stir by asserting that Trump's associates were in contact with the Russian government before the election. "I don't say that all of them, but a whole array of them supported contacts with Russian representatives," Deputy Foreign Minister Sergei Ryabkov told the Interfax news agency. Putin spokesman Dmitry Peskov later tells the Associated Press that the contacts were "quite natural, quite normal." The Trump campaign denies it all. The claim was met with a hail of denials. Hope Hicks, then Trump's top spokeswoman, responded: "It never happened. There was no communication between the campaign and any foreign entity during the campaign." After Trump took office, in February 2017, he reiterated the denial: "No. Nobody that I know of," the president told reporters when asked whether anyone who advised his campaign had contact with Russia. "I have nothing to do with Russia. To the best of my knowledge, no person that I deal with does." But of course Hicks and Trump were both lying through their teeth.

Trump family members and associates who allegedly interacted with Russians include: Donald Trump Sr., Donald Trump Jr., Eric Trump, Ivanka Trump, Jared Kushner, Paul Manafort, Roger Stone, Rick Gates, Michael Cohen, Michael Flynn, Jeff Sessions, Rex Tillerson, George Papadopoulos, Wilbur Ross, Carter Page, Anthony Scaramucci, Michael Caputo, Elliot Broidy, Erik Prince, Peter W. Smith, Felix Sater, Andrei Nikolaev and Nigel Farage.

Nov. 11, 2016: Butina allegedly sends Torshin a proposal for a conference, featuring a number of members of Congress, focused on Russia.

Nov. 12, 2016: Torshin allegedly rejects the plan, saying that "they" won't go for it — a message that federal prosecutors will later allege signals instruction from the Russian government to Butina.

Nov. 13, 2016: Trump names Reince Priebus his White House Chief of Staff. Priebus would later say: "The president has zero psychological ability to recognize empathy or pity in any way."

November 18, 2016: Trump names Michael Flynn his National Security Adviser over the warnings of President Obama. It turns out Obama was right because in addition to collusion with Russia, Flynn was reportedly paid $530,000 by the Turkish government and was allegedly trying to work out a deal to kidnap Fethullah Gülen or otherwise turn him over to the Turkish government he had accused of being "Islamist" in exchange for $15 million!

On November 25, 2016, it was reported that K. T. McFarland was selected as President-elect Donald Trump's Deputy National Security Advisor. Paul Erickson, the lover of "Red Sparrow" Maria Butina, lobbied former campaign officials and Trump donors to get her the position.

Nov. 30, 2016: Maria Butina allegedly emails Person 1 about the prayer breakfast, assuring Person 1 that the people included in the Russian delegation, handpicked by Torshin and herself, were "coming to establish a back channel of communication." Person 1 is Butina's lover, Paul Erickson.

Dec. 1, 2016: Person 1 allegedly explains to "Red Sparrow" Maria Butina how to book the hotel for the Russian delegation to the national prayer breakfast and suggests that Torshin cover the cost.

Dec. 1, 2016: Michael Flynn and Jared Kushner meet with Sergey Kislyak, the Russian ambassador, at Trump Tower. (The White House did not acknowledge the meeting occurred until it was disclosed in March 2017. In a statement to congressional investigators on July 24, 2017, Kushner described the contents of the meeting. He said Kislyak "wanted to convey information from what he called his 'generals'" about "U.S. policy in Syria." Kushner said the exchange of information did not occur at that time because neither party could arrange a secure line of communication. "I asked if they had an existing communications channel at his embassy we could use where they would be comfortable transmitting the information they wanted to relay to General Flynn. The Ambassador said that would not be possible and so we all agreed that we would receive this information after the Inauguration.") The "secure line of communication" has been described as a "back channel" between Russian computers and the Trump computer network. As one national security expert put it: "The notion that a senior transition team or White House official would either propose—or even be open to discussing—using Russian secure communications channels is, to the say the least, unsettling. It indicates that individuals who occupy senior positions in the White House considered putting into place a system that would give the Russians an intelligence collection advantage by bypassing the U.S. intelligence community." And then there is the question of what they were trying to hide ...

December 13, 2016: Kushner meets Russian banker Sergey Gorkov at Trump Tower. Gorkov is the chairman of Vnesheconombank (VEB), a bank sanctioned by the United States after Russia annexed Crimea in 2014. Kushner is known to have major debt problems related to his tower at 666 Fifth Avenue (an ominous address).

Dec. 22, 2016: Flynn calls Kislyak and asks if Russia would delay or defeat an upcoming U.N. Security Council resolution vote, undercutting the position of the American government under President Obama.

Dec. 26, 2016: Torshin allegedly explains who will and won't be attending the prayer breakfast, as per the Russian Ministry of Foreign Affairs.

December 26, 2016: The day after Christmas, Oleg Erovinkin, a former KGB official suspected of assisting a former British spy in compiling a dossier alleging Trump ties to Russia, is found dead in the back seat of his car in Moscow.

December 28, 2016: Obama signs an executive order to sanction Russia for its interference in the presidential election. The sanctions are to take effect the following day. Sergey Kislyak contacts Flynn.

December 29, 2016: Obama orders the ejection of 35 suspected Russian intelligence operatives from the country and imposes sanctions on two Russian intelligence services as retaliation for the election-interference campaign. Flynn has a series of phone calls with Kislyak. He would later acknowledge that it was possible they discussed the newly imposed sanctions, but he "couldn't be certain." According to The New York Times, the phone calls came after Kislyak was brought to the State Department and informed of the sanctions, and became "irate and threatened a forceful Russian response." Court filings later reveal that Flynn asks Kislyak to refrain from escalating the situation in response to the sanctions. This conversation takes place after Flynn confers with a senior official on the Trump transition team about how to address the sanctions. Flynn calls the transition official after his conversation with Kislyak to update him on the call. Flynn goes on to lie to the FBI about this. Before Flynn's call to Kislyak, K. T. McFarland emails other Trump transition officials saying that Flynn will be speaking to Kislyak to try to prevent a cycle of retaliation over the newly imposed sanctions. The email is forwarded to Mike Flynn, Reince Priebus, Steve Bannon, and Sean Spicer.

December 30, 2016: Putin announces he will not retaliate against the U.S. expulsions. His foreign minister, Sergey Lavrov, had previously recommended Russia respond with similar expulsions. Trump tweets: "Great move on delay (by V. Putin) — I always knew he was very smart!" Was he smart, or was he in collusion with Trump?

December 31, 2016: Trump tells reporters at Mar-a-Lago that "hacking is a very hard thing to prove." After speaking with Kislyak, Flynn transmits the good news about Russia's restraint to "senior members" of Trump's transition team, most of whom are meeting with Trump at Mar-a-Lago. At the center of those Flynn-transition team communications is K. T. McFarland. McFarland's contemporaneous email exchanges on the subject go to chief of staff-designate Reince Priebus, Steve Bannon, and Sean Spicer.

2017

January 6, 2017: The Office of the Director of National Intelligence releases an unclassified report expressing the conclusion of the CIA, FBI and NSA about Russian election interference. The report concludes that DC Leaks, Guccifer 2.0 and WikiLeaks all obtained documents via Russian government-backed hackers. That same day, James Clapper, FBI director James Comey and CIA director John Brennan brief Trump at Trump Tower on the intelligence community's findings. Trump ignores American intelligence agencies and tells The New York Times that the Russia controversy is a "political witch hunt." Trump releases a statement saying the hacks had "absolutely no effect on the outcome of the election."

January 9, 2017: BuzzFeed publishes a dossier of reports compiled by former British intelligence officer Christopher Steele, alleging collusion between the Trump campaign and Russian actors. One of the claims was that Cohen traveled to Prague to facilitate cooperation.

January 10, 2017: Jeff Sessions states under oath at a Senate Judiciary Committee hearing: "I did not have communications with the Russians." This would prove to be another lie.

Jan. 13, 2017: McFarland calls The Washington Post to rebut its story that Flynn had multiple conversations with Kislyak on Dec. 29, 2016 — the day President Obama had announced new sanctions against Russia for interfering with the US election. Her memory of her interactions with Flynn around that time were vivid, she says at the time, although she would later claim to remember nothing. McFarland tells the Post that Flynn did not discuss the subject of sanctions with Kislyak. Another lie.

Jan. 12, 2017: The Washington Post reports that Flynn and Kislyak spoke on Dec. 29, the day that the U.S. announced new sanctions on Russia in response to the cyberattacks during the 2016 presidential election. Incoming White House Press Secretary Sean Spicer denies that the call was about U.S. sanctions. "The call centered on the logistics of setting up a call with the president of Russia and the president-elect after he was sworn in," Spicer said. "And they exchanged logistical information on how to initiate and schedule that call. That was it, plain and simple." Yet another lie.

January 13, 2017: The Senate Intelligence Committee announces an investigation into interference and possible coordination.

Jan. 15, 2017: Vice President-elect Mike Pence says Flynn and Kislyak did not discuss U.S. sanctions on Russia. "They did not discuss anything having to do with the United States' decision to expel diplomats or impose censure against Russia," Pence says.

January 20, 2017: On the way to his inauguration, Trump stops at the Trump International Hotel – Washington, D.C., where he gets out of the vehicle in what appears to be free advertising for his business. This is just one of many emolument issued raised by Trump's presidency, as he continually profits from the nation's highest office.

January 20, 2017: Trump is inaugurated. "Red Sparrow" Maria Butina attends one of the inaugural balls. The balls are invitation only, and highly select. How did a Russian agent obtain an invitation?

Jan. 22, 2017: On the same day Flynn is sworn in as national security adviser, the Wall Street Journal reports that U.S. counterintelligence agents have investigated Flynn's communications with Russian officials.

January 24, 2017: Two days after he was sworn in, during an interview with FBI agents Andrew McCabe and Peter Strzok, Flynn says that he did not urge Russian ambassador Sergey Kislyak to refrain from responding to new U.S. sanctions and that he did not ask the ambassador to delay a U.N. Security Council vote. The calls in question took place in December 2016 when Flynn was still a private citizen and before Trump took office. Flynn would later plead guilty to lying to the FBI about both conversations with Kislyak.

January 25, 2017: The House Permanent Select Committee on Intelligence announces an investigation of Russia's efforts to influence the 2016 presidential election and "any intelligence regarding links between Russia and individuals associated with political campaigns."

Jan. 26, 2017: Acting Attorney General Sally Yates meets with White House counsel Donald McGahn in his office. She tells McGahn that high-ranking administration officials, including Vice President Pence, had made statements "about General Flynn's conduct that we knew to be untrue." She was referring to administration statements that Flynn did not discuss U.S. sanctions against Russia with the Russian ambassador. (Her meeting with McGahn would not be disclosed until Yates testified before Congress on May 8.)

January 27, 2017: Papadopoulos agrees to be interviewed by FBI agents. During the course of the interview, he makes a number of false statements, according to the plea deal. Trump and James Comey dine at the White House. It is reported that Trump asked Comey to pledge his loyalty to him; Comey declined.

February 2017: Trump says: "And I can tell you, speaking for myself, I own nothing in Russia. I have no loans in Russia. I don't have any deals in Russia. President Putin called me up very nicely to congratulate me on the win of the election. He then, called me up extremely nicely to congratulate me on the inauguration, which was terrific. But so did many other leaders, almost all other leaders from almost all of the country. So that's the extent."

Feb. 2, 2017: Alexander Torshin initially set up a meeting with Trump before the national prayer breakfast on Feb. 2. But White House officials canceled after learning that Torshin, who is also a close ally of Putin, has suspected ties to organized crime and a money-laundering ring.

Feb. 2-8, 2017: Maria Butina and Alexander Torshin attend the national prayer breakfast. Butina allegedly thanks a prayer breakfast organizer for meeting with her and suggests she has "important information" for the organizer. She asks for a follow-up meeting. Butina allegedly emails Person 2 to thank him: "My dearest President [Putin] has received 'the message' about your group initiatives and your constructive and kind attention to the Russians."

February 4, 2017: Trump defends Putin in an interview with Fox News, saying, "I do respect him," and, when pressed on allegations that Putin has been behind certain atrocities, Trump responds: "What, you think our country's so innocent?"

February 9, 2017: The Washington Post reports that Flynn did, in fact, discuss U.S. sanctions in his phone calls with Sergey Kislyak, contrary to Flynn's and the administration's previous statements.

February 13, 2017: Flynn resigns. He acknowledges that he misled Pence and others in the administration about his conversations with Kislyak, the Russian ambassador. "I inadvertently briefed the Vice President Elect and others with incomplete information regarding my phone calls with the Russian Ambassador," Flynn says.

February 14, 2017: The New York Times reports that "members of Donald J. Trump's 2016 presidential campaign and other Trump associates had repeated contacts with senior Russian intelligence officials in the year before the election, according to four current and former American officials." On Valentine's Day, Trump privately meets with FBI Director James Comey in the Oval Office and tries to woo him. Comey says that the president brought up the FBI investigation of Flynn. "He then said, 'I hope you can see your way clear to letting this go, to letting Flynn go. He is a good guy. I hope you can let this go.' I replied only that 'he is a good guy.' … I did not say I would 'let this go.'" (Comey gave this account of his meeting with Trump in written testimony for his June 8 hearing before the Senate intelligence committee. The account was first reported May 16 by The New York Times.)

Feb. 15, 2017: A day after Trump reportedly asked Comey to drop the investigation of Flynn, the FBI director tells U.S. Attorney General Jeff Sessions that "he did not want to be left alone again with the president," according to a New York Times story published June 6. (Comey also confirms the Times account in his June 8 Senate testimony.) White House Chief of Staff Reince Priebus asks FBI Deputy Director Andrew McCabe if the agency would help the White House knock down news stories about contacts between Trump aides and Russians during the 2016 presidential campaign.

February 16, 2017: Trump again calls the Russia controversy "fake news" and said that the Times story from Feb. 14 was "a joke." Asked if anyone who advised his campaign had contacts with Russia during the election, Trump responds: "No. Nobody that I know of." When asked: "Did you direct Mike Flynn to discuss the sanctions with the Russian ambassador?" Trump responds, "No, I didn't. No, I didn't." But can anyone really believe that Flynn was creating his own international policies?

February 19, 2017: White House Chief of Staff Reince Priebus says intelligence officials had cleared the Trump campaign of having any contact with Russian spies, contrary to anonymously sourced reports made the previous week by The New York Times. According to a Politico article dated March 17, 2017, a request by Priebus that the FBI refute allegations of contact by Trump associates with Russian intelligence "appears to have violated the White House's policy restricting political interference in pending investigations."

March 1, 2017: The Washington Post reports that Jeff Sessions did speak with the Russian ambassador during the campaign, contradicting his past statements. The following day Sessions announces he will recuse himself from any investigation into ties between Russia and the Trump campaign.

March 4, 2017: Trump accuses Obama of having put a "tapp" (sic) on his wires. No evidence of such wire tapping was ever produced. The charge seems to have been made up on talk radio show. Roger Stone tweets that he "never denied perfectly legal backchannel to Assange who indeed had the goods on #CrookedHillary." Stone later deletes the tweet.

March 20, 2017: During a hearing on Capitol Hill, James Comey confirms the FBI is investigating links between Russia and members of the Trump campaign.

March 2017: Mike Flynn, who had been Trump's choice for national security adviser over President Obama's warnings, retroactively registers as a foreign agent.

March 30, 2017: Mike Flynn's attorney, Robert Kelner, says that his client is willing to testify before Congress if Flynn receives immunity. "General Flynn certainly has a story to tell, and he very much wants to tell it, should the circumstances permit," Kelner's statement says.

May 3, 2017: At a Senate Judiciary Committee hearing, James Comey says he believes the Russian government is continuing to meddle in US politics.

May 9, 2017: Trump fires FBI Director James Comey, at a time when Comey is doing his duty by trying to protect American democracy from attacks by Russia. Did Trump put protecting himself above protecting a nation of 300 million souls?

May 10, 2017: Trump meets with Sergey Lavrov and Sergey Kislyak at the Oval Office and reportedly divulges classified national security information to them during the course of the meeting.

May 11, 2017: Trump tells NBC's Lester Holt of his decision to fire Comey: "When I decided to just do it, I said to myself, I said you know, this Russia thing with Trump and Russia is a made up story, it's an excuse by the Democrats for having lost an election that they should have won."

May 17, 2017: Deputy attorney general Rod Rosenstein appoints former FBI Director Robert Mueller as special counsel to investigate Russia's interference in the 2016 election and possible collusion with the Trump campaign.

June 6, 2017: Mike Flynn provides more than 600 pages of documents to the Senate intelligence committee.

June 8, 2017: Comey testifies before the Senate Intelligence Committee, describing his interactions with Trump dating back to a security briefing with Trump on January 6, 2017. In a statement that Comey released before the hearing, he says Trump asked him to affirm his loyalty during a private dinner. Comey also describes a private conversation with Trump during which the president told him "I hope you can let this go," referring to the FBI's investigation into Flynn.

June 13, 2017: Jeff Sessions says that the claim he colluded with Russians is a "detestable lie" during a hearing before the Senate intelligence committee. He declines to answer questions about private conversations he had with Trump regarding the firing of Comey and says he does not remember if he had an informal conversation with Kislyak during the reception at the Mayflower Hotel in April 2016.

June 15, 2017: The Washington Post reports that the FBI and federal prosecutors have been "examining the financial dealings" of Jared Kushner, Mike Flynn, Paul Manafort and Carter Page. The common factor appears to be Russia.

July 8, 2017: The New York Times breaks the story about Donald Trump Jr.'s Trump Tower meeting with a Kremlin-connected Russian lawyer in June 2016. Trump Jr. provided the Times with a statement that the meeting was about an adoption program. It is later revealed by the Washington Post that Trump Sr. himself dictated the statement on the flight home from the G20 meeting.

July 25, 2017: Around this time FBI agents raid Paul Manafort's home, collecting evidence.

July 27, 2017: In a dispute over White House leaks, White House Communications Director Anthony Scaramucci tagged Priebus at the end of a Twitter post (later deleted) about such leaks, leading to speculation that Scaramucci considered Priebus responsible for them. Priebus told CNN that he resigned on July 27, 2017. The following day Donald Trump announced on Twitter that he had named John F. Kelly as new White House Chief of Staff. Kelly took office, ending Priebus' service, on July 31. This gave Priebus the shortest tenure as permanent Chief of Staff in history.

July 31, 2017: The Washington Post reveals that Trump Sr. dictated Trump Jr.'s misleading statement about Russian adoptions.

August 28, 2017: Cohen's legal team sends a two-page written statement to the House and Senate committees making false claims about the termination of the Moscow project. Cohen claimed that the effort "to build a Trump property in Moscow" had been terminated in January of 2016, before the Iowa caucus and months before the first primary. This was, of course, a bald lie that Cohen would soon confess and recant.

August 1, 2017: Sarah Huckabee Sanders changes the official Trump story to say that he "weighed in" on his son's statement about the Trump Tower meeting, but denies that the president dictated it.

August 3, 2017: Robert Mueller apparently doesn't buy the revised lie. CNN reports that Mueller has issued grand jury subpoenas for documents and testimony related to the June 2016 meeting between Trump campaign officials and a Russian lawyer.

September 1, 2017: The New York Times reports that Mueller has obtained an early draft of the president's letter informing Comey that he was being fired. Trump reportedly dictated his criticisms of Comey to Senior Adviser Stephen Miller, who drafted the letter during a long weekend at the president's New Jersey golf resort. The original version of the letter was distributed to top officials including Vice President Mike Pence and White House counsel Don McGahn. According to the Times, revisions were made after McGahn suggested a number of cuts, expressing concern about references to private meetings between Trump and Comey.

September 6, 2017: Facebook announces that more than 3,000 advertisements posted on the social media network between June 2015 and May 2017 were linked to a Russia. The Washington Post reports that the ads are linked to a Russian company called the Internet Research Agency. The DNI has identified the company as a Kremlin-connected organization that employs professional trolls who spread political propaganda on behalf of the Russian government. Approximately $100,000 in advertising was purchased by individuals and groups connected to about 470 inauthentic accounts. The divisive political posts included comments on gun rights, immigration, race issues and LGBT matters. The Russia-sourced political messages were viewed by about ten million users.

September 7, 2017: Donald Trump Jr. testifies before the Senate Judiciary Committee. He's questioned about the Moscow project and claims he knew "very little" about the proposed deal, only receiving the letter of intent signed by his father. He claimed not to know about Cohen's outreach to Peskov. At another point he said that only he or Ivanka Trump would have known about other Moscow deals.

September 26, 2017: Longtime Trump confidante Roger Stone appears before the House intelligence committee behind closed doors. After the session, Stone says that he declined to answer a question about his connection to Julian Assange, claiming that he was in contact with the WikiLeaks founder via a third party he would not name. During the 2016 campaign, Stone posted several tweets with the appearance of advance knowledge that WikiLeaks was going to publish hacked emails from the Clinton campaign.

October 25, 2017: Michael Cohen testifies before the Senate Intelligence Committee.

Oct. 30, 2017: Paul Manafort and a fellow former campaign aide, Rick Gates, turn themselves into the FBI after being indicted on 12 counts, including money laundering and making false statements. The Papadopoulos plea deal is made public.

Nov. 13, 2017: Donald Trump Jr. confirms on Twitter that he had private conversations with WikiLeaks during the presidential campaign after the Atlantic publishes leaked excerpts. Vice President Mike Pence, who during the campaign dismissed any notion of the campaign being in cahoots with WikiLeaks, now conveniently denies any knowledge of the matter.

Dec. 1, 2017: Mike Flynn pleads guilty to lying to the FBI about his December 2016 conversations with the Russian ambassador. Flynn agrees to cooperate with the FBI investigation into Russia's interference in the 2016 election, saying: "My guilty plea and agreement to cooperate with the Special Counsel's Office reflect a decision I made in the best interests of my family and of our country." Robert Mueller's Special Counsel investigation names K. T. McFarland as one of the people involved with Michael Flynn, her former supervisor, and Jared Kushner in developments leading up to Flynn's guilty plea to lying to the FBI. In particular, Kushner and McFarland reportedly briefed Flynn on what to say about U S. sanctions against Russia on or around Dec. 29, 2016. The next day, an email McFarland wrote during the transition surfaced; it read: "If there is a tit-for-tat escalation Trump will have difficulty improving relations with Russia, which has just thrown U.S.A. election to him." After talking to Kislyak, Flynn informed McFarland of the contents of the conversation, who in turn passed on the information to one of her colleagues. On Jan. 13, 2017, McFarland would call the Washington Post to insist that her memory was vivid and that Flynn and Kislyak did not discuss sanctions and only spoke with each other prior to December 29. That statement contradicts emails between herself and Flynn. On June 15, 2017, McFarland would be formally nominated for U.S. Ambassador to Singapore, and her confirmation hearing before the Senate Foreign Relations Committee would take place on July 20, 2017. At the time McFarland stated that she believed Russia had interfered in the 2016 U.S. elections. She was also questioned in writing by Senator Cory Booker on whether she had ever spoken to Mr. Flynn about his contacts with Sergey Kislyak, the Russian ambassador, before Mr. Trump took office. "I am not aware of any of the issues or events described above," Ms. McFarland wrote in response. Mr. Booker later said that he was concerned that McFarland might have given "false testimony" in her answers. "If this is the case, this is an alarming development, and another example of a pattern of deception on the part of Trump's closest associates regarding their connections and communications to Russian government officials," he said. During interviews with the FBI in the summer of 2017, McFarland would again deny any discussions of Russian sanctions before Trump took office. In Feb. 2018, Senator Bob Corker, chairman of the Senate Foreign Relations Committee, would say that McFarland must resolve the discrepancies between her earlier statements denying any awareness of the Flynn-Kislyak discussions with her emails and other facts set forth in Flynn's guilty plea — all of which suggest she knew that Flynn and Kislyak were discussing sanctions on Dec. 28-29, 2016. McFarland would then withdraw her nomination. Then in September 2018 it would be reported that McFarland had recovered her vivid memory and had walked back her story to the special prosecutor.

Dec. 12, 2017: In a legal filing, Flynn admitted lying in the March filings to the Justice Department, including by falsely stating that the Flynn Intel Group did not know to what extent the Turkish government was involved in an op-ed he wrote on behalf of a government that he had previously described as "Islamist" and a danger to the world. Apparently Flynn did not write the op-ed of his own initiative. Charges were also unsealed against two Flynn associates: Bijan Kian and Kamil Ekim Alptekin. Kian, also known as Bijan Rafiekian, co-founded Flynn's consulting firm, Flynn Intel Group, and served as its vice chairman, director, secretary and treasurer. He also worked on Trump's national security transition team. Kian was charged with conspiracy and acting as an unregistered foreign agent of the Turkish government. Alptekin ran Inovo, which apparently funneled money from the Islamic Turkish government to the anti-Islamist Flynn and his company. Alptekin was charged with conspiracy, acting as an unregistered foreign agent and four counts of making false statements to the FBI. The Dec. 12 indictment alleges that Kian and Alptekin "conspired covertly and unlawfully to influence U.S. politicians and public opinion concerning a Turkish citizen living in the United States whose extradition was then being sought by the Government of Turkey."

The indictment narrative starts on July 27, 2016, when Kian told Alptekin that he and Flynn were "ready to engage on what needs to be done." On Aug. 10, 2016, Alptekin told Kian he had a "green light" to discuss the confidentiality, budget and scope of a contract after meetings with two Turkish government ministers. In September 2016, a contract was drawn up for $600,000 for the Flynn Intel Group to "deliver findings and results including but not limited to making criminal referrals" against Fethullah Gulen. The indictment alleges that Kian and Alptekin hid the covert effort, first branded the "Truth Campaign" and later "Operation Confidence," by listing Alptekin's company, Inovo, as the Flynn Intel Group's client rather than the Turkish government. On Sept. 19, 2016, Flynn, Kian and Alptekin met with two Turkish government officials in New York City to discuss Gulen, the indictment says. Throughout September and October that year, Kian and others met with a member of Congress, a congressional staffer and a state government official to "depict [Gulen] as a threat who should be returned to Turkey," the indictment adds. On Nov. 2, 2016, according to the filing, Alptekin complained to Kian that Flynn's firm had "not publicized enough negative information" about Gulen. That day, Kian sent Alptekin a draft of the op-ed, telling him that "a promise made is a promise kept." Two days before the op-ed ran, Kian emailed Aptekin that "The arrow has left the bow!" and shared another draft. "This is a very high profile exposure one day before the election," Kian added. After the op-ed was published, the Justice Department began investigating, according to the indictment. In a later memo, Robert Mueller wrote that Flynn's op-ed was "valuable to the Republic of Turkey's efforts to shape public opinion."

2018

January 2018: Federal agents photograph "Red Sparrow" Maria Butina dining with Oleg Zhiganov, the director of the Russian Cultural Center. Zhiganov is expelled from the U.S. in March for being a suspected Russian spy. In a July hearing, prosecutors offer Butina's association with Zhiganov as one reason she should be considered a flight risk and denied bail.

Jan. 2, 2018: In a New York Times op-ed, Fusion GPS founders Glenn Simpson and Peter Fritsch request that congressional Republicans "release full transcripts of our firm's testimony" and add that "the Steele dossier was not the trigger for the FBI's investigation into Russian meddling." Their sources said the dossier was taken seriously because it corroborated reports from other sources, "including one inside the Trump camp."

Jan. 4, 2018: The New York Times reports that two days after Comey's congressional testimony, an aide to Sessions approached a Capitol Hill staff member to ask for any derogatory information about Comey. Sessions purportedly wanted one negative article about Comey per day in the news media. The Times also reports that Robert Mueller has handwritten notes from Reince Priebus that show that Trump talked to Priebus about how he had called Comey to urge him to say publicly that Trump was not under investigation.

Jan. 10, 2018: The United States Senate Foreign Relations Committee releases a report, "Putin's Asymmetric Assault on Democracy in Russia and Europe: Implications for U.S. National Security."

Jan. 12, 2018: The Wall Street Journal reported that Cohen arranged a $130,000 payment to porn star Stephanie Clifford – better known to the world as Stormy Daniels – ahead of the 2016 election in exchange for her silence about an alleged 2006 affair with Trump.

Jan. 13, 2018: Cohen told The New York Times that he made the Stormy Daniels payment himself. His unlikely explanation was that he used his home equity line of credit to make the payment out of friendship. Usually it's the client mortgaging his/her home to pay the lawyer. Trump would later tell reporters onboard Air Force One that he didn't know about the payment to Daniels. "You'll have to ask Michael Cohen. Michael is my attorney. You'll have to ask Michael," Trump said.

Jan. 17, 2018: BuzzFeed News reports that Mueller's team and Senate Intelligence Committee investigators are looking into hundreds of financial transactions flagged as suspicious between the Russian government and people in the United States.

Jan. 18, 2018: Axios reports that Bannon informed the House Intelligence Committee that he did have a discussion with Reince Priebus, Sean Spicer, and Mark Corallo about the June 2016 Veselnitskaya meeting at the Trump Tower.

Jan. 18, 2018: McClatchy reports that Mueller's team is investigating the NRA's role in the 2016 election. In a letter released several months later, the NRA indicates having received only about $2,500 from "people associated with Russian addresses." Perhaps, but how much money was delivered by the Russian government through banks, offshore companies and other intermediaries?

Jan. 18, 2018: The House Intelligence Committee releases the transcript of the Glenn Simpson testimony given on November 14, 2017. Adam Schiff says the testimony contains "serious allegations that the Trump Organization may have engaged in money laundering with Russian nationals."

Jan. 19, 2018: German periodical Manager Magazin reports that Deutsche Bank has presented Germany's financial authority, BaFin, evidence of "suspicious money transfers" by Jared Kushner; this information is due to be handed to Mueller.

Jan. 20, 2018: A fundraiser for the Republican Party and President Trump's reelection campaign celebrating President Trump's first year in office was held at Mar-a-Lago, with tickets starting at $100,000 per couple. President Trump initially planned to attend but remained in Washington, D.C. to address the government shutdown. The fundraiser was instead headed by Executive Vice President of the Trump Organization Eric Trump, his wife Lara Trump, and Republican National Committee Chairwoman Ronna McDaniel. CNN reported that the president still planned to address the event with a recorded video message.

Jan. 20, 2018: Twitter announces that it will notify 677,775 US citizens that they followed or retweeted accounts linked to Russian propaganda during the election. Twitter also announces the discovery of a further 1,062 propagandist accounts linked to the Kremlin's Internet Research Agency, bringing the total to 3,814, as well as the discovery of a further 13,512 automated bot accounts based in Russia, bringing the total to 50,258. Twitter estimates that the bot accounts produced 2.12 million tweets, collectively receiving 454.7 million impressions in the first week after each posting. Twitter's analysis indicates that Russian bots retweeted Trump's account 470,000 times in the run-up to election day, and Clinton's account 48,000 times.

Jan. 24, 2018: Trump tells reporters that he's "looking forward" to sitting for an interview with Mueller. But it turns out he was lying like usual.

Feb. 1, 2018: CNN reports that former Trump team legal spokesperson Mark Corallo had concerns that White House communications director Hope Hicks could be considering obstructing justice after a comment she reportedly made about emails between Donald Trump Jr. and Russians. Hicks allegedly told President Donald Trump on a conference call that the Trump Jr. emails "will never get out."

Feb. 8, 2018: Russian interest in the National Prayer Breakfast greatly increases. There are reports that an atypically large delegation of Russians — as many as 60 — planned to attend the 2018 event. Jim Slattery, a former Democratic congressman from Kansas who maintains ties to the National Prayer Breakfast and attended in 2018, acknowledged Russia "probably had the largest group" of any country that year.

Feb. 16, 2018: Mueller's team indicts 13 Russian nationals for interfering in the election. The number would increase to 26 by the end of the year.

Feb. 22, 2018 : Mueller brings a new 32-count indictment against Manafort and Gates for tax and bank fraud and money laundering, among other charges.

Feb. 23, 2018: Rick Gates pleads guilty and agrees to cooperate with Mueller's probe.

Feb. 27, 2018: In testimony to the House Intelligence Committee, Hope Hicks admits that she has told "white lies" for Trump; she resigns from the White House a day later.

Feb. 28, 2018: A judge in Washington sets a Sept. 17 trial date for Manafort.

April 6, 2018: Alexander Torshin, the apparent mastermind of the Russian plot to infiltrate the GOP via the NRA and prayer breakfasts, is one of more than 20 Russians sanctioned by the American government in response to Russian interference in 2016 and other incidents. Maria Butina, the Russian agent he handled, would be arrested on July 15, 2018.

April 9, 2018: Federal agents raid Cohen's home, hotel room and office in New York, acquiring 1.3 million pieces of potential evidence, including recordings of conversations between Cohen and Trump.

May 2, 2018: Trump hired former New York City Mayor Rudy Giuliani as his personal attorney.

June 14, 2018: New York Attorney General Barbara Underwood files a civil suit against President Donald Trump and his three eldest children, Donald, Jr., Ivanka, and Eric, alleging "persistently illegal conduct" and accusing them of engaging in campaign finance violations, using foundation money in their self-interest ("self-dealing"), treating the foundation as a "personal checkbook," and illegally coordinating donations with Donald Trump's presidential campaign. Underwood ordered the charity dissolved and demanded $2.8 million in restitution and penalties. She also made referrals to the Federal Election Commission and the IRS.

July 15, 2018: "Red Sparrow" Maria Butina is arrested and charged with acting as an agent of a foreign government, specifically the Russian Federation, without prior notification to the Attorney General, a conspiracy to commit an offense against the United States. According to the affidavit in support of the complaint, from as early as 2015 and continuing through at least February 2017, Butina worked at the direction of a high-level official in the Russian government, widely believed to be Alexander Torshin. The court filings detail the Russian official's and Butina's efforts for Butina to act as an agent of Russia inside the United States by developing relationships with U.S. persons and infiltrating organizations having influence in American Republican and conservative politics—such as the National Rifle Association, the National Prayer Breakfast and conservative religious organizations—for the purpose of advancing the interests of the Russian Federation.

July 18, 2018: Russia's Ministry of Foreign Affairs claims Butina's arrest was designed to undermine the "positive results" of the Helsinki summit between US President Donald Trump and Russian President Vladimir Putin, notwithstanding that she was arrested a day before the Trump-Putin meeting

July 30, 2018: Rudy Giuliani tells Fox & Friends that "collusion is not a crime," even when the collusion is with a hostile foreign power that has been relentlessly attacking the United States via hackers, and undermining its most democratic foundation: the vote.

August 21, 2018: Cohen pleads guilty to eight felony counts in a New York courtroom, including two in which he implicates Trump in campaign finance violations. Cohen said he paid off Daniels and McDougal to silence them before the 2016 election at Trump's "direction," and admitted that the payments were illegal. Paul Butler, law professor at Georgetown University says: "Tuesday August 21 marks the beginning of the end of Donald Trump's presidency, and possibly his freedom."

August 22, 2018: Trump finally admitted in an interview with Fox & Friends that the money paid to Daniels and McDougal "came from me." Trump said that since the money came from him and not the Trump campaign, the payments were not illegal. He also tweeted, "If anyone is looking for a good lawyer, I would strongly suggest that you don't retain the services of Michael Cohen!"

September 11, 2018: Bob Woodward's book Fear: Trump in the White House is released on the anniversary of 9-11. The book tell us that "Trump does not listen. He does not read. He is impossible to brief. He has no extended focus. He is immovable on almost all issues. The language in the White House is disgusting, wholly unworthy of the office; the Trump West Wing's screenplay is by Puzo and Mamet. Trump belittles and humiliates virtually all his senior advisers. And they take it." The book is "an insight into power and craven attraction to the ultimate power of the Oval Office, and how so many grovel and stay rather than resign with dignity intact." As book reviewer Burce Wolpe explains: "Woodward's coda is an extended engagement with John Dowd, formerly Trump's senior lawyer in the Mueller investigation. Read it and understand why Trump can never be trusted to testify in front of Mueller: because Trump is a liar. If he testifies, he will commit perjury." Woodward's book concludes with what Dowd wanted to say to Trump's face, but never did: "You're a f---ing liar." But Dowd did come close, at one point telling Trump: "Don't testify. It's either that or an orange jumpsuit." But Trump, "concerned about the optics of a president refusing to testify and convinced that he could handle Mueller's questions," disagreed. "I'll be a real good witness," Trump told Dowd. "You are not a good witness," Dowd replied. "Mr. President, I'm afraid I just can't help you." The next morning, Dowd resigned.

Woodward depicts Trump's "anger and paranoia" about the Russia inquiry as "unrelenting, at times paralyzing the West Wing for days." When he learned of Mueller's appointment in May 2017, Trump groused: "Everybody's trying to get me!" with paranoia and venting reminiscent of Richard Nixon's demise. Woodward also describes "an administrative coup d'etat" and a "nervous breakdown" of the executive branch, with senior aides conspiring to "pluck official papers from the president's desk so he couldn't see or sign them." The book explains how Trump's national security team was "shaken by his lack of curiosity and knowledge about world affairs" and his "contempt for the mainstream perspectives of military and intelligence leaders." For instance, during a National Security Council meeting about North Korean missile launches, Trump questioned why the US government was spending resources in the region at all. "We're doing this in order to prevent World War III," Defense Secretary Jim Mattis told him. After Trump left the meeting, Woodward recounts: "Mattis was particularly exasperated and alarmed, telling close associates that the president acted like — and had the understanding of — 'a fifth- or sixth-grader.'" According to Woodward, White House Chief of Staff John F. Kelly "frequently lost his temper" and told colleagues that he thought the president was "unhinged." In one meeting, Kelly allegedly said of Trump: "He's an idiot. It's pointless to try to convince him of anything. He's gone off the rails. We're in Crazytown. I don't even know why any of us are here. This is the worst job I've ever had."

November 29, 2018: Cohen pleads guilty to lying to Congress and congressional investigators. "COHEN made the false statements," the statement of offense reads, "to (1) minimize links between the Moscow Project and [Trump] and (2) give the false impression that the Moscow Project ended before 'the Iowa caucuses and ... the very first primary,' in hopes of limiting the ongoing Russia investigations."

November 29, 2018: According to Bloomberg: "The House Financial Services Committee, which Democrats will take control of in January, has the power to subpoena Deutsche Bank for banking records and other information regarding its relationship with the president, the Trump Organization and the Kushner family. It seems almost certain that the committee will deploy that power — especially given the news that Deutsche has landed in the middle of yet another money-laundering probe." The latest probe was YUGE, involving 170 German officers and investigators ...

November 29-30, 2018: CNN and other major sources report that Deutsche Bank's headquarters and other locations in Frankfurt were raided by 170 police officers and tax investigators as part of a giant money laundering probe. The German bank is suspected of helping clients set up offshore companies in tax havens, according to prosecutors. Investigators are also looking at whether Deutsche Bank failed to report suspicious transactions. Both the lender and prosecutors said the probe is related to the Panama Papers, a 2016 investigation into money laundering networks and shell companies set up by the Panama-based law firm Mossack Fonseca. Investigative reporter Jake Bernstein had previously reported that he found Trump's name in the Panama Papers, and Deutsche Bank is known to have funded major real estate deals for Trump when American banks and Wall Street wouldn't touch him. Also, Deutsche Bank has been accused of engaging in transactions with sanctioned Russian banks. So it seems possible that Trump could be involved in a big or YUGE way. Deutsche Bank has been forced to cough up more than $18 billion to settle lawsuits and pay fines since 2008. That includes a $7 billion settlement with the U.S. Justice Department in 2017 over its trading and sales practices in the mortgage market during the financial crisis of the mid-2000s.

November 30, 2018: According to the New York Times: "Elliott Broidy, a Los Angeles-based businessman who was a finance vice chairman of Mr. Trump's 2016 campaign and inauguration committees, was paid to lobby the Trump administration to try to end an investigation related to the embezzlement of billions of dollars from a Malaysian state-owned fund, according to court filings made public on Friday."

November 30, 2018: Here is what Trump said about Cohen before leaving for the G20 summit in Argentina: "He's a weak person. He was convicted with a fairly long-term sentence with things unrelated to the Trump Organization. What he's trying to do is get a reduced sentence." But apparently Cohen didn't trust Trump and recorded their conversations, so Trump will probably be caught in his own web of lies.

December 2018: At least five close advisers to Trump have admitted wrongdoing or been convicted since his election. Trump's former campaign chairman Paul Manafort has been convicted of financial fraud related to his work in Ukraine as a political consultant for pro-Russian elements. Rick Gates, an associate of Manafort, has pled guilty to multiple charges and awaits sentencing. Michael Flynn, Trump's national security adviser, resigned over his communications with Russia's ambassador prior to Trump taking office. George Papadopoulos, a Trump foreign policy adviser, confessed to making false statements to the FBI about the scope of his contacts with Russia during the 2016 presidential campaign. Michael Cohen, once Trump's personal lawyer and "fixer," has already pled guilty to charges and is cooperating with the Mueller investigation. According to Vox, there have been charges brought against 33 individuals and companies in all, including 26 Russian nationals.

December 3, 2018: The attorneys general of Maryland and the District of Columbia are preparing to move forward with subpoenas for President Trump's businesses in their lawsuit alleging that he is in violation of the U.S. Constitution's emoluments clauses. U.S. District Court Judge Peter J. Messitte gave the order for discovery in the case to proceed to D.C. Attorney General Karl A. Racine and Maryland Attorney General Brian Frosh, who have accused Trump of illegally profiting off the presidency. "We will now serve subpoenas to third-party organizations and federal agencies to gather the necessary evidence to prove that President Trump is violating the Constitution's emoluments clauses — our nation's original anti-corruption laws," Racine said in a statement. This is the first time an emoluments case has ever gone to trial in U.S. history.

December 7, 2018: Per The New York Times in an article headlined "Is This the Beginning of the End for Trump?": On Friday, federal prosecutors in Manhattan and the special counsel, Robert Mueller, delivered a potentially devastating one-two punch against President Trump. Coming late in the day, they made for bracing end-of-the-week reading. Calling on the court to impose a sentence of substantial imprisonment against Michael Cohen, the president's former personal attorney, prosecutors in the Southern District of New York stated that Mr. Trump, the Trump Organization and the campaign were all directly involved in an illegal scheme to silence two women who claimed they had affairs with Mr. Trump. Prosecutors wrote that payments made by Mr. Cohen and other actions were taken "with the intent to influence the 2016 presidential election" and pursued "in coordination with and at the direction of Individual 1" — that is, Mr. Trump. The Trump Organization's reimbursements to Mr. Cohen for payments were fraudulently disguised as legal fees — and, according to the memo, were approved by senior executives at the organization. The New York prosecutors also disclosed that they are investigating additional unspecified matters involving Mr. Cohen and, presumably, the Trump Organization. In light of these disclosures, the likelihood that the company and the Trump campaign face charges is now high.

December 8, 2018: According to Jeremy Bash, a former CIA chief of staff, the Trump administration has produced "the most pro-Russian foreign policy coming out of Washington in our history." According to Bash, what Trump and his henchmen did is "all about the leverage." The more Russia and Putin did for Trump, the more leverage (and dirt) Russia and Putin had over Trump. This explains why Trump did everything Putin demanded in return, including weakening NATO and averting sanctions on Russia.

December 10, 2018: Maria Butina agrees to plead guilty to conspiring to violate laws prohibiting covert foreign agents and is said to be "fully cooperating" with prosecutors. Her Russian handler, Alexander Torshin, is reported to be "retiring" according to Russian media.

December 11, 2018: Trump goes into full meltdown mode during a televised meeting with Nancy Pelosi and Chuck Schumer, claiming that his imaginary wall is being built and saying he will be "proud" to shut down the government unless he can get $5 billion for wall construction. After the meeting, which he entered with a "terrible disposition," Trump has a temper tantrum and scatters briefing materials on his way out. Trump is apparently putting all his election eggs in one basket, having used the term "wall" 45 times during the meeting. But polls show that only 28% of Americans consider the wall to be a pressing issue; the rest are more concerned about shoring up Obamacare and other real world issues. In private Trump continues to assist that Mexico will "pay for the wall" but the US government collects no money from NAFTA or its replacement. It seems Trump has lost touch with reality and will shut the government down because he's delusional.

December 12, 2018: Michael Cohen is sentenced to three years in prison. At the hearing Cohen said his "blind loyalty" to Trump drove him to cover up the president's "dirty deeds." It also turns out that Robert Mueller has obtained a non-prosecution agreement with The National Enquirer's parent company, American Media Inc., and its head honcho, the appropriately named David Pecker. The aforementioned have agreed to testify that AMI paid $150,000 in an attempt to influence the 2016 presidential election by working "in concert" with the Trump campaign. The purpose of the 150K payoff was to "suppress" a woman's account of her affair with Trump. The fact that this suppression and Cohen's both took place on the eve of the election seems unlikely to have been coincidental. It was also revealed that Michael Cohen was paid $420,000 when he only paid Stormy Daniels $130,000. The payments to Cohen were made by the Trump Organization against a "retainer" that did not exist under the fraudulent heading "legal fees." Only five Trump Organization employees were authorized to sign checks: Allen Weisselberg, The Donald Himself, and his three adult children. Weisselberg is cooperating with the Mueller investigation and if he didn't independently authorize and sign the checks in question, only the Trumps remain as possibilities. Lanny Davis, one of Michael Cohen's lawyers, reveals to Lawrence O'Donnell that Cohen considered Donald Trump to be a danger to his family and to his country, and that this is why he agreed to tell Robert Mueller and the FBI the truth about Trump and Russia, at considerable risk and distress to himself and his family. Davis compares Cohen to John Dean and confirms that no one at the White House told Cohen not to lie about collusion with Russia, while making it clear that he could not reveal anything that only Mueller knows at this point in time.

December 12, 2018: According to Lawrence O'Donnell, the "impeachable crimes" of Donald Trump are now "settled facts."

December 12, 2018: The AMI immunity deal, said Gene Rossi, a former federal prosecutor from Northern Virginia, "is a huge red flag and loud gong against the president." In a document released Wednesday, December 12, 2018, AMI confirmed that it paid a woman $150,000 in "cooperation, consultation and concert" with Trump's campaign to ensure she "did not publicize damaging allegations about that candidate before the 2016 presidential election and thereby influence the election."

December 12, 2018: "The entire question about whether the president committed an impeachable offense now hinges on the testimony of two men: David Pecker and Allen Weisselberg, both cooperating witnesses in the SDNY investigation," a close Trump ally told NBC News. But it could well be that Robert Mueller has yet to play his hole cards. For instance, did one of the Trumps authorize the $420,000 paid to Michael Cohen? Why was an LLC set up to make the payment to Stormy Daniels, if it was a legitimate "private transaction"? Why did both payoffs take place on the eve of the election?

December 13, 2018: Maria Butina aka "Red Sparrow" pleads guilty Thursday to conspiring with a senior Russian official—her handler Alexander Torshin—to infiltrate the conservative movement in the United States as an agent for the Kremlin from 2015 until her arrest in July 2018. Her American lover, Paul Erickson, may also be charged for working as a Russian agent. In plea documents read by prosecutors in court Thursday, Butina admitted undertaking a multiyear influence campaign coordinated through Torshin, which she proposed in March 2015 as the "Diplomacy Project." Butina's case is a vivid "part of a larger mosaic of Russian influence operations" laid out in part by special counsel Robert S. Mueller III's investigation of Russian interference, said David Laufman, a former Justice Department official who headed the National Security Division's Counterintelligence and Export Control Section until earlier this year.

December 13, 2018: According to the Wall Street Journal, federal prosecutors have launched a criminal investigation of possible financial irregularities related to Donald Trump's inauguration fundraising and spending. A staggering $107 million was donated, but around $30 million is unaccounted for, and other spending seems questionable. There are also questions about influence peddling and donations by foreigners — both illegal. According to Andrew Prokop there are "many, many red flags."

December 13, 2018: Jamie Raskin, a Congressman, member of the Judiciary Committee, and former professor of constitutional law, during an appearance on All in with Chris Hayes, says that the president has been "basically conducting his affairs like a crime family" mob boss.

December 13, 2018: "Nobody got killed, nobody got robbed … This was not a big crime," Rudy Giuliani told The Daily Beast, finally admitting that a crime had been committed in the hush money payoffs. But rigging the 2016 presidential election was not a "big crime"!

December 13, 2018: It is revealed that Donald Trump was the "third man in the room" along with Michael Cohen and David Pecker when the plot was hatched to pay 130K to porn star Stormy Daniels and 150K to Playboy bunny Karen McDougal. This "hush money" was designed to buy their silence on the eve of the 2016 presidential election. Trump has constantly lied about what really happened and hasn't been able to keep his story straight. First, after the Wall Street Journal reported the 130K payment to Stormy Daniels on Jan. 12, the initial Trump response, delivered through his lawyer and "fixer" Michael Cohen, was that the claim of hush money being paid was "outlandish." It never happened! But on Feb. 13, it turned out that it did happen, but that Cohen did it completely on his own, as a favor for which he was not reimbursed, taking out a home equity loan simply out of the goodness of his heart! This became the official word: Trump has "denied all these allegations," White House Press Secretary Sarah Huckabee Sanders said on March 7. Cohen later reiterated his claim that he paid Daniels with his own money. On April 5, when asked if he knew anything about the Daniels payment, Trump replied: "No, no!" while boarding Air Force One. But after Cohen's office was raided by the FBI, Trump changed his tune. On April 26, Trump admitted that he did know something, sorta. He told Fox & Friends that Cohen had "represented me in this crazy Stormy Daniels deal." But Trump insisted that Cohen did "absolutely nothing wrong" and claimed that it was a private transaction: "There was no campaign funds going into this, which would have been a problem." (Perhaps he spoke prophetically.) On May 2, Rudy Giuliani confirmed that Trump had been lying when he told Fox News that Trump had known about the "general arrangement, and that Michael would take care of things like this." Trump had repaid Cohen for paying off Daniels, Giuliani said at the time. The new Trump lie was that it had been a "private transaction" unrelated to the presidential campaign, even though both payments had been made on the eve of the election. Trump backed up the new lie in a series of tweets. On May 3, Huckabee Sanders reinforced the new lie, saying that Trump had not been aware of the Daniels payment at the time it was made. But then it turned out that the money didn't come out of Trump's personal pocketbook, but from his Trump Organization coffers, making it an illegal and felonious undisclosed campaign contribution. And that explains why an LLC was set up by Cohen to make the Daniels payment. Extreme steps were being taken to keep the payment secret. Then it turned out that Cohen had taped the conversation where Trump instructed him to make at least one of the payments. Lanny Davis, an attorney for Cohen, told CNN that Trump can be heard on the tape, suggesting a cash payment to McDougal. Cohen pled guilty on Aug. 21 to two counts of campaign finance violations; in court filings, he said that he acted on Trump's orders, implicating the president in the violations. On Dec. 13, Giuliani finally admitted that a crime had been committed, after all, but he insisted that "This was not a big crime."

What is the truth about the matter? As the Wall Street Journal reported: "Mr. Trump was involved in or briefed on nearly every step of the agreements. He directed deals in phone calls and meetings with his self-described fixer, Michael Cohen, and others. The U.S. attorney's office in Manhattan has gathered evidence of Mr. Trump's participation in the transactions."

December 13, 2018: Trump claims that climate change is "fake news," a hoax created by the Chinese, etc. For example: "The concept of global warming was created by and for the Chinese in order to make U.S. manufacturing non-competitive." But according USA Today, an "Arctic Report Card" issued by the NOAA (National Oceanic and Atmospheric Administration), the Arctic is enduring "its most unprecedented transition in human history." Who do you trust: Trump, or legions of scientists who have actually studied the evidence?

December 14, 2018: Rep. Adam Schiff (D-Calif.) tells The New Yorker that he plans to subpoena information on President Trump's personal business transactions from Deutsche Bank regarding allegations that the president's financial interests in Russia are affecting his foreign policy positions. Schiff, who will likely chair the House Intelligence Committee come January, says that he believes answers to whether Trump was involved in money laundering with Russia lie in records held by the German-owned Deutsche Bank, which Trump banked with extensively during the 1990s. "Is that why Trump is so pro-Russian? Is his financial interest guiding his foreign policy?" Schiff asked in an interview with the magazine. "We are going to be looking at the issue of possible money laundering by the Trump Organization, and Deutsche Bank is one obvious place to start," he continued. Schiff also said the House Intelligence Committee would be looking into possible "illicit foreign funding or involvement in the inauguration."

December 14, 2018: Trump's personal lawyers are trying to "pause" evidence collection in an emoluments case, according to a CNN report. The attorneys general of the District of Columbia and Maryland have been working together in a lawsuit alleging that Trump has received illegal gifts through the Washington Trump International Hotel, amid claims that foreign dignitaries stay there to curry favor with the president. The Trump hotel is the Old Post Office building and is leased from the federal government. The lease with the General Services Administration explicitly says that no elected official of the government of the United States may hold that lease. The suit was moving to its discovery phase and the attorneys general had sent out several subpoenas, including to the Trump Organization. Maryland Attorney General Brian Frosh slammed the lawyers' request: "I think they may have violated Lewis Carroll's copyright on Alice in Wonderland," he told CNN, adding that the argument that the president is immune from the Constitution's Emoluments Clause is "absurd."

December 15, 2018: Trump didn't "drain" the swamp. He packed it with his crocodilian donors and other political piranha, creating the most corrupt and scandal-ridden presidency in American history. Interior Department Secretary Ryan Zinke becomes the latest casualty when he submits his resignation to the White House after "facing intense pressure to step down because of multiple probes tied to his real estate dealings in his home state of Montana and his conduct while in office." Zinke is the fourth Trump Cabinet member to resign under an ethics cloud in less than two years. Health and Human Services Secretary Tom Price, Veterans Affairs Secretary David Shulkin and Environmental Protection Agency chief Scott Pruitt also resigned after coming under scrutiny for various irregularities. "Ryan Zinke will go down as the most anti-conservation Interior secretary in our nation's history," said Jennifer Rokala, executive director of the Center for Western Priorities. "Surrounding himself with former lobbyists, it quickly became clear that Ryan Zinke was a pawn for the oil and gas industry. We can expect more of the same from Acting Secretary David Bernhardt, but without the laughable Teddy Roosevelt comparisons."

December 16, 2018: Trump's lawyer Rudy Giuliani publicly admits another Trump lie. On ABC's This Week, Giuliani seems to reference Trump's written responses to special counsel Robert Mueller, saying the conversations about the proposed Moscow Project continued as far as the tail end of the general election period: "According to the answer that he [Trump] gave [to Mueller], it would have covered all the way up to November of 2016."

December 16, 2018: Fox News contributor Andrew McCarthy, a former federal prosecutor, criticizes Trump for describing his former personal lawyer Michael Cohen as a "rat." McCarthy tweets: "Sir, in mobster lingo, a 'rat' is a witness who tells prosecutors real incriminating info. Perhaps a different word?" McCarthy then added that searches of lawyers' offices are common enough that the "DOJ has a procedure for them."

December 16, 2018: In an ominous note for Trump and the Republican Party, the top Google "how to" search terms for 2018 were "How to vote" and "How to register to vote."

December 16, 2018: On ABC's This Week, current Trump lawyer Rudy Giuliani responds to former Trump lawyer Michael Cohen in an interview with George Stephanopoulos. Cohen said that President Trump knew the payment to Stormy Daniels was a violation of campaign finance law and he ordered Cohen to do it anyway. Even though the payment was made on the eve of the 2016 presidential election in an obvious attempt to influence the election, Giuliani lamely replied: "It's not a crime. Paying $130,000 to Stormy whatever and paying $130,000 to the other one is not a crime." (The "other one" was $150,000 paid to Karen McDougal for the same reason.) The interview also produced this amusing exchange about whether Trump or Cohen is the bigger liar:

GIULIANI: He's changed his story four or five times.
STEPHANOPOULOS: So has the president. (One of the all-time great zingers!)
GIULIANI: The president's not under oath.

Thus according to the president's lawyer, the president can lie like a dog to the American public. As long as he isn't under oath, it doesn't matter a hill of beans!

December 17, 2018: Donald Trump has a much bigger problem than Robert Mueller, because he's pissed off the wrong people with his constant cries of "Witch hunt!" Real witches do not want to be associated with The Donald! "To have him compare his situation to the worst period in our history is just infuriating," witch Kitty Randall told the Daily Beast. Some witches — including a coven in Brooklyn — have taken to casting spells on the commander-in-chief. But most sorcerers are still biding their time, according to Randall.

December 17, 2018: Federal prosecutors unsealed an indictment charging two business associates of Michael Flynn with acting as agents of the Turkish government. Throughout the fall of 2016, while Flynn served publicly as a key surrogate and foreign policy adviser to Donald Trump's presidential campaign, prosecutors say he and his business partner Bijan Kian took hundreds of thousands of dollars from the Turkish government to push for the extradition of Fethullah Gulen. Their efforts, prosecutors said, were directed by Kamil Ekim Alptekin, a Turkish businessman with close ties to the country's leadership. Flynn himself registered as a Turkish agent, but only retroactively after being caught in a web of lies and deceptions by federal prosecutors.

NOTE: I do not claim that any of the information here is highly original. Sources used include Fox News, The Wall Street Journal, The Washington Post, The Guardian, Buzzfeed, CNN, The Daily Beast and Politico, among others.

As Bloomberg explained things: "Donald Trump promised to drain the Washington swamp. Instead, he has surrounded himself with family members, appointees and advisers who've been accused of conflicts of interest, misuse of public funds, influence peddling, self-enrichment, working for foreign governments, failure to disclose information and violating ethics rules. Some are under investigation or facing lawsuits, others have resigned and five have either been convicted or pleaded guilty, including three for lying to government officials." And, one might add, that seems to be only the tip of an enormous iceberg now threatening the American ship of state.

What does it all mean? Here are comments by legal experts about federal prosecutors, for all intents and purposes, apparently naming Donald Trump as an unindicted co-conspirator in court filings on December 7, 2018:

Former Nixon White House counsel John Dean: "I don't know that this will forever disappear into some dark hole of unprosecutable presidents. I think it will resurface in the Congress. I think what this totality of today's filings show that the House is going to have little choice the way this is going other than to start impeachment proceedings."

Nick Akerman, former Watergate prosecutor: The plea deal involving President Trump's former personal attorney Michael Cohen makes Trump an "unindicted co-conspirator" according to Akerman. The term "unindicted co-conspirator" was used by the Watergate grand jury to describe President Nixon's role in the scandal that ultimately cost him his presidency. The plea deal has prompted the question: Can a sitting president be indicted? "I absolutely see no reason why [Trump] could not be indicted," said Akerman (@nickakerman).

Laurence Tribe, law professor, Harvard Law School: WOW! The Dec 7 filing in SDNY on Michael Cohen's sentencing charges that President Trump (aka "Individual 1") directed a criminal conspiracy with his attorney Cohen to violate the federal election laws in order to increase his odds of winning the presidency by deceiving voters ... Hint: It's not pretty ... December 7, 1941 and December 7, 2018. Indeed. ("A day which will live in infamy.") ... This unambiguously *condemns* the President. If Trump truly feels "cleared" by it, either he just can't read or he's totally delusional.

Lisa Kern Griffin, law professor, Duke University: The president's personal attorney has given sworn testimony in open court that he committed campaign finance violations in coordination with and at the direction of the president. Although the president is not named in the charges, he is all but an unindicted co-conspirator. This turn in the president's fortunes is dramatic and damaging, and it should have political repercussions even if it does not have immediate legal ones. All of this is occurring in the Southern District of New York and involves wrongdoing in addition to the campaign activities that are the focus of the special counsel's investigation.

Jens David Ohlin, law professor, Cornell University: Trump is clearly guilty of violating campaign finance laws and also guilty of federal conspiracy as well (because he agreed with Cohen, and possibly others, on a plan to violate federal law). Normally he would be indicted right away. But that won't happen only because he's the president. But I suspect he'll be named as an unindicted co-conspirator and also there'll be a separate section of the Mueller report titled "Conspiracy to Violate Campaign Finance Laws" or something like that.

Michael Kang, law professor, Northwestern University: Michael Cohen's guilty plea to campaign finance violations has important implications for President Trump. Cohen reportedly admitted that the payments he arranged for Stormy Daniels and Karen McDougal on Trump's behalf were campaign related, not personal expenditures, and were made with the coordination and at the direction of a federal candidate. Assuming he or prosecutors can substantiate this claim, the payments were illegal campaign contributions that exceeded the applicable limits and needed to be reported. What's more, if Trump knew the payments were campaign related and directed them, as Cohen alleges, then Trump too violated campaign finance law.

Diane Marie Amann, law professor, University of Georgia: The president's lawyer, Michael Cohen, has just pleaded guilty to violating federal tax, banking, and campaign finance laws. The big question, of course, is the extent to which the case against Cohen involves others. If the Cohen investigation unearthed evidence implicating the President in the crimes of conviction — whether through statements by Cohen or through documents seized from him — that is very good news for Mueller and very bad news for Trump.

Joshua Dressler, law professor, Ohio State University: Cohen's admission that the hush money that constituted 2 felony convictions, was done at the direction of a candidate for federal office, clearly implicates the President in those campaign violations. Essentially, Cohen, under oath, in a federal court, has alleged that the President of the United States conspired to violate federal law. If he were not a sitting president this would constitute grounds for indictment on those charges. As a sitting president this constitutes, if Congress wishes to do so, impeachable offenses. But, as we know, impeachment is a political rather than a legal concept, and it would seem pretty clear that nothing will occur with the current Congress.

Ciara Torres-Spelliscy, law professor, Stetson University: Two counts that Michael Cohen pled guilty to were for campaign finance violations: (a) for causing an illegal corporate contribution and (b) for an excessive personal campaign contribution for his payments to two women during the 2016 campaign. United States campaign finance laws have been watered down by the Roberts Supreme Court since 2006, but there are a few pillars of campaign finance law that the Supreme Court has upheld again and again: (1) bans on corporations' giving directly to federal candidates, (2) bans on foreigners' spending in US elections, (3) the lawfulness of contribution limits and (4) the requirement that money going into and going out of federal campaign be fully disclosed. Another fundamental requirement of campaign finance law is that campaign funds be used for legitimate campaign expenditures and not for personal use. The Cohen pleas on counts 7 and 8 appear to acknowledge his working with candidate Trump to violate federal campaign finance laws by violating two of those pillars (the corporate ban and the contribution limits), which aim to prevent corruption of the American political process.

Asha Rangappa, former FBI agent and senior lecturer, Yale University: It remains to be seen whether or not Michael Cohen has any valuable information to offer to prosecutors that may be able to reduce his sentence for the charges he is now pleading guilty to. Most of the focus has been on the information he could potentially provide to Special Counsel Robert S. Mueller in the Russia probe. But a potentially bigger threat to President Trump is what Cohen could provide to the Southern District of New York about potential crimes committed by Trump or members of his family that are unrelated to the Russia probe. Michael Cohen, as Trump's longtime "fixer" knows where the proverbial bodies are buried when it comes to the Trump Organization and particularly its finances going back many, many years. If Cohen provided information on potentially criminal activities to the Southern District and it opened an investigation into them, it would place the President in a double bind: First, since it would be an investigation separate and apart from the Mueller probe, he wouldn't be able to argue that the Special Counsel exceeded his mandate or crossed a "red line" — after all, any U.S. Attorney's office is legally authorized (and duty-bound) to investigate any violations of federal law it learns about. More importantly, such an investigation would be completely insulated from any steps Trump might take to fire Mueller, Deputy Attorney General Rod Rosenstein, or even Attorney General Jeff Sessions (especially since his interim pick to head the Southern District who recused himself from overseeing the Cohen investigation, would undoubtedly recuse himself from any other Trump-related investigation as well). So Trump has much more to fear from Cohen than just what he knows about Russia-related matters.

Christopher Slobogin, law professor, Vanderbilt University: If Cohen pleads guilty to violating campaign finance law by making payments to Daniels, and it can be proven that Trump sought, or encouraged him to make, the payments, Trump would be guilty of conspiring to commit a federal crime. His defense might be that he did not know the payments would violate campaign finance law, but ignorance of the law is typically not an excuse. Whether that type of crime is an impeachable offense, however, is up to Congress.

Ric Simmons, law professor, Ohio State University: The fact that Cohen implicated President Trump in his plea allocation is extremely significant, since it ties Trump directly to illegal campaign activity. Although the plea agreement does not mention cooperation with the special prosecutor's office, Cohen's willingness to speak out against Trump now implies he will cooperate with the special counsel moving forward, perhaps in the hopes of obtaining a lower sentence. Also newsworthy is the fact that last week the special master in the case finished her review of the documents seized from Cohen's office and determined that almost none of the documents are protected by attorney-client privilege. Judge Wood formally adopted that finding on Monday. This means that almost all of these documents will be available to prosecutors investigating the Trump campaign. Given Cohen's admissions today, these documents from his office may prove to be very valuable to the special prosecutor's office.

Andrew Wright, law professor, Savannah Law School: If Michael Cohen engaged in federal crimes at the direction of Donald Trump, then Trump will likely be guilty of those crimes on some combination of solicitation, aiding and abetting, and conspiracy. This is not the Mueller investigation, and it is not obstruction of justice inquiry in which the Trump legal team can assert some theory of executive power impossibility for obstruction crimes grounded in his official acts. If Donald Trump conspired with to commit felonies as a candidate, the only thing that might protect him is the question of whether he couldn't be indicted for the duration of his tenure in office.

Douglas Spencer, law professor, University of Connecticut: While Cohen's guilty plea has no bearing on the question whether the Mueller investigation was properly instigated, claims that the Mueller investigation is a "witch hunt" will be further undermined as yet another individual connected to the Trump campaign admits that he broke the law. Substantively, while Michael Cohen never held an official position on the campaign team, his guilty plea reportedly says he acted at the direction of a candidate (presumably Donald Trump) with the purpose of influencing the election. President Trump admitted via tweet on May 3 that he reimbursed Cohen for his (now admittedly illegal) payment to Stormy Daniels, so Cohen's guilty plea will certainly implicate President Trump. The media is reporting that Cohen will not cooperate with Mueller. But he may not have to. Rudy Giuliani drew the dots and Cohen's admission now arguably connects them.

Victoria Nourse, law professor, Georgetown University: This was a sad day for America, but a spectacular day for the Mueller investigation. Cohen's New York plea was not handled by Mueller's office, but it told the same story as the jury verdict obtained by Mueller in the Manafort trial in Virginia. We now know that the president claimed to unearth the swamp, but he hired it. Federal law calls what Cohen and Manafort did by the simple name of fraud — lying when you have a legal obligation to tell the truth. If Cohen is correct that he aided the President in a crime, the President's only defense is to diminish the seriousness of the violation to the public or insist that Cohen lied. Aiding a crime is a crime in America — if you authorize a murder, even if you authorize your lawyer to commit a murder, you are guilty of a crime, and one would hope so. Attention will now shift from foreign threats to our nation's electoral system to porn star hush money. As I said, it's a sad day for America.

Paul Butler, law professor, Georgetown University: There are two ways that convicted felons Paul Manafort and Michael Cohen can avoid spending many years in one of those wretched places. One is to be pardoned by the president of the United States. The second is to deliver up Donald Trump to Special Counsel Robert Mueller. Trump said, after the Manafort and Cohen convictions, that he "feels badly" for both. Manafort's pardon seems virtually a done deal. But Michael Cohen has already implicated Trump as his co-conspirator to violate federal campaign financing laws. Providing more evidence to Mueller would be any lawyer's recommendation to Cohen, to reduce his time in the pen. But even if Trump pardons Cohen, it would have the same effect as immunizing him, meaning Cohen could be forced to testify about everything Trump has ever done. The president has no good options — Tuesday August 21 marks the beginning of the end of Donald Trump's presidency, and possibly his freedom.

Related pages: The Best Donald Trump Jokes, The Best Donald Trump Puns, The Best Donald Trump Limericks, The Best Donald Trump Insults, 2016 Republican First Presidential Debate, Is there a Republican War on Women?, The Donald Trump Bible, The Best Ted Cruz Jokes, Conservatives Who Support Gay Marriage, Donald Trump Nicknames, Ten Reasons to "Fire" Donald Trump, Donald Trump's "Muslim Friends", Where Have All the Birthers Gone?, The Best Ted Cruz Jokes, Ted Cruz Nicknames, Is Ted Cruz an Anchor Baby?, More Donald Trump Jokes, Is Donald Trump a Fascist?, Donald Trump Trivia, Donald Trump's War on Women, Donald Trump Funny Campaign Slogans and Parodies, Donald Trump Poetry, Donald Trump Russia Quotes Donald Trump Russia Gog and Magog

The HyperTexts