The HyperTexts

Steve Bannon Nicknames and Quotes

This page contains the best Steve Bannon nicknames that I have been able to find—including Darth Bannon, Loose Cannon Bannon, Bannon the Barbarian, Sloppy Steve, Homeless Guy and Bam Bam—and some that I came up with myself. I have also included Steve Bannon quotes and nicknames he coined for other people.

Steve Bannon nicknames have been coined by Steve Bannon himself, Breitbart, Stephen Colbert, Kellyanne Conway, David Letterman, James Mattis, Bill Murray, Kate McKinnon, Newsweek, Trevor Noah, Politico, Salon, Anthony Scaramucci, Ben Shapiro, SNL, TIME, Donald Trump, Vanity Fair and Michael Wolff.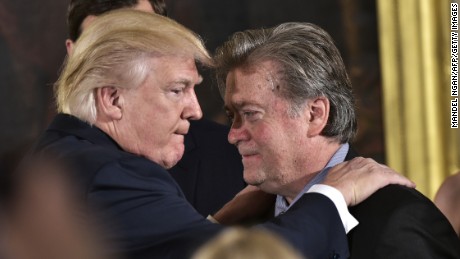 Twin peas in an evil pod: Trump and Bannon. Stuart Stevens described Bannon as "an odd, strangely repulsive figure who is trying to use the political process to work through personal issues of anger and frustration."

I'm a Leninist. Lenin wanted to destroy the state, and that's my goal too. I want to bring everything crashing down, and destroy all of today's establishment.―Stephen K. Bannon in his own words

Darkness is good. Dick Cheney. Darth Vader. Satan. That's power.―Stephen K. Bannon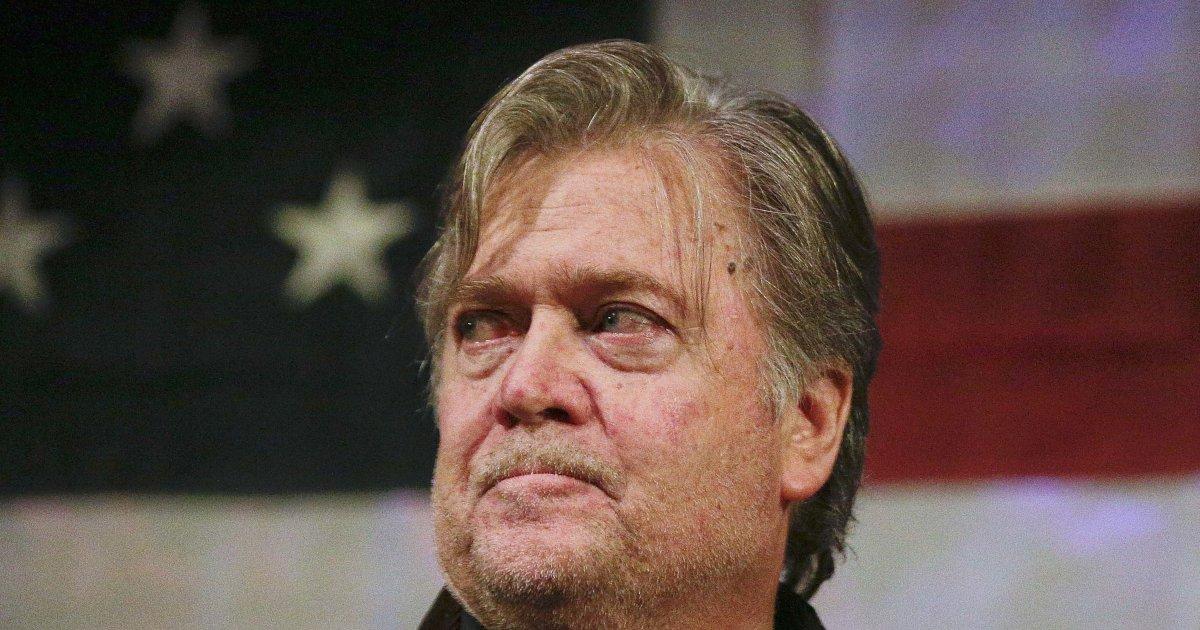 Stephen K. Bannon Nicknames

The Wilting Wallflower (The New York Times said Bannon was "wilting" in the wake of Michael Wolff's Fire and Fury)
The Grim Reaper (SNL)
My Steve (Donald Trump)
Bam Bam (Donald Trump)

According to Eliana Johnson of Politico, when allegations of domestic abuse surfaced against Steve Bannon during the 2016 presidential campaign, Trump said: "Don't worry about Bam Bam, he's locked away in a room working 20 hours a day. He never comes out." According to Johnson, it was Trump who gave Bannon the nickname Bam Bam, and he gave it specifically because Bannon had assaulted his wife. Bannon was charged with domestic violence and battery in the 1996 incident. But to Trump abusing women is apparently a joke.

The Devil Incarnate (General James Mattis)
Darkness Incarnate
Trump's Eminence Grise (David A. Graham)
Gríma Wormtongue
Little Donnie Daycare Provider
The Wet Nurse

I'm sick of being a wet nurse for a seventy-one-year-old.―Steve Bannon

Bannon the Barbarian (Bannon himself)
Loose Cannon Bannon
Darth Vader
Darth Bannon
Sith Lord Bannon
Darth Insidious
The Great Boor of Babble-On (Michael R. Burch)
Deceivin' Stephen
The False Profit

Robert Redford dredged from a river (Stephen Colbert)
Homeless Guy on his last bender (Michael R. Burch)
Homeless Guy

Guy looks homeless. Take a shower, Steve. You've worn those pants for six days.―Donald Trump, quoted by Michael Wolff

Sloppy Steve (Donald Trump)
The Lush you find comatose in a liquor store gutter (Michael R. Burch)
Frumpers (Bill Murray, on SNL)
Death Warmed Over (Kate McKinnon, on SNL)

Acting President Bannon
The Ringleader
King of Kingmakers (Bill Murray, on SNL)
Ozymandias (Bill Murray, on SNL)

Stephen KKK Bannon
Trump's Torch
The White Nationalist Torchbearer
White Power Walrus (Trevor Noah)
The AmeriKlan Idol
The Banner
Banner Bannon
Bannondorf

Wrongplan (Newt Gingrich)
The Cannibal (Newt Gingrich)
The Wrongway Banner (Newt Gingrich)

Minister of Public Enlightenment & Propaganda (Goebbels' title in Hitler's cabinet)
Minister of Truth (for fascists)
Minister of Alternate Truth
Minister of Ruth
Mini-Mart Machiavellian Genius and Master Strategist of the Republican Fourth Reich (Salon)
Shambolic Leninist (Salon)
Trump's Frenemy (Salon)
The Leninist
The Amerikan Goebbels
The Marxist Marksman

Mr. Alt-Right
Mr. Alt-Reich
The Alt-Reichmaster
Mr. ALT-CONTROL-DELETE
The ALT-RIGHT-DELETEr (Michael R. Burch)
The Alt-Right Igniter
The Alt-Right Blight Inciter
The Alt-Right Hate Inciter (Bannon said, "Let the grass roots turn on the hate.")
The Classless Class Warrior
Mr. Superior Jeans

Vanity Snare (after Bannon was quoted by Vanity Fair saying that Donald Trump is like an 11-year-old child)
The Bannon Cannon (Bill Murray, on SNL)
Trump's Brain (Elizabeth Williamson)
Trump's Thomas Cromwell (Bannon himself)
Stone Cold Crazy Steve Bannon
Shag-Nasty (Michael R. Burch)
Bull in a China Shop ("China's everything. Nothing else matters. We don't get China right, we don't get anything right.")
The Breitbart Fart
Dr. Evil (Ted Lieu)
The Self-Promoter (Donald Trump)
The Great Manipulator (TIME)
The Great Baby-Man-ipulator
The Great Totipulator
The Hunchback of Notre Dame (David Letterman)
Deep State Stephen
Rupert Murder-Doc
Mr. Destructo
Arsonist-in-Chief
The Arsonist
The Anarchist
The Revolutionary (Bannon himself, in a Vanity Fair interview)
The Rebel (Keith Koffler)
The Propagandist
Supremacist Steve
The Dark Master of Disaster
Stephen Stipulator
Little Stevie Blunder
The Operator
The Operative
The Doom Messiah
The Mad Prophet
The Rad Prophet
The Alt-Right Ideologue (Elizabeth Williamson)
The Junkyard Dog (Bannon himself)
The American Prospector (after his interview with The American Prospect led to Bannon being banned from the White House)
Ban-on Bannon
Bye Bye Bannon
Banned Bannon
Banished Bannon
The Bannon Brand Builder (Anthony Scaramucci)
The Puppet Master
The Puppy Master
Dr. Doom
Doomsday
Gloomsday
Dr. Gloomypants
The Democrats' Perfect Weapon (Newsweek)
Populist Hero (by his own Breitbart Schmooze)

Dishonorable Mention: The DREAM Crusher, Sauron, Sour-Hun, The Boutique Banker, The Producer, The Profit Prophet, The Hate Fanner, Nasty (Ben Shapiro), The Dictator of Breitbart (Kurt Bardella), Evil Genius (a former Breitbart staffer), The Insular Insurgent, The Compulsive Populist, The Manipulator (Ben Shapiro), Coast-to-Coast (when playing basketball he would dribble the length of the court without passing), The Bully (Ben Shapiro), The General (Kellyanne Conway), The Destroyer (Bannon served on a Navy destroyer), Bannon the Unreasonable (Newsweek), Bannon the Unreasoning, Bannon Agonistes (Newsweek), Bane, Disgruntled Couch Potato, The Mad Bomber, The Grassroots Guru, The Protectionist, The Tribune, Trump's Rasputin, The Zealot, Sneaky Steve, Steve Svengali, Three-shirt-wearing bomb-thrower (POLITICO), The Anti-McConnell Avatar (POLITICO), The Swamped Creature, The Groveler, The Supplicant, The Sicko-phant, The Abject Fawner, Political Toast

Breitbart Nickames: Breitbartistan, Whitebart, Trump's personal Pravda (Ben Shapiro), White Noise (Michael R. Burch)

I have power.―Stephen K. Bannon, in a Vanity Fair article

Donald Trump is "getting the animal spirits flowing in America."―Stephen K. Bannon, in a Newsweek article

Steve Bannon is a prolific coiner of nicknames. Bannon has called Trump supporters Hobbits and a Collection of Clowns. Bannon has called Trump a number of unflattering things, including Archie Bunker, Amnesty Don, Imperfect Vessel and an 11-Year-Old Child. Bannon called the Trump campaign an Island of Misfit Toys and the Trump administration a Sinking Ship of State. And he called Jared Kushner and Ivanka Trump the insulting nickname Javanka, as if they can't think or speak independently.

NEWS FLASH: There is some excellent news in Trumpzania!!! Recently Darth Bannon, aka Acting President Bannon, announced that he is very "proud" of his protégé The Boychurian Candidate. The beaming Sith Lord is proud of Trump because, by his own admission, Bannon is a Leninist and like Lenin he wants to destroy the state―in this case the United States of America. And of course Trump is the perfect president, if one wants to destroy America! David Duke, Robert Spencer and Vladimir Putin are also very proud of Trump, or are at least will be very happy to feast on the carcass of the United States once all the internal bloodletting is over. These are the people who really matter to Trump. So all is well, no matter how badly it ends for the rest of us!

NEWS CRASH: Unfortunately, or very fortunately as the case may be, we can now say farewell to Banned Bannon. Why? Is it because Bye Bye Bannon sided with white nationalists and thus undermined the Trump regime? Not at all! Trump reportedly fired Bannon for finally telling the truth when he admitted that there is no military solution to North Korea!

NEWS DRIFTING ASH: Uncle Scam always hires and fires the best people! How do we know? Because he told us so! Telepathetic Trump has the infallible ability to identify the perfect person for any position: The Mooch, Rinse and Spit Priebus, Scary Spicer, Red Flynnstone, James EZ-Comey-EZ-Goey, Darth Bannon, et al. Is it Don Quixote's fault that people turned into human lemons the minute they started working under him and he had to let them go? Of course not! Trump is always blameless, whether he's groping women's genitals, barging into teenage girls' dressing rooms, handing Syria and Ukraine over to Mr. Putin on gold-plated platters, robbing Americans of their healthcare, or starting World War III! In any case, there is now a ban on Bannon, so welcome to the ALT-CONTROL-DELETE Club!

Quick, before it's too late, impeach Stephen "Acting President" Bannon! And because President Bannon, a self-avowed anarchist and Leninist, is obviously in charge of Amerika's Bolshevik Revolution, we should call our sham president The Figurehead.

Friends, please don't act so surprised. This is was what happens when we elect an Orange-Tufted Shit Gibbon president. Now the ludicrous monkey dances to Organ Grinder Bannon's dark, evil tunes.

We all know how The Donald loves gold: hell, he even gold-plates his toilets! But did you know that Trump is in the process of "gold-plating" the White House, by turning it over to Goldman Sachs types? Trump has aided and abetted a Goldman Sachs Takeover of the U.S. government. To "sack" a city is to besiege, destroy and plunder it. Trump's avaricious Gold Sackers are now in the process of sacking Washington D.C., and the nation along with it. Trump's cabinet and key advisers include Gold Diggers like Stephen Bannon, Gary Cohn, Steve Mnuchin, Dina Powell, Anthony Scaramucci and Jay Clayton. "I know the guys at Goldman Sachs. They have total, total control over him," Trump said of Ted Cruz. "Just like they have total control over Hillary Clinton." What Trump didn't bother to tell anyone is that he also bows down to and worships the same Golden Idols. The market value of Goldman Sachs soared by $4 billion in a single day as Mammon-Worshiper Trump signed an order to begin the process of dismantling Dodd-Frank, with former Goldman president Gary Cohn standing behind him, like Emperor Palpatine directing Darth Vader to destroy entire planets and their inhabitants in his quest for wealth and power. Goldman Sachs has watched its stock soar 33% in the short period of time that Trump has been president. Investors understand what the Sach-ing of America means. It means the rich get richer, while everyone else is forced to submit to the Trump Death Star, or perish.

It has been scientifically proven that Anthony Scaramucci's blow-dryer, by evaporating massive quantities of hair gel and other hair products, is now the leading cause of global warming!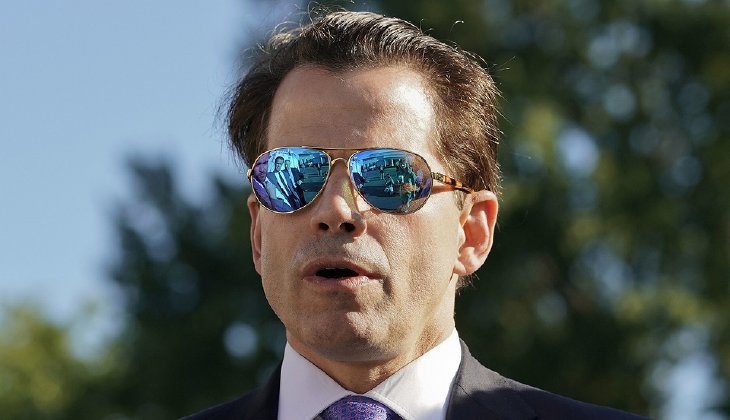 CURRENTLY RISING Anthony Scaramucci nicknames ...

Yesterday's News
Yesterday's Spews (Michael R. Burch)
The Mooch
The Mooch Smooch (Trevor Noah)
Smoochie
Poochie
The Untrained Pomeranian
Loose Lips Scaramucci (his lips, although flapping loosely, are firmly planted in Trump's pale orange posterior)
Moocholini (Michael R. Burch)
Scaramooch
Fandango
The Premature Ejaculator
Little Anthony and the Diphtherials
The 'Do-Whopper (Michael R. Burch)
The Incredible Shrinking Spokesman (Michael R. Burch)
Spokestoady
Scary Spice II
Ditto
A$$ki$$er

Call Scareamucci The Dandy Lyin' and The Sizzlin' Swooner, after George F. Will wrote: "Looking, as prudent people are disinclined to do, on the bright side, there are a few vagrant reasons for cheerfulness, beginning with this: Summer love is sprouting like dandelions. To the list of history's sublime romances — Abelard and Heloise, Romeo and Juliet, Elizabeth Bennet and Mr. Darcy — add the torrid affair between Anthony Scaramucci and President Trump. The former's sizzling swoon for the latter is the most remarkable public display of hormonal heat since — here a melancholy thought intrudes — Jeff Sessions tumbled into love with Trump. Long ago. Last year."

NEWS RASH: Scary Spicer has been replaced by Anthony Scaramucci, who is even scarier! Scaramooch in a rare instance of not dancing the Fandango once called Trump a "hack politician." But Mr. About-Face, yet another Gold Man Sucks hedge fund manager, has suddenly become Trump's biggliest and most gushingest Fan Boy. Did Mr. Moneybags offer him a raise? Now the Hacker Backer has Trump's back, or at least The Brownnoser's lips are planted firmly in Trump's pale orange posterior. Mr. Sicko Pants is busy making hay where the sun don't shine. Friends who once called Scaramucci the Mooch are now calling him the Smoocher. But we prefer the more accurate and descriptive A$$ki$$er. And while Moocholini has been identified by certain experts as belonging to a hyperactive species of Hedge Hog, there is a new report that he is actually a Scare Monkey. We, however, are actively investigating the possibility that Two-Faced Scaramucci is both! (We also believe he'll be the lead villain in the next Bratman movie.) At last word Little Tony Tutone had just cornered the world markets for bronzer and hair gel, while his blow-dryer is now the leading cause of global warming! Please stay "tuned" for further developments concerning Press Deputy DIP-pity-'Do.―Michael R. Burch aka "The Loyal Opposition"

NEWS TRASH: Alas, Scaramooch will be forced to 'do the Tandango or go it alone, since his wife announced that she will divorce Mr. Irreconcilable Deferences because of his "naked political ambition." That may be a polite way of saying she will step gracefully aside so that The Premature Ejaculator and The Great Gropesby can consummate their obviously torrid love affair, after they were caught in flagrante delicto on national TV.―Michael R. Burch aka "The Loyal Opposition"

NEWS GNASH: There's more bad news for Trump. His new White House Chief of Staff is a no-nonsense, straight-shooting former Marine: General John F. Kelly. Now that The ICE Man Cometh, what will become of Kelly's Zeroes? A longtime friend of Kelly's told The Washington Post that he "won't suffer idiots and fools." Obviously that means Low No IQ Trump is in deep sh*t! Does Kelly's refusal to abide idiots and fools make Trump a Lamé Duck President? Or perhaps a Flambé Duck President? On the brighter side, thanks to the hiring of Anthony "the Mooch" Scaramucci (yes, that is actually what he calls himself!) the Trump administration has finally come up with a unified message ... (drumroll please) ... ta da ... and the GRAND UNIFIED MESSAGE is ... Jeff Sessions sucks! And Reince Priebus sucks his own c*ck! And the Mooch would absolutely love to smooch Trump's c*ck! And, oh, yes ... (drumroll please) ... double ta da ... while Trump is being brownnosed and fellated by the Mooch, he is without-a-doubt the "most presidential" of presidents other than Abraham Lincoln! Thus King Gorge is immediately ready for Mount Rushmore (which would be sublimely appropriate, since he seems to be in more than a rush to mount the Mooch)!―Michael R. Burch aka "The Loyal Opposition"

NEWS BACKLASH: Tracy Klugian described herself as "furious" about the canning of Anthony "the Conned Mic Gold Rush" Scaramucci. Klugian and other comedians are now demanding that President Trump appoint a replacement acceptable to the comedy industry. "Unless he picks someone of the order of Gary Busey or Snooki, it's going to get ugly," she warned. In related news, Andy Borowitz has estimated that the Smooch-Mooch's firing could cost the comedy industry four to five billion dollars! But the real loser in all this is Mario Cantone, who could have been the next Melissa McCarthy.―Michael R. Burch aka "The Loyal Opposition"

NEWS SMASH: Folks, we can all take deep breaths and relax! Certain disaster has been averted, and things are back to merely abnormal in Trump's Bizarro World! We no longer have to fear a new Uncivil War between our government and mobs of homeless, starving comics! According to deniable sources, Kellyanne "Wrongway" Conway will soon swoop in backwards asswards to replace the seemingly irreplaceable Mooch-Pooch! One Trump lapdog can easily replace another! And the Con-Way Twit will undoubtedly observe Moocholini's prime directive: "Always provide comedians with the best possible material. Make their jobs as easy sleazy as possible!"―Michael R. Burch aka "The Loyal Opposition"

White House Communications Director Anthony Scaramucci nicknames ...

The Mooch (incredibly, this is what the Grate Communicator calls himself!)
The Moocher
The Smooch
The Smoocher
The Mooch Smooch (Trevor Noah)
The Cooch Smoocher
Deep Smooch
A$$ki$$er (Michael R. Burch)
Ass Smooch
The Ass Smoocher
Scaramooch
The Scary Moocher
The Sizzlin' Swooner (George F. Will)
The Brownnoser
Trump's Proctologist
The Trump-Schmoozer
The Trump Lover
Poochie
Scary Poochie
Little Tony Lap Pooch

Excess Baggage (Trump appointed Scaramucci chief strategy officer of the U.S. Export-Import Bank, an institution Trump called "excess baggage" during his campaign.)
Mr. Carry-On (Trump carried the Mooch around like second-hand luggage, and the Mooch carried on ... and on ... and on!)

Trump's Court Jester ("In Italian theater, a scaramuccia is a menacing court jester who inevitably falls from grace and Trump's jester fit the archetype perfectly.")
Bratman's Joker
The Laughingstock
The Preening Peacock
Donnie's Dinglebert Taster (Jesters sometimes did double duty as food tasters.)

The Honeymooner (he asked his new staff to give him a "honeymoon" without leaks)
Sir Leakalot (immediately after complaining about leaks, he leaked the fact that Reince Priebus would be asked to resign "shortly")
The Premature Ejaculator
The Premature A$$a$$inator (Michael R. Burch)
Easy Cum, Sleazy Go (he made crude references to c*cks and got cold-cucked)
The Cold-Cocked Cuck
Cuck of the Walk
Cock of the Walk
Schmuck of the Walk
The Front-Stabber (Elizabeth Williamson)
The Straight Shooter (he kept shooting himself straight in the foot)
The A$$a$$in (he expressed a desire to personally "kill" the leakers even though it was only a dinner list!)
Loose Lips Scaramucci (his lips, although loose, are firmly planted in Trump's pale orange posterior)
Two-Faced Scaramucci (likely to be the lead villain in the next Bratman movie)

The De-Honeyed Mooner (his wife filed for divorce days after Trump hired him)
Mr. Irreconcilable Deferences (Michael R. Burch)
Mr. Irreconcilable References (Michael R. Burch)

The Hedge Hog (Scaramucci is a hedge fund manager)
The Hyperactive Hedge Hog
The Boss Hogg Hedger
The Goldman Sucks Crapitalist
The Crapitalist
Das Kapitalist
The Dough Nut
The Do'Nut

Shark Dressed Man-Boy
Mr. Sicko Pants (Scaramucci panted after Trump like a love-sick hound in heat)
Mr. Sicko-Fancy (Michael R. Burch)
The Human Pinky Ring (Seth Myers)
The Human Toilet Plunger (Trump gold-plates his toilets, the Scary Moocher plunges in)
The Con Mike Gold Rush
The Dandy Lyin'
The East Egger (Scaramucci grew up in Port Washington, the East Egg of F. Scott Fitzgerald's novel The Great Gatsby)

The Human Blow Dryer
Mr. Hair Gel
Press Deputy DIP-pity-'Do (Michael R. Burch)
Spritz Monkey
Spritz Flunkey
Shitz Flunkey
The Shitz

Scary Scaramucci
Scarface Scaramucci
Scarecrow
The Scaremonger
Scare-a-Douche
Scary Spice II
Ditto

Scare Monkey
Man-let of the Apes (Scaramucci is proof positive that scare monkeys did not evolve, proving Darwin wrong!)
Little Tony Monkeyshines (Apologies to monkeys everywhere!)
The Organ Grinder's Moochin' Capuchin (Apologies to capuchin monkeys everywhere!)
The Orang-You-Tan (Apologies to orangutans everywhere; Trump will obviously have to tan this trained money's hide on a regular basis!)
KooKoo (Apologies to the much kinder and more intelligent gorilla, KoKo.)
HanaBilko (KoKo's given name is Hanabiko.)

The Cuck Sucker (Scaramucci began fellating Trump in public as soon as he'd been hired; however what Trump is experiencing may be better described as "hellatio"!)
The Cuckold (Scaramucci's wife did the "right" thing: she stepped aside, allowing two old cucks to consummate their obviously torrid love affair!)

The Louche Douche
The Sicko-Phant
The Hacker Backer (he called Trump a "hack" and a "bully" in an interview with Fox Business News)
The AntiChrist's Slave ("I serve @POTUS agenda and that's all that matters!")
The Ideal Slave (he told Chris Wallace that his ideals "don't matter at all" and that he's "subordinating" them to Trump's agenda)
Trump's Handmaiden
Trump's Lapdog
The Former Idealist
The Reformed Idealist
The Surreal Idealist

The Tweet Deleter (examples follow later on this page)
Fully Transparent Man (he admitted deleting the tweets)
The Bulimic (he has an "urge to purge")

Little Anthony and the Diphtherials (Michael R. Burch)
Fandango
Tandingo (pun on the movie title Mandingo)
High C-Note Tony
Little Tony Soprano (Michael R. Burch)
The 'Do-Whopper (Michael R. Burch)
Frankie Death Valley
Little Tony Tutone (Scaramucci recently cornered the world markets for bronzer and hair gel)

Trump's Plagiarist
Trump's Echo
Trump's Mini-Me
The Incredible Shrinking Spokesman (Michael R. Burch)
Spokestoady
The Grate Communicator
The "In" Direct Communicator

The Back-Stabber
Cain
His Brother's Bleeper (Michael R. Burch)
His Brother's Reaper (Michael R. Burch)
His Brother's Leaper (Michael R. Burch)
His Brother's Sweeper (Michael R. Burch)

More Anthony Scaramucci nicknames: Moocholini (Michael R. Burch), The Chaos Magnet, Mr. Con-troversy, Mr. Scar Power, Mr. About-Face, Fan Boy, The Bully Backer, Mr. Scare Up Money, The Lie Bridger (he started a company called SkyBridge Capital), The Bid Rigger, The Sky-High Lie Rigger, The Human Embodiment of a Double-Parked BMW (Seth Myers), The Death Merchant of Venice, Blind Venetian, SNL's Wildest Wet Dream, SNL's Ratings Bonanza, The Leakplugger, The Finger-in-the-Dike Boy, Nervous Nellie, Little Tony Bananas, Banana Boy, Cabana Boy, The Colorful Language Artist formerly known as Dunce, The Creature from the Colorful Language Lagoon, La Goon Boy, The West Wingnut, West Side Boor-y, The Cellar Dweller, The Batshit Crazy Male Bimbo, Carbon Copy, Eel-Boy, Eelusive Boy, Trump's Buoy, Trump's Boy Blunder, The Dunce, The Truant, Scathing Scaramucci (USA Today), Clean Slate Scaramucci (since he was fired)

Q: What's the difference between a BMW and Anthony Scaramucci?
A: With a BMW the pricks are all safely inside!

Here are some of the Grate Communicator's early communications:

Scary Scaramucci threatened to fire his entire staff unless a journalist (Ryan Lizza) revealed the source of a momentous "leak" (i.e., who would be attending a dinner at the White House).
The Scaremonger insisted that the "leaked" dinner list was a "major catastrophe."
The Leakplugger then leaked much bigger news: "Reince Priebus—if you want to leak something—he'll be asked to resign very shortly."
Sir Leakalot's leaks continued unabated: "Reince is a fucking paranoid schizophrenic, a paranoiac."
The source of the Scaremonger's anger? He insisted the Priebus had "cock-blocked Scaramucci for six months."
Scarface Scaramucci then ranted about reporting Priebus to the FBI and Department of Justice over a publicly available financial disclosure form.
"The swamp will not defeat him," he continued, referring to himself in the third person, "so they're going to have to go fuck themselves!"
His foul tirade continued: "I'm not Steve Bannon, I'm not trying to suck my own cock!"
Loose Lips Scaramucci was really on a roll by now: "What I want to do is I want to fucking kill all the leakers! ..."
Apparently, Scarface Scaramucci would like to murder his own employees!
He closed by calling himself a "straight shooter," so the body count should prove impressive.
Scaramucci even called himself "the Mooch" saying: "OK, the Mooch showed up a week ago. This is going to get cleaned up very shortly, OK."
The Grate Communicator seemed anxious to start spreading his brand of batshit craziness: "Yeah, let me go, though, because I've gotta start tweeting some shit to make this guy crazy."
In another interview Scaramucci asked: "Isn't that the best thing about him [Trump], that he's wickedly wealthy?"
"We're going to win so much you are actually going to get tired of winning," Trump's Mini-Me promised co-anchor Chris Cuomo on CNN's "New Day" show.
Mini-Me again: "He is arguably the most media savvy person in history, but certainly of our times."
Min-Me on whether Trump ordered the firing of Michael Short: "I'm straightly not answering your question."
Mini-Me on Michael Short's firing: "I didn't want to fire him as much as I wanted him to resign."
Mini-Me on Trump's super powers: "He's going to get what he wants eventually, because this guy always gets what he wants, O.K.?"
Are we tired of Trump "winning" yet?

Anthony Scaramucci's deleted tweets include: (1) A tweet describing Newt Gingrich is an "odd guy" with "no judgment." (2) A congratulatory tweet in praise of Mitt Romney for his decision to avoid the "Trump spectacle." (3) A tweet describing himself as being "for Gay Marriage, against the death penalty, and Pro Choice." (4) Scaramucci was firmly against Trump's wall, as tweeted in favor of "social inclusion" and said "Walls don't work. Never have never will. The Berlin Wall 1961-1989 don't fall for it!" (5) Scaramucci also contradicted Trump by speaking positively about Islam, calling it a "religion of peace." (6) Scaramucci railed against climate-change deniers. (7) In two not-yet-deleted tweets Scaramucci said that the United States has too many guns and that he's "always been for strong gun control laws." But he apparently has no problem selling out his ideals when Trump starts throwing bones to his lapdogs.

Have no fear, Acting President Jared Kushner is here! Cushy Kushner makes all the major decisions while Truant Trump tweets, poses for photo-ops, gropes women's genitals, sentences babies and grannies to death, cheats at golf, then brags about his "accomplishments" and campaigns for reelection.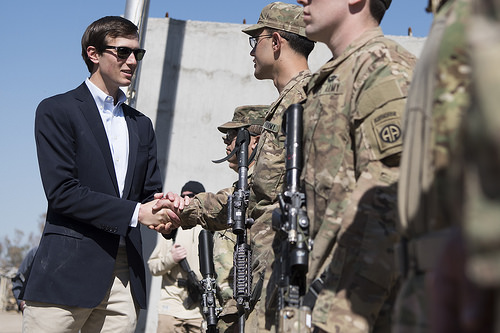 We can all breathe a sigh of relief because Jarhead Kushner is at the ISIS front, using his real-estate negotiation skills to counsel our enemies and console our troops! Trump's youthful Aide de Kampf will never rest until WWIII is well underway, and completely irreversible. There will soon be a remake of Full Metal Jacket starring Jarring Kushner in Full Dinner Jacket (and Tie). Little Lord Fauntleroy will also star in Ralph Lauren of Arabia, The Shilling Fields, PeeWee's Big Adventure and Guess Who's Coming to Dinner then Whines about the K-Rations.

Jared Kushner Nicknames

Vanilla ISIS
Ralph Lauren of Arabia (@ChannelTrump)
Cushy Kushner
Little Cushball (Alec Baldwin on SNL)
Aide de Kampf (Michael R. Burch)
Acting President Kushner
Coup D'Tot (Michael R. Burch)
Putin's Protégé
Putin's American Viceroy
Putin's American Vice-Boy
Putin's Cush-Toy
Putin's Puppet
Putin's Poppet
Putin's Putty
Putin's Proxy
Fratsputin
Comrade Kushner
The Air (Steve Bannon, because Kushner glides in and out like a puff of air)
The Secretary of Everything (his White House nickname)
Madame Secretary
Jared the Palid
The Paladin
The Nixonian Nerd ("Let me make one thing perfectly clear: I did not collude with Russia. Like Sgt. Schultz, I know nutthink!")
Fully Transparent Boy (He claimed to be "fully transparent" on Russia.)
The Eager Beaver ("I am eager to share any disinformation I have with investigating bodies!")
Poor Little Rich Bitch
Little Jared (Ana Navarro)
Baby Boy (Ana Navarro)
Nerd Boy
Jarhead
Jughead
Jared "the Red" Kushner
Jarred Jared
Jarring Kushner
The Boy Blunder
The Shadow
Little Lord Fauntleroy (Duratti on Daily Kos)
The Red Queen ("Off with their heads!")
The Preppie Neo-Con
Nimrod (Nimrod, the son of Kush, was the founder of Babylon)
Son of Babylon (the name Jared means "descent" so he is the "Son of Kush," the patriarch of Babylon)
The Crown Prince of Babble-On
Lucifer Incarnate
Channel 666 (Jared Kushner and his wife Ivanka Trump own 666 Fifth Avenue, purchased for $1.8 billion or 6+6+6 billion)
Cuckoo Channel
Channel Kushner
Back Door Boy
Trump's Lawless Son-in-Law
The Neophyte
Jared the Unready
Complete Fucking Idiot (Samantha Bee)
The Warlock
The Preppy Schlep
The Easebroker
The Piece Broker
The Piss Broker
The Grease Broker
Mr. Cash-for-Visas
The Chinese Checker
The White Russian
Russian Rim Job
The Prim & Proper Prussian
JAG (Junior Apprentice Gerrymanderer)
Ivanka's KKKrush
Jivanka
Jervanka

Ivanka Trump Nicknames

Ivanka Wanker
I Wanna Wank Her
Ivanka Spanker
Proxy Wife
Nordic Goddess
Norwegian Wood Inducer
The First Lady-Daughter
The Acting First Lady
The Real First Lady
Mrs. Kushner
Kushner's Crush
Kushner's Cush Toy
The Smart One
Michael (after Michael Corleone, "the smart one" in the Godfather movies)

The Top Ten Donald Trump Nicknames ... Oh Hell ... So MANY to Choose from ... Better Make it the Top 1,000!

(#1) Number one, with a bullet: THE ANTICHRIST — by God and the Hebrew prophets — when they spoke of "the Trump of Doom" and a "little horn" were they speaking literally? (For a YUGE slew of 666 connections, see Is Donald Trump the Antichrist?)
(#2) Short-Fingered Vulgarian — by Graydon Carter
(#3) Agent Orange — by Anonymous (not sure if it was coined by the hacker group Anonymous, but this is one of my all-time favorites)
(#4) Golden Wrecking Ball — by Sarah Palin (who was not trying to be funny, but ended up being all too accurate ... so sad!)
(#5) Fuckface von Clownstick, Comedy Entrapment and Unrepentant Narcissistic Asshole (the UNAbomber?) — by Jon Stewart
(#6) The White Kanye ― by Bill Maher (or is Trump more accurately the Yellow-ish-Orange Kanye?)
(#7) Lord Voldemort, Orange Anus and Snake Oil Salesman — by Rosie O'Donnell
(#8) The Trump of Doom — by Michael R. Burch (adopted from the Bible and first used in a possibly prophetic Facebook post on September 11, 2015)
(#9) Thurston Shitbag the Third — by Bill Maher
(#10) Man-Baby — by Jon Stewart ... this one inspired a slew of jokes and similar nicknames ...

Q: What do you call it when a Man-Baby takes over the American government?
A: Coup d'Tot!