The HyperTexts

Mitch McConnell Nicknames: Snitch, The Napping Turtle, McConHell, Koch Addict, Cocaine Mitch

This page contains the best Mitch McConnell nicknames that I have been able to find, and some that I came up with myself, along with some choice Donald Trump, Melania Trump, Ivanka Trump, Jared Kushner, Steve Bannon, Anthony Scaramucci and other Trump family/friend/associate/lapdog nicknames ...

Related pages: Famous Nicknames, Donald Trump Nicknames, Melania Trump Nicknames, Jared Kushner Nicknames, Ivanka Trump Nicknames, Donald Trump Jr. Nicknames, Anthony Scaramucci Nicknames, Mitch McConnell Nicknames, Matt Whitaker Nicknames, Donald Trump Cabinet Nicknames, Marco Rubio Nicknames, Donald Trump: 666 Mark of the Beast, Is Donald Trump the Antichrist?





This is a disappointment, a disappointment indeed! I regret that our efforts [to rob 30 million Americans of decent healthcare] were simply not enough this time!―Mitch "the Snitch" McConHell

Mitch McConnell Nicknames ...

The Turtle (Jon Stewart)
The Napping Turtle (Michael R. Burch)
Dick Turtle
Fuckface McTurtlebitch
Mitch McSquirtle
Mitch MuckSquirtle
Mitchellangelo (a Superannuated Mutant Ninny Turtle gone over to the Dark Tide)
Donald-Tell-All (another Superannuated Mutant Ninny Turtle gone over to the Dark Tide)
Lie-o-Nerd-o (the third of an unholy Turtle Trinity!)

Mr. Repeal & Replace (Donald Trump in a tweet attacking McConnell for seven years of talk but no action)
The Work Shirker (Donald Trump in a tweet demanding that McConnell "get back to work")

McCon
Mitch McConHell (Michael R. Burch)
Mitch McConHeel

Shirknado (Michael R. Burch)
Watership Drown (Mitch McConnell stars in a hare-brained scheme to launch a new Titanic against the Obamacare Niceberg)
The Untamed Shrew (apologies to Shakespeare)
The Hyperactive Death Hamster
The Lethal Chipmunk
Angry Cheek Pouches
Chip McTurtlemunk (the first chipmunk-turtle hybrid)
Chip McTurtlemuck (as in muckraker)
Chip Muck (ditto)
Venomous Tree Frog
The Murderous Munchkin
The Energizer Bunny from Hell

Cocaine Mitch (Don Blankenship: "Ditch Cocaine Mitch!")
Koch Addict (Michael R. Burch)
The Serial Biller (Michael R. Burch)
The Zodiac Biller (Michael R. Burch)
Cocaine Mitch (Don Blankenship)
Trump's Caddy (Michael R. Burch)
Trump's Swamp Stocker (Michael R. Burch)

Mitch the Snitch
Mitch the Bitch
Mitch the Snitch-Bitch
Mitch the Glitch
Mitch the Twitch
Mitch the Shitz
Mitch the Fritz
Mitch Switch Bait
Ditch McConnell (as we all should!)
Mitch the Ditch Dweller
Last Ditch Mitch (Allan Ishac)
Pitchman Mitch
Mr. Three Strikes and You Pout (Michael R. Burch)
Mr. Bait, Switch and Kill
The Artful Codger
The Blindsider

Orange Sauron's Miniature Werewolf-Turtle-Chipmunk Hybrid
Chinless Mitch
The Sallow A$$a$$in (Michael R. Burch)
Pale Man (from Pan's Labyrinth)
The Genteel Racist (Daily Kos)
Poster Boy for the Revival of the Lobotomy Industry
The Rose Garden Tea Party Goer (McConnell, Trump and Ryan celebrated the denial of healthcare to millions in the White House Rose Garden)

It has been scientifically proven that Anthony Scaramucci's blow-dryer, by evaporating massive quantities of hair gel and other hair products, is now the leading cause of global warming!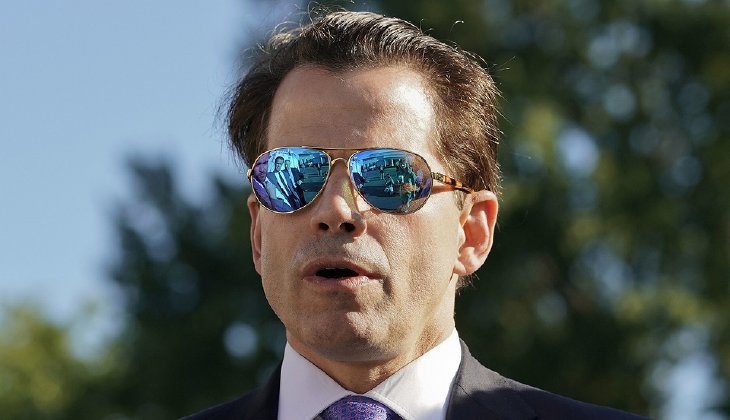 White House Communications Director Anthony Scaramucci nicknames ...

The Mooch (incredibly this is what the Grate Communicator calls himself!)
The Mooch Smooch (Trevor Noah)
A$$ki$$er (Michael R. Burch)
Ass Smooch and The Ass Smoocher
Loose Lips Scaramucci (his lips, although flapping loosely, are firmly planted in Trump's pale orange posterior)
The Incredible Shrinking Spokesman
Spokestoady
Scary Spice II
The Honeymooner (he asked his new staff to give him a "honeymoon" without leaks)
Sir Leakalot (immediately after complaining about leaks, he leaked the fact that Reince Priebus would be asked to resign)
The Straight Shooter (he keeps shooting himself straight in the foot)
The A$$a$$in (he expressed a desire to personally "kill" the leakers even though it was only a dinner list!)
Two-Faced Scaramucci (likely to be the lead villain in the next Bratman movie)
Mr. Irreconcilable Deferences (Michael R. Burch)
The Hedge Hog (Scaramucci is a hedge fund manager)
Mr. Sicko Pants (Scaramucci panted after Trump like a love-sick hound in heat)
Mr. Sicko-Fancy (Michael R. Burch)
The Human Pinky Ring (Seth Myers)
The Human Toilet Plunger (Trump gold-plates his toilets, the Scary Moocher plunges in)
The Human Blow Dryer
Mr. Hair Gel
Deputy DIP-pity-'Do (Michael R. Burch)
Spritz Monkey
Little Anthony and the Diphtherials (Michael R. Burch)
Fandango
High C-Note Tony
Little Tony Soprano (Michael R. Burch)
The 'Do-Whopper (Michael R. Burch)
Frankie Death Valley
Little Tony Tutone (Scaramucci recently cornered the world markets for bronzer and hair gel)
Cain
His Brother's Bleeper (Michael R. Burch)

Please click here for all Anthony Scaramucci Nicknames

Have no fear, Acting President Jared Kushner is here! Cushy Kushner makes all the major decisions while Truant Trump tweets, poses for photo-ops, gropes women's genitals, sentences babies and grannies to death, cheats at golf, then brags about his "accomplishments" and campaigns for reelection.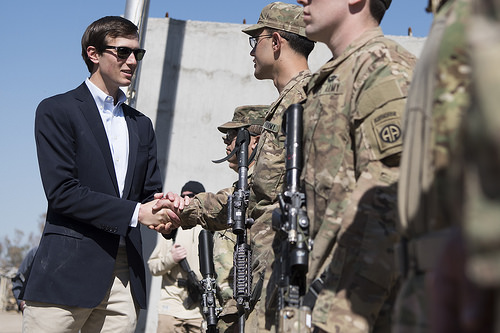 We can all breathe a sigh of relief because Jarhead Kushner is at the ISIS front, using his real-estate negotiation skills to counsel our enemies and console our troops! Trump's youthful Aide de Kampf will never rest until WWIII is well underway, and completely irreversible. There will soon be a remake of Full Metal Jacket starring Jarring Kushner in Full Dinner Jacket (and Tie). Little Lord Fauntleroy will also star in Ralph Lauren of Arabia, The Shilling Fields, PeeWee's Big Adventure and Guess Who's Coming to Dinner then Whines about the K-Rations.

Jared Kushner Nicknames

Vanilla ISIS
Ralph Lauren of Arabia (@ChannelTrump)
Cushy Kushner
Little Cushball (Alec Baldwin on SNL)
Aide de Kampf (Michael R. Burch)
Acting President Kushner
Coup D'Tot (Michael R. Burch)
Putin's Protégé
Putin's American Viceroy
Putin's American Vice-Boy
Putin's Cush-Toy
Putin's Puppet
Putin's Poppet
Putin's Putty
Putin's Proxy
Fratsputin
Comrade Kushner
The Air (Steve Bannon, because Kushner glides in and out like a puff of air)
The Secretary of Everything (his White House nickname)
Madame Secretary
Jared the Palid
The Paladin
The Nixonian Nerd ("Let me make one thing perfectly clear: I did not collude with Russia. Like Sgt. Schultz, I know nutthink!")
Fully Transparent Boy (He claimed to be "fully transparent" on Russia.)
The Eager Beaver ("I am eager to share any disinformation I have with investigating bodies!")
Poor Little Rich Bitch
Little Jared (Ana Navarro)
Baby Boy (Ana Navarro)
Nerd Boy
Jarhead
Jughead
Jared "the Red" Kushner
Jarred Jared
Jarring Kushner
The Boy Blunder
The Shadow
Little Lord Fauntleroy (Duratti on Daily Kos)
The Red Queen ("Off with their heads!")
The Preppie Neo-Con
Nimrod (Nimrod, the son of Kush, was the founder of Babylon)
Son of Babylon (the name Jared means "descent" so he is the "Son of Kush," the patriarch of Babylon)
The Crown Prince of Babble-On
Lucifer Incarnate
Channel 666 (Jared Kushner and his wife Ivanka Trump own 666 Fifth Avenue, purchased for $1.8 billion or 6+6+6 billion)
Cuckoo Channel
Channel Kushner
Back Door Boy
Trump's Lawless Son-in-Law
The Neophyte
Jared the Unready
Complete Fucking Idiot (Samantha Bee)
The Warlock
The Preppy Schlep
The Easebroker
The Piece Broker
The Piss Broker
The Grease Broker
Mr. Cash-for-Visas
The Chinese Checker
The White Russian
Russian Rim Job
The Prim & Proper Prussian
JAG (Junior Apprentice Gerrymanderer)
Ivanka's KKKrush
Jivanka
Jervanka

Ivanka Trump Nicknames

Ivanka Wanker
I Wanna Wank Her
Ivanka Spanker
Proxy Wife
Nordic Goddess
Norwegian Wood Inducer
The First Lady-Daughter
The Acting First Lady
The Real First Lady
Mrs. Kushner
Kushner's Crush
Kushner's Cush Toy
The Smart One
Michael (after Michael Corleone, "the smart one" in the Godfather movies)

The Top Ten Donald Trump Nicknames ... Oh Hell ... So MANY to Choose from ... Better Make it the Top 1,000!

(#1) Number one, with a bullet: THE ANTICHRIST — by God and the Hebrew prophets — when they spoke of "the Trump of Doom" and a "little horn" were they speaking literally? (For a YUGE slew of 666 connections, see Is Donald Trump the Antichrist?)
(#2) Short-Fingered Vulgarian — by Graydon Carter
(#3) Agent Orange — by Anonymous (not sure if it was coined by the hacker group Anonymous, but this is one of my all-time favorites)
(#4) Golden Wrecking Ball — by Sarah Palin (who was not trying to be funny, but ended up being all too accurate ... so sad!)
(#5) Fuckface von Clownstick, Comedy Entrapment and Unrepentant Narcissistic Asshole (the UNAbomber?) — by Jon Stewart
(#6) The White Kanye ― by Bill Maher (or is Trump more accurately the Yellow-ish-Orange Kanye?)
(#7) Lord Voldemort, Orange Anus and Snake Oil Salesman — by Rosie O'Donnell
(#8) The Trump of Doom — by Michael R. Burch (adopted from the Bible and first used in a possibly prophetic Facebook post on September 11, 2015)
(#9) Thurston Shitbag the Third — by Bill Maher
(#10) Man-Baby — by Jon Stewart ... this one inspired a slew of jokes and similar nicknames ...

Q: What do you call it when a Man-Baby takes over the American government?
A: Coup d'Tot!