The HyperTexts

Donald Trump's War on Women
The Republican War on Women

Donald Trump has waged an incessant war on women―women he considers fat, old or unattractive―for decades. He bullies them, belittles them, body-shames them and verbally abuses them. He truly is the unfiltered voice of the Republican Party, saying what so many conservative alpha males seem to believe: that women are to be seen (if they are attractive enough), but not heard; that their proper place is subservience to alpha males (i.e., to themselves); that women should have no say about their own bodies if they become pregnant; that pregnancies due to rape and incest are "the will of God," and other absurdities. The culmination of Trump's war on women, now that he is president, will be to appoint ultra-conservative Supreme Court justices who will strip women of their right to choose, returning them to the Dark Ages when they were ruled over by chauvinistic men and nature. We have included the accounts of scores of women (80+ and counting), who claim that Trump either sexually assaulted them, or barged into their dressing rooms unannounced while they were naked or semi-nude, or otherwise had Trump speak or act inappropriately toward them. The fact that many of the complainants were minors is even more disturbing. What sort of man ogles and assaults teenage girls? Van Jones recently called Trump a "super predator" and who can argue with him? But women are not taking a Trump presidency lying down: women-led marches took place in over 600 locations spread across seven continents—including Antarctica! In addition to Washington, massive protests took place in Boston, Chicago, Denver, Los Angeles, New York, Oakland, St. Paul, San Francisco, Seattle and other cities. According to one count, as many as 4.6 million people took part in the global day of action. Trump was reportedly furious when the size of the demonstrations dwarfed the attendance of his inauguration ceremony. The result? Trump's subsequent "alternate facts," which were defended by Kellyanne "Wrongway" Conway (also known as the "Trump Whisperer").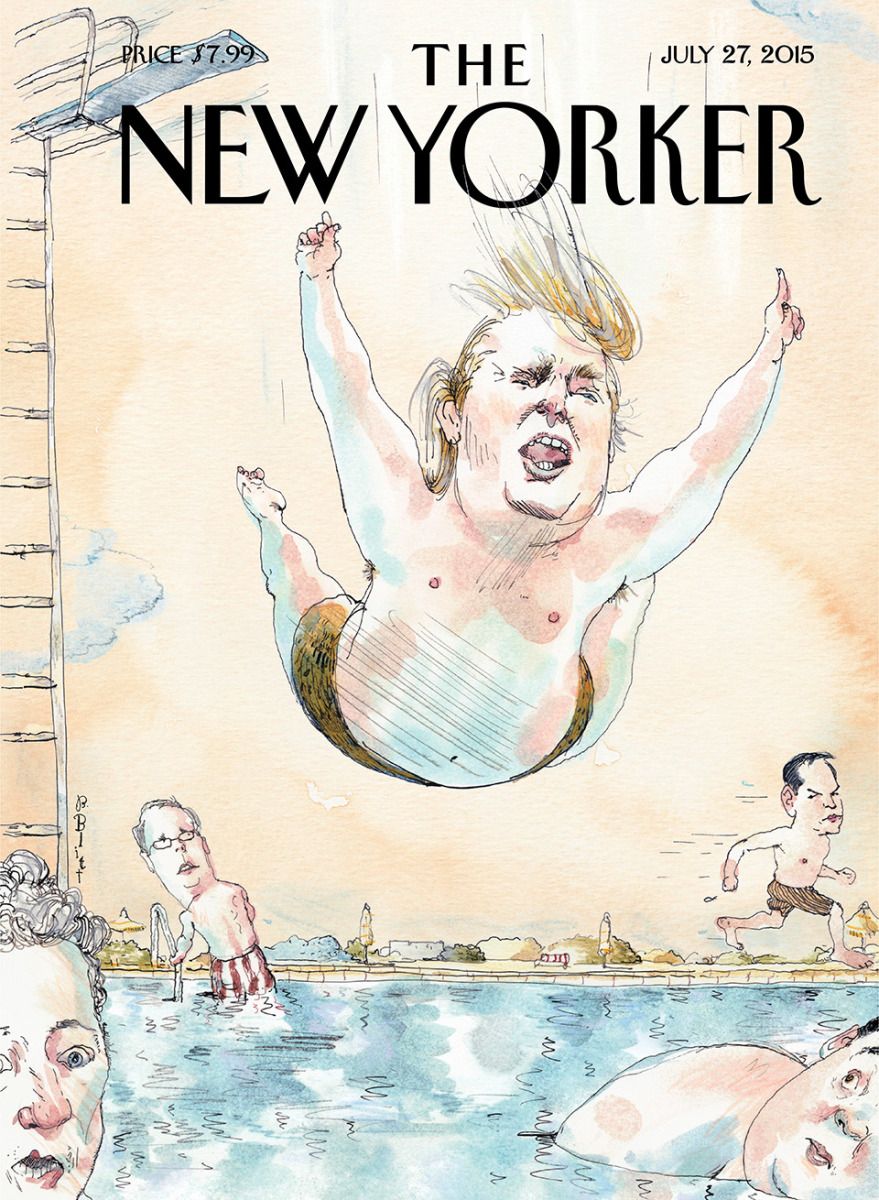 Cannonball! Donald "Trump of Doom" enters the American political waters, causing a mass Exodus ... but can he really walk on water as his fervent and fervid disciples believe?

Related pages: The Best Donald Trump Puns, The Best Donald Trump Insults, The Best Donald Trump Limericks, 2016 Republican First Presidential Debate, Is there a Republican War on Women?, The Donald Trump Bible, The Best Ted Cruz Jokes, Ten Reasons to "Fire" Donald Trump, Ted Cruz Quotes, Donald Trump: 666 Mark of the Beast, Is Donald Trump the Antichrist?, Trump Trivia, Donald Trump in his Own Words: Fact-Checking Trump, Donald Trump Funny Campaign Slogans and Parodies

For Trump, women are either servants or sex objects, rated on a scale of 1-10.―LiberallyBlogging in DailyKos

If you ask a man who abuses his wife and children how he feels about them, he is likely to say that he "loves" and "respects" them, but loses control and does things that he knows are wrong. In my opinion, Donald Trump is a similar abuser. Speaking of himself in superlatives, Trump claims that no one "loves," "respects" and "cherishes" women more than he does. But then he abuses them verbally and―according to many women who have come forward despite the risks involved―he abuses them sexually as well. The difference with Trump is that he went many years without admitting he was wrong―indeed, sometimes bragging about his exploints―and may have only grudgingly said that he was wrong because his election advisers finally persuaded him to apologize. But whether Trump was really sorry or was only pretending in order to win an election really doesn't matter. As in all cases of abuse, the real question is whether the abuser is ready, willing and able to end the abuse. And all indications are that Trump will continue to abuse women, since after he "apologized" he threatened to sue the women who publically stated that when he bragged about groping women's genitals and kissing them without their consent, he was telling the truth.

The Top Ten Female Targets of Trump's Verbal Abuse

Alicia Machado
Kristen Stewart
Bette Midler
Cher
Arianna Huffington
Carly Fioriana
Rosie O'Donnell
Megyn Kelly
Elizabeth Warren
Hillary Clinton

Others: His female employees and his wives Ivana Trump, Marla Maples Trump, and Melania Trump.

The Donald Trump war on women is largely one of verbal abuse, body-shaming and public humiliation. Here are just a few of the insulting terms Trump has used to publicly abuse women, so that he is condemned by his own words:

"Pigs"
"Fat pigs"
"Dogs"
"Disgusting animals"
"Gold diggers"
"Bimbos"
"Babies"
"Brain-dead puppets"
"Disgusting" (Elizabeth Beck, a lawyer, after she requested a break to pump breast milk for her baby)
"Grotesque" and "Disgusting" (Bette Midler)
"Bimbo" and "Lightweight" (Megyn Kelly)
"Slob," "Big fat pig," "Disgusting pig," "Disgusting inside and out," "Real loser," "Disaster," "My fat little Rosie" and "the Beast" (Rosie O'Donnell)
"Fat piglet" and "the ugly Kardashian" (Khloe Kardashian)
"Dog" and "Unattractive inside and out" (Arianna Huffington)
"Face of a dog" (Gail Collins)
"Crooked Hillary," "Lyin' Hillary" and "Such a nasty woman!" (Hillary Clinton)
"If Hillary Clinton were a man, I don't think she'd get 5% of the vote."
Trump has accused Hillary Clinton of playing the "woman card," while belittling her "stamina" and "strength."
Trump has criticized Hillary Clinton for interrupting and shouting, while he interrupts and shouts more than any other presidential candidate.
In other words, Trump constantly plays the "woman card" himself, while hypocritically doing things he criticizes women for doing.
Trump's strategy has been explained by Roger J. Stone Jr., a longtime Trump confidant: "He's going to have to deconstruct Hillary Clinton if he's going to run against her. He can't let her be the august Secretary of State and former Senator." (Even though that's what she is. In other words, it's the attack of the alpha male boy's club on any woman who tries to join.)
"Bitch" (Condoleezza Rice)
"Goofy" and "Goofus" (Elizabeth Warren)
"Neurotic dope," "Wacky" and "Crazy" (Maureen Dowd)
"Highly neurotic" (Debbie Wasserman Schultz)
"Miss Piggy," "Miss Eating Machine" and "Absolute Worst" (Alicia Machado, for gaining weight after winning the Miss Universe contest in 1996; she was a teenager at the time and Trump body-shamed her)
"Miss Housekeeper" and "Miss Housecleaning" (Alicia Machado, presumably because she is Latina and housecleaning is what Latinas are good for, according to The Donald)
"Sadly, no longer a 10" (Heidi Klum, who humorously "accepted" her new rating of 9.9 in a video)
"Beautiful piece of ass" (any attractive woman willing to have sex with Trump)

In a phone interview Donald Trump told USA Today columnist Kirsten Powers that if his daughter Ivanka were sexually harassed at work, "I would like to think she would find another career or find another company if that was the case."

This guy [Trump] is dangerously unhinged. And, for all the things people have said about me over the years, I should be able to spot Dangerously Unhinged.―Glenn Beck

Trump's comments about women are disturbing and confirm a long-term pattern of bullying and verbal abuse. Here's an excerpt from a Slate article:

Before entering politics, Trump criticized Bill Clinton not for mistreating women, but for failing to find hotter mistresses. He once called [Paula] Jones a "loser" and said of the [Monica] Lewinsky scandal that "people would have been more forgiving" if Clinton had slept with "a really beautiful woman of sophistication." Trump's message in bringing up Bill's adultery now is the same as the right-wing slogan he retweeted last year: "If Hillary Clinton can't satisfy her husband what makes her think she can satisfy America?" His belief that Bill Clinton's affairs reflect badly on Hillary demonstrates something key to his psyche: For Trump, the only salient distinction when judging a women's worth is whether she is fuckable or unfuckable. The fuckable/unfuckable schema is so deeply rooted in Trump that he can't fully grasp that not everyone shares it. Consider how, the morning after Monday's debate, he defended himself from Clinton's accusation that he'd bullied former Miss Universe Alicia Machado for her weight. Speaking to Fox and Friends by phone, he said, "[S]he gained a massive amount of weight, and it was a real problem." On Wednesday night, speaking to Bill O'Reilly, he continued to paint himself as the victim of Machado's sudden-onset unfuckability, suggesting that he deserves thanks for trying to save her job. "I did that with a number of young ladies," he said. "Look what I get out of it. I get nothing."

Would Donald Trump create an American Holocaust by deporting 11 million people, including multitudes of completely innocent children and their mothers? Is Trump the second coming of Adolph Hitler? Yes, nicknames like Hair Hitler and Hair Furor are amusing, but are they also accurate, and perhaps prophetic?

Women Who Claim to have been Sexually Assaulted or have been Treated Inappropriately and Objectified by Donald Trump

BTW, it's amusing that Rudy Giuliani is now Trump's surrogate, defending him from accusations of sexual assault and other improprieties by scores of women, when in a 2000 "Mayor's Inner Circle" video, Giuliani in drag had his "breasts" schmoozed by The Donald, after which Giuliani slapped his face and called him a "dirty boy." Obviously, Giuliani was well aware of Trump's reputation for grabbing and groping women without bothering to ask for their permission! Trump's outrageous behavior was a running joke among alpha males in his circle. In 1993, fellow bad boy Howard Stern asked Trump directly: "So you treat women with respect?" Trump answered honestly: "No, I can't say that either." And hundreds of chauvinistic public statements and tweets by Trump confirm that he doesn't treat women with respect, or minorities, or anyone that he considers "weak" or "overweight" or "unattractive."

(1) Ivana Trump, the first wife of Donald Trump, said that he raped her after he become furious about a botched scalp reduction procedure performed by a doctor she had recommended to him.

(2) Jill Harth says that she was kissed, pawed and groped by Trump on multiple occasions (her account appears in considerable detail, below on this page). According to Harth, after she fought off Trump in his daughter Ivanka's bedroom, that same night Trump assaulted a "calendar girl," who also had to fight off Trump's advances. Harth also accused Trump of stalking her, despite the fact that she was engaged and he knew her fiancée.

(3) Temple Taggart McDowell, a former Miss Utah, claims that Trump kissed her on the mouth more than once, which she considered to be very inappropriate and "gross." She says Trump also kissed other contestants on the mouth. She also said that Trump's advances made her so uncomfortable that she was instructed not to be alone in a room with Trump, but to have a chaperone accompany her if that were a possibility.

(4) Jessica Leeds says that Trump grabbed her breasts and tried to put his hand up her skirt in a first-class cabin. "He was like an octopus," Leeds told the Times. "His hands were everywhere. It was an assault." Trump replied to Leeds' accusation with the dehumanizing comment: "that would not be my first choice." (Which recalls his comment about "that face" disqualifying Carly Fiorina from being president.)

(5) Rachel Crooks, a receptionist at Bayrock Group in Trump Tower, says that she encountered Mr. Trump outside an elevator in the building where Trump "kissed me directly on the mouth."

(6) Cassandra Searles, a former Miss Washington, told Rolling Stone that Trump treated pageant contestants "like cattle" and "continually grabbed my ass and invited me to his hotel room."

(7) Mindy McGillivray told the Palm Beach Post that Trump groped her rear end at Mar-a-Lago in 2003 when she was there accompanying a photographer friend who was shooting a Ray Charles concert.

(8) Kristin Anderson, at the time an aspiring model, told The Washington Post that Trump put his hands up her skirt at a Manhattan nightclub in the early 1990s. Anderson, now a photographer living in North Carolina, said Trump assaulted her in the early 1990s at in a Manhattan nightspot, putting his hand under her skirt after sneaking next to her on a couch. Though she hadn't spoken about this publicly, Anderson, who was in her early twenties at the time of the incident, had recounted the story several times—two women interviewed by the Post confirmed having heard about it from Anderson.

(9) Summer Zervos, a former Apprentice contestant, claims that Trump kissed her aggressively and touched her breast.

(10) According to CNN's Erin Burnett, a friend told her that Trump had acted according to his self-avowed modus operandi: eating Tic Tacs before kissing her on the lips.

(11) Natasha Stoynoff said that Trump kissed her without her consent when they were alone in a room: "I turned around, and within seconds, he was pushing me against the wall, and forcing his tongue down my throat." Six people have corroborated Stoynoff's account. Of course Trump denies that it happened. "It's possible he just doesn't remember it," Stoynoff said of Trump and the incident. "It was over 10 years ago and I assume I am one of many, many women."

(12) According to a Daily Beast article, three Celebrity Apprentice sources have said that Trump mocked deaf actress Marlee Matlin and called her "retarded."

(13+) According to Richard Hatch, the Donald made lewd comments to Marlee Matlin, to Lisa Rinna, to "all of the women on the Apprentice," and even in front of his daughter Ivanka.

(14) Cathy Heller says that Trump accosted her at a Mother's Day Event at Mar-A-Lago in the late 1990s, while she was with her family and her in-laws, according to a story first reported in The Guardian. She told ABC News that she was having brunch with her family at Mar-a-Lago on Mother's Day when Trump came to the table and was being introduced. She said that when she put her hand out to say hello, he grabbed her unexpectedly and started to kiss her on the lips. She said she pulled away, but he grabbed her again and got her near her lips. The incident happened in front of her family, and she yelled at her husband afterwards because he didn't do anything, she said. She has told family and friends over the years, but didn't go public until now "because it wasn't newsworthy then," she said.

Young Girls "Trumped" by The Donald

(15+) Mariah Billado, a former Miss Vermont Teen USA, and three other women who did not want to be identified, said that in 1997 Trump invaded a dressing room while 51 girls were changing their. All were teenagers; some were girls as young as 15. A number of the girls were nude, or half-naked. One of the girls in the dressing room recalled Trump saying something like: "Don't worry, ladies, I've seen it all before." When Billado discussed the matter with Ivanka Trump, she was told, "Yeah, he does that."

(16+) Tasha Dixon, Miss Arizona in 2001, said: "He just came strolling right in. There was no second to put a robe on or any sort of clothing or anything. Some girls were topless. Other girls were naked." Dixon, who was 18 at the time, told KCBS-TV: "Our first introduction to him was when we were at the dress rehearsal and half naked changing into our bikinis." Dixon said that it was very awkward for the contestants to have "the owner come waltzing in when we were naked or half naked in a very physically vulnerable position." Dixon went on to say that the contestants were pressured by people working for Trump to "go fawn all over him, go walk up to him, talk to him, get his attention."

(17+) Bridget Sullivan, a former Miss New Hampshire, also remembers Trump barging into the dressing room when "we were all naked." (Trump himself confirmed this creepy behavior when he bragged about the "funniest" thing being his "inspecting" of beauty contestants in their dressing rooms, on the Howard Stern show. He told Stern that "I sort of get away with things like that," so he obviously knew that what he was doing was wrong. We "inspect" objects and animals, so Trump's choice of words suggests that he sees young girls as objects for his gratification.)

(18) In a bizarre video clip, Donald Trump says that he will be "dating" a very young girl on an escalator in 10 years. And we all have a good idea of what "dating" means when the word emits from Trump's mouth.

(19, 20) Trump also told two 14-year-old girls in a youth choir outside Manhattan's Plaza Hotel that he would be "dating" them in a "couple" of years.

(21) Trump has said on multiple occasions that he would like to "date" his daughter Ivanka. Trump also told Howard Stern that it was okay for Stern to call his daughter a "piece of ass."

(22) Katie Johnson has filed three federal lawsuits against Trump, claiming that she was raped by Trump and the convicted pedophile Jeffery Epstein when she was 13 years old. According to the third lawsuit, she has two eyewitnesses who saw her being raped on multiple occasions. The eyewitnesses both apparently worked for Epstein as "party planners," recruiting "adolescent women" for his sex parties. One of the party planners admitted that she lured the plaintiff to a party "with the promise of money and meeting contacts in the modeling industry." According to the lawsuits, the 13-year-old plaintiff was forced to engage in "unnatural lesbian sex" with a 12-year-old girl, after which both girls were forced to "orally copulate Defendant Trump." After Trump ejaculated, according to the lawsuit he zipped up his pants, pushed both girls away, and berated them for the "poor quality of their sexual performance." In the lawsuit the minor girls were described as "sex slaves" and Katie Johnson said that she was threatened with physical harm to herself and her family if she talked about the child rape operation. In one of the earlier lawsuits she also said that Trump had given her money and ordered her to get an abortion.

(23) Trump opined that troubled teens are "great in bed" during a discussion about Lindsay Lohan. "Can you imagine the sex with this troubled teen?" asked Howard Stern. "Yeah, you're probably right," Trump said. "She's probably deeply troubled and therefore great in bed. How come the deeply troubled women, you know, deeply, deeply troubled, they're always the best in bed?"

(24) Trump spoke very oddly about his infant daughter Tiffany, during a segment of Lifestyle of the Rich and Famous. "Donald, what does Tiffany have of yours, and what does Tiffany have of Marla's?" Robin Leach asked. "Well, I think that she's got a lot of Marla," Trump said. "She's a really beautiful baby, and she's got Marla's legs.'" Then Trump motioned to his chest and added, "We don't know whether she's got this part yet, but time will tell." What kind of father talks about his baby's legs and chest?

(25) In a series of tweets, Kamie Crawford described her first interaction with Donald Trump after winning the Miss Teen USA competition in 2010. Crawford, who was 17 at the time and was the first black girl to win the title in nearly a decade, said that prior to meeting Trump, she was warned that "Mr. Trump doesn't like black people," and that if he did respond to her kindly, it would be because she was the "type of black he likes."

The Most Vulgar Man Ever

(26) Vendela Kirsebom, a Swedish model, once sat next to Donald Trump at an event. After 45 minutes she came to the host, Graydon Carter, "almost in tears," and pleaded with him to move her. Carter remembers: "It seems that Trump had spent his entire time with her assaying the 'tits' and legs of the other female guests and asking how they measured up to those of other women, including his wife. 'He is,' she told me, in words that seemed familiar, 'the most vulgar man I have ever met.'"

(27+) Lisa Boyne, a health food business entrepreneur, described a disturbing episode at a restaurant―Raoul's in the SoHo neighborhood of New York―in 1996. According to Boyne, Trump dominated the conversation in the limo on the way to the restaurant, boasting of his sexual conquests and rating their attractiveness. "He was constantly talking about himself, who he was dating, who he was sleeping with, who he was trying to sleep with," Boyne said. "I just remember feeling very surprised and upset." At the restuarant, Boyne said that Trump paraded women in front of their table, looked under their skirts, and commented on whether they were wearing underwear. "It was the most offensive scene I've ever been a part of," Boyne told The Huffington Post. "I wanted to get the heck out of there." According to Boyne, the group was seated at a semi-circular table, with the women in the middle and Donald Trump and John Casablancas flanking either end. The women couldn't get out of their seats without one of the men getting up―which they refused to do. Instead, Boyne said, Trump insisted that the women walk across the table, allowing him to peer up their skirts while they did so. Trump "stuck his head right underneath their skirts," Boyne said, and commented on whether they were wearing underwear and what their genitalia looked like. Boyne said that Trump never made any such advance on her. "I'm not a model. He wasn't interested in me," she said. "He was more interested in my opinion of who I think he should sleep with. I remember that vividly." Eventually, however, she insisted that the men let her leave her seat. She found a pay phone at the restaurant to call her roommate. At her roommate's suggestion, Boyne returned to the table, told the group she wasn't feeling well and went home. "I met lots of famous, influential wealthy people with Sonja [Morgan,] and none of them were ever as vulgar, as disgusting, as rude, as sexist, such a low excuse for a human being that I've ever met.

(28) Samantha Carol Holvey, a former Miss North Carolina who competed in the 2006 Miss USA pageant, told CNN that pageant owner Donald Trump personally inspected each woman prior to the contest, to the point that it was "the dirtiest I felt in my entire life." She said that prior to pageant events, Trump had "moved into areas where she and other contestants were getting ready." This is consistent with comments that Trump made himself on the Howard Stern show.

(29+) High-profile sexual harassment lawyer Gloria Allred told Newsweek: "I've had a lot of women contact me. They are all confidential. Needless to say, there are a number of women who are intimidated in fear of what Mr. Trump would say or do and are not willing to say or do anything to provoke that." Civil rights lawyer and sexual harassment expert Lisa Bloom, who represents Jill Harth, says that she has also received calls from other women with stories about Trump, but that so far, they have been afraid to go public.

More Accusations of Trump Sexism

(30) Donald Trump had barely met Rowanne Brewer Lane when he asked her to change out of her clothes, into a bikini that he provided. Trump was having a pool party at Mar-a-Lago. According to Lane: "There were girls in the pools, splashing around. For some reason Donald seemed a little smitten with me. He just started talking to me and nobody else. He suddenly took me by the hand, and he started to show me around the mansion. He asked me if I had a swimsuit with me. I said no. I hadn't intended to swim. He took me into a room and opened drawers and asked me to put on a swimsuit." Trump then proceeded to show her off, calling her a "Trump girl."

(31) "That must be a pretty picture, you dropping to your knees," Trump told former Playboy Playmate Brande Roderick on Celebrity Apprentice.

(32) Trump had a meltdown when a lawyer asked for a break to pump breast milk for her baby. "He got up, his face got red, he shook his finger at me and he screamed, 'You're disgusting, you're disgusting,' and he ran out of there," attorney Elizabeth Beck told CNN's Alisyn Camerota.

(33) When Hillary Clinton took a "potty break" during a debate, Trump called it "disgusting."

(34) "You like your candy," Trump once told Barbara Res, his head of construction during the 1980s. "It was him reminding me that I was overweight," she explained.

(35) Trump once allegedly asked a Miss Universe for her opinion on his daughter's body. "Don't you think my daughter's hot? She's hot, right?" Brook Antoinette Mahealani Lee says Trump asked her once. "I was like, 'Really?' That's just weird. She was 16. That's creepy."

(36) Karena Virginia, a yoga instructor, said that Trump grabbed her arm and groped her breast at the 1998 U.S. Open in Queens. "Don't you know who I am?" he asked twice, according to the alleged victim.

(37) An unnamed Miss USA contestant told the Guardian that Trump "barged right in, didn't say anything, stood there and stared at us" as she and another contestant were getting dressed for a pageant rehearsal.

(38-41) Jessica Drake, an adult film star, says that Trump, wearing pajamas in his penthouse apartment, embraced and kissed her and two other women without their consent. She also says that Trump later offered her $10,000 and the use of his private jet, which she declined. "This is not acceptable behavior for anyone, much less a presidential candidate," said Drake, who identified herself as a sex education advocate whose work has focused on consent and communication. "I am not looking for monetary compensation. I do not need additional fame … I understand that I may be called a liar or an opportunist but I will risk that in order to stand in solidarity with women who share similar accounts." According to an article published by Esquire, Trump tried to have his "charitable" foundation purchase a $120,000 luxury trip that included a date with Salma Hayek, after the actress had declined his advances. So it seems Trump was willing to pay large sums of money for "dates," although it's hard to detect the "charity." Hayek is not a Trump fan. She agreed with Trump's self-assessment that he hasn't changed since he was in the first grade: "I agree with him that we have a first-grade bully running for the president of the United States." The actress accused Trump of bullying her, after she declined to go out with him. She says that he used his influence to have an article placed in the National Enquirer in which he was the one who turned her down, because she was "too short." Trump's response? Mr. Piggy oinked: "Oh, I'm sure she's never been grabbed before."

(42) Jennifer Murphy, Miss Oregon USA in 2003, says that she met with Trump for a job interview in 2005 after she was fired from The Apprentice, and he kissed her on the lips while walking her to the elevator afterward. Trump referred to Murphy as "One of the most beautiful women I have ever seen." Murphy said that she was "a little surprised" by the kiss―which makes it sound uninvited and unexpected. The nonconsensual kiss occurred in the same year that Trump bragged to Billy Bush about kissing and groping women without asking for their consent first.

(43) According to an article in Britain's Daily Mail, "Donald Trump saw Princess Diana as the 'ultimate trophy wife' and 'bombarded' her with flowers following the breakdown of her marriage ... Broadcaster Selina Scott said the billionaire businessman pursued the Princess of Wales to the point of 'stalking' in the mistaken belief he 'had a shot' with her. But Miss Scott, 64, who has a long-running feud with Mr Trump, claimed he actually gave Diana 'the creeps.'" Trump once described the Princess of Wales as a 'dream lady.' In his book The Art of the Comeback he said: "I only have one regret in the women department – that I never had the opportunity to court Lady Diana Spencer." But he did court her, and she was not happy with his advances. On the Howard Stern show, Trump told Stern that he thought he could have "nailed" Diana. He also told Stern that Diana was "crazy" but that was a minor detail. One can hardly blame her for not welcoming The Donald's neanderthalic advances.

(44+) According to Perez Hilton and a number of other sources, "The presidential hopeful would host drug-filled parties crawling with underage girls at the Plaza Hotel. Michael [Gross] recently reached out to two of Trump's old partying buddies, and they dished deets about what went on during these illicit get-togethers. One of the men, a fashion photographer whose name was excluded, explained the parties often introduced rich, older men to 'young girls assuming they'd get somewhere,' admitting that sometimes these girls were as young as 15 years old and 'over their heads, they had no idea, and they ended up in situations.' He clarified: 'There were always dramas because the men threw money and drugs at them to keep them enticed. It's based on power and dominating girls who can't push back and can be discarded. There's always someone to pick them back up. Nobody wants to call home and say "Help me." The photographer continued to describe the atmosphere, saying: 'It was guys with younger girls, sex, a lot of sex, a lot of cocaine, top-shelf liquor.' He also explained that the host himself would often end up sleeping with women who were in attendance, but didn't specify their ages: "Trump was in and out. He'd wander off with a couple girls. I saw him. He was getting laid like crazy. Trump was at the heart of it. He loved the attention and in private, he was a total fucking beast."

(45+) Did Donald Trump create his modeling agency as a "date farm"? If so, did some of the "dates" consist of rich older men having sex with minors? According to Michael Gross, who attended some of Trump's parties in the 1990s, the parties were thrown so that Trump's "wealthy friends, high-rollers from his Atlantic City casinos, and potential Trump condominium buyers could meet models." Another former Trump party guest, male model Andy Lucchesi, "was often responsible for allegedly wrangling models for the Apprentice alum. However, he claims he also doesn't know the ages of the women Trump had sex with, explaining: 'So, he's a man with a woman. A lot of girls, 14, look 24. That's as juicy as I can get. I never asked how old they were; I just partook. I did partake in activities that would be controversial, too.' He also corroborated the photographer's cocaine claim, but insisted Donald never indulged in the illegal substance: 'There was cocaine around. I never saw him do that. Donald Trump does not do cocaine. He's in control of himself.' In the new article, Mr. Gross seemed to insinuate that the New York native's modeling agency was also serving as a "date farm" for either himself or famous friends. He even referenced a '90s quote attributed to Leonardo DiCaprio, in which the actor jokingly thanked the controversial mogul for starting the agency, saying: 'Wow one-stop date shopping. What a concept!' Of course, while Gross included this reference in his piece about the parties, Leo's comment appears to only reference the agency, and not any hotel bashes. Nonetheless, Leo's reported exchange with the GOP presidential nominee is circulating again." (BTW, Leonardo DiCaprio has said publicly that Trump should not hold public office.)

(46+) As reported by Mother Jones, Canadian model Rachel Blais said that Trump Model Management charged her and five other migrant models $1,600 each to share a tiny New York City apartment crammed with bunk beds. She said all of the women ended up working illegally because the agency failed to secure proper visas for them. "Honestly, they are the most crooked agency I've ever worked for," said Ms Blais, who signed with the company for three years in 2004 as a teenager. "It was by far the worst model apartment I ever lived in. It was like modern day slavery." At times, the apartment could be occupied by 11 or more people. Two other former Trump models who shared the flat with Ms Blais, spoke on condition of anonymity and were given the pseudonyms Kate and Anna by the publication. "We're herded into these small spaces," Kate said. "The apartment was like a sweatshop." According to company statements obtained by Mother Jones, Trump Model Management recruited models as young as 14 from overseas. "I was by far the oldest in the house at the ripe old age of 18," Anna said. "The bathroom always smelled like burned hair. I will never forget the place."

(47) In addition to calling Alicia Machado "Miss Piggy," an "Eating Machine," "Miss Housekeeper" and "Miss Housekeeping," Donald Trump also slut-shamed her by tweeting his followers to "check out" her "sex tape" (which apparently does not exist).

(48+) According to USA Today, at least 20 separate lawsuits accuse the presidential candidate and managers of his companies "of discriminating against women, ignoring sexual harassment complaints and even participating in the harassment themselves."

(49) In one lawsuit, a waitress alleged that Trump repeatedly flirted with her.

(50+) USA Today also discovered at least three lawsuits in which women claimed they lost their jobs at a Trump company for complaining about sexual discrimination or harassment at work.

(51) Trump has been accused of trying to get Nancy O'Dell fired from her job as a host for the Miss USA pageant after she rejected his advances (as detailed in the Access Hollywood tape). Trump allegedly did not like the way she looked in 2007, since O'Dell was several months pregnant and thereby not living up to Trump's standards of appearance. However, O'Dell was under contract with NBC, and the network opted to keep her in place as a host, much to Trump's chagrin.

(52) Trump gave Mark Singer a tour of Mar-a-Lago for a New Yorker article in 1997. Singer wrote that Trump introduced him to the property's resident physician, Dr. Ginger Lea Southall. When she was out of earshot, Singer asked Trump where Southall had been trained. Trump replied, "I'm not sure. Baywatch Medical School? Does that sound right? I'll tell you the truth. Once I saw Dr. Ginger's photograph, I didn't really need to look at her résumé or anyone else's. Are you asking, 'Did we hire her because she'd trained at Mount Sinai for fifteen years?' The answer is no. And I'll tell you why: because by the time she's spent fifteen years at Mount Sinai, we don't want to look at her."

(53, 54) An unnamed Miss USA contestant said that in 2001 Trump walked into her dressing room unannounced while she and another contestant were undressed. She told The Guardian that Trump "just barged right in, didn't say anything, stood there and stared at us .... He didn't walk in and say, 'Oh, I'm so sorry, I was looking for someone.' He walked in, he stood and he stared. He was doing it because he knew that he could." Another contestant told The Guardian that the contestant spoke to others of this event at the time.

(55) The Trump camp, led by Newt Gingrich, tried to slut-shame Megyn Kelly for doing her job by investigating the claims of sexual assault against Donald Trump. A visibly angry and agitated Gingrich accused Kelly of being "fascinated with sex," when in reality it is Trump's fascination with sex, and his self-admitted disinclination to ask women for their consent, that led to the issue becoming so YUGE. Trump praised Gingrich for his slut-shaming act: "Congratulations, Newt! Last night, that was an amazing interview! That was amazing!" Trump beamed, as he took a break from campaigning to officially unveil his Trump hotel in downtown Washington D.C. "We don't play games, Newt, right? We don't play games!" Trump crowed, pointing at Gingrich, triggering TV news network talk as to why Trump is so obsessed with the Fox News Channel star, with whom he has tangled in the election cycle. In any case, Megyn Kelly had the perfect response to Gingrich's absurd and childish accusation. She responded: "You know what, Mr. Speaker, I'm not fascinated by sex. But I am fascinated by the protection of women and understanding what we're getting in the Oval Office." Touché!

(56) Ninni Laaksonen, a former Miss Finland in the Miss Universe competition that Trump once owned, alleged in an interview with the Finnish newspaper Ilta-Sanomat that Trump groped her before an appearance on The Late Show with David Letterman in 2006. "Before the show we were photographed outside the building," Laaksonen said, "Trump stood right next to me and suddenly he squeezed my butt. He really grabbed my butt. "I don't think anybody saw it but I flinched and thought: 'What is happening?'" Laaksonen said that she had been told at other events that year that Trump found her attractive because she reminded him of his wife, Melania, whom he had married the year before. "Somebody told me there that Trump liked me because I looked like Melania when she was younger," Laaksonen said. "It left me disgusted."

(57) Trump slut-shamed Kristen Stewart, sticking his piggish nose where it didn't belong. For instance, this tweet: "Robert Pattinson should not take back Kristen Stewart. She cheated on him like a dog & will do it again--just watch. He can do much better!" Trump followed up that ridiculous tweet with this one: "Lots of response to my Pattinson/Kristen Stewart reunion. She will cheat again--100 certain--am I ever wrong?" Well, yes, Dire Abby, you are frequently wrong!

(58+) Trump insulted women in general: "There's nothing I love more than women, but they're really a lot different than portrayed. They are far worse than men, far more aggressive, and boy, can they be smart. Let's give credit where credit is due, and let's salute women for their tremendous power, which most men are afraid to admit they have." If men are aggressive and smart, as Trump claims to be, that's peachy-keen. But if women are aggressive and smart, they are "far worse" than men. Such wisdom from The Donald!

(59) Barbara Corcoran of Shark Tank fame said Donald Trump once talked about the size of her breasts during a business meeting. Corcoran, discussing the multiple accusations of sexual assault against Trump with CNN's Erin Burnett, said it's "preposterous that he's claiming he's done nothing like that," and shared how she was once "shocked" by Trump's actions toward her during a business meeting between the two. "I was pregnant with my first child at the time. So was his second wife [Marla Maples]," Corcoran said. "And he compared my breast size to his wife by putting his hands in the air, telling me how large they are. "If a man is that way―so inappropriate―I just assume it's that way all the time," Corcoran added. Trump made the same circular hand gestures while postulating that his infant daughter's breasts might one day be as big and luscious as her mother's.

(60) The New York Times recently obtained a timely cache of audio recordings in which Pulitzer Prize-winning reporter Michael D'Antonio interviews Republican presidential candidate Donald Trump, as well as members of his family, for his biography The Truth About Trump. Reporter Michael Barbaro has deftly distilled the contents of the audio files in a piece titled What Drives Donald Trump? Fear of Losing Status, Tapes Show. The "Trump Tapes" reveal that The Donald has "tremendous difficulty empathizing with or respecting other people," that he is "uniquely driven by a personal obsession with seeking out the loving lens of the television camera," and that he has "tremendous insecurities about lapsing into irrelevance." Resonating most deeply, however, is Trump's deep-seated fear of losing―of being publicly shown up. (This, of course, takes on new relevance given the fact that he has left it an open question whether he'll accept the results of the presidential election if they do not go his way.) In the tapes, Trump's former spouse Ivana Trump describes the time she outperformed him on the slopes―after withholding from her husband that she was a skilled skier―touching off a "volcanic" snit of anger and embarrassment.

(61) Apprentice producer Mark Burnett apparently agrees with women who have accused Trump of being a mysogynist: "Given all of the false media reports, I feel compelled to clarify a few points. I am not now and have never been a supporter of Donald Trump's candidacy," Burnett said in a statement. "I am NOT 'Pro-Trump.' Further, my wife and I reject the hatred, division and misogyny that has been a very unfortunate part of his campaign."

(62) In a 2005 radio interview, Trump insulted women who ask their husbands to help change diapers, and their husbands as well. Trump said he didn't change diapers because that's the wife's job. In fact, he said he wouldn't marry a woman who expected him to get his dainty little fingers dirty.

(63) Trump insulted Ghazala Khan, after she stood silently next to her husband, Khizr Khan, as he delivered a passionate speech to the DNC. Trump engaged in a grotesque stereotype of Muslim women: "Look at his wife, she was standing there. She had nothing to say. She probably, maybe she wasn't allowed to have anything to say. You tell me." Ghazala Khan later explained that she was too emotional about her son's death to speak.

(64) Former Trump employee Louise Sunshine, who worked for his firm from 1973-1985, told the Washington Post that Trump kept a "fat picture" of her in his desk drawer, that he would take out when she did something he didn't like.

(65+) In a 1992 interview with New York Magazine, Trump insulted all women by saying: "You have to treat 'em like shit." But at least he consistently lives up to his own advice!

(66+) Trump admitted that he treats female employees as sex objects: "It's certainly not groundbreaking news that the early victories by the women on The Apprentice were, to a very large extent, dependent on their sex appeal."

(67+) According to Trump all women are charlatans and the smart ones are killers who use a certain body part to manipulate men: "Women have one of the great acts of all time. The smart ones act very feminine and needy, but inside they are real killers. The person who came up with the expression 'the weaker sex' was either very naive or had to be kidding. I have seen women manipulate men with just a twitch of their eye—or perhaps another body part."

(69) According to Trump a woman must be able to sexually please her husband, in order to be president: "If Hillary Clinton can't satisfy her husband what makes her think she can satisfy America?"

(70) Trump loves it when an alpha male puts an uppity "bitch" in her proper place: "My favorite part [of Pulp Fiction] is when Sam has his gun out in the diner and he tells the guy to tell his girlfriend to shut up. Tell that bitch to be cool. Say: 'Bitch be cool.' I love those lines." From TrumpNation: The Art of Being The Donald, 2005.

(71) Trump said that women who have abortions must be punished. Of course he didn't say anything about punishing men who insist that pregnancies they caused should be aborted.

(72+) "I want you to get some good-looking hostesses here," Trump told Sue Kwiatkowski, a supervisor at one of his golf clubs, according to USA Today. Kwiatkowski also alleged that he said, "People like to see good-looking people when they come in."

(73) Trump humiliated Jennifer Hawkins, Miss Universe 2004, on stage in front of an audience, in Sydney in 2011. "I believe, get even with people, if they screw you, screw them back, 10 times harder," Trump said. "And I'll give you an example, Jennifer Hawkins." What was Trump upset about? Due to a miscommunication, Hawkins was not there to introduce him at an event. What a massive ego! What a petty attitude. Trump called Hawkins to the stage, where she was obviously uncomfortable standing next to Trump. He bragged about how at his command "she got in her car and she got her ass over here" as if she were a puppet at his command. At the end of his bizarre performance, Trump grabbed Hawkins by the waist and forcibly kissed her. She turned away and put up an arm to ward him off.

(74) When Trump bought the New Jersey Generals football team, he decided to create a cheerleading squad call the Brig-a-Dears. But the cheerleaders complained about too-revealing costumes, being paraded before drunk men in bars, and basically being treated like hookers. "I really don't feel that going into bars in these skimpy outfits in front of 25 drunken men is the kind of publicity we should be involved in," said the group's director, Madeline Colangelo. She resigned after the Generals refused to make changes, and 11 of the cheerleaders skipped the April 15 game against the Arizona Wranglers in protest. They were fired. "I've never been involved with anything so shabby before," the group's choreographer told the Associated Press. One of the cheerleaders, then-17-year-old Lisa Edelstein, noted, "We had complained for months that the outfits fitted poorly in the back and exposed too much. Then they want us to go into a bar [filled with] drunk men dressed like that. It's disgusting." Edelstein is now a well-known actress who has starred in The West Wing and House, M.D., and time doesn't seem to have improved the memories of her Generals cheerleading career. During an interview with HuffPost Live, Edelstein said the team had treated the women "like hookers…They weren't protected and they were feeling really unsafe and uncared for and just sort of thrown into these environments."

(75+) Michael Gross — who has penned books such as Model: The Ugly Business of Beautiful Women — said Trump once told him that promiscuity was at one time his "second business … If I hadn't got married, who knows what would have happened? You had drugs, women and booze all over the f—— place." If all the promiscuity had been consensual and with of-age women, perhaps voters would be less concerned. But it seems that Trump's parties allowed rich, older men to mingle with underage girls, including teenagers who worked for Trump's modeling agency. Gross called Trump's agency a "date farm" and we all know what the word "date" means in Trump's world. Gross also called Trump a "pig."

(76) The hashtag #ImWithTur is trending after Trump once again singled out and attacked NBC reporter Katy Tur in public for doing her job. (Trump has a history of going on a rampage when women quote him or otherwise stand up to him.) According to Fortune, "Trump has repeatedly insulted and attacked Tur in public during the year and a half that she has been covering his campaign." According to a piece Tur wrote for Marie Claire, Trump's hostility toward her dates back to a contentious MSNBC interview she conducted with him in July of 2015. Trump has insulted Tur by calling her "Little Katy" and a "third-rate journalist." Trump has attacked journalists so often that the Committee to Protect Journalists put out a statement calling the Republican nominee "an unprecedented threat to the rights of journalists," adding that Trump has "insulted and vilified the press" and "refused to condemn attacks on journalists by his supporters."

(77) "When I look at these great admirals and these great generals and these great medal of honor recipients behind me ― to think of her being their boss? I don't think so!" Trump said at a rally in Selma, North Carolina. Trump's incredulity that Clinton could be a suitable military leader is rooted in a long history of men doubting that female politicians could cut it on national security. What makes him able to command admirals and generals? Well, he is a man, after all!

(78+) Trump has been accused of union-busting and underpaying hundreds of workers―many of them female―at the Trump International hotel in Las Vegas. After months of stonewalling from Trump and his partners, the National Labor Relations Board ruled that Trump's ritzy hotel was breaking the law by refusing to recognize its workers' labor union. The board ordered Trump to cease and desist and start bargaining toward a contract.

(79) In September 2015, while he was being profiled by Rolling Stone's Paul Solotaroff, Trump saw fellow GOP candidate Carly Fiorina being interviewed on a TV inside his private jet. According to Solotaroff, Trump's "expression sour[ed] in schoolboy disgust" at the sight of her. Then he launched into a diatribe about Fiorina's facial features: "Look at that face! Would anyone vote for that? Can you imagine that, the face of our next president?! I mean, she's a woman, and I'm not supposed to say bad things, but really folks, come on. Are we serious?"

(80+) Now, this is rich: Melania Trump is crusading against online bullying. Meanwhile the world's biggest online bully―her husband―keeps tweeting up storms of insults! And Kellyanne "Wrongway" Conway keeps trying to explain why The Donald isn't the biggest abuser of women in the history of social media: He didn't really mean it! He's just misunderstood! It's a liberal plot to make Trump look bad! This, despite the fact that Trump attacked Republican women, including Carly Fiorina ("That face!") and Megyn Kelly ("She was on the rag!").

(81) In March 2016, Trump tweeted an unflattering photo of Heidi Cruz, the wife of his then-competitor Ted Cruz. Earlier in the week, Trump had issued a vague threat to "spill the beans on [Ted Cruz's] wife," but instead, he retweeted a meme with side-by-side photos of his wife Melania and Heidi Cruz with the caption: "No need to 'spill the beans.' The images are worth a thousand words!" The message of the thousand words seems to be that the wives of rich, powerful men are to be judged solely by their looks and "hotness." This has been a constant refrain with Trump through the years, thinking of his comment about not worrying what the media says as long as he has a "beautiful piece of ass" at his side.

(82) Have Trump and his associates been playing "catch and kill" with the accounts of women Trump had affairs with? The company that owns the National Enquirer agreed to pay $150,000 to a former Playboy centerfold model for her story of an affair with Trump, but then didn't publish it, according to documents reviewed by The Wall Street Journal and people familiar with the matter. The tabloid-newspaper publisher reached an agreement in early August with Karen McDougal, the 1998 Playmate of the Year. American Media Inc., which owns the Enquirer, hasn't published anything about what she has told friends was a consensual romantic relationship she had with Mr. Trump in 2006-2007. At the time, Mr. Trump was married to his current wife, Melania. Quashing stories that way is known in the tabloid world as "catch and kill." Trump and American Media Chairman and Chief Executive Officer David J. Pecker are longtime friends. Since last year, the Enquirer has supported Mr. Trump's presidential bid, endorsing him and publishing negative articles about some of his opponents.

(83) Donald Trump has been rating women his whole life. And a simple ranking on a scale of 1 to 10 wasn't enough: he sometimes broke it down into body parts. "From the midsection to the shoulders, she's a 10," Trump said in an interview with Howard Stern, who had asked him to rate the actress Halle Barry, among many others. "The face is a solid 8. And the legs are maybe a bit less than that."

(84) Trump considers himself an expert rater of boobs. He once rated a woman's breasts on the Howard Stern show: "Her boob job is terrible. They look like two light posts coming out of a body."

(85+) Trump insulted all women when he told Howard Stern: "A person who is very flat-chested is very hard to be a 10."

(86) Trump "ranked" Marcia Cross, calling her a "solid four to five."

(87+) The Donald has a real problem with working women who don't cook for their husbands and have dinner ready on time! Here is what he said a 1994 clip about his wife Marla Maples joining the workforce: "I have days where I think it's great," Trump said in the newly-unearthed interview. "And then I have days where if I come home and—you know, I don't want to sound too much like a chauvinist—but when I come home and dinner's not ready, I'll go through the roof, okay?" No, Donald, it's not okay.

Sexual Assault is Normal and to be Expected

Trump does not limit himself to verbal abuse of women. There are multiple allegations that Trump has discriminated against female employees who didn't pass his "eye tests." And by his own admission, he is a serial groper of women's genitals who "doesn't even wait" to start kissing them, then dive in ...

A 2005 video published by the Washington Post captures the real, unfiltered Trump. Here's what Trump claims a famous man like himself can do to women: "They let you do it. You can do anything. Grab 'em by the pussy." The recording was picked up on a hot mic when Trump made an appearance on the soap opera Days of Our Lives. Ironically, Trump was talking about freely accessing bush to Billy Bush of Access Hollywood; the recording picks up with Trump telling a story about hitting on Nancy O'Dell, who was Bush's co-host at the time: "I did try and fuck her. She was married. I moved on her very heavily. In fact, I took her out furniture shopping. … I moved on her like a bitch, but I couldn't get there and she was married. Then all of a sudden I see her, she's now got the big phony tits and everything." Moments later, Trump notices Arianne Zucker, the soap opera actress who would escort him and Bush to the set. Bush calls her "hot as shit." Trump says that he should "use some Tic Tacs" in case he starts kissing her. "I'm automatically attracted to beautiful — I just start kissing them. It's like a magnet. Just kiss. I don't even wait," Trump said. "When you're a star, they let you do it. You can do anything. Grab 'em by the pussy. You can do anything."

When during the second presidential debate Anderson Cooper asked Trump if he understood that he had been bragging about sexually assaulting women, Trump chose to "beat around the bush" and claimed that he had never done what he had boasted about doing. According to some of the women who came forward, this was the moment when they decided to "go public" about what Trump allegedly did to them.

Take a Tic Tac and grab them by the pussy is the closest thing to a "plan" Donald Trump has described this entire election!―Samantha Bee

Planned Parenthood Action Fund issued a statement from Executive Vice President Dawn Laguens saying: "What Trump described in these tapes amounts to sexual assault." House Speaker Paul D. Ryan, who said he was "sickened" by Trump's comments, announced that the Republican presidential candidate will no longer appear with him at a campaign event in Wisconsin. Former presidential candidate Mitt Romney said: "Hitting on married women? Condoning assault? Such vile degradations demean our wives and daughters and corrupt America's face to the world." "Game over," said former Obama spokesman Tommy Vietor. "He is discussing sexual assault." "It's horrifying, disgusting, and on a whole other level than any of his previous comments," said Democratic strategist Lis Smith. "This isn't him just being sexist. This is him bragging about committing sexual assault." Republican pollster Christine Matthews, who specializes in helping Republicans reach out to women, said that "this is just another nail in the coffin."

In 2007, TMZ reported that Trump tried to have O'Dell fired as Miss USA host because he allegedly didn't like the way she looked while she was several months pregnant. (Trump's people did not deny the report at the time, and simply refused to comment.) Trump also made disparaging remarks about Kim Kardashian when she was pregnant, body-shaming her by saying that she had become "large" and should watch the kind of clothes she wore in public!

Was Trump exaggerating about being a serial groper of women's genitals? Not according to make-up artist Jill Harth, who said the recording of Trump bragging that his stardom allowed him to do whatever he wanted to women, including "grabbing them by the pussy," came as no shock to her. "That was exactly what he did to me," she told the Daily News. Harth sued Trump in 1997, claiming he sexually harassed her for years and attempted to rape her at his Mar-a-Lago estate in Florida. Harth said that in 1993 she and her fiancé and boyfriend of 13 years, George Houraney, were working on a "calendar girl" business deal with Trump. During a trip to the billionaire's Florida mansion, Trump forced her into his daughter Ivanka's bedroom, threw her against a wall, then began kissing her, lifted up her dress, and tried to touch her private parts. This took place while her fiancé was in the next room.

Here's what happened, according to a Sunday Review article by Nicholas Kristof:

On Jan. 24, 1993, Harth and Houraney went to Trump's Mar-a-Lago estate in Florida for a contract-signing celebration, bringing along some "calendar girls" at Trump's request. He offered Harth a tour of the estate and then pulled her into the empty bedroom of his daughter Ivanka. "I was admiring the decoration, and next thing I know he's pushing me against a wall and has his hands all over me," Harth told me. "He was trying to kiss me. I was freaking out." Harth says she was desperately protesting, and finally managed to run out of the room and find the group again. She and Houraney left rather than stay the night, as they had intended. Some of the calendar girls stayed, and the sexual harassment lawsuit says Trump showed up uninvited in the predawn hours in the bedroom of one of the young women; she kicked him out but was shaken. When contacted, the woman declined to speak about the experience, and I'm not naming her here. Trump was then with Marla Maples, who was pregnant that spring with his daughter Tiffany, but this didn't constrain him. He took an intense interest in the calendar girls, pursuing some and rejecting others, Harth says, adding that he had an aversion to black contestants and made derogatory comments about them. ... "He's all about him," Harth says, summing up what she learned about the man who may be our next president. "He's a con artist."

In Harth's complaint, she said that at a dinner meeting at the Plaza Hotel, Trump groped her under the table repeatedly. The suit goes on to state that Trump introduced Harth to Plaza Hotel staff as his "new girlfriend" and, after a series of lewd comments about women, blurted out to Houraney, "You know, there's going to be a problem. I'm very attracted to your girlfriend."

Harth had to physically push Trump away, told him to "stop it," and yet he kept coming back with more unwanted advances. Harth concluded: "If it's not consensual and somebody pushes you up against a wall and is all over you? If I hadn't pushed him away, I'm sure he would've just went for it. He was aggressive. And he has a sense of entitlement. And he thinks everybody's in love with him — every woman. I've heard him say things like this." Harth alleges that Trump continued to pressure her to leave Houraney, even as he was divorcing first-wife Ivana and dating would-be second wife Marla Maples. "He name-dropped continuously," Harth said under oath, "when he wasn't groping me." She found his advances so offensive that at one point she "vomited profusely."

Trump confirmed his cavalier attitude toward sexual assault in one of his tweets. It's completely natural and to be expected for men to sexually assault women, according to The Donald! Here's what he tweeted about sexual assaults in the military: "26,000 unreported sexual assults [sic] in the military―only 238 convictions. What did these geniuses expect when they put men & women together?" In other words, if Trump were in the military, we should expect him to sexually assault women, unless they are kept out of his sight and mind! Shaming and blaming the victims seem to be part of his sick game.

Recently a transcript from a 1994 Primetime Live interview was unearthed in which Trump states: "I tell friends who treat their wives magnificently, get treated like crap in return, 'Be rougher and you'll see a different relationship.'"

Harth was the third woman to accuse Trump of sexual assault. The first was his first wife, Ivana Trump, who accused Trump of raping her when he became furious about a botched scalp reduction procedure performed by a doctor she had recommended to him. The second accuser was a minor at the time she alleges that Trump assaulted her. A lawsuit filed in a Manhattan federal court accused Trump of raping a 13-year-old girl in 1994, around the time of Harth's alleged attacks. The rape allegedly took place during a party held at the home of Trump's billionaire friend, Jeffrey Epstein, a notorious pedophile who served 13 months in jail for soliciting underage girls for sex. In the court filing, "Defendant Trump" allegedly "initiated sexual contact with Plaintiff at four different parties. On the fourth and final sexual encounter with Defendant Trump, Defendant Trump tied Plaintiff to a bed, exposed himself to Plaintiff, and then proceeded to forcibly rape Plaintiff. During the course of this savage sexual attack, Plaintiff loudly pleaded with Defendant Trump to stop but with no effect. Defendant Trump responded to Plaintiff's pleas by violently striking Plaintiff in the face with his open hand and screaming that he would do whatever he wanted." The lawsuit states that "Immediately following this rape, Defendant Trump threatened Plaintiff that, were she ever to reveal any of the details of the sexual and physical abuse of her by Defendant Trump, Plaintiff and her family would be physically harmed if not killed." Another anonymous woman, identified as "Tiffany Doe," corroborates those charges, and says she witnessed the rape. As AlterNet noted, "Tiffany Doe testified that between 1991 and 2001, Epstein put her on his payroll, tasking her with bringing underage girls to parties."

NEW YORK (AP) — In his years as a reality TV boss on "The Apprentice," Donald Trump repeatedly demeaned women with sexist language, according to show insiders who said he rated female contestants by the size of their breasts and talked about which ones he'd like to have sex with. The Associated Press interviewed more than 20 people — former crew members, editors and contestants — who described crass behavior by Trump behind the scenes of the long-running hit show ... The staffers and contestants agreed to recount their experiences as Trump's behavior toward women has become a core issue in the presidential campaign. Interviewed separately, they gave concurring accounts of inappropriate conduct on the set. Eight former crew members recalled that he repeatedly made lewd comments about a camerawoman he said had a nice rear, comparing her beauty to that of his daughter, Ivanka. During one season, Trump called for female contestants to wear shorter dresses that also showed more cleavage, according to contestant Gene Folkes. Several cast members said Trump had one female contestant twirl before him so he could ogle her figure. Randal Pinkett, who won the program in December 2005 and who has recently criticized Trump during his run for president, said he remembered the real estate mogul talking about which female contestants he wanted to sleep with, even though Trump had married former model Melania Knauss earlier that year: "He was like 'Isn't she hot, check her out,' kind of gawking, something to the effect of 'I'd like to hit that.'" ... Former producer Katherine Walker said Trump frequently talked about women's bodies during the five seasons she worked with him and said he speculated about which female contestant would be "a tiger in bed." A former crew member who signed a non-disclosure agreement and asked not to be identified, recalled that Trump asked male contestants whether they would sleep with a particular female contestant, then expressed his own interest. "We were in the boardroom one time figuring out who to blame for the task, and he just stopped in the middle and pointed to someone and said, 'You'd f... her, wouldn't you? I'd f... her. C'mon, wouldn't you?'" The person continued: "Everyone is trying to make him stop talking, and the woman is shrinking in her seat."

Howard Stern says sexual assault is verbotten in locker rooms: "All the times I've been around guys — and believe me when I'm around guys 85 percent of the time you're talking about pussy but I have never been in the room when someone has said 'grab them by the pussy,'" Stern says. "No one's ever advocated going that step where you get a little bit, 'Hey, I'm going to invade someone's space.'" Yes, Stern is coarse, and a provocateur. But he and his ribald buddies are not talking about non-consensual sex. What Trump said is beyond the pale, and unlike anything I have ever heard in a locker room, or any room, no matter how much testosterone and machismo was flowing.

"Vagina is Expensive"

An excerpt from an article published by The Huffington Post:

In a January 1997 interview with Donald Trump, shock jock Howard Stern relayed some crude marital advice that the brash businessman gave him before his second trip down the aisle, with Marla Maples. (The couple would separate a few months later.) "Donald pulled me aside at his wedding," Stern said in comments that had not resurfaced until now. "He said, you know I am getting remarried, but Howard, vagina is expensive. I will never forget those words. The guy is right. Those were the exact words!"

Stern and Trump then laughed about the conversation. Trump did not contradict Stern's recollection of the conversation. Donald Trump was talking about his wife on the day of their wedding.

More examples of Trump's abusive war on women

Trump has vowed to rob women of their right to choose, by appointing highly conservative Supreme Court judges who will overturn Roe vs. Wade.
The same judges will rob gay women of their right to marry.
Trump bullied a little old lady, Vera Coking, by attempting to use eminent domain to steal her house for a quarter of its value; fortunately she stood up to his bullying in court and was able to keep her house.
For more than a decade, Trump tried to keep veterans from street vending on ritzy Fifth Avenue while he peddled expensive baubles to his rich patrons; of course many veterans these days are women.
Trump insisted that American soldiers must become mass murderers of women and children, by hunting down and "taking out" the families of terrorists for purposes of "retribution."
Trump has displayed chauvinism by blaming Hillary Clinton for "enabling" her husband's infidelities, an absurdly hypocritical accusation since he brags about his own sexual "conquests" of women.
In a 2008 court filing, Hayley Strozier described an order to axe a "highly competent and professional" female employee because, her superior said, "Mr. Trump does not like fat people."
Trump insulted women for aging: "Sometimes I do go a little bit far," he allowed, adding after a moment: "Heidi Klum. Sadly, she's no longer a 10."
Trump went on the rag about menstruation, claiming there was blood coming out of Megyn Kelly's "whatever" after she quoted his verbal abuse of women during the first Republican presidential debate.
Back in the '90s Trump told New York magazine, "Women, you have to treat them like shit."
Trump was accused of rape by his first wife, Ivana, after he became enraged by a botched scalp reduction procedure performed by a doctor she had recommended.
Donald Trump became―we believe―the first American presidential candidate to call another candidate a "pussy" when he mocked Ted Cruz for not being a gung-ho supporter of torture (waterboarding).

Did Donald Trump Stalk Princess Diana?

Donald Trump told Howard Stern that he thought he could have "nailed" Princess Diana. However, Selina Scott, a friend of Diana's, claimed in the Sunday Times that Trump "bombarded Diana at Kensington Palace with massive bouquets of flowers" and that the princess had said the businessman gave her "the creeps." She wrote: "As the roses and orchids piled up at her apartment, she became increasingly concerned about what she should do. It had begun to feel as if Trump was stalking her."

Donald Trump's Attacks on Rosie O'Donnell

Over the years Donald Trump has called Rosie O'Donnell a "degenerate," a "pig," a "fat pig," a "big pig," a "beast," a "slob," a "loser," "dumb," "desperate," and "fat."
"Tara Connor is a great beauty, and then you have Rosie, the Beast; you have Beauty and the Beast."
"I called her a pig, I didn't say she was fat, because that's politically incorrect, but come to think of it, is she fat? Assuming I did call her a fat pig, would I be wrong?"
"I called her a pig, a degenerate; I said that her wife is a lovely person."
"I feel sorry for Rosie 's new partner in love whose parents are devastated at the thought of their daughter being with @Rosie--a true loser."
"I hit that big pig face," Trump boasted after O'Donnell stopped responding to his insults.
"This slob ― no, I'm not allowed to use the word 'fat,'" Trump complained, citing "politically correct bullshit."
"I think I can cure her depression," Trump said. "If she'd stop looking in the mirror, I think she'd stop being so depressed."
"Rosie O'Donnell, I said very tough things to her, and I think everybody would agree that she deserves it and nobody feels sorry for her."

Donald Trump's Potty Mouth

Here are some of the more "colorful" potty words and terms employed by Donald Trump to describe women, his rivals and his critics: pussy, bimbo, gold digger, goofus, ugly, grotesque, "real killers," "brain dead puppets," crude, rude, obnoxious, strident, dumb, fat, "fat pigs," slobs, disgraceful, disgusting, "disgusting animals," "unattractive both inside and out," dogs, "sweating like a dog," "face of a dog," "cheated like a dog," "barking like a dog," "nervous mess," shaking, sleaze, sleazy, sleazebag, scum, perv, nasty, slime, slimy, sick, pathetic, unstable, "totally unstable individual," pathological, deviant, "basket case," "mental problem," choker, lightweight, "lightweight choker," "choke artist," "nervous wreck," weak, "weak as a baby," weakest, "little boy," "no chance," overrated, loser, "total loser," "total disaster," "low energy," liar, crazy, "lies like crazy," "the biggest liar I've ever seen," "the single biggest liar I've ever come across," dishonest, "very dishonest," moron, dope, dopey, fool, "jealous fool," "very foolish," worthless, stiff, "total stiff," "major inferiority complex," "truly weird," "spoiled brat," "without a properly functioning brain," "got schlonged," zero, thugs, "a total Bush-y" and so on.

One young journalist who travels with Trump remarked that she's grown accustomed to hearing him use the same words—scum and sleazebags—to describe ISIS terrorists and American reporters. At his campaign events, Trump has had journalists consigned to pens and has even required them to have escorts for "potty breaks."

The Shame and Blame Game: Donald Trump's Many Offensive Remarks About Women

Donald Trump has a long history of verbally abusing women—both individually and collectively. He has made chauvinistic remarks about his wives, his daughters, his female employees, beauty contestants, actresses, singers, and his female political opponents such as Carly Fiorina, Hillary Clinton and Elizabeth Warren. What follows is an extensive collection of Trump quotations, in a series of categories.

Women are by Nature Manipulative, Sexually Aggressive Killers

"Women have one of the great acts of all time. The smart ones act very feminine and needy, but inside they are real killers." [And of course Mr. Wiggy Piggy is The Expert!]
"The person who came up with the expression 'the weaker sex' was either very naive or had to be kidding. I have seen women manipulate men with just a twitch of their eye—or perhaps another body part."
"They are far worse than men, far more aggressive, and boy, can they be smart." [Women being smart seems to be a very bad thing to Mr. Boinker Oinker!]
"There's nothing I love more than women, but they're really a lot different than portrayed. They are far worse than men, far more aggressive."
"They want to burn their bras and complain about equal pay and being treated as men, and the second they get criticized for anything they start acting like nine-year-old little girls."

Where Does The Donald Want to See Women? On Their Knees, as Sexual Objects, Begging for Favors

According to The Donald, it is a very "pretty picture" to see women drop to their knees to beg men for favors.
Trump told Brande Roderick, a contestant on The Apprentice: "It must be a pretty picture, you dropping to your knees."
"My favorite part of Pulp Fiction is when Sam has his gun out in the diner and he tells the guy to tell his girlfriend to shut up. Tell that bitch to be cool. Say: 'Bitch be cool.' I love those lines."
"Women: You have to treat 'em like shit!"
Trump told Howard Stern that he believed there was something "sick" about women that caused them to be attracted to men who treat them poorly [like shit].
Trump posted an attack video showing Hillary Clinton barking like a dog.
"I think Gloria [Allred] would be very very impressed with [my penis]!"
"You know, it doesn't really matter what [the media] write as long as you've got a young and beautiful piece of ass."
"When a man leaves a woman, especially when it was perceived that he has left for a piece of ass—a good one!—there are 50 percent of the population who will love the woman who was left."
"Oftentimes when I was sleeping with one of the top women in the world I would say to myself, thinking about me as a boy from Queens, 'Can you believe what I am getting?'"
He spoke often of Princess Diana, saying he would have bedded her "without hesitation" because "She had the height, she had the beauty, she had the skin. She was crazy, but these are minor details."
"Why do people think it's egotistical of you to say you could've gotten with Lady Di?" Howard Stern asked. "You could've gotten her, right? You could've nailed her." Trump agreed: "I think I could have."
Eva Longoria? "She's really cute, I have to tell you, she's really bouncy, really cute," Trump told Howard Stern in 2005. "She's about 5-foot-1. Do you like girls that are 5-foot-1? They come up to you know where."
"She's got beautiful skin," Trump added. "You have to get started, you have to like short girls. She's very, very short. You know, she goes out with a basketball player, which is interesting but she's very short."

Women's Body Fluids are Disgusting

"Disgusting" (four times) was The Donald's mocking, sneering reaction to Hillary Clinton's bathroom break at a presidential debate; Bernie Sanders also took a break but that was not "disgusting" per Trump.
When lawyer Elizabeth Beck requested a break to pump breast milk, Trump had a cow: "He got up, his face got red, he shook his finger at me and he screamed, 'You're disgusting, you're disgusting,' and he ran out of there."
Trump also went on the rag about menstruation, claiming there was blood coming out of Megyn Kelly's "whatever" when she asked him difficult questions during the first debate.

Donald Trump's Big Breast Fetish

"A person who is very flat-chested is very hard to be a 10," Trump told Howard Stern, in pidgin English
Trump told Howard Stern that he thinks "anyone is insane" who reduces the size of their breasts.
Trump said of Carmen Electra: "The boob job is terrible—they look like two light posts coming out of a body."
Trump reportedly said of his ex-wife Marla Maples, "Nice tits, no brains."
Trump has mentioned wanting to date his daughter Ivanka, who has obviously had a major boob job, a number of times: "[Ivanka] does have a very nice figure. I've said if Ivanka weren't my daughter, perhaps I'd be dating her."
Speaking of his daughter Ivanka again: "Yeah, she's really something, and what a beauty, that one. If I weren't happily married and, ya know, her father . . . "
Asked by Howard Stern to name the "three hottest chicks you're seen," Trump named Keira Knightley, Paris Hilton, and his daughter Ivanka. He also noted that he had watched Hilton's sex video.
Howard Stern asked Trump if he would still love Melania if she were disfigured in an accident. Trump asked, "How do the breasts look?" Assured that her breasts were fine, Trump said he would "stay with her 100 percent."
During the same interview Trump said he wouldn't take care of any kids Melania had; he'd just pay for them.
Trump's big breast fetish extends even to his infant daughter Tiffany: "Well, I think that she's got a lot of Marla, she's a really beautiful baby, and she's got Marla's legs. We don't know whether she's got this part yet [gestures toward his chest, making large breast-like circles with his hands], but time will tell."

Women Should be Judged Differently than Men: i.e., by their Looks, Sex Appeal and Husbands

"Look at that face!" Trump told a Rolling Stone reporter as Carly Fiorina appeared on TV. "Would anyone vote for that?"
"Can you imagine that, the face of our next next president? I mean, she's a woman, and I'm not supposed to say bad things, but really, folks, come on. Are we serious?"
Trump later repeated the same argument about Hillary Clinton: "Does she look presidential, fellas? Give me a break."
"It's certainly not groundbreaking news that the early victories by the women on The Apprentice were, to a very large extent, dependent on their sex appeal."
To a female reporter: "I mean, we could say politically correct [sic] that the look doesn't matter, but the look obviously matters. Like you wouldn't have your job if you weren't beautiful."
Trump has used Bill Clinton's marital infidelities to attack Hillary Clinton for "not being strong" on women's issues! [Oink! Oink! Mr. Wiggy Piggy!]
"Frankly, if Hillary Clinton were a man, I don't think she would get five percent of the vote," according to The Donald.
"I believe we're all equal except women still have to try harder and they know it. They will do what they have to do to get the job done and will not necessarily be demure about it."
Tweet: "The Miss U.S.A. pageant will be amazing tonight. To be politically incorrect, the girls (women) are REALLY BEAUTIFUL. NBC at 8 PM."
"[Hillary] was favored to win — and she got schlonged." [If a woman loses an election, it's like being inseminated by a man, according to the wisdom of The Donald.]

All Women Want The Donald

"All the women on The Apprentice flirted with me—consciously or unconsciously. That's to be expected." [It must be the hair, and the charm!]
"Their sex drive makes us look like babies." [So says the Manchild Himself!]
Trump says women throw themselves at him: "They'll walk up, and they'll flip their top, and they'll flip their panties."

Women's Looks are all that Matters! Those who are not Tens in Trump's Opinion are Disgusting and Useless!

Trump can't help insulting women for aging: "Sometimes I do go a little bit far," he allowed, adding after a moment: "Heidi Klum. Sadly, she's no longer a 10."
"Angelina Jolie has been with so many guys she makes me look like a baby ... And, I just don't even find her attractive."
"Angelina Jolie is sort of amazing [to me] because everyone thinks she's like this great beauty. And I'm not saying she's an unattractive woman, but she's not [a] beauty, by any stretch of the imagination. I really understand beauty. And I will tell you, she's not—I do own Miss Universe. I do own Miss USA. I mean I own a lot of different things. I do understand beauty, and she's not."
On Rosie O'Donnell: "You take a look at her, she's a slob. She talks like a ... like a truck driver." [And what exactly is the problem with talking like a truck driver, Mr. Boinker Oinker, when you do it yourself?]
"If I were running The View, I'd fire Rosie O'Donnell. I mean, I'd look at her right in that fat, ugly face of hers, I'd say 'Rosie, you're fired.'"
"If Hillary Clinton can't satisfy her husband what makes her think she can satisfy America?" [Is that a female president's main function: to "satisfy" men, Mr. Wiggy Piggy?]
"Cher is an average talent who's out of touch with reality. Cher is somewhat of a loser. She's lonely. She's unhappy. She's very miserable."
New York Times columnist Gail Collins wrote that Trump "sent me a copy of the column with my picture circled and 'The Face of a Dog!' written over it."
"I think the only difference between me and the other candidates is that I'm more honest and my women are more beautiful."

Wives cannot be Trusted with any Responsibility in a Trump Business, except Supporting The Donald without Reciprocity!

Trump became very irritated when his first wife Ivana tried to talk about business (rather than about him?): "I will never again give a wife responsibility within my business."
"I would never buy Ivana any decent jewels or pictures. Why give her negotiable assets?"
Trump considered it "selfish" that his second wife Marla wanted to spend more time with him: "I always viewed her whys as being very selfish."
"For a man to be successful he needs support at home, just like my father had from my mother, not someone who is always griping and bitching."
"One thing I have learned: There is high maintenance. There is low maintenance. I want no maintenance."
According to Trump, women of principle do not sign prenuptial agreements and men should not marry them; the ones who do sign are calculating gold-diggers out for a score, but marry them to save money later!
Since Trump has been married three times with three prenuptial agreements, he has called his wives gold-diggers and has advised men to only marry gold-diggers, not women of principle!

Women, However, do have One Redeeming Quality!

Despite women's general disgustingness and lack of character, an attractive woman is a "beautiful piece of ass" who may be allowed to hang around Trump for a short period of time until her looks begin to fade.
"Good looks had been my top—and sometimes, to be honest, my only—priority in my man-about-town days."
"[Ivanka] does have a very nice figure. I've said if Ivanka weren't my daughter, perhaps I'd be dating her." [Trump has said a number of times that he'd like to date his own daughter, only mentioning her looks and her body, never her character, intelligence or accomplishments.]

Donald Trump Plays Dear Abby, Dispensing Wonderful Advice about Women and Relationships!

"Often, I will tell friends whose wives are constantly nagging them about this or that that they're better off leaving and cutting their losses."
Trump called Anthony Weiner a "sleazebag" and a "perv," then mocked his wife Huma Abedin for being in love with him.
"Lolo Jones, our beautiful Olympic athlete, wants to remain a virgin until she gets married―she is great."
"@ariannahuff is unattractive both inside and out. I fully understand why her former husband left her for a man―he made a good decision."
"Everyone knows I am right that Robert Pattinson should dump Kristen Stewart. In a couple of years, he will thank me. Be smart, Robert!" [Yes, listen to Dire Abby!]
"Robert Pattinson should not take back Kristen Stewart. She cheated on him like a dog & will do it again―just watch. He can do much better!"
"@katyperry is no bargain, but I don't like John Mayer—he dates and tells—be careful Katy (just watch!)."
"Sarah Jessica Parker voted 'unsexiest woman alive' – I agree. She said 'it's beneath me to comment on the potential Obama charitable gift.' What's really beneath her?"
"While @BetteMidler is an extremely unattractive woman, I refuse to say that because I always insist on being politically correct."
"Now grotesque @BetteMidler is into the Trump act, trying to become relevant again."
Beautiful women are like beautiful buildings: "Beauty and elegance, whether in a woman, a building, or a work of art, is not just superficial or something pretty to see."
Sexual assaults are "to be expected" if women join the armed forces: "26,000 unreported sexual assaults in the military, only 238 convictions. What did these geniuses expect when they put men & women together?"
[According to Trump's "logic" we should expect lots of sexual assaults at high schools, colleges, universities, and apartment buildings ... it's only natural, after all!]

Donald Trump has only One Regret in the "Woman Department"

Trump has no regrets for his failed marriages or the many vile and insulting things he has said to and about women: "I only have one regret in the women department—that I never had the opportunity to court Lady Diana Spencer. I met her on a number of occasions. I couldn't help but notice how she moved people. She lit up the room with her charm, her presence. She was a genuine princess—a dream lady." (Would it have been, perhaps, like the Beauty and the Beast?)

Donald Trump's Top Ten Women to Bed

Melania Knauss (his third wife)
Ivana Trump (his first wife)
Princess Diana
Michelle Pfeiffer
Cameron Diaz
Julia Roberts
Cindy Crawford
Mariah Carey
Gwyneth Paltrow
Diane Sawyer

Out Foxed or Fox Outed?

Fox News has blasted Donald Trump for his repeated attacks on Megyn Kelly, one of the network's most prominent anchors and host of the nightly news talk show "The Kelly File." The Fox statement came after Trump sent out a tweet calling for viewers to stop watching Kelly's program. "Donald Trump's vitriolic attacks against Megyn Kelly and his extreme, sick obsession with her is beneath the dignity of a presidential candidate who wants to occupy the highest office in the land," Fox News said in its statement. "Megyn is an exemplary journalist and one of the leading anchors in America―we're extremely proud of her phenomenal work and continue to fully support her throughout every day of Trump's endless barrage of crude and sexist verbal assaults. As the mother of three young children, with a successful law career and the second highest rated show in cable news, it's especially deplorable for her to be repeatedly abused just for doing her job." Trump's attacks on Kelly began when she had the temerity to quote highly offensive things he had said publicly about Rosie O'Donnell and other women.

Chronology of Trump's Attacks on Women

This chronology was excerpted from an article in The Telegraph by Claire Cohen:

1990: In an interview with Vanity Fair, while he was still married to his first wife Ivana, Trump said: "I would never buy Ivana any decent jewels or pictures. Why give her negotiable assets?"

1991: Trump spoke to Esquire magazine about the media: "You know, it doesn't really matter what [they] write as long as you've got a young and beautiful piece of ass."

1997: Trump said that most women are gold-diggers and the ones who aren't should not be married, in Trump: The Art of the Comeback: "There are basically three types of women and reactions. One is the good woman who very much loves her future husband, solely for himself, but refuses to sign the agreement on principle. I fully understand this, but the man should take a pass anyway and find someone else. The other is the calculating woman who refuses to sign the prenuptial agreement because she is expecting to take advantage of the poor, unsuspecting sucker she's got in her grasp. There is also the woman who will openly and quickly sign a prenuptial agreement in order to make a quick hit and take the money given to her."

2004: Trump told the Daily News: "all of the women on The Apprentice flirted with me - consciously or unconsciously. That's to be expected".

2005: According to one woman who appeared on The Apprentice, Trump told her: "I bet you make a great wife".

2006: According to ABC News, Trump said "If Ivanka weren't my daughter, perhaps I'd be dating her."

2006: Trump told Entertainment Tonight: "Rosie O'Donnell is disgusting, both inside and out. If you take a look at her, she's a slob. How does she even get on television? If I were running The View, I'd fire Rosie. I'd look her right in that fat, ugly face of hers and say, 'Rosie, you're fired.' We're all a little chubby but Rosie's just worse than most of us. But it's not the chubbiness — Rosie is a very unattractive person, both inside and out." Trump also took a jab at her love life and managed to offend the LGBT community at the same time: "Rosie's a person who's very lucky to have her girlfriend. And she better be careful or I'll send one of my friends over to pick up her girlfriend, why would she stay with Rosie if she had another choice?"

2007: In Trump 101: The Way to Success, Trump compared women to buildings: "Beauty and elegance, whether in a woman, a building, or a work of art, is not just superficial or something pretty to see."

2007: On Larry King's CNN show, Trump addressed Angelina Jolie's falling out with her father Jon Voight, saying: "I really understand beauty. And I will tell you, she's not—I do own Miss Universe. I do own Miss USA. I mean I own a lot of different things. I do understand beauty, and she's not".

June 2007: Trump pitched Lady or a Tramp? This was reported to be a reality show in which 'out of control' party girls were sent to charm school to learn some manners. Because, God forbid a woman should be anything but demure.

2008: Trump called Anne Hathaway a gold-digger. When her marriage broke up, following her husband Rafaella Follierei's financial and legal troubles, Trump told Access Hollywood: "So when he had plenty of money, she liked him. But then after that, not as good, right?"

2009: Beauty queen Carrie Prejean wrote about the 'Trump rule' in her book, referring to the Miss USA pageant, of which Trump is co-owner. She claimed that the billionaire had the girls parade in front of him, so he could separate those he found attractive from those he didn't. She wrote: "Many of the girls found this exercise humiliating. Some of the girls were sobbing backstage after [he] left, devastated to have failed even before the competition really began .?.?. it was as though we had been stripped bare."

2010: According to a report in the New York Post, former female contestants on the show complained that Trump consistently objectified women. Mahsa Saeidi-Azcuy claimed: "So much of the boardroom discussion concerned the appearance of the female contestants—discussing the female contestants' looks—who he found to be hot. "He asked the men to rate the women — he went down the line and asked the guys, 'Who's the most beautiful on the women's team?'" Gene Folkes, a 46-year-old financial adviser, said: "I think it was most uncomfortable when he had one [female] contestant come around the board table and twirl around."

2011: Trump was in court testifying in a deposition over a failed Florida real estate project, when lawyer Elizabeth Beck asked to take a break to breastfeed her three-month old daughter. Trump and his team objected, so she pulled out her breast pump to prove it. In an incident that the Republican presidential candidate 'does not dispute', he walked out of the room, telling Beck she was 'disgusting'.

2011: After New York Times columnist Gail Collins wrote about rumours of Trump's bankruptcy, he sent her a copy of her own article, with her picture circled and 'the face of a dog!' scrawled across it.

2012: In 2012, transgender Miss Universe contestant Jenna Talackova was kicked out of the contest for not having declared her trans status in her entry (the pageant does now accept trans people). Talackova's lawyer, Gloria Allred, angrily said that no one had asked Trump to 'prove' he was a man by showing his anatomy. In response, Trump called TMZ Live and said of his penis: "I think Gloria would be very impressed".

2012: Cher criticised Trump's friend and right-wing politician Mitt Romney. His response? To attack her appearance, of course.

2012: Huffington Post editor and co-founder Arianna Huffington is a regular target of Trump's. But instead of attacking her liberal views, he tends to criticise her looks and make jokes about her divorce: "@ariannahuff is unattractive both inside and out. I fully understand why her former husband left her for a man — he made a good decision."

2013: "@ForeverMcIn: @realDonaldTrump how much would it take for you to make out with Rosie O'Donnell?" One trillion, at least!"

2013: Former Playboy playmate Brande Roderick was a contestant on Celebrity Apprentice in the US. During a tense boardroom battle, she knelt in front of Trump – who takes the Alan Sugar role — to ask him whether she could be the next project manager. After a six second silence (an eternity on TV), during which Trump presumably willed some blood to return to his head — he said: "It must be a pretty picture. You dropping to your knees". Because isn't that woman's place in the boardroom — on her knees, begging a man for favors?

2013: Rather than, say, questioning why so many assaults go unreported or why so few perpetrators are brought to justice. Nope, it must be down to the fact that women and men just can't share the same living quarters: "26,000 unreported sexual assaults in the military — only 238 convictions. What did these geniuses expect when they put men & women together?"

2015: Having previously supported the pro-choice lobby, Trump has now changed his stance on abortion to fit in with the Republican party. He's also said he'd be willing to shut down the US Government to defund non-profit reproductive health organisation Planned Parenthood. He told the Des Moines Register: "In thinking about it over the years, I've had instances, and one instance in particular, a friend had a child who they were going to abort, and now they have it, and the child is incredible. And the man, he changed his views also because of that."

2015: "How much money is the extremely unattractive (both inside and out) Arianna Huffington paying her poor ex-hubby for the use of his name?"

2015: Trump said Hillary couldn't 'satisfy' her husband and therefore couldn't satisfy America, in a thinly veiled reference to Bill Clinton's affair with Monica Lewinsky. Where most of Trump's sexist tweets remain, this one has mysteriously disappeared from the social media site.

2015: Megyn Kelly hosted the first Republican debate of the US Presidential campaign and gave Trump a tough time over previous accusations of sexism against him (really, we can't imagine why). After the debate, he responded by seeming to call her a 'bimbo' on Twitter: "@timjcam: @megynkelly @FrankLuntz @realDonaldTrump Fox viewers give low marks to bimbo @MegynKelly will consider other programs!" And in a later CNN interview Trump suggested her questioning was because of her period: "You could see there was blood coming out of her eyes. Blood coming out of her wherever." Trump has denied this was his intention.

2015: In an interview with the New York Times, Trump said: "Heidi Klum. Sadly, she's no longer a 10." In response, Klum posted a video on Twitter in which she wore a t-shirt with '9.9' written on it.

2015: Carly Fiorina was Trump's Republican candidate rival. According to Rolling Stone, he said: "Look at that face. Could anyone vote for that? Can you imagine that, the face of our next next president? I mean, she's a woman, and I'm not supposed to say bad things, but really, folks, come on. Are we serious?"

2015: Trump insulted Fiorina again when he singled her out for a dressing down, ignoring the fact his male counterparts were also talking over one another. His comment: "Why does she keep interrupting everybody?" was immediately called sexist on social media.

2016: Trump caused mass outage after advocating "some form of punishment" for women who have abortions if the practise is banned (which it likely will be if he gets his way). "There has to be some form of punishment," he told MSNBC, referring to women who would seek to defy the ban he proposes. Trump reversed his position two hours later, with a statement saying that he would punish doctors who performed abortions but not the women themselves.

2016: After Hillary Clinton criticised his piggish stance on women's issues, Trump hit back by accusing her of being an "enabler" of her husband's affairs. At a rally, he said: "Bill Clinton was the worst in history and I have to listen to her talking about it?" He said in Eugene, Oregon: "Just remember this: She was an unbelievably nasty, mean enabler."

2016: Trump 'apologized' to Megyn Kelly for suggesting she was on her period when she took him to task for previous sexist comments. When asked about calling Kelly a 'bimbo', Trump replied: "Did I say that? Excuse me." But he couldn't resist adding another jibe: "Over your life, Megyn, you've been called a lot worse, wouldn't you say?"

2016: Trump insulted the Rev. Faith Green Timmons, the pastor of a Flint, Michigan church, calling her a "nervous mess," after she asked him not to give a political speech to her congregation.

Related pages: The Best Donald Trump Puns, The Best Donald Trump Insults, 2016 Republican First Presidential Debate: Winners, Losers and Impressions, Is there a Republican War on Women?, The Donald Trump Bible or The Gospel According to Trump, The Best Ted Cruz Jokes, Conservatives Who Support Gay Marriage, Ten Reasons to "Fire" Donald Trump, Ted Cruz Quotes, Donald Trump: 666 Mark of the Beast, Marco Rubio Nicknames, Is Donald Trump the Antichrist?, Donald Trump Violence Quotes, Trump Trivia, Donald Trump in his Own Words: Fact-Checking Trump, Donald Trump Funny Campaign Slogans and Parodies, Donald Trump Halloween Ideas, Donald Trump Poetry

The HyperTexts