The HyperTexts

Sarah Huckabee Sanders Nicknames: Suckup, Suckmypee, Spokestoady, Possum Queen, Hick Morticia, Basic Atrocity, etc.
Sarah Huckabee Sanders Jokes by Stephen Colbert, Jimmy Kimmel, Trevor Noah, Conan O'Brien, SNL, Jim Carrey, Michelle Wolf
Sarah Huckabee Sanders Quotes

This page contains the best Sarah Huckabee Sanders nicknames, jokes and quotes that I have been able to find, and some that I came up with myself ...

Related pages: Donald Trump: 666 Mark of the Beast, Is Donald Trump the Antichrist?

White House Press Secretary Sarah Huckabee Sanders has an amazing superpower ... she can make Sean "Scary" Spicer seem almost normal, and half-way respectable! She is, of course, the daughter of Mike "Huckster" Huckabee, also known as "Huckleberry Spin." Together, they have created more whiffable spin that a Clayton Kershaw curveball. And they undoubtedly inspired the song that goes: "If your lips are movin', then you lie, lie, lie!"




Sarah "Suck My Pee" Sanders with "White Ho" in the background!

The Top Ten Sarah Huckabee Sanders Nicknames ... Oh Hell, Make it the Top Fifty!

Sarah "Suckmypee" Sanders (Michael R. Burch)
Sarah Suckup
Sarah Suckabee
Sarah Succubus
Sarah Drunkabee Sanders (Jimmy Kimmel)
Let It Huckabee (Trevor Noah)
I Shart Huckabees (Chris Hardwick)

Sarah Hucka-Sands (Stephen Colbert)
Possum Queen
Hick Morticia
Sister Smother
Sister Wife (Cher)
Kentucky Fried
Miss Ark and Saw
Miss HarkandSaw
Cousin Huckabee (Michelle Wolf)
Auntie Huckabee Sanders (Michelle Wolf)
Aunt Coulter (Michelle Wolf)
Aunt Lydia (Michelle Wolf)

"I have to say I'm a little star-struck. I love you as Aunt Lydia in 'The Handmaid's Tale.' Mike Pence, if you haven't seen it, you would love it."—Michelle Wolf

Slightly Chunky Soccer Mom (David Horsey)
Butch Queen (Ira Madison)
Vice Principal reassessing her life choices (Stephen Colbert alter ego)

Infamous Perma-Grimace (Vogue)
A Proper Trollop (Chelsea Handler)
Troll-Op (Michael R. Burch)
Basic Atrocity

Spokestoady
The Spinstress
The Spin Mistress
The Spinster
Miss Misinformation
Miss Pinocchio
Sarah Slanders
Miss Fake News Spews
The Press Drek-retary

In November 2017, Sarah Huckabee Sanders assured the American public that no one in Trump's administration supports slavery! "To put that into perspective," Conan O'Brien joked, "the last press secretary who had to make that claim worked for Ulysses S. Grant."

Miss Shutdown
The Shutdown Queen
Trump's Shutdown Apologist

Sarah Hucksterbee
Hucklescary Finn
Miss Huckster
Sexist Shade (after Sanders condemned Nancy Pelosi for not smiling more!)
Not-So-Slim Shady

The Trump Whisperer
The Trump Hisser
The Trump A$$ki$$er

Elvira Mistress of the Trailer Park
Miss Deliverance
Miss Devil Rants
Backslidden Christian Girl Serving the Antichrist
Miss Armageddon

Huckabeast Junior
Gorilla My Dreams
Gorilla Griller
Gorilla Gurl
The Ouachita Cheetah
Monstrous (Jim Carrey)

"This is the portrait of a so-called Christian whose only purpose in life is to lie for the wicked. Monstrous!"—Jim Carrey

Superchurl and Superhurl (puns on Supergirl)
The Wicked Witch of the West Wing
The Wicked Witch of the White House
The Wicked Witch of the White Trash
Miss Manners (she said it was "highly inappropriate" to debate a four-star general, even when he's obviously wrong)
Sarah "Third Degree" Sanders (by Allan Ishac for "her ability to completely ignore or dodge reporters questions with bullshit answers and outright lies even under duress.")

Dishonorable Mention: Women's Fibber, Gomer Pile On II, The Gomerette, Elmira Gantry, Elvira Gantry, Cruella de Vile, Miss Little Roc, Miss Pine Bluff, Funny Farm Girl, The Hee Hawer, Blunder Woman, Slimy Sellout, Train Wreck, Miss Derailment, Faux News Vixen, Lil' Spice, Less Seasoned Spice, Spiced Rack, Five Alarm Filly, Trump's Dishonor Guard, Keeper of the Shame, Keeper of the Slime, Swampy, The Swamp Queen, Ante Bell Mum, The Funny Farm Schoolmarm, The Pig Hollow Wallower, Hog Slop Barbie, Boondocks Barbie, A Proper Trollop (Chelsea Handler), The Verminator, Tacky Lackey, The Factose Intolerant Surrogate, Dark Side of the Gorse, The Chosen One, Miss Evangelical Hell, Pickle, Sour Pickle, Sourpuss, Miss Perma-Grimace (Nicki Swift, Vogue), Dumb-Dumb (Stephen Colbert), Fat Mouth (Sam Nunberg), Cactus Bread Winner, Alternate Reality Spokesmodel (Hillary Clinton), Alt-Right Spokesmodel, True Deceiver, Fake News Faucet, Girlzilla, Third Degree (Allan Ishac), The Red Hen, Chicken Shittle, The Red Queen ("Off with their heads!"), The Arkansas Medusa, The AmeriKKKan Goebbels, Deputy Dawg, KFC, Miss Duck Dynasty, Miss vICE, Professional Liar (Walter Einenkel), Sarah Hucksa, Sarah Hucksta, Sarah Huckster, Sarah Hucksands, Sarah Huckasands (Stephen Colbert), Sarah Quicksand, Sarah Terror, Sarah Error

Mike Huckabee Nicknames: Judas, Huckster Huckabee, Huckleberry Spin, Huckmaster General, Huck Fuckabee, Huck Upchuck, Hick Muckabee, Huck Suckmypee, The Muckster, Brother Smother, Tax Hike Mike, Triple Wide, Duck Hunter, Uncle Sugar (he once said that the only reason women voted for Democrats was because Uncle Sugar promised to pay for their birth control), Pop Sugar, Gomer Pile On I, Huckabeast Senior, Huck-a-doodle-doo, Huck Cuck

The Ditzy Chicks are Sarah Huckabee Sanders, Kellyanne Conway and Hope Hicks!

The Top Ten Jeff Sessions Nicknames




Separated at birth? Here is unmistakable proof that Jeff "Granny" Sessions is the identical twin of another notorious scold ... Granny Clampett!

Granny and Granny Clampett
The Scold
Shocked Grandma (Stephen Colbert "alter ego")
The Washington Hillbully
Possum Boy and Half-Possum (SNL's Kate McKinnon)
Buford T. Injustice
Evil Snoats
The Blight Supremacist
The Hobbit (Trevor Noah)
Bill Dough Baggins (Michael R. Burch)
Forest Gnome (Stephen Colbert), The Keebler Elf and The Feebler Elf
Darth Leprechaun (Michael R. Burch)

Dishonorable Mention: Darth Yoda, Cloverleaf Pixie watching people have sex (Stephen Colbert "alter ego"), Albino Smurf (Stephen Colbert "alter ego"), Nervous Tick (Conan O'Brien), Nervous Nellie, Kangaroo Court Sessions,
Hessian Sessions, Secessionist Sessions, Stressin' Sessions (Elizabeth Harris Burch), Stonewall Sessions, Jefferson "No Regard" Sessions (his full name is Jefferson Beauregard Sessions), Bo Retard, Detour-ney General, Round-a-Bout Bubba, Shirknado (Michael R. Burch), Perjurer General, Nuts (Donald Trump), The Wall Nut (this nut didn't fall too far from the racist family tree), Nut Boy, The Squirrel, Squirrely Sessions, Mutt and Jeff, Nutt and Jeff, The Turnip of Hate (Stephen Colbert "alter ego"), Doll carved from an apple (Stephen Colbert "alter ego")




This is a disappointment, a disappointment indeed! I regret that our efforts [to rob 30 million Americans of decent healthcare] were simply not enough this time!―Mitch McConHell

The Top Ten Mitch McConnell Nicknames

The Turtle (Jon Stewart) and The Napping Turtle (Michael R. Burch)
Fuckface McTurtlebitch
Mitch MuckSquirtle
Shirknado and Shirknerdough (Michael R. Burch)
The Hyperactive Death Hamster
The Lethal Chipmunk
Angry Cheek Pouches
Koch Addict (Michael R. Burch)
Mitch McConHell (Michael R. Burch)
Mitch the Snitch / Mitch the Bitch / Mitch the Snitch-Bitch / Mitch the Glitch / Mitch the Twitch / Mitch the Shitz / Mitch the Fritz / Mitch Switch Bait / Pitchman Mitch / Ditch McConnell (as we all should!)

Please click here for all Mitch McConnell Nicknames

It has been scientifically proven that Anthony Scaramucci's blow-dryer, by evaporating massive quantities of hair gel and other hair products, is now the leading cause of global warming!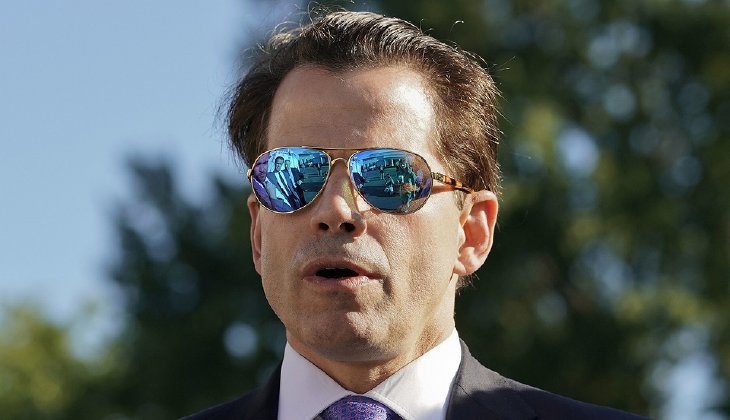 The Top Ten Anthony Scaramucci Nicknames

The Mooch (incredibly this is what the Grate Communicator calls himself!) and The Mooch Smooch (Trevor Noah)
A$$ki$$er (Michael R. Burch)
Ass Smooch and The Ass Smoocher
Loose Lips Scaramucci (his lips, although flapping loosely, are firmly planted in Trump's pale orange posterior)
Spokestoady and The Incredible Shrinking Spokesman
The Honeymooner (he asked his new staff to give him a "honeymoon" without leaks)
Sir Leakalot (immediately after complaining about leaks, ScaryMooch leaked the fact that Reince Priebus would be asked to resign)
The Straight Shooter (he keeps shooting himself straight in the foot)
The A$$a$$in (he expressed a desire to personally "kill" the leakers even though it was only a dinner list!)
Mr. Irreconcilable Deferences (Michael R. Burch)

Dishonorable Mention: The Hedge Hog (Scaramucci is a hedge fund manager), Mr. Sicko Pants (Scaramucci panted after Trump like a love-sick hound in heat), Mr. Sicko-Fancy (Michael R. Burch), The Human Pinky Ring (Seth Myers), The Human Toilet Plunger (Trump gold-plates his toilets, the Scary Moocher plunges in!), The Human Blow Dryer, Mr. Hair Gel, Deputy DIP-pity-'Do (Michael R. Burch), Spritz Monkey, Spritz Flunkey, The Shitz, Little Anthony and the Diphtherials (Michael R. Burch), Fandango, High C-Note Tony, Little Tony Soprano (Michael R. Burch), The 'Do-Whopper (Michael R. Burch), Frankie Death Valley, Little Tony Tutone (Scaramucci recently cornered the world markets for bronzer and hair gel), Cain, His Brother's Bleeper (Michael R. Burch), Two-Faced Scaramucci (likely to be the lead villain in the next Bratman movie)

Please click here for all Anthony Scaramucci Nicknames

Have no fear, Acting President Jared Kushner is here! Cushy Kushner makes all the major decisions while Truant Trump tweets, poses for photo-ops, gropes women's genitals, sentences babies and grannies to death, cheats at golf, then brags about his "accomplishments" and campaigns for reelection.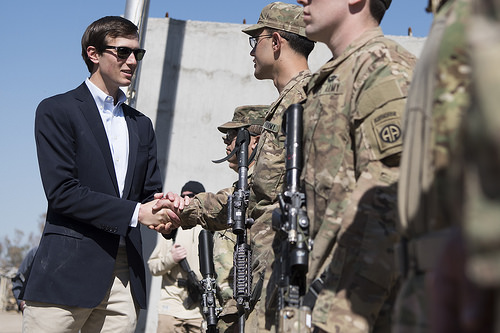 We can all breathe a sigh of relief because Jarhead Kushner is at the ISIS front, using his real-estate negotiation skills to counsel our enemies and console our troops! Trump's youthful Aide de Kampf will never rest until WWIII is well underway, and completely irreversible. There will soon be a remake of Full Metal Jacket starring Jarring Kushner in Full Dinner Jacket (and Tie). Little Lord Fauntleroy will also star in Ralph Lauren of Arabia, The Shilling Fields, PeeWee's Big Adventure and Guess Who's Coming to Dinner then Whines about the K-Rations.

The Top Ten Jared Kushner Nicknames

Vanilla ISIS
Ralph Lauren of Arabia (@ChannelTrump)
Cushy Kushner and Little Cushball (Alec Baldwin on SNL)
Aide de Kampf (Michael R. Burch)
Acting President Kushner
Coup D'Tot (Michael R. Burch)
Little Lord Fauntleroy (Duratti on Daily Kos)
The Easebroker (expecting Jared Kusher to produce peace in the Middle East is like believing in the Tooth Fairy!)
Fratsputin
Putin's Protégé

Dishonorable Mention: Putin's American Viceroy, Putin's American Vice-Boy, Putin's Cush-Toy, Putin's Puppet, Putin's Poppet, Putin's Proxy, Comrade Kushner, The Air (Steve Bannon, because Kushner glides in and out like a puff of air), The Secretary of Everything (his White House nickname), Madame Secretary, Jared the Pallid, The Paladin, Jared the Unready, Fully Transparent Boy (he claimed to be "fully transparent" on Russia.), Poor Little Rich Bitch, Little Jared (Ana Navarro), Baby Boy (Ana Navarro), Jarhead, Jarred Jared, Jarring Kushner, The Boy Blunder, Nimrod (Nimrod, the son of Kush, was the founder of Babylon), Son of Babylon (the name Jared means "descent" so he is the "Son of Kush," the patriarch of Babylon), The Crown Prince of Babble-On, Lucifer Incarnate, Channel 666 (Jared Kushner and his wife Ivanka Trump own 666 Fifth Avenue, purchased for $1.8 billion or 6+6+6 billion), The Neophyte, Complete Fucking Idiot (Samantha Bee), The Piece Broker, The Piss Broker

Please click here for all Jared Kushner Nicknames

The Top Ten Ivanka Trump Nicknames

Ivanka Tramp
Ivanka Wanker (I Wanna Wank Her)
Ivanka Spanker (I Wanna Spank Her)
Proxy Wife
Nordic Goddess and The Norwegian Wood Inducer
Trophy Daughter and The First Lady-Daughter
Kushner's Crush and Kushner's Cush Toy
The Favorite and The Hot One
The Smart One and Michael (after Michael Corleone, "the smart one" in the Godfather movies)
I Candy

Please click here for all Ivanka Trump Nicknames

The Top Ten Steve Bannon Nicknames

Acting President Bannon
The Ringleader
The White Nationalist Torchbearer
Trump's Torch
My Steve (Donald Trump)
Trump's Brain (Elizabeth Williamson)
Loose Cannon Bannon
Mr. Alt-Right
Darth Bannon
The Great Boor of Babble-On

Dishonorable Mention: Trump's Thomas Cromwell (Bannon himself), Stone Cold Crazy Steve Bannon, Mr. Alt-Reich, The Alt-Reichmaster, Mr. ALT-CONTROL-DELETE, The Alt-Right Igniter, The Breitbart Fart, Stephen KKK Bannon, Darkness Incarnate, The AmeriKlan Idol, Deceivin' Stephen, Darth Vader, Sith Lord Bannon, Darth Insidious, Sauron, Sour-Hun, The Great Manipulator (TIME), The Amerikan Goebbels, The Hunchback of Notre Dame, (David Letterman), Deep State Stephen, Supremacist Steve, Stephen Stipulator, The Svengali, Gríma Wormtongue, The Alt-Right Ideologue (Elizabeth Williamson), Bannon the Barbarian, The Leninist, Bye Bye Bannon, Banned Bannon,
Ban on Bannon, Trump's Eminence Grise (David A. Graham)

The Top Ten Donald Trump Nicknames ... Oh Hell ... So MANY to Choose from ... Better Make it the Top 1,000!

(#1) Number one, with a bullet: THE ANTICHRIST — by God and the Hebrew prophets — when they spoke of "the Trump of Doom" and a "little horn" were they speaking literally? (For a YUGE slew of 666 connections, see Is Donald Trump the Antichrist?)
(#2) Short-Fingered Vulgarian — by Graydon Carter
(#3) Agent Orange — by Anonymous (not sure if it was coined by the hacker group Anonymous, but this is one of my all-time favorites)
(#4) Golden Wrecking Ball — by Sarah Palin (who was not trying to be funny, but ended up being all too accurate ... so sad!)
(#5) Fuckface von Clownstick, Comedy Entrapment and Unrepentant Narcissistic Asshole (the UNAbomber?) — by Jon Stewart
(#6) The White Kanye ― by Bill Maher (or is Trump more accurately the Yellow-ish-Orange Kanye?)
(#7) Lord Voldemort, Orange Anus and Snake Oil Salesman — by Rosie O'Donnell
(#8) The Trump of Doom — by Michael R. Burch (adopted from the Bible and first used in a possibly prophetic Facebook post on September 11, 2015)
(#9) Thurston Shitbag the Third — by Bill Maher
(#10) Man-Baby — by Jon Stewart ... this one inspired a slew of jokes and similar nicknames ...

Please click here for all Donald Trump Nicknames

Q: What do you call it when a Man-Baby takes over the American government?
A: Coup d'Tot!