The HyperTexts

Famous Full-Figured Women and Buxom Women

Some of the world's loveliest and sexiest women were full-figured beauties, with ample hips, waists, thighs and breasts. Younger readers may not recognize names like Gypsy Rose Lee, our pick for the most beautiful full-figured woman of all time, so we have given a brief explanation of how we came to our decision. Pictures of a number of our choices appear below.

Related Pages: Famous Beauties with Small Breasts

Lynda Carter as Wonder Woman aka Diana Prince




The Top Ten Most Beautiful Full-Figured Women of All Time, according to The HyperTexts

(10) Tyra Banks (36-27-36), Tara Lynn (38-34-47), Kate Upton (39-28-36), Crystal Renn (39-32-43) and Ashley Graham (42-30-46); these buxom supermodels prove size zero does not rule the fashion runways and Ashley Graham now has her own lingerie line!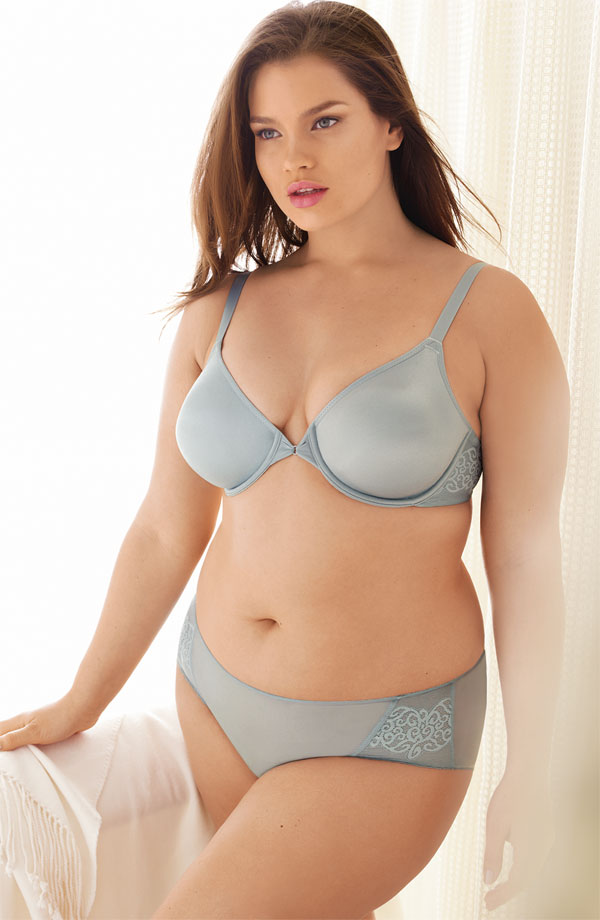 (9) Sofia Vergara (38-28-39) and Serena Williams (40-30-44) aka "Mamma Smash"
(8) Christina Hendricks (42-30-39)
(7) Raquel Welch (37-24-36) and "Wonder Woman" Lynda Carter (37-25-35)




(6) Anita Eckberg (40-24-36) and Ursula Andress (38-25-35)
(5) Beyoncé (35-26-39) and Kim Kardashian (38-26-42)
(4) Sophia Loren (38-24-38), Gina Lollobrigida (36-22-35)
(3) Elizabeth Taylor (36-21*-36) and Claudia Cardinale (37-23-37)




(2) Marilyn Monroe (35-28*-35)

* We know from her clothing that Marilyn Monroe's waistline fluctuated. She was never "fat" and even at her heaviest weight, around 140 pounds, she maintained an hourglass figure. According to reports based on clothes she wore that were later auctioned off, Marilyn's waistline fluctuated from around 23 to 28 inches.




(1) Gypsy Rose Lee (37-23-36)




Many of the women listed here had smaller waists when younger and naturally gained some weight as they matured. For instance, Elizabeth Taylor had a teeny-tiny waist when she was young and put on weight quite naturally over the years. The figures cited here are given only to indicate general dimensions and may not be authenticated. We are not fans of terms like "plus-sized." If a woman is happy with her body, she is "perfect-sized," for her! And that goes for less voluptuous women as well. From Twiggy and Kate Moss to the women above and below, beauty comes in all shapes and sizes.

We would like to give a special Honorable Mention to Alicia Machado, the Miss Universe who was body-shamed by Donald Trump after winning the contest in 1996. She was a teenager at the time and he mocked her for gaining a few pounds, calling her Miss Piggy, Miss Eating Machine and Miss Housecleaning (presumably because she is Latino and that is what female Latinos are good for, according to The Donald).―Michael R. Burch, Editor, The HyperTexts

First Family Measurements: Melania Knauss Trump (38-26-37), Ivanka Trump (38-26-36), Ivana Trump (35-25-35), Tiffany Trump (34-24-35), Marla Maples Trump (34-24-35)

On the brighter side, both society in general and the modeling world are becoming more accepting of "diversity" in female figures. Tess Holliday, five-foot-five and size 22, recently became "the first woman of her size and height to score a contract with a prominent modeling agency." Kudos to her and to her agency, MLK Management! Holliday has been on the cover of People and was featured in Vogue Italia. Georgina Burke has graced (and scorched) the cover of Torrid. Ashley Graham threatened a

nuclear

meltdown of the cover of Maxim. Laura Catterall was on the cover of French Cosmopolitan. Justine Legault covered Elle Quebec. Tara Lynn is known as "The Body" and specializes in lingerie shoots. She has been on the covers of Elle France and Elle Spain. The full-figured model has indeed "come a long way, baby."

Natural Model Management is "one of the largest and most successful modeling agencies representing plus-size models and models with curves." Their portfolio includes Tabria Majors, a former volleyball player who is now a finalist in a competition to become a Sports Illustrated swimsuit model. Majors "was selected as one of six finalists from more than 5,000 submissions worldwide in an open audition earlier this year." At a fit, healthy and vigorous five-foot-ten and 218 pounds, she presents a refreshing contrast to the typical "rail-thin, bikini-clad" SI model. (Again, there is nothing wrong with being waifish, rail-thin, etc., as long as girls and women are not malnourishing themselves in the quest for thinness. But neither is there anything wrong with being heavier, if the extra weight is not unhealthy. If there is a health problem, there should be no social stigma in either case. It is time to leave body-shaming to the dark past, along with witch hunts, female circumcision and sexual slavery.)

Honorable Mention: Other full-figured beauties include Ann-Margret, Farrah Abraham, Kirstie Alley, Loni Anderson, Pamela Anderson, Adrienne Barbeau, Drew Barrymore, Kim Basinger, Monica Bellucci, Halle Berry, Denise Bidot, Jessica Biel, Jacqueline Bisset, Kelly Brook, Delta Burke, Georgina Burke, Naomi Campbell, Laura Catterall, Cindy Crawford, Kaley Cuoco, Stormy Daniels, Brooklyn Decker, Kat Dennings, Diana Dors, Jessica Drake, Laura San Giacomo, Heather Graham, Jean Harlow, Rita Hayworth, Paris Hilton, Salma Hayek, Tess Holliday, Candice Huffine, Kylie Jenner, Scarlett Johansson, Khloe Kardashian, Heidi Klum, Philomena Kwao, Queen Latifah, Robyn Lawley, Jennifer Lawrence, Kelly LeBrock, Precious Lee, Justine Legault, Blake Lively, Lindsay Lohan, Jennifer Love-Hewitt, Tara Lynn, Elle MacPherson, Holly Madison, Tabria Majors, Jayne Mansfield, Jenny McCarthy, Melissa McCarthy, Charlotte McKinney, Denise Milani, Alyssa Milano, Marisa Miller, Heidi Montag, Megan Mullally, Aubrey O'Day, Gail O'Grady, Rita Ora, Louise O'Reilly, Bettie Page, Katy Perry, Lucy Pinder, Laura Prepon, Katie Price, Emily Ratajakowski, Denise Richards, Mimi Rogers, Amber Rose, Maya Rudolph, Jane Russell, Lillian Russell, Katey Sagal, Susan Sarandon, Ann Savage, Amy Schumer, Jill Scott, Rhonda Shear, Jessica Simpson, Anna Nicole Smith, Suzanne Somers, Britney Spears, Courtney Stodden, Trish Stratus, Tempest Storm, Tiffani-Amber Thiessen, Jennifer Tilly, Mae West, Kendra Wilkinson, Esther Williams, Venus Williams, Oprah Winfrey, Kate Winslet, Jordyn Woods, Katya Zharkova

Gypsy Rose Lee [1911-1970]




Gypsy Rose Lee was a famous burlesque performer known far and wide for her stripteases. But she was also a dancer, actress, producer, author, and playwright whose 1957 memoir was made into the highly successful and popular stage musical and film Gypsy. She also wrote a mystery novel called The G-String Murders and co-produced a musical revue called Star and Garter. It is said that her first striptease was accidental, occurring when the strap of her gown broke, causing it to fall to the floor during one of her acts. She went on to develop a more casual style of striptease, emphasizing the "tease" and incorporating humor. She was frequently arrested during police raids on her performances, which would be considered to be quite tame and in good taste today. She stopped stripping at age 42, but never lost her sense of humor. After her retirement she would garden in a bikini and two aprons; she explained that the apron in the front was to hold her tools, and the one in the back was "to keep the cops away."

Gypsy Rose Lee is our choice for number one for three very important reasons. First, she was stunningly beautiful and certainly qualifies in that regard. Second, she was a full-figured woman who was not ashamed of her body. But third and perhaps more importantly, she was, in her unique way, a leader in the anti-body-shaming movement. A woman ought to have the right to decide what to reveal, and what not to reveal, of her body. Our fabulous Gypsy decided that she didn't mind disrobing in return for monetary compensation. As a result, she was sometimes arrested and often harassed. But she was a pioneer in her field, s

o that

today if models, actresses and singers don't mind revealing their bodies in return for money, fame or other forms of compensation, they are free to do so. In our opinion, they owe a great debt to our fabulous Gypsy and other daring women like Bettie Page, Tempest Storm and Marilyn Monroe, who made it possible for women to choose what to reveal, and what not to reveal, rather than being dick-tated to (if you'll pardon the pun) by puritanical and hypocritical men. When I was a boy, I was awed by their audacity and courage. And I'm still awed by them today. To me the "bad girls" like Gypsy Rose Lee and Marilyn Monroe were the very best kind. They weren't hurting anyone. They made millions of men very happy, and probably a lot of women too. And they helped billions of women around the globe in the struggle to for equality. In terms of figures and beauty alone, really any woman on this list could be number one. But in my opinion, the two most influential women in the anti-body-shaming movement are Marilyn Monroe and Gypsy Rose Lee. There would be no Madonna without Marilyn Monroe, and thus no Miley Cyrus, no Lady Gaga, no Britney Spears. But our fabulous Gypsy came first, and was even more audacious: risking arrests, imprisonment, fines and the outrage of hypocritical moralizers to share whatever she cared to shared with her fans. She put the "tease" in striptease, inventing a new form of art. She put the "ass" in class by stripping with style and good humor. She was a star who vastly outshone her narrow-minded critics. There would be no Dita Von Teese without Gypsy Rose Lee, but her influence goes far beyond modern burlesque. I think every modern girl or woman who says, "It's my body and I'll decide how to dress it, when to undress it, and what to do with it" is in her debt.―Michael R. Burch, editor, The HyperTexts

Body and Face Shaming: Women insulted by Donald Trump before and/or during his presidential campaign include Rosie O'Donnell, Bette Middler, Cher, Megyn Kelly, Ariana Huffington, Carly Fiorina and Hillary Clinton.

Can't Win for Losing: Women who have been criticized for gaining weight and/or for losing it include Adele, Christina Aguilera, Kirstie Alley, Ireland Baldwin, Tyra Banks, Drew Barrymore, Victoria Beckham, Kelly Clarkson, Cheryl Cole, Miley Cyrus, Hilary Duff, America Ferrera, Megan Fox, Lady Gaga, Katie Holmes, Jennifer Hudson, Angelina Jolie, Khloe Kardashian, Kim Kardashian, Keira Knightley, Jennifer Lopez, Demi Lovato, Courtney Love, Kate Middleton, Kelly Osbourne, Sarah Jessica Parker, Tara Reid, Crystal Renn, Nicole Richie, LeeAnn Rimes, Ashlee Simpson, Tori Spelling, Candice Swanepoel, Oprah Winfrey, Renee Zellweger, Rachel Zoe

Underwear Wars: Female celebrities who fought back after body shaming and bullying by posting pictures of themselves in their underwear, bikinis, nude or in other provocative poses include Tyra Banks (by wearing a vilified swimsuit and telling naysayers to kiss her ass!), Beyoncé (by writing the song "Bootylicious" in response), Mariah Carey (by insisting that Page Six feel her toned thighs and butt!), Miley Cyrus (with lots of provocative pictures), Lady Gaga (by posting pictures of herself as a young bulimic in panties and bra), Selena Gomez (with a very sexy album cover), Jennifer Love Hewitt (by posing in a bikini for the cover of Shape), Kim Kardashian (by posting nude pictures of herself online with strategically placed black bars), Jessica Simpson (by posing pregnant for the cover of Elle), Demi Lovato (with a nude photo shoot for Vanity Fair), and Kate Upton (by becoming the Sports Illustrated swimsuit cover girl two years in a row after being called "fat"!)

The Ultimate Irony? Scarlett Johansson has lost roles because her curves are "too sexy"!

Mirror, mirror on the wall, who's the most buxom beauty of all? According to reports (which we have unfortunately been unable to verify directly), here's the cleavage scoop: Vivien Leigh (32A), Kate Moss (32A), Iman (32A), Audrey Hepburn (34A), Goldie Hawn (34A), Grace Kelly (34A), Cher (32B), Natalie Wood (32B), Katherine Hepburn (34B), Cindy Crawford (34B), Greta Garbo (35B), Brigitte Bardot (36B), Doris Day (36B), Esther Williams (36B), Bette Davis (34C), Kate Winslet (34C), Elle MacPherson (34C), Monica Bellucci (34C), Scarlett Johansson (34C), Suzanne Somers (35C), Elizabeth Taylor (36C), Rita Hayworth (36C), Kim Novak (36C), Halle Berry (36C), Salma Hayek (36C), Jennifer Love-Hewitt (36C), Brigitte Nielsen (36C), Christie Brinkley (36C), Sophia Loren (38C), Molly Ringwald (38C), Kim Kardashian (32D), Katy Perry (32D), Loni Anderson (34D), Marilyn Monroe (36D), Bettie Page (36D), Anita Eckberg (36D), Carmen Electra (36D), Shania Twain (36D), Courtney Stodden (36D), Shannon Elizabeth (36D), Claudia Cardinale (37C), Susan Sarandon (37C), Gypsy Rose Lee (37?), Raquel Welch (37D), Ursula Andress (37D), Jacqueline Bisset (37D), Jane Russell (38D), Lynda Carter (38D), Mae West (38D), Jenny McCarthy (38D), Ashley Graham (38D), Carmen Russo (39C), Jayne Mansfield (40D), Gemma Atkinson (32DD), Kelly Brook (34DD), Tyra Banks (34DD), Kat Dennings (36DD), Pamela Anderson (36DD), Dolly Parton (40DD), Anna Nicole Smith (42DD), Heidi Montag (34DDD), Kate Upton (34DD or 34E), Christina Aguilera (34E), Laura Wells (36E), Christina Hendricks (32F), Sofia Vergara (32F)

Raquel Welch




Famous Plus-Sized Models: Emme Aronson, Denise Bidot, Maggie Brown, Ashley Graham, Tess Henstra, Candice Huffine, Toccara Jones, Saffi Karina, Robyn Lawly, Natalie Laughlin, Tara Lynn, Chloe Marshall, Lizzie Miller, Crystal Renn, Whitney Thompson, Laura Wells

Famous Full-Figured Singers: Adele, Beyoncé, Christina Aguilera, Mariah Carey, Mama Cass Elliot, Missy Misdemeanor Elliot, Kelly Clarkson, Ella Fitzgerald, Aretha Franklin, Jennifer Hudson, Wynona Judd, Jennifer Lopez, Madonna, Ann Margaret, Katherine McPhee, Ethel Merman, Bette Middler, Dolly Parton, Katy Perry, Bernadette Peters, Pink, Rihanna, Beverly Sills, Kate Smith, Helen Terry, Big Mama Thornton, Meghan Trainor, Martha Wash, Ann Wilson, Carnie Wilson, Trisha Yearwood

Famous Statuesque Actresses, Models, Singers, Athletes and other Female Celebrities: Lauren Jackson (6' 5"), Candace Parker (6' 4"), Gabrielle Reece (6' 4"), Gwendoline Christie (6' 3"), Maria Sharpova (6' 2"), Claudia Lampe (6' 2"), Jennifer Wilson (6' 2"), Natalia Bush (6' 2"), Brigitte Nielsen (6' 1"), Amelia Vega (6' 1"), Ana Ivanovic (6' 1"), Famke Janssen (6' 0"), Uma Thurman (6' 0"), Brooke Shields (6' 0"), Geena Davis (6' 0"), Elle Macpherson (6' 0"), Susan Anton (5' 11"), Ana Beatriz Barros (5' 11"), Michelle Obama (5' 11"), Nicole Kidman (5' 11"), Sigourney Weaver (5' 11"), Taylor Swift (5' 11"), Claudia Schiffer (5' 11"), Karolina Kurkova (5' 11"), Rebecca Romijn (5' 11"), Mariel Hemingway (5' 11"), Grace Jones (5' 11"), Tilda Swinton (5' 11"), Yoanna House (5' 11"), Liv Tyler (5' 10"), Daryl Hannah (5' 10"), Adriana Lima (5' 10"), Laura Prepon (5' 10"), Blake Lively (5' 10"), Natasha Henstridge (5' 10"), Sandra Bernhard (5' 10"), Joss Stone (5' 10"), Jenna Elfman (5' 10"), Deborah Ann Woll (5' 10"), Mira Sorvino (5' 10"), Mandy Moore (5' 10"), Tina Louise (5' 9"), Hope Solo (5' 9"), Gwyneth Paltrow (5' 9"), Anne Hathaway (5' 8")

Famous Full-Figured Women in History and Mythology: Bathsheba, Cleopatra, Eve, Lilith, Frigga, Helen of Troy, Lilith, Mona Lisa, Venus, Helena Faucit (actress)

Beyoncé Knowles




Lynda Carter as Wonder Woman (while Gal Gadot is stunning, she is relatively petite at 34-23-34)




Elizabeth Taylor [1932-2011]





Lillian Russell [1860-1922]




Lillian Russell was one of the first American female celebrities. She was an actress and singer known for her stage presence. She was married four times, but her longest relationship was with Diamond Jim Brady, a man known for his enormous appetites, which included gambling, food and (as his nickname suggests) expensive jewels. Her mother was a noted feminist who became the first woman to run for mayor of New York City. In her later years Russell became an advocate of women's suffrage and was a popular lecturer and newspaper columnist.

Katherine Hepburn [1907-2003]




Scarlett Johansson




Rihanna




Ann Savage [1921-2008]




Ann Savage and I share the same birthday, February the 19th. The day I discovered her, I received a message out of the blue,Glamour, that made me think of the word's ancient connotation of a magical spell. Then, I swear, the two pictures above were the only ones I could get to paste into this page, as if she was selecting them herself! Ann Savage is best known today for her role as the cigarette-dangling, "vicious and predatory, very sexually aggressive" femme fatale Vera in the surreal film noirDetour. She has also been called "the perfect vixen."

Bettie Page [1923-2008]




Bettie Page was one of the first Playboy "playmates" and she was so notorious for doing bondage stills and films that the movie made about her life was titled The Notorious Bettie Page. In 1958, she retired to become a Christian evangelist, after which she returned to live in her Bible belt hometown, Nashville, and went on to do full-time work with Billy Graham. Ironically, after her conversion she had a nervous breakdown and was institutionalized as insane for eight years.

Norma Jeane Baker [1926-1962], better known as Marilyn Monroe




"Goodbye Norma Jeane, we never knew you at all ..."

Rita Hayworth [1918-1987]




"Rita Hayworth gave good face ..."

Kelly LeBrock




Myriam Fares


| Height | Name | Weight | Bust | Waist | Hips |
| --- | --- | --- | --- | --- | --- |
| | | | | | |
| 4' 11" | Judy Garland | 98 - 155 | 33 | 22 | 34 |
| 4' 11" | Veronica Lake | 98 | 34 | 21 | 33 |
| 4' 11" - 5' 2" | Gloria Swanson | | | | |
| 5' | Janet Gaynor | 98 | 31.5 | 23 | 33 |
| 5' | Mary Pickford | | 33 | 25 | 36 |
| 5' | Jane Powell | 108 | 33 | 23 | 33 |
| 5' - 5' 4" | Joan Crawford | 112 | 37 | 24.5 | 37 |
| 5' 1" | Mae West | 121 | 38 | 24 | 38 |
| 5' 1" - 5' 3" | Norma Shearer | 118 | 34 | 25.5 | 37 |
| 5' 1.5" | Jean Harlow | 109 | 34B | 25 | 36 |
| 5' 2" | Miriam Hopkins | | | | |
| 5' 2" | Debbie Reynolds | 109 | 36 | 23 | 37 |
| 5' 2" | Shirley Temple | | | | |
| 5' 2" | Natalie Wood | 120 | 32B | 22 | 33 |
| 5' 2" - 5' 4" | Olivia de Havilland | 108 | 37 | 23 | 36 |
| 5' 2" - 5 '5" | Louise Brooks | | | | |
| 5' 2" - 5' 5.5" | Carole Lombard | 120 | 34 | 24 | 34 |
| 5' 2" - 5' 4" | Elizabeth Taylor | 120 | 32D | 21 | 36 |
| 5' 3" | Jean Arthur | | | | |
| 5' 3" | Clara Bow | 112 | 33 | 24 | 36.5 |
| 5' 3" | Leslie Caron | | | | |
| 5' 3" | Bette Davis | | 34C | 21 | 34 |
| 5' 3" | Vivien Leigh | | 32A | 23 | 33 |
| 5' 3" - 5' 4" | Tippi Hedren | 110 | 34C | 24 | 32 |
| 5' 3.5" | Lana Turner | 110 | 34 | 24 | 34 |
| 5' 4" | Ann-Margret | 119 | 35 | 23 | 35 |
| 5' 4" | Constance Bennett | 100 | 33 | 26 | 35.5 |
| 5' 4" | Ann Blyth | | | | |
| 5' 4" | Bebe Daniels | 120 | 36 | 27 | 37 |
| 5' 4" | Marion Davies | 118 | 35 | 27 | 35.5 |
| 5' 4" | Betty Grable | 126.5-134 | 36 | 24 | 35 |
| 5' 4" | Barbara Stanwyck | 108 | 33.5 | 23 | 33.5 |
| 5' 4.5" | Claudette Colbert | 110 | 32B | 18 - 25 | 34 |
| 5' 4.5" | Marlene Dietrich | 130 | 36 | 26 | 33 |
| 5' 4.5" | Dolores del Rio | 120 | 33 | 25 | 36 |
| 5' 4.5" | Ginger Rogers | | 34 | 24 | 35 |
| 5' 5" | Joan Bennett | 108 | 33 | 25 | 34 |
| 5' 5" - 5' 5.5" | Marilyn Monroe | 115-150 | 37 | 23 | 36 |
| 5' 5" - 5' 7" | Jane Russell | 122 | 38D | 24 | 36 |
| 5' 6" | Cyd Charisse | | 34.5B | 22 | 37 |
| 5' 6" | Catherine Deneuve | 135 | 34D | 24 | 35 |
| 5' 6" | Ava Gardner | 120 | 36 | 23 | 37 |
| 5' 6" | Rita Hayworth | 117 | 36C | 24 | 36 |
| 5' 6" | Hedy Lamarr | 118 | 35.5 | 25 | 34.5 |
| 5' 6" | Myrna Loy | | 35.5 | 26.5 | 33.5 |
| 5' 6" | Kim Novak | 121 | 36C | 25 | 37 |
| 5' 6" | Raquel Welch | 118 | 37 | 22.5 | 35.5 |
| 5' 6" - 5' 7" | Loretta Young | | | | |
| 5' 6.5" | Greta Garbo | 125 | 36 | 28 | 38 |
| 5' 6.5" | Rosalind Russell | 120 | 34.5 | 25.5 | 36 |
| 5' 7" | Brigitte Bardot | 125 | 36B | 20 | 35 |
| 5' 7" | Doris Day | | 36B | 25 | 36 |
| 5' 7" | Faye Dunaway | | 34 | 25 | 34 |
| 5' 7" | Anita Ekberg | | 40 | 24 | 36 |
| 5' 7" | Audrey Hepburn | 103 | 34A | 20 | 34 |
| 5' 7" | Grace Kelly | 118 | 34A | 24 | 35 |
| 5' 7" - 5' 8.5" | Esther Williams | | 38 | 27 | 34 |
| 5' 7" - 5' 9" | Kay Francis | 118 | 33 | 25.5 | 35 |
| 5' 7.5" | Katharine Hepburn | 125 | 34B | 22 | 33 |
| 5' 8" | Lauren Bacall | 130 | 34C | 26 | 34 |
| 5' 8" | Sophia Loren | 140 | 38C | 24 | 38 |
| 5' 8" | Ali MacGraw | | | | |
| 5' 9" | Ingrid Bergman | 135 | 34 | 24 | 34 |
| 5' 9" | Alexis Smith | 128 | 34 | 24 | 36 |

The Most Beautiful Women of All Time, According to The HyperTexts

Ava Gardner (#1)
Ingrid Bergman
Elizabeth Taylor
Brooke Shields
Ione Bright
Princess Grace Kelly
Audrey Hepburn
Marilyn Monroe
Dorothy Dandridge
Gypsy Rose Lee
Vivien Leigh
Gene Tierney
Lana Turner and Veronica Lake (tie)
Iman
Brigitte Bardot
Rita Hayworth
Kate Moss and Phobe Cates (tie)
Ginger Rogers
Claudia Cardinale
Sophia Loren and Raquel Welch (tie)
Kim Novak and Kim Basinger (tie)
Lauren Bacall
Cybill Shepherd
Princess Diana Spencer

The Most Beautiful Women Today, According to The HyperTexts

Jennifer Lawrence (#1)
Aishwarya Rai
Jessica Alba
Kendall Jenner
Beyoncé Knowles
Amber Heard
Olga Kurylenko and Liv Tyler (tie)
Anne Hathaway
Gigi Hadid and Bella Hadid (tie)
Monica Bellucci
Laetitia Casta
Bianca Balti
Nicole Scherzinger
Adriana Lima
Olivia Wilde
Milla Jovovich
Hanaa Ben Abdesslem
Meryem Uzerli
Taylor Swift
Bar Rafaeli
Daria Zhemkova
Uma Thurman
Scarlett Johansson
Sophie Marceau
Jennifer Lopez
Charlize Theron

The Most Beautiful Girls Next Door, According to The HyperTexts

Marilyn Monroe (#1)
Dawn Wells (esp. as Mary Ann in Gilligan's Island)
Jennifer Anniston (esp. in Friends)
Christina Applegate (esp. in Married With Children)
Laura Prepon (esp. in That 70s Show)
Olivia Newton-John (esp. in Grease)
Phoebe Cates (esp. in Fast Times At Ridgemont High)
Kirstie Alley (esp. in Cheers)
Christina Ricci
Faith Hill
Katherine McPhee
Drew Barrymore
Jessica Alba
Lucille Ball

The Most Beautiful Bad Girls of all Time, According to The HyperTexts

Gypsy Rose Lee (#1)
Bettie Page and Katy Perry (tie)
Candy Darling (James Lawrence Slattery)
Madonna
Linda Lovelace
Sasha Grey
Ann-Margaret
Brigitte Bardot
Catherine Deneuve
Drew Barrymore
Jamie Lee Curtis
Janice Dickinson
Jerry Hall
Calamity Jane
Bonnie Parker
Eva Braun (Mrs. Adolph Hitler)

Related pages: Visions of Beauty, Best Marilyn Monroe Pictures, Marilyn Monroe Rare & Unusual Pictures, Famous Beauties, Famous Historical Beauties, Famous Courtesans, Famous Ingénues, Famous Hustlers, Famous Pool Sharks, Famous Rogues, Famous Heretics, Famous Hypocrites, Famous Forgers and Frauds, Famous Flops and Flubs, Famous Morons, The Dumbest Things Ever Said, Famous Last Words, Famous Insults, Famous Falsettos, Famous Firsts, Famous Super Couples, Unmentionables, Visible Panty Lines

The HyperTexts