The HyperTexts

Poems about EROS and CUPID
in modern English translations by Michael R. Burch

This page contains modern English translations of ancient Greek and Latin poems about Eros/Cupid by poets like Sappho of Lesbos, Rufinus, Archais, Alcaeus, Asclepiades, Antipater, Marcus Argentarius, Capito and Claudianus. Eros was the Greek counterpart of the Roman god Cupid. While today we tend to think of Cupid as an angelic cherub shooting arrows and making people fall in love, the ancient Greek and Roman poets often portrayed Eros/Cupid as a terrible troublemaker who was driving them mad with uncontrollable desires!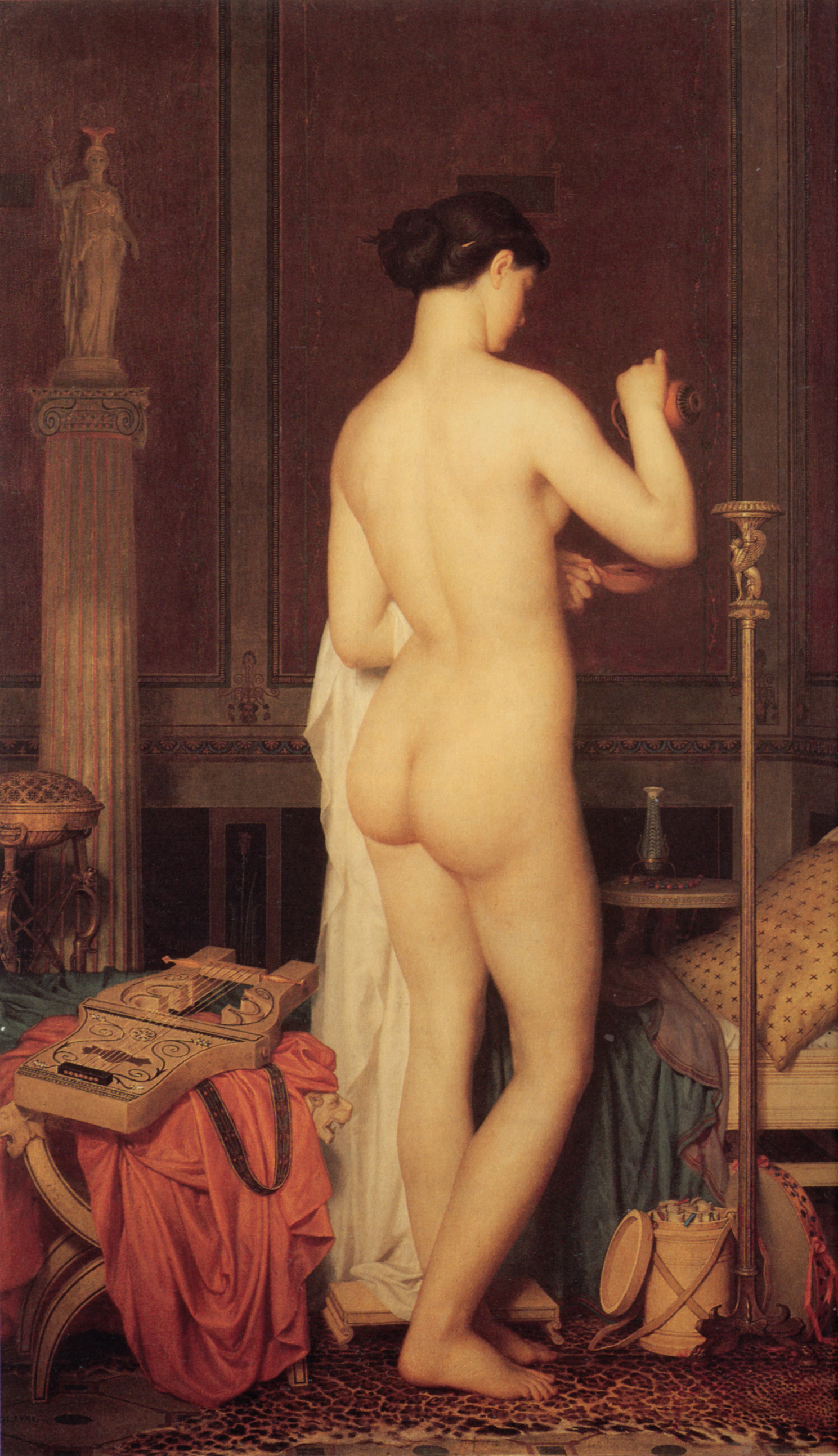 Gleyre Le Coucher de Sappho by Marc-Charles-Gabriel Gleyre

Mnemosyne was stunned into astonishment when she heard honey-tongued Sappho,
wondering how mortal men merited a tenth Muse.
—Antipater of Sidon (circa 200 BC), loose translation/interpretation by Michael R. Burch



Sappho, fragment 42
loose translation/interpretation by Michael R. Burch

Eros harrows my heart:
wilds winds whipping desolate mountains,
uprooting oaks.



Sappho, fragment 130
loose translation/interpretation by Michael R. Burch

Eros, the limb-shatterer,
rattles me,
an irresistible
constrictor.



Sappho, fragment 54
loose translation/interpretation by Michael R. Burch

Eros
descends from heaven,
discarding his imperial purple mantle.



Sappho, fragment 22
loose translation/interpretation by Michael R. Burch

That enticing girl's clinging dresses
leave me trembling, overcome by happiness,
as once, when I saw the Goddess in my prayers
eclipsing Cyprus.



Sappho, fragment 102
loose translation/interpretation by Michael R. Burch

Mother, how can I weave,
so overwhelmed by love?



Sappho, fragment 10
loose translation/interpretation by Michael R. Burch

I lust!
I crave!
Fuck me!



Around the same time Sappho was writing her poems on the island of Lesbos, in nearby Greece, circa 564 B.C., we have another poem about the power of Eros:

Ibykos Fragment 286
translation by Michael R. Burch

Come spring, the grand
apple trees stand
watered by a gushing river
where the maidens' uncut flowers shiver
and the blossoming grape vine swells
in the gathering shadows.

Unfortunately
for me
Eros never rests
but like a Thracian tempest
ablaze with lightning
emanates from Aphrodite;
the results are frightening―
black,
bleak,
astonishing,
violently jolting me from my soles
to my soul.



I hate Eros! Why does that gargantuan God dart my heart, rather than wild beasts? What can a God think to gain by inflaming a man? What trophies can he hope to win with my head?
―Alcaeus of Messene, loose translation/interpretation by Michael R. Burch




Have mercy, dear Phoebus, drawer of the bow, for were you not also wounded by love's streaking arrows?
―Claudianus, loose translation/interpretation by Michael R. Burch

In Greek mythology, Cupid shoots Phoebus Apollo to make him fall in love with Daphne, then shoots Daphne with an arrow that prevents her from falling in love with her suitor.



Matchmaker Love, if you can't set a couple equally aflame, why not snuff out your torch?
―Rufinus, loose translation/interpretation by Michael R. Burch



I have armed myself with wisdom against Love;
he cannot defeat me in single combat.
I, a mere mortal, have withstood a God!
But if he enlists the aid of Bacchus,
what odds do I have against the two of them?
―Rufinus, loose translation/interpretation by Michael R. Burch



Love, if you aim your arrows at both of us impartially, you're a God, but if you favor one over the other, you're the Devil!
―Rufinus, loose translation/interpretation by Michael R. Burch



Either put an end to lust, Eros, or else insist on reciprocity: abolish desire or heighten it.
―Lucilius or Polemo of Pontus, loose translation by Michael R. Burch



Steady your bow, Cypris, and at your leisure select a likelier target ... for I am too full of arrows to take another wound.
―Archias, loose translation/interpretation by Michael R. Burch

Cypris was another name for Aphrodite, the Greek goddess of love. Here the poet may be suggesting, "Like mother, like son."



Little Love, lay my heart waste;
empty your quiver into me;
leave not an arrow unshot!
Slay me with your cruel shafts,
but when you'd shoot someone else,
you'll find yourself out of ammo!
―Archias, loose translation/interpretation by Michael R. Burch



You say I should flee from Love, but it's hopeless!
How can a man on foot escape from a winged creature with unerring accuracy?
―Archias, loose translation/interpretation by Michael R. Burch



While these poems by ancient Greek and Roman poets are not about Eros/Cupid per se, they seem to be cut from the same general cloth ...



Warmthless beauty attracts but does not hold us; it floats like hookless bait.
—Capito, loose translation/interpretation by Michael R. Burch



Accept this garland, Rhodoelea, that I wove with my own hands out of beautiful flowers.
There are lilies, roses, dewy anemones, radiant violets and a delicate narcissus.
Wear it and relinquish vanity, for like these flowers you too will fade.
—Rufinus, loose translation/interpretation by Michael R. Burch



Let's bathe, Prodike, then towel our hair
as we drain new wine from the bright cups' depths,
because the season of celebration is short:
old age forbids joy and soon surrenders to death.
—Rufinus, loose translation/interpretation by Michael R. Burch



Behold Anacreon's tomb; here the Teian swan sleeps with the unmitigated madness of his love for lads. Still he sings songs of longing on the lyre of Bathyllus and the albescent marble is perfumed with ivy. Death has not quenched his desire and the house of Acheron still burns with the fevers of Cypris.
—Antipater of Sidon (circa 200 BC), loose translation/interpretation by Michael R. Burch



Erinna's verses were few, nor were her songs overlong, but her smallest works were inspired. Therefore she cannot fail to be remembered and is never lost beneath the shadowy wings of bleak night. While we, the estranged, the innumerable throngs of tardy singers, lie in pale corpse-heaps wasting into oblivion. The moaned song of the lone swan outdoes the cawings of countless jackdaws echoing far and wide through darkening clouds.
—Antipater of Sidon (circa 200 BC), loose translation/interpretation by Michael R. Burch



You begrudge men your virginity?
Why? To what purpose?
You will find no one to embrace you in the grave.
The joys of love are for the living.
But in Acheron, dear virgin,
we shall all lie dust and ashes.
—Asclepiades of Samos (circa 320-260 BC), loose translation/interpretation by Michael R. Burch



Cypris, if you save those at sea,
beloved goddess, save me,
ship-wrecked on land and dying!
—Anonymous, loose translation/interpretation by Michael R. Burch



My heart warns me to flee
Heliodora,
for well it knows the tears and fiery jealousy
she has caused me.
My heart commands, but alas!, I have no strength to flee
because the shameless hussy warns me
to leave her, even as she kisses me!
—Philodemus or Meleager, loose translation/interpretation by Michael R. Burch



Antigone, you once were a rich whore, but now you've become a beggar, while I've become a miser.
—MARCUS ARGENTARIUS, loose translation/interpretation by Michael R. Burch



Dioclea is a slender little Venus blessed with a sweet disposition. Nor will there be much distance between us, when resting on her flat chest I lie all the closer to her heart!
—MARCUS ARGENTARIUS, loose translation/interpretation by Michael R. Burch



Take off those fishnets, Lysidice, you cock-tease, and don't roll your hips when you walk! The folds of your thin dress cling tightly to your voluptuous body, and all your enticements are visible, as if you were naked, and yet remain concealed. If this amuses you, I will dress my erection in gauze!
—MARCUS ARGENTARIUS, loose translation/interpretation by Michael R. Burch



I sent thee sweet perfume,
not so much honouring thee
as it; for the musk you exude
improved the perfume.
—Anonymous, loose translation/interpretation by Michael R. Burch

I suspect this epigram may have influenced Ben Jonson's lovely song to Celia)




The following are links to other translations by Michael R. Burch:

The Seafarer
Wulf and Eadwacer
The Love Song of Shu-Sin: The Earth's Oldest Love Poem?
Sweet Rose of Virtue
How Long the Night
Caedmon's Hymn
Anglo-Saxon Riddles and Kennings
Bede's Death Song
The Wife's Lament
Deor's Lament
Lament for the Makaris
Tegner's Drapa
Alexander Pushkin's tender, touching poem "I Love You" has been translated into English by Michael R. Burch.
Whoso List to Hunt
Ancient Greek Epigrams and Epitaphs
Meleager
Sappho
Basho
Oriental Masters/Haiku
Miklós Radnóti
Rainer Maria Rilke
Marina Tsvetaeva
Renée Vivien
Ono no Komachi
Allama Iqbal
Bertolt Brecht
Ber Horvitz
Paul Celan
Primo Levi
Ahmad Faraz
Sandor Marai
Wladyslaw Szlengel
Saul Tchernichovsky
Robert Burns: Original Poems and Translations
The Seventh Romantic: Robert Burns
Free Love Poems by Michael R. Burch

The HyperTexts