The HyperTexts

The Sexist Sharks: Pool Sharks, That Is!

Who are the sexiest pool sharks, the real "hustlers" who'll rip your heart out while taking your money without a second thought?

Don't gamble with her, or she'll "bust" ya ... she holds the women's world record for consecutive balls pocketed in a U.S. Open straight pool tournament ...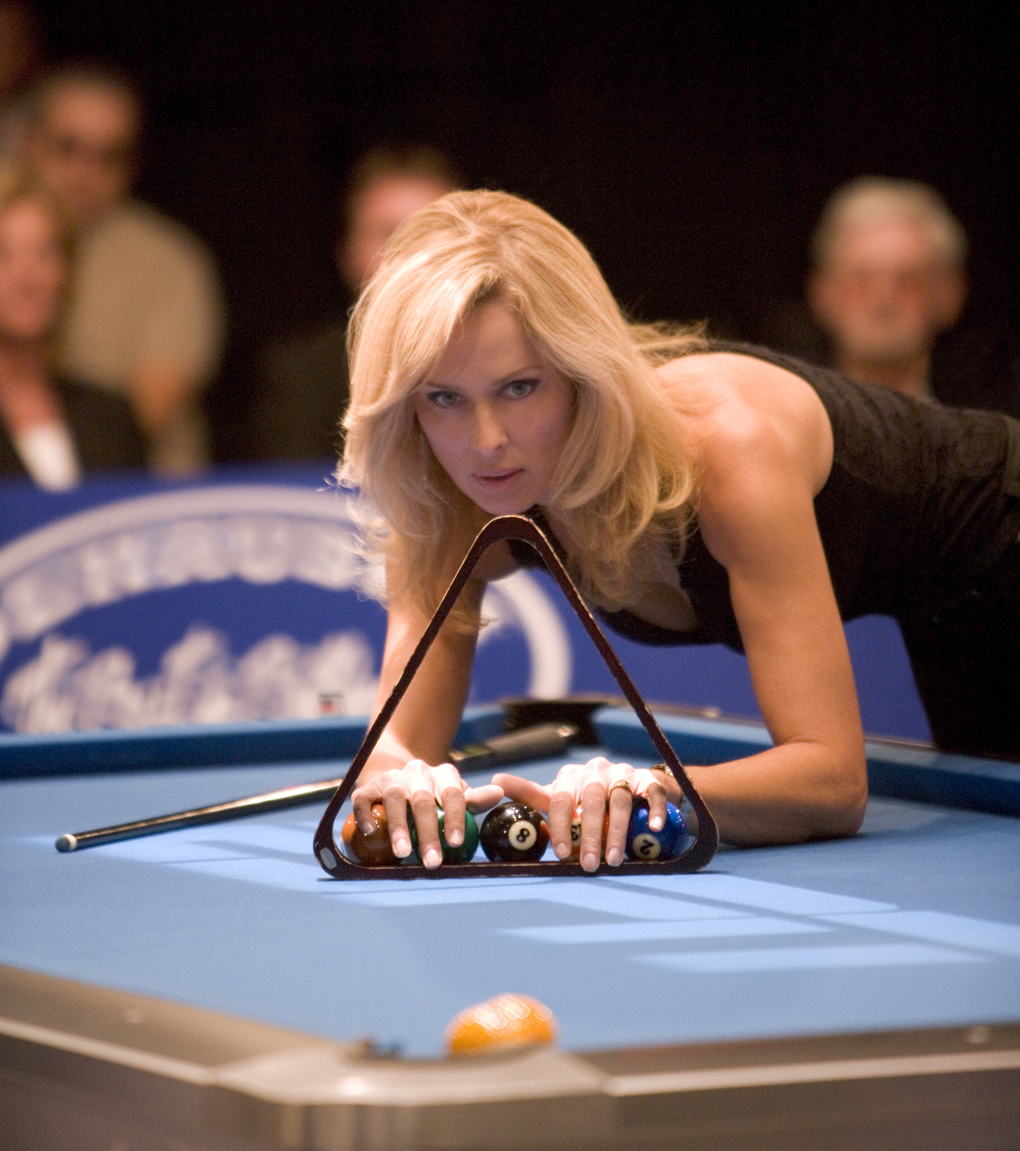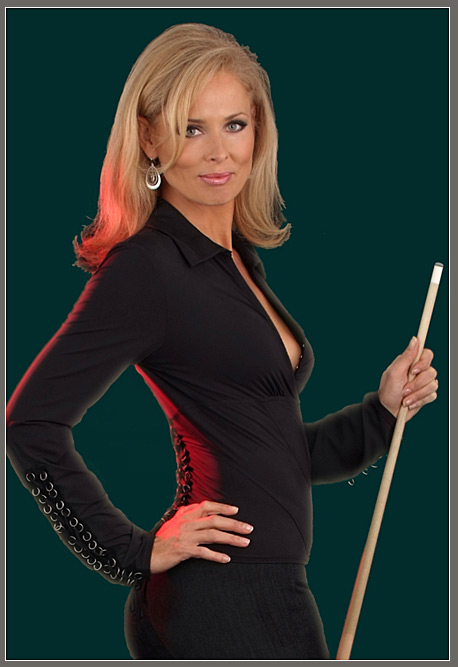 Her name is Ewa Mataya Laurance, nee Ewa Svensson, the "Striking Viking." She's a BCA hall of fame pool player, and the wife of pool legend Jimmy "Pretty Boy Floyd" Mataya!

And do you really think you can outshoot the shark below, Anastasia Luppova, with your eyes popping out of your head? Lopopova is a two-time champion of Russian pyramid and the champion of Moscow in Dynamic Pyramid.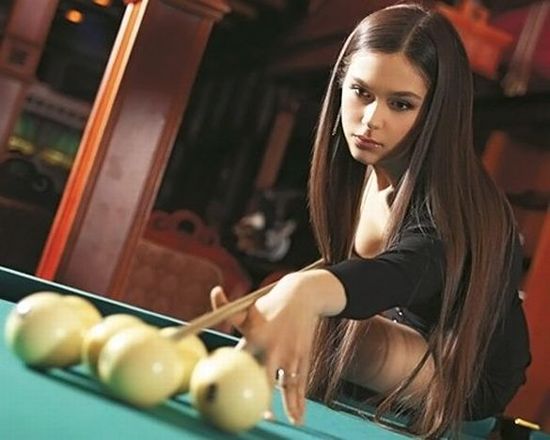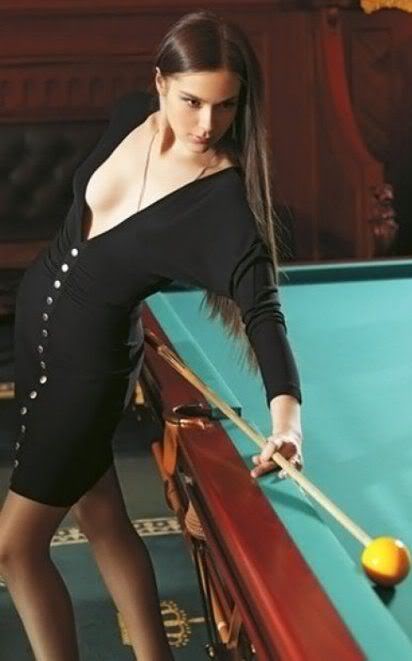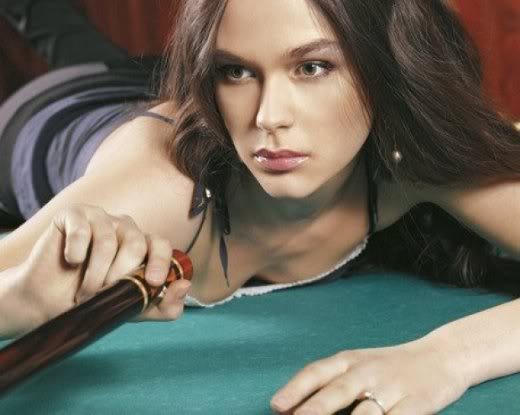 Or Jennifer Chen (her straight pool high run is 158)?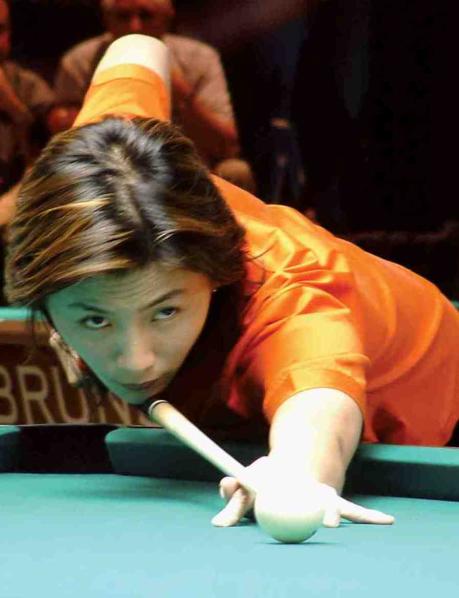 Or how about Jeanette Lee, "The Black Widow" (her straight pool high run is 152)?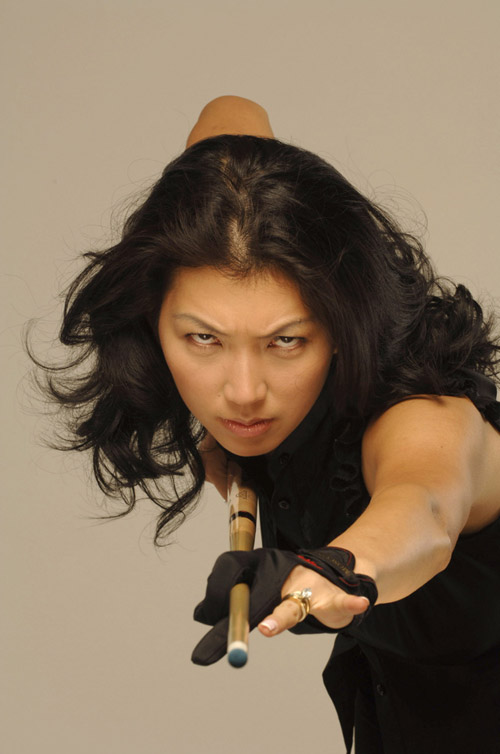 And don't tangle with Jasmin "Jassy" Ouschan (her straight pool high run is 120)!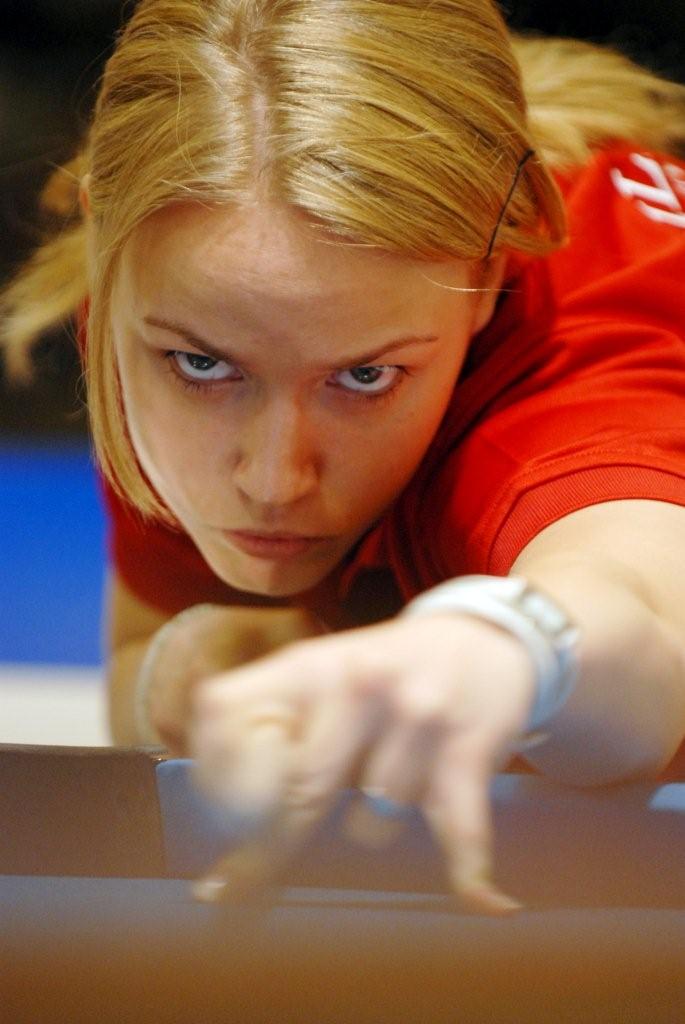 And you might want to dodge Line Kjorsvik (her straight pool high run is 116).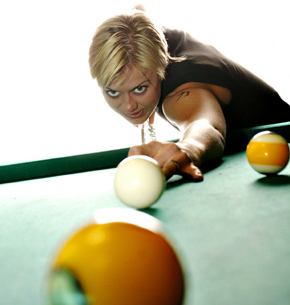 Jennifer "9mm" Barretta too!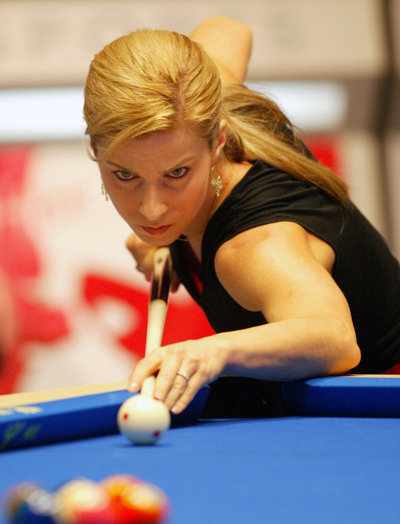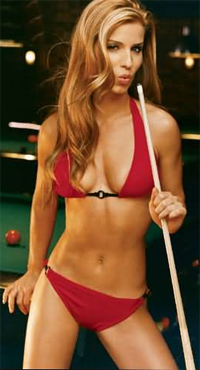 Likewise, Borana Andoni aka "Killer B" and "Queen B"!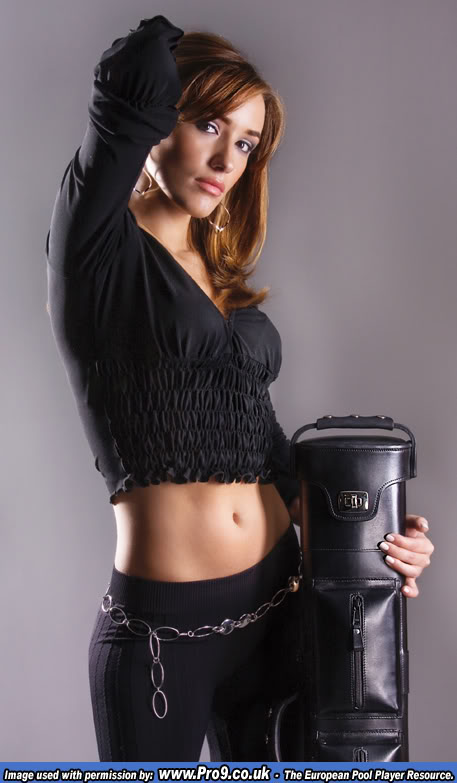 Ditto for Emily Duddy who has been called the "Billiard Bombshell"! That knowing look means she knows you won't be able to concentrate while she takes all your money.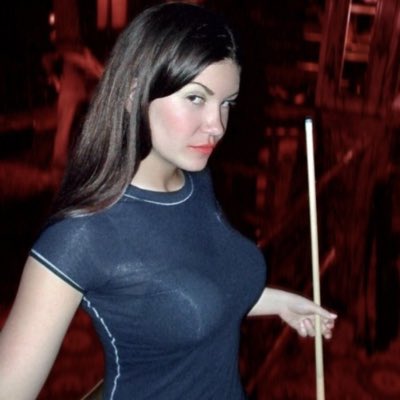 And please donít let the smile fool ya, ícause Xiao Ting Pan will clean your clock! She won the WPA World 9-Ball Championship.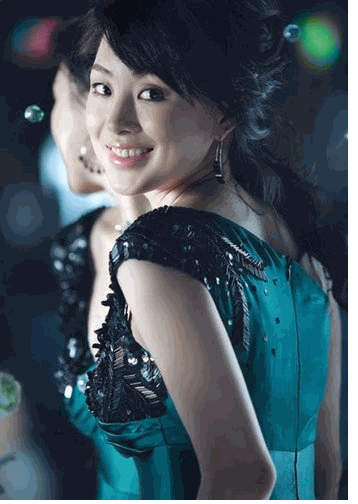 Not to mention Angelina Paglia aka "Angel" ...




Also, Shanelle Loraine ...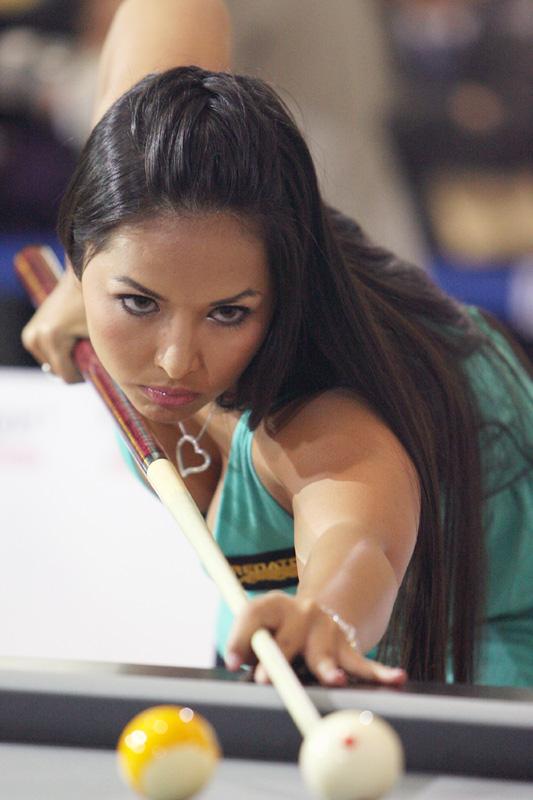 Gail Glazebrook too ...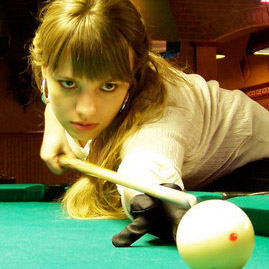 She'll laugh all the way to the bank with your hard-earned wages!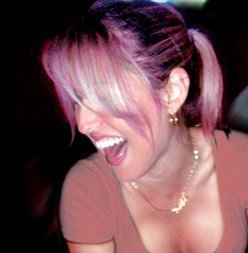 And of course, Liz Ford ...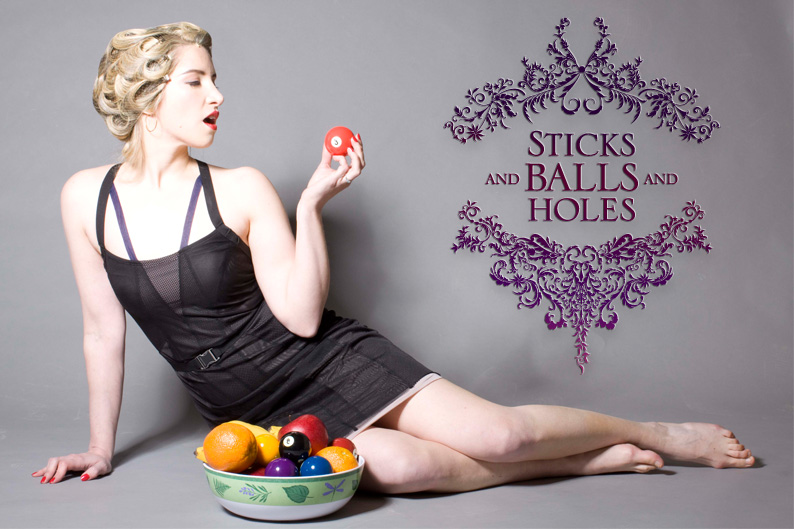 But always especially don't mess around with Ewa Mataya, "The Striking Viking"!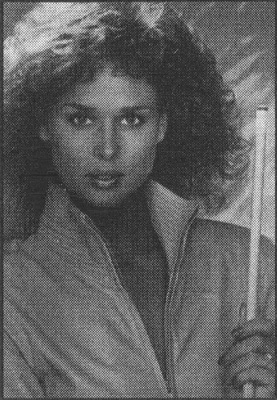 The Women's Professional Billiard Alliance (WPBA) was established in 1976 and is the oldest pro player organization in the sport. The WPBA sanctions and produces the Women's Pro Billiard Tour, which features ESPN-televised events between the world's greatest women players.

The best early WPBA tour players: Jean Balukas, Robin "Bankroll" Bell aka Robin Dodson, Belinda Campos, Vicki Paski aka Vicki Frechen, Ewa "The Striking Viking" Mataya Laurance, Loree Jon Ogonowski aka Loree Jon Jones, Lori Shampo, Gloria Walker, Dorothy Wise

The best women that I have seen personally: Allison Fisher aka "The Duchess of Doom," Jeanette Lee aka "The Black Widow," Jasmin Ouschan aka "Jassy," Vivian Villarreal aka "The Texas Tornado," Karen Corr

Other notable female pool players: Michelle Adams, Christina Alexander, Bonnie Arnold, Rubilen Amit, Borana Andoni aka "Killer B," Mary Avina aka "The Red Angel," Jennifer Barretta, Belinda Bearden, Nikki Bennish, Brittany Bryant, Tammy Cantoni, "Little Lightning" Yu Ram Cha, Jennifer Chen, Chezka Centeno, Diane Crane, Fran Crimi, Emily Duddy, Kelly Fisher, Liz Ford, Christina de la Garza, Mary Guarino, Olga Gashkova, Gail Glazebrook, Gerda Hofstaetter, Kerry Hartsfield, Dawn Hopkins, Lynette Horsburgh, Huang Hsin, Veronika Hubrtova, Wendy Jans, Ina Jentschura, Ho Hsin Ju,

Ga-Young Kim aka "the Little Devil Girl," Line Kjorsvik, Peg Ledman, Michelle Li, Yun-Mi Lim, Melissa Little, Shanelle Loraine, Anastasia Luppova, Linda McWhirt, Diana Mironova, Tiffany Nelson, Susie O'Connor, Nesli O'Hara, Kelly Oyama, Angelina "Angel" Paglia, Xiaoting Pan, Aileen Pippin, Liu Shasha, Nataliya Seroshtan, Kim Shaw, Laura Smith, Fraziska Stark, Shari Stauch, Darlene Stinson, Helena Thornfeldt, Patricia Tipton, Dora Valdez, Monica Webb, Pan Xiaoting

aka

"The Queen of Nine Ball," Chou Chieh Yu, Han Yu, Cha Yu-Ram, Pan Xiaoting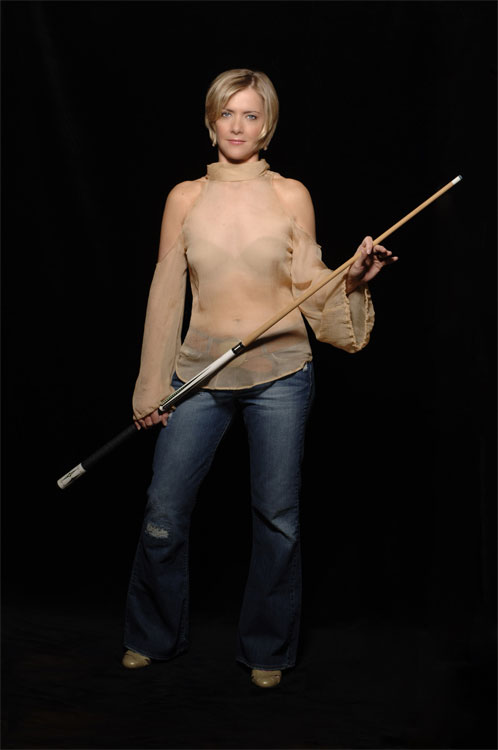 Allison Fisher, "The Duchess of Doom"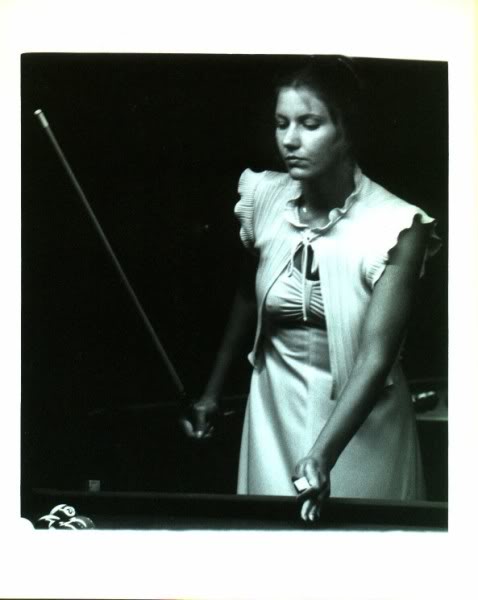 Lori Shampo came up with one of the greatest lines in the history of hustling when she challenged Jean Balukas to play some $500 nine-ball by barking, "I'll shoot your ovaries off!"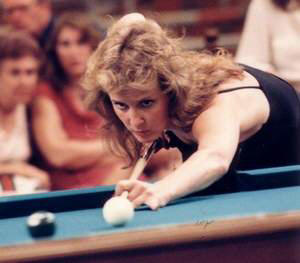 Vicki "Diamond Vic" Frechen (now Vicki Paski) was a top ten WPBA player during the 1980s, rising as high as number two in 1981. She was the Pool & Billiard Magazine player of the year in 1982. She is also a member of the WPBA Hall of Fame. In 1985 she was elected vice president of the WPBA. In 1987 she became ESPN's first female billiards analyst. In 1991 she was elected president of the WPBA.

Jean Balukas, the first female superstar of pool, was already a billiards expert at age six!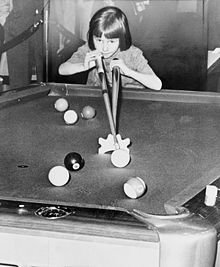 Mark Twain, Was Minnesota Fats Overrated?, A Brief History of Billiards, Pool/Billiards Record High Runs, The Sexiest Sharks, Johnston City Sharks, Nashville Sharks, Dick Hunzicker, "Saint Louie" Louie Roberts, Earl "The Pearl" Strickland, Who was the best nine-ball player?, Was Harold Worst the Best Billiards and Pool Player of All Time?

The HyperTexts