The HyperTexts

Earl Strickland: Pool's Pearl of Great Price

compiled by Mike Burch

Earl "The Pearl" Strickland may be the best nine-ball player of all time. His pool/pocket billiards credentials include:

BCA (Billiard Congress of America) Hall of Fame
Three Billiard Digest player of the year awards
Five U.S. Open nine-ball championships (more than any other player)
Three WPA world nine-ball championships
One PBT world nine-ball championship
U.S. Mosconi Cup team member 13 times
More than forty professional pool tournament victories

But perhaps Strickland's greatest claim to fame is that at the first pro tournament in which a million dollar prize was offered for a player running 10 consecutive racks of nine ball, the Pearl ran 11 racks!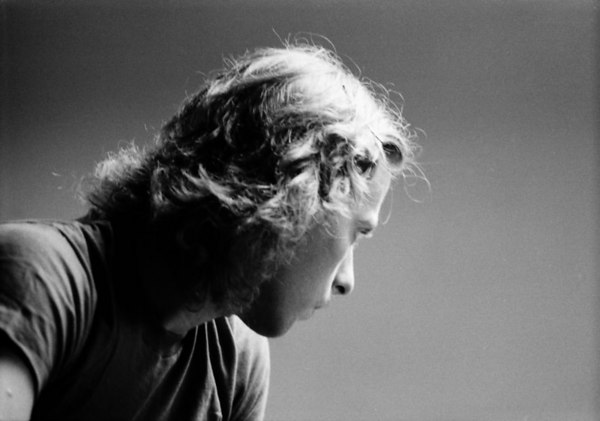 The picture above is of Earl "The Pearl" Strickland, at the 1982 Dayton Nine-ball Open. That was, I believe, the first pro tournament that he won, against a loaded field which included Billy "Cornbread Red" Burge, Steve "Cookie Monster" Cook, Danny DiLiberto, Buddy "The Rifleman" Hall, Allen "Young Hoppe" Hopkins, Jimmy "Pretty Boy Floyd" Mataya, Grady "Professor" Matthews, "Hippie" Jimmy Reid, "St. Louie" Louie Roberts, Mike "Captain Hook" Sigel, and various other pool gods, demigods, contenders and pretenders.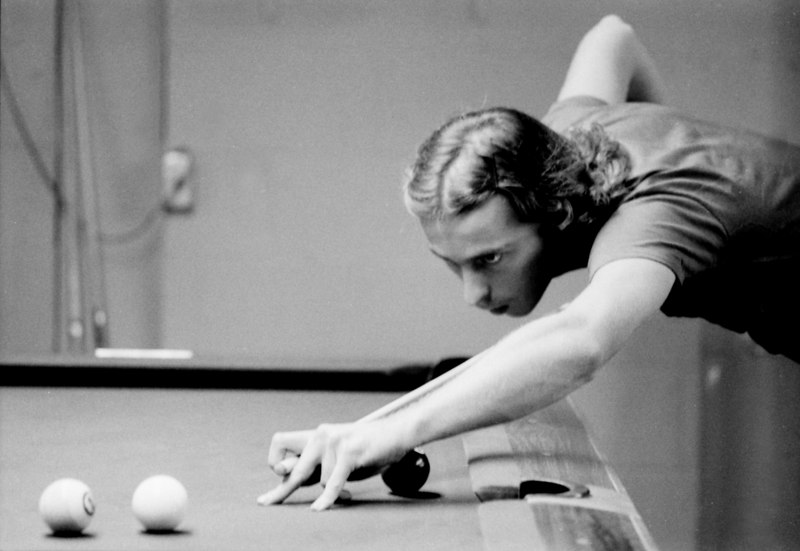 "It was clear early that Earl was the next generation," says Mike Sigel, a veteran who still managed to win 28 titles in the 1980s. "He was one of the most powerful threats ever. I feared him more than Efren [Reyes], because of his break and shotmaking. He could run five racks on you in a matter of minutes. "Let me put it this way," Sigel continued, "He's the type of player I could be leading 8-2 in a race to nine, and if it's his break, I don't like my chances."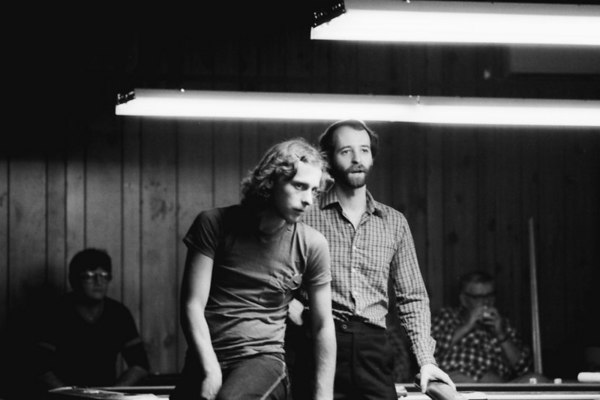 Earl "The Pearl" Strickland and Mike "Captain Hook" Sigel looking intense at the 1982 Dayton Nine-ball Open.

I first saw Earl Strickland at the Music City Nine-Ball Open, held at the ritzy Nashville Maxwell House Hotel, circa 1982-1983. The Pearl had bobby pins holding back his long, flowing mane, and he was giving Buddy Hall serious grief with his amazing jump shots and shotmaking. When in Nashville, if I remember correctly, the Pearl spotted all comers the seven ball. If he ever lost money giving up the seven in Nashville, I never heard about it. I believe Mike Sigel won the Music City Open in 1982, and Ray "Cool Cat" Martin won in 1983, coming out of the losers' bracket to defeat Larry Hubbart. But the player I remember best is Earl the Pearl, resplendent in bobby pins, jumping balls and running out.

Grady "The Professor" Matthews once said that when Earl "The Pearl" Strickland is in the house, "A hush ensues, and there is an expectation," because of his brilliant shot-making and his unpredictable behavior. If Minnesota Fats is pool's boisterous Babe Ruth and Steve Mizerak is its affable John Madden, then Strickland may be its bratty John McEnroe: an enormous talent who sometimes erupts into temper tantrums in public.

Strickland ran 11 consecutive racks against Nick Mannino during the first PCA tournament in 1996. There was a stipulation that anyone who could break and run 10 racks would win a million dollars. But because of a racking "glitch," Strickland needed to run 11 racks. Jimmy "Pretty Boy Floyd" Mataya, who was present at the event, witnessed Strickland's last shot, a tough nine-ball combination in which Earl showed no fear and "fired it in with authority" to win the prize.

At the time, Strickland was on top of the pool world. He was earning in excess of $200,000 a year, lived in a nice house in Charlotte, N.C., and drove a Jaguar. His wife Lisa became his manager, and in 1996 she convinced Earl to forsake the Pro Billiards Tour (PBT) for the Professional Cuesports Association (PCA), a renegade group started by Texas pro C.J. Wiley. Wiley promised great things, and launched his new tour with a $1 million bonus for any player who ran 10 consecutive racks in a PCA tournament. Unfortunately for Wiley and his insurance company, Strickland rifled through 11 straight racks against Nick Mannino in the PCA's very first tournament! Predictably, the insurance underwriter refused to pay the bonus, insisting that a policy had never been finalized. The dispute went to litigation, and the underwriters allegedly settled with Strickland for an undisclosed sum a year later.

An online poster who goes by Wahcheck concurs: I know this subject comes up from time to time, and everyone is gonna have his own opinions of who's the "best".....so I want to throw my 2 cents in there too......What I saw of Luther Lassiter in his later years impressed me enough to think he was probably the best Nine-ball player in his era.......What I saw of the "Color of Money" match between Earl and Efren impressed me that exactly what Mark Wilson said at the end of the match..."there was no loser here, only 2 great champions, and one won." So, for me, Efren winning that match did not prove he was the best 9 ball player. What really takes the cheese for Earl is what I saw him do on various and many Accu-Stats tapes to many pro champions, including Buddy Hall and Steve Mizerak......I'm referring to the 5, 6, 7, and maybe 8-pack runs he seemed to do routinely in the middle of a match, thereby closing it out so that his opponent just sat in his chair the rest of the way. That was an awesome ability, and what sets him apart from the rest for me.... and I know that many pro champions are capable of running racks like that, but nowhere near the consistency that I saw in those days.....I think Jay [Helfert] has referred to this in the past too.....The last thing I want to say that I admire about Earl's game, is his seemingly natural stroke and style of play.....I was impressed with that the first time I ever saw him play.

Another online poster who goes by Bobby said: I couldn't agree more. I've never seen anyone who could put his opponent into a coma like Earl, and he did it so quickly! He'd be playing Buddy or Efren or Sigel and Earl would be down 4-2 and then 10 minutes later Earl would be up 9-4! ... Earl Strickland's top speed is sick! Five U.S. Opens is an amazing feat. I was in the audience at the 2000 U.S Open (Earl's 5th title) and I watched the entire event from start to finish and Earl never lost more than 6 games in any match. He just plowed through the field like it was nothing. You know what it looked like? You ever see a pro player play in a regional event with a weak field of amateurs? that's what it was like, no one looked like they had a chance.

The truth - Earl - "The Dallas Million Dollar Challenge"
by John McChesney

Earl and the truth about the "Dallas Million Dollar Challenge" where Earl ran 11 racks [on] Thursday, April 11, 1996

I - John McChesney, Robin Adair and Jay Helfert were the tournament directors at the event at CJ's Billiard Palace in Dallas, Texas. The stipulation in the (payment) rules [was] instituted by the insurance company underwriter: SDS ... as follows:

The last 5 racks had to be racked by a neutral racker and filmed/taped. The reason Earl had to run 11 racks is that the tournament format was "rack your
own" and he simply would not stop at 5 ... and racked his own at 6 and ran out; then, I forced him to stop by stating that he would have to run 11 and
Jay Helfert then began the racking for racks number: 7,8,9,10 & 11 (the last 5 racks); and the filming/taping began.

Every spectator and every player in the event witnessed the remaining 5 racks ... as tournament play completely halted when it became apparent that Earl had a chance to complete the run.

I assure you that nothing was rigged in this event ... particularly the tables .. they were all triple shimmed new black Gold Crowns with new Championship Tournament grade cloth.

The reason for the delay in payment to Earl was due to lack of communications between the following 2 parties; The Marketing Continuum (the PCA/CJ Wiley hired them as their marketing company); and [the] SDS underwriters.

The insurance had been "bound" pursuant to Texas State Law, but the insurance company wanted to fight ... but in the end settled with both Earl and the PCA/CJ.

Incidentally, in order for SDS to underwrite the event ... statistical information had to be obtained and certified as to how difficult running 10 racks in tournament play would be; that information was provided by the PHD and Department of Statistical Information at the University of Texas and his/their department concluded that the odds were 1 in 6.5+- million attempts.

By the way ... Earl was playing Nick Mannino in the match and the final score was 15-1.

If you ( readers') bad information came to you via the rumor mill about this event or you simply think that it was an "urban legend" ... then you can use this information in the future to inform others that this is the real-deal about the "Dallas Million Dollar Challenge".

Lastly, Earl had an option (when this was settled with SDS) to accept either the annuity ($50k per year x 20 years); or, a lump sum settlement (of the principle) ... which was less (in total) to the annuity .. he accepted the lump sum payment.

John McChesney
CEO of Texas Express
and on behalf of: Robin Adair, Texas Express, Jay Helfert, Championship Billiards, CJ Wiley, CJ's Billiard Palace and Carson's Earl Strickland
and the hundreds of others who were either participants or spectators at the event

More information provided by John McChesney:

The statistical information derived was certainly based on what the University Department could use and that was information from sources ( at the time ) , i.e.,
Accustats, varius tour information and ( they ) asked many questions concerning past tournament(s). I .. and others involved in the event thought that the statistical info. was corrupted .. as I don't feel that the following was taken into consideration: If a player were to "attempt" to run 10 racks for a meaningful ( award );
then the player would have to take many chances that otherwise .. they would not in any particular game. I can remember that CJ and I were sitting about 6 feet from the table when Earl was on the run and can recall a few games in which he simply fired a "flier" ... for instance: he attempted a long table cut on the one ball and missed it badly but the cueball rebounded from the rail and sunk another ball in the side; another: he attempted a long table bank and made it and would never have tried this shot had he been in a "normal" match ( It would have been an easy duck .. as there were numerous balls to hide behind ) .. bottom line is: if one is attempting to run racks .. then one MUST attempt to make a ( pocketed legal ) shot every time. We were all amazed that he made at least a ball on the break each of the 11 racks .. that alone speaks volumes !! And yes .. he did make the 9 on the break 5 times of the 11 .. ( at least 2 of them were when Jay racked ) .. the final ( 11th ) game was by far the most incredible as he had a very interesting situation with the cueball at one end of the table ( about 1st diamond on long rail and short rail ) .. the one ball in the center of the table about 12" from the side with no shot in either side possible .. and the nine ball about 6-8" from the long rail and short rail at the other end of the table near the corner pocket .. the problem was: he could have made ( back-cut ) the one ball cleanly in the end pocket ( near the nine ball ) but there was no hope of getting the cue ball back in shape for the two ball .. ( too many balls and clusters blocking the way ) .. so Earl leaned down
and stroked a couple times .. got back up and stated .. I've got to go for it .. and then stroked once or twice and slammed home the ( very difficult ) one-nine combo in the corner .. Earl jumped about 40" of the floor when the nine went in .. and came down accidently with his cuetec on the corner of the table and promptly broke the joint .. and I was standing about 2 feet from him and he actually threw his arms around me ( at the time about 260 lbs. ) and picked me up and shook me .. he was soaking wet from perspiration and it took about 30 minutes for calm to be restored to the event before play resumed .. it was quite the
night to say the least.

John McChesney

It is by far the ballsiest shot I have ever witnessed - before or since - a million bucks on the line - the entire room watching - you could have heard a pin drop... Who could handle a shot like that? Only Earl. That is why he is the best. Just ask him. -- "Blackjack," in an online billiards forum

Earl "The Pearl" Strickland's Titles and Achievements:

BCA (Billiard Congress of America) Hall of Fame
Three Billiard Digest player of the year awards
Five U.S. Open nine-ball championships (more than any other player)
Three WPA world nine-ball championships
One PBT world nine-ball championship
U.S. Mosconi Cup team member 13 times.

2003 Viking National Nine-ball Championship
2002 WPA World Nine-ball Championship (men's division)
2000 US Open Nine-ball Championship
1999 Camel Shooters Nine-ball Open
1999 Camel Riviera Hotel Pro 8-Ball Open
1997 US Open Nine-ball Championship
1997 World Pool Masters
1995 PBT Eastern States Memorial Nine-ball Championship
1994 PBT Glass City Open Nine-ball
1994 PBT World Nine-ball Championship
1993 US Open Nine-ball Championship
1993 PBT Florida Flare Up
1993 PBT Western Open
1992 MPBA Los Angeles Open
1992 MPBA Sands Regency XVI Nine-ball
1991 WPA World Nine-ball Championship (men's)
1991 MPBA McDermott Masters Nine-ball
1990 WPA World Nine-ball Championship (men's)
1990 MPBA Lexington All-Star Nine-ball
1990 MPBA Sands Regent XI Nine-ball
1990 WPA World Pool Champion
1988 PBA Tara Open
1988 PBA Brunswick World Open
1988 PBA Shoals Classic
1988 PBA Lexington All-Star Nine-ball
1988 PBA Augusta Classic
1988 PBA Greater Greenville Open
1987 US Open Nine-ball Championship
1987 PBA Bowling Green Open
1987 PBA Tara Open
1987 PBA Sands Regency Nine-ball
1987 PBA Charlotte Open
1987 PBA Fall Classic
1986 Bowling Green Open
1986 Citrus Open
1985 Ohio State Open
1985 Clyde Childress Open
1985 Charlotte Open
1985 Akron Open
1985 West Virginia Open
1984 US Open Nine-ball Championship
1984 Red's Nine-ball Open
1984 McDermott Masters
1984 Caesar's Palace Classic
1983 Caesar's Tahoe Nine-ball
1982 Dayton Nine-Ball Open

Mark Twain, Was Minnesota Fats Overrated?, A Brief History of Billiards, Pool/Billiards Record High Runs, The Sexiest Sharks, Johnston City Sharks, Nashville Sharks, Dick Hunzicker, "Saint Louie" Louie Roberts, Earl "The Pearl" Strickland, Who was the best nine-ball player?

The HyperTexts