The HyperTexts

The Best Sad Songs Ever: the Greatest Sad/Dark/Haunting Songs of All Time

Who wrote and performed the best sad, dark, haunting songs of all time? Some of the top singers and songwriters of sad songs include Eric Clapton, Sam Cooke, Bob Dylan, Dan Fogelberg, Aretha Franklin, Marvin Gaye, Mick Jagger, Elton John, George Jones, Janis Joplin, Carole King, John Lennon, Paul McCartney, Freddy Mercury, Willie Nelson, Steve Perry, Elvis Presley, Prince, Smokey Robinson, Paul Simon, Bruce Springsteen, Cat Stevens, James Taylor, Roger Waters, Hank Williams Sr. and Neil Young.

If you're a lyric nut like me, you may want to check out my page on the greatest rock lyrics of all time. That page considers songs strictly as poems, on the merits of their words alone. This page considers sad/dark/haunting songs as comprehensive works of art. When words and music are considered together, some songs rise in my rankings while others drop. Please keep in mind that both lists are the result of my personal taste in music, and my strong preference for killer lyrics. The purpose of my list is not to dictate anything to anyone, but simply to say, paraphrasing Buffalo Springfield, "Here's what I think, for what it's worth ..."

compiled by Michael R. Burch

As with my other music pages, I have included snippets of trivia about songs here and there, answering questions such as:

Is the saddest song of all time an Irish air that was written by an English lawyer who never visited Ireland?
Which soul singer-songwriter wrote a heartfelt plea for love, understanding and mercy, only to be murdered by his father?
Which country singer-songwriter pledged to always be faithful to his wife, only to record a song written by his mistress?
What pagan Celtic song became a Christian children's hymn, then a hit for the West's most famous Muslim singer?
What line from a sermon by John Donne spurred the bitter refutation of a young monkish troubadour?
What does Led Zeppelin's "Stairway to Heaven" have in common with Saint Peter's second sermon after Pentecost?
Which incredibly sad song was written as an anti-suicide message?
Which famously dark song was written shortly after the assassination of John F. Kennedy?
Why do so many people get married to the dark, relationship-in-the-process-of-disintegrating lyrics of my number one love song, which is also

my

number one anti-love song of all time?

I will now count down my top 25 sad/dark songs of all time, then reveal my "honorable mentions" ...

#25 — Tie: Several Songs, Old and New, Borrowed and Exceptionally Blue ...

"Everybody Hurts" by R.E.M. is an empathetic song written for people struggling with suicidal thoughts
"Tears in Heaven" was written by Eric Clapton after the death of his infant son
"The Sound of Silence" was written by Paul Simon shortly after the assassination of John F. Kennedy
"I'm So Lonesome I Could Cry" was written by Hank Williams Sr. during the breakup of his marriage
"He Stopped Loving Her Today" was performed soulfully by country music legend George Jones
"At Seventeen" is a song of intense loneliness and alienation written and performed by Janis Ian
"Love Hurts" was written by Boudleaux Bryant and performed by Nazareth, Roy Orbison and the Everly Brothers
"Hurt" was recorded by Johnny Cash shortly before his death; it was a cover of a Nine Inch Nails song written by Trevor Reznor, who said "The song isn't mine anymore" after Cash covered it
"Wish You Were Here" and "Shine On You Crazy Diamond" were written by Roger Waters for Pink Floyd's former lead singer, Syd Barrett, who showed up at the studio during the recording, but was not recognized by his former band-mates

#24

—

Funeral for a Friend/Love Lies Bleeding

music by Elton John; lyrics by Bernie Taupin; performed by Elton John

This eleven-minute track was too long to be released as a single but it received quite a bit of radio air play (one critic suggested that it allowed DJs time for extended "potty breaks"). Elton John is said to have written the music while thinking about what he wanted played at his own funeral. The song is full of furious, somewhat bombastic chords, but they all seem to work remarkably well, as do the dark, angry lyrics.

#23

—

Fever

and

Blue Moon (early Sun recordings)

and

Peace in the Valley

performed by Elvis Presley

Elvis Presley was like the little girl who had a little curl right in the middle of her forehead: sometimes he was very, very good, and sometimes he was horrid (i.e., the ultimate cheesy/bombastic Vegas lounge singer). If you haven't heard the young Elvis Presley sing "Fever" and "Blue Moon," hie thee quickly to YouTube to check out the really, really good Elvis. These are songs of passionate longing channeled through an exceptional, almost otherworldly voice. "Peace in the Valley" is a hymn.

#22

—

Mad World

by Roland Orzabal; as performed by Adam Lambert (originally performed by Tears for Fears)

If any contemporary male singer can rival the young Elvis, perhaps it's Adam Lambert. His cover of "Mad World" is scary-good. Lambert has one of those atmospheric voices that can hit all the high notes, and so far he seems to have an instinct for picking out the right songs, for him. If you don't "tear up" while listening to this song about intense loneliness and alienation, you probably need to see a heart specialist.

#21

—

Taxi

and

Cat's in the Cradle

by Harry Chapin

Harry Chapin's "Taxi" is a ghost story in which both ghosts are still partially alive. I once saw Chapin in concert, and he was a wonderful storyteller: both in his songs and in his interactions with the audience. "Taxi" is another intensely sad song about loneliness and alienation. Chapin's "Cat's in the Cradle" is about a father who is always too busy to spend time with his son, who pledges to grow up to be like his father. B

y

the end of the song, the grown-up son is too busy for his aging father. The song began as a poem by Chapin's wife Sandy. Chapin died in a car accident in 1981 and never got to see his children grow up, making the song seem not only sadder, but darkly prophetic.

#20

—

Candle in the Wind

music by Elton John; lyrics by Bernie Taupin; performed by Elton John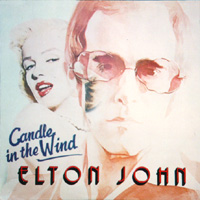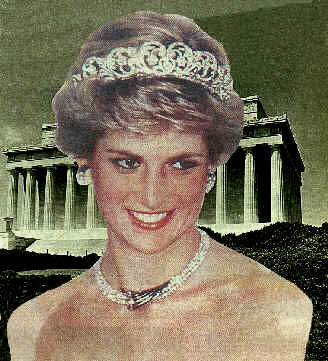 Goodbye Norma Jean
Though I never knew you at all
You had the grace to hold yourself
While those around you crawled

Bernie Taupin's evocative lyrics tell a haunting story about an enchanting artist: Marilyn Monroe (the former Norma Jean Baker). The music was written and the song was originally performed by Elton John. The original song not only causes us to empathize with Marilyn Monroe, but also with the young boy who felt such empathy for her. Bernie Taupin later wrote new lyrics for the song, honoring England's fairest Rose, Princess Diana, after her tragic death in an automobile accident.

#19

—

Imagine

by John Lennon

Imagine there's no Heaven
It's easy if you try
No hell below us
Above us only sky

While I'm not a hard-core Beatles fan (preferring the Stones, Led Zeppelin, Queen and a number of other groups), I have long admired John Lennon's "Imagine" and its vision of a world where there is finally a true "brotherhood of man." His dreamy vision of a Utopian world has inspired the anti-war, pro-peace movement for decades and is one of the most influential pieces of anti-religion writing on record, perhaps making Lennon the English equivalent of Mark Twain (a fierce American critic of Christianity). The song is sad because i

ts

vision has never been realized, and doubly so because Lennon, a prophet of peace and equality, was murdered by a "born-again Christian," Mark David Chapman.

#18

—

Eleanor Rigby

by John Lennon and Paul McCartney; performed by the Beatles

Eleanor Rigby
Died in the church and was buried along with her name
Nobody came
Father McKenzie
Wiping the dirt from his hands as he walks from the grave
No one was saved

"Eleanor Rigby" is yet another haunting ghost story. In this ghost story, the ghosts were both dead while they were still alive, then one of the ghosts (Father McKenzie) buried the other ghost (Eleanor Rigby). This song contains powerful, moving commentary on the inadequacy of love and religion to c

omfort

some people, much less make them happy.

#17

—

House of the Rising Sun

writer unknown; performed by the Animals

There is a house in New Orleans
They call the Rising Sun;
It's been the ruin of many a poor boy
And God I know I'm one ...

"House of the Rising Sun" is an American folk ballad whose authorship remains unknown. The best-known version of the song was performed by a British "invasion" group, the Animals. (Hey, what were they doing, stealing our best songs?) Like many other songs on this page, it tells a dark, haunting, compelling story.

#16

—

Born to Run

by Bruce Springsteen; performed by Bruce Springsteen and the E Street Band

Every day we sweat it out in the streets of a runaway American dream
At night we ride through mansions of glory in suicide machines

"Born to Run" is a rip-roaring dark anthem perhaps inspired to some degree by badass actors like James Dean, Marlon Brando and Dennis Hopper. What happens when machismo-dripping young men straddle Harleys? A song like "Born to Run" seems almost inevitable. A fundamental line may be: "And the boys try to look so hard." There's quite a discrepancy between the lyrics of songwriters like John Lennon and Paul Simon, and those of "the Boss" above. But this song is perhaps the sadder for all its bravura defiance.

#15

—

Blowin' in the Wind

by Bob Dylan

How many roads must a man walk down
Before you call him a man?
Yes, 'n' how many seas must a white dove sail
Before she sleeps in the sand?
Yes 'n' how many times must the cannonballs fly
Before they're forever banned?
The answer, my friend, is blowin' in the wind,
The answer is blowin' in the wind.

"Blowin' in the Wind," like John Lennon's "Imagine," is a highly influential song that may still be transforming human hearts and minds. How many other singers and songwriters have been influenced by these songs, and how many people have they influenced in turn? But the song is sad because, as with "Imagine," the song's vision of peace remains far from being achieved.

#14

—

A Change Is Gonna Come

by Sam Cooke

It's been too hard living
but I'm afraid to die
'Cause I don't know what's up there
beyond the sky ...

"A Change Is Gonna Come" was written after Sam Cooke heard and was moved by Bob Dylan's "Blowin' in the Wind." Cooke's song soon became an anthem for the American Civil Rights Movement. While the song's title seems hopeful, few songs have ever been more melancholic.

#13

—

Comfortably Numb

by Roger Waters and David Gilmour; performed by Pink Floyd

When I was a child I had a fever;
my hand felt just like two balloons ....
I have become
comfortably numb.

If Pink Floyd has ever done a bad song, I haven't heard it. This was the last song written by Roger Waters and David Gilmour, and perhaps their greatest, but they have so many wonderful collaborations that it's hard to say. "Comfortably Numb" is sad in a different way than the other songs on this list, as the singer seems to be drowning in apathy.

#12

—

A Whiter Shade of Pale

by Matthew Fisher, Gary Brooker and Keith Reid; performed by Procol Harum

And so it was that later,
As the miller told his tale,
That her face, at first just ghostly,
Turned a whiter shade of pale.

"A Whiter Shade of Pale" has been the most-played song at venues in the United Kingdom over the last 75 years, and justly so. It's a song that tells a haunting if somewhat surrealistic tale. The song is based on a party at which Keith Reid heard the phrase "a whiter shade of pale" ... the rest, as they say, is history. The phrase "as the miller told his tale" probably refers to the Miller's Tale of the poet Geoffrey Chaucer's "Canterbury Tales." The Miller's Tale was about a man's attempt to seduce a young woman, so we may perhaps deduce that the woman who blanched at the party turned "a whiter shade of pale" because she was being propositioned.

#11

—

Piece of My Heart

by James Ragovoy and Bert Berns; performed by Janis Joplin and Big Brother and the Holding Company

Didn't I make you feel
like you were the only man?
An' didn't I give you nearly everything
that a woman possibly can?

Rolling Stone nominated "Piece of My Heart" as the 344th greatest song of the modern era, which only illustrates the dark, murky depths to which music "experts" are capable of sinking. This may be the greatest all-out rock/blues performance by a female singer, or by any rock/blues singer, male or female. While many songs are "heart rippers," this is the only one that actually encourages the act of heartbreaking.

#10

—

Knockin' on Heaven's Door

by Bob Dylan; performed by Dylan, Eric Clapton, Bob Marley, The Grateful Dead, Guns 'n' Roses, U2 and many other artists

A great song became one of the greatest ever when Guns 'n' Roses covered it in 1987. The song was originally written and performed by Bob Dylan for the movie "Pat Garret & Billy the Kid." (There must be something magical about the song because even Dylan sounded remarkably good when he sang it.) "Knockin' on Heaven's Door" was later covered in reggae versions by Eric Clapton and Bob Marley. It must surely be the only song to have been recorded by the Boss, Boy George, The Grateful Dead, The Sisters of Mercy, Warren Zevon, Ladysmith Black Mambazo and Dolly Parton!

#10 — Mercy, Mercy Me

and

What's Goin' On

by Marvin Gaye; performed by Marvin Gaye

After writing the haunting lines ...

Father, Father, we don't need to escalate
For war is not the answer
Only love can conquer hate
You know we've got to find a way
To bring some lovin' here today

... Marvin Gaye was unfortunately shot and killed by his own father.

#9

—

Who Wants to Live Forever?

and

The Show Must Go On

written by Brian May; performed by Queen with Freddy Mercury singig the lead vocals

There's no time for us
There's no place for us ...
Who wants to live forever?

"Who Wants to Live Forever" is especially poignant because Freddy Mercury, one of the greatest singers and performers of all time, didn't. And while he sang that the show must go on, in the end Queen's shows went on without him.

#8

—

Layla

by Eric Clapton; performed by Derek and the Dominoes

Layla, you got me on my knees;
Layla, you got me singing darlin' please ...

"Layla" was written by Eric Clapton as a song of unrequited love for his friend George Harrison's wife, Pattie Boyd ... talk about a lovers' triangle! At least this one was immortalized, as Pattie Boyd has been called the inspiration for "Layla," "Something," "Wonderful Tonight" and other songs by Harrison and Clapton. Both the original and the "unplugged" versions of "Layla" are utterly stellar. The song is a longing plea for love, with no indication that reciprocation is expected.

#7

—

Nothing Compares 2 U

by Prince; performed by Sinead O'Connor

"Nothing Compares 2 U" is a wonderfully tender, poignant song, sung exquisitely by Sinead O'Connor. The tear she shed in her video was real, and unscripted. She had shaved her head when she started singing because she wanted to be known for her music, not her looks (but she looked better without hair than most women with flowing manes). When the head of her record label heard the song the first time, he cried. When O'Connor heard that he had cried, she asked: "Was it that bad?" No, silly, it was that magnificent!

#7

—

Go Rest High on that Mountain

by Vince Gill

I am not normally a country music fan, but this song, a modern hymn, is wonderfully moving and exquisitely sung by Vince Gill, a former lead singer of Pure Prairie League. Gill wrote the song originally for Keith Whitley, a fellow country music singer who died in 1989, but didn't finish it until after the death of his brother Bob, who died in 1993. Ricky Skaggs and Patty Loveless sang the background vocals on a song that is sure to be an enduring classic.

#6

—

The Freshmen

by Brian Vander Ark; performed by The Verve Pipe

I can't be held responsible
'cause she was touching her face
I won't be held responsible
she fell in love in the first place ...
For the life of me, I cannot remember
what made us think that we were wise and we'd never compromise
for the life of me, I cannot believe we'd ever die for these sins
we were merely freshmen

When the Verve Pipe released "The Freshmen" there were debates on the Internet about just what they meant by lines like "stop a baby's breath and a shoe full of rice." While "stop a baby's breath" might refer to an abortion, "shoe full of rice" might refer to a wedding, in which case "baby's breath" might be a sprig of flowers. Song lyrics, like all forms of poetry, are open to interpretation.

#5

—

Hallelujah

by Leonard Cohen; performed by Cohen and many other artists (my favorite performers of the song include Alexandra Burke, K. D. Lang and Jeff Buckley)

Now I've heard there was a secret chord
That David played, and it pleased the Lord
But you don't really care for music, do ya?
It goes like this: the fourth, the fifth
The minor fall, the major lift,
The baffled king composing Hallelujah ...

Hallelujah is an utterly stellar song that transforms love into a cold and broken Hallelujah.

#4

—

Unchained Melody

music by Alex North; lyrics by Hy Zaret; performed by the Righteous Brothers (vocals by Bobby Hatfield)

Oh, my love, my darling
I've hungered for your touch
a long, lonely time ...

"Unchained Melody" is one of the most popular songs of all time, having been recorded by many different artists in various languages. If you haven't heard the version recorded by the Righteous Brothers, please be sure to browse over to YouTube and check out Bobby Hatfield's stunning, soaring vocals. This is a haunting song of inconsolable longing that became popular again when it was featured in the movie "Ghost" starring Patrick Swayze and Demi Moore. But the song had an inauspicious beginning. At first it was intended to be only an album track. Then it was released as the B-side of "Hung on You." So the group and its label apparently didn't realize that they had cut an all-time classic!

The Righteous Brothers have two other contenders for the best sad song of all time in "Ebb Tide" and "You've Lost That Lovin' Feelin'" (the latter their first number one single and the most-played single of the 20th century according to BMI).

Bill Medley and Bobby Hatfield have been dubbed the kings of "blue-eyed soul." I remember watching a YouTube "reaction" video by a hip-hop fan who was stunned to learn that the Righteous Brothers weren't black soul singers! The duo started calling themselves the Righteous Brothers after black marines used the term to describe them. At times in their careers they opened for the Beatles and the Rolling Stones.

#3

—

Bridge Over Troubled Water

by Paul Simon; performed by Simon & Garfunkel (vocals by Art Garfunkel)

When you're down and out
When you're on the street
When evening falls so hard
I will comfort you
I'll take your part
When darkness comes
And pain is all around
Like a bridge over troubled water
I will lay me down
Like a bridge over troubled water
I will lay me down

"Bridge Over Troubled Water" is a classic rock hymn. Paul Simon wrote the song specifically for Art Garfunkel, shortly before the breakup of Simon & Garfunkel. Garfunkel's vocals make the original recording one of the best of all time; the song has also been performed by many other singers, including Elvis Presley, Aretha Franklin, Roy Orbison, Johnny Cash, Josh Groban and Charlotte Church. While the song does suggest a "light at the end of the tunnel," for the most part it is a dark masterpiece.

#2

— Without You



written by Pete Ham and Tom Evans of Badfinger; the most famous performance of the song was by Harry Nilsson

Paul McCartney, who knows a thing or two about songwriting, called "Without You" the "killer song of all time." While the original Badfinger version is good, the atmospheric, soaring vocals of Harry Nilsson took the song to new heavenly levels of unrequited longing. The song has since been covered by Mariah Carey and other accomplished singers, but for me the Harry Nilsson version is unique and untouchable.

#2

— The First Time Ever I Saw Your Face



written and first performed by Robert Flack

"The First Time Ever I Saw Your Face" was written and first performed by Robert Flack; it has since been performed by Celine Dion, among others; one of my favorite versions is a somewhat darker version by an unknown singer, Josh Krajcik, which can be found on YouTube.

I think the two songs above go well together, and tie for my best sad, dark, haunting love songs of all time. Now here, without further ado, is my number one song of all time ... named, in an interesting synchronicity, "One." One might call it an anti-love song.

#1

—

One

by Bono (Paul Hewson), The Edge (David Evans), Adam Clayton and Larry Mullen Jr.; performed by U2

Have you come here for forgiveness?
Have you come to raise the dead?
Have you come here to play Jesus
To the lepers in your head?

"One" was written and recorded in Berlin, on the eve of the reunification of Germany. At the time U2 was experiencing internal disharmony: the song has been credited with helping keep the band together. The Edge came up with the music first; Bono said his lyrics "just fell out of the sky, a gift." The entire song was composed in about 15 minutes.

Okay, I'm going to cheat, or at least hedge my bets. I am going to suggest the following songs as possible ties for number one, even though they're older compositions. But they are incredibly good songs, and heart-rendingly sad, so they certainly qualify:

Danny Boy is a lovely, haunting poem of loss written by Frederic Weatherly and sung to the tune of "Londonderry Air"
Ave Maria and Pie Jesu, especially as performed by Angelis with those otherworldly voices
When Johnny Comes Marching Home is the ultimate lament for fallen soldiers who don't come marching home, credited to Patrick S. Gilmore
Greensleeves is an English folk song of uncertain origin; i

t

dates back to 1580, per

haps

earlier
Oh Shenandoah is an older American folk song of uncertain origin
Molly Malone is a Irish folk song
Auld Lang Syne is a poem written by the great Scottish bard Robert ("Bobbie") Burns and sung to a Scottish folk tune
Where Have All the Flowers Gone is an anti-war song written by Pete Seeger and performed by Seeger, The Kingston Trio and Joan Baez, among others; the song's anthem was taken from the traditional Cossacks folk song "Tovchu, Tovchu Mak"

Now here are my "high honorable mentions" ...

Stairway to Heaven

music by Jimmy Page; lyrics by Robert Plant; performed by Led Zeppelin




Led Zeppelin's "Stairway to Heaven" is an unusual song, to say the least. It was originally written as an acoustic folk song, but soon became one of the best-known rock songs of all time. It was an eight-minute-long album track that was never released as a single, y

e

t became one of the most-played songs on radio stations around the world, thanks largely to listener requests. Comments by band members make it seem the lyrics were written rather mystically, apparently via some form of "automatic writing." (Poets like William Butler Yeats have also claimed that poems came to them from "out of blue nothing," as if conveyed by extraterrestrial spirits. The ancient Greeks even created goddesses, the Muses, to explain the otherworldly inspiration of poets.) Wherever the lyrics of "Stairway to Heaven" originated, they certainly tell a compelling story about a very mysterious woman. While the song was written in Wales and has a decidedly Celtic "feel," it also alludes the Bible. Jacob, who became the patriarch and namesake of Israel, saw angels descending from and ascending into heaven on some sort of stairway, which became known as "Jacob's Ladder." Also, there are a number of verses in the Bible which speak of God becoming "all in all" at the end of time: that idea seems to be echoed in the song's closing lines: "And if you listen very hard / The truth will come to you at last / When all are one and one is all." In Saint Peter's second sermon after Pentecost he spoke of "the restitution of all things to God" which had been spoken of "by all the holy prophets since the world began." The image above is William Blake's "Jacob's Ladder."

Sympathy for the Devil

by Mick Jagger and Keith Richards; performed by the Rolling Stones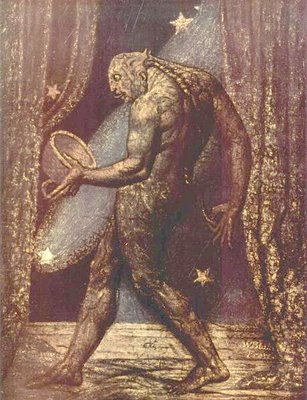 I shouted out,
"Who killed the Kennedys?"
When after all
It was you and me

"Sympathy for the Devil," according to Mick Jagger, was inspired by the work of the French poet, Charles Baudelaire. It was written in the first person, from the perspective of Lucifer. The image above is by William Blake ...

Riders on the Storm

by Robbie Krieger, John Densmore, Jim Morrison and Ray Manzarek; performed by the Doors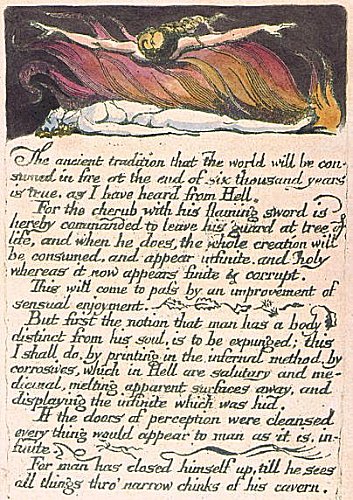 There's a killer on the road
His brain is squirmin' like a toad

"Riders on the Storm" is one of the darkest songs of all time. It was the last song recorded by the Doors before Jim Morrison died. The band took its name from William Blake's "Doors of Perception" [see the second image above].

Vincent

by Don McLean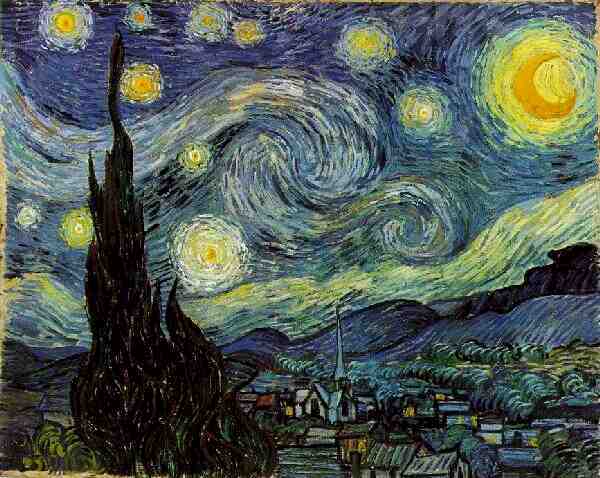 Vincent Van Gogh's "Starry Starry Night"

Starry, starry night
Paint your palette blue and gray
Look out on a summer's day
With eyes that know the darkness in my soul

Don McLean's "Vincent" got my vote as the best rock poem of all time, based strictly on words, because it tells a moving story and also carries us somewhere "beyond" by making us feel a strong kinship with the troubled Dutch painter, Vincent Van Gogh. The best poems and songs create a sort of spiritual "communion" between writer, subject and audience ...

Morning Has Broken

Gaelic folk tune; lyrics by Eleanor Farjeon; performed by Cat Stevens, Angelis and other artists

"Morning Has Broken" has a most interesting genesis. It was originally a Gaelic folk tune. The lyrics of a Christian children's hymn were penned for it in 1931, by Eleanor Farjeon. The Christian hymn then became a hit for Cat Stevens, the West's most famous Muslim singer/songwriter!

I Am a Rock

by Paul Simon; performed by Simon & Garfunkel

A winter's day
In a deep and dark December;
I am alone,
Gazing from my window to the streets below
On a freshly fallen silent shroud of snow.
I am a rock,
I am an island.

"I Am a Rock" seems to be the refutation of a sermon preached by John Donne, who happened to be one of England's greatest poets. In his sermon Donne proclaimed that "no man is an island." The young, introspective singer/songwriter Paul Simon begged to differ. The photograph above is of the world's most famous rock island, Gibraltar, at night ...

(Sittin' on) The Dock of the Bay

by Otis Redding and Steve Cropper; performed by Otis Redding

I left my home in Georgia
Headed for the 'Frisco bay
'Cause I've had nothing to live for
And look like nothin's gonna come my way ...

"(Sittin' on) The Dock of the Bay" was recorded by Otis Redding on December 7, 1967, just three days before he died in a plane crash outside Madison, Wisconsin.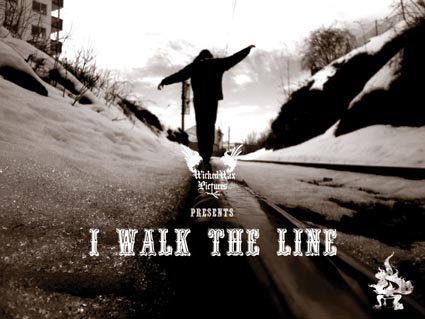 I Walk the Line

by Johnny Cash

I find it very, very easy to be true
I find myself alone when each day is through
Yes, I'll admit that I'm a fool for you
Because you're mine, I walk the line

Johnny Cash wrote "I Walk the Line" in 1956, when he was newly married and promised to be faithful to his wife. Years later he recorded "Ring of Fire," a song written by his mistress, June Carter, about the torrid love affair that caused him to eventually divorce his first wife. June Carter wrote "Ring of Fire" with Merle Kilgore. Johnny Cash had a dream in which he was singing the song with mariachi horns in the background, which was how it was recorded.

Other sad/dark songs of note:

"All by Myself" and "I'm Through with Love" by Eric Carmen are very touching, moving and soulful songs delivered by one of the great emotive voices
"Only Time" and the traditional hymn "O Come O Come Emmanuel" are both sung in a lovely, haunting voice by Enya
"God Only Knows" by the Beach Boys is intensely sad, and probably their best song
"Stand by Me" by Ben E. King
"Private Dancer" and "What's Love Got to Do With It" by Tina Turner
"Piano Man," "Only the Good Die Young" and "Until the Night" by Billy Joel
"Your Song," "Sacrifice," "Daniel," "Goodbye Yellow Brick Road" and "Sad Songs Say So Much" by Elton John
"Faithfully," "Separate Ways," "Who's Crying Now" and "It's Just the Rain" by Journey
"Foolish Heart" and "Oh Sherrie" by Steve Perry
"Mockingbird" and "Stan" by Eminem
"Ain't No Sunshine" by Bill Withers
"The Sun Ain't Gonna Shine Anymore" by the Walker Brothers
"Stay with Me," "I Know I'm Not the Only One" and "Lay Me Down" by Sam Smith
"Angel" and "I Will Remember You" by Sarah McLachlan
"Someone Like You" and "Rolling in the Deep" by Adele
"Sam Stone" by John Prine is about a drug-addicted Vietnam vet from his son's viewpoint
"The Needle and the Damage Done" is a Neil Young song about drug abuse
"Fire and Rain" records James Taylor's reaction to the suicide of Suzanne Schnerr, a childhood friend
"As Tears Go By" was written by Mick Jagger, Keith Richards and Andres Loog Oldham for Marianne Faithful
"That's the Way I've Always Heard it Should Be (We'll Marry)" is a song about a

loveless

marriage by Carly Simon
"A Pirate Looks at Forty" is a song about aging and fading dreams, written and performed by Jimmy Buffet
"Fix You" by Coldplay
"I Can't Make You Love Me" by Bonnie Raitt
"Black" is a very dark s

ong written by Eddie Vedder and Stone Gossard, and

performed by Pearl Jam
"Angel Flying too Close to the Ground" is a song about a suffering human angel written and performed by Willie Nelson
"Ghosts" is a haunting song written and performed by Dan Fogelberg, an amazingly talented singer/songwriter/musician
"Angie" was written by Mick Jagger and Keith Richards, and performed by the Rolling Stones
"A Picture from Life's Other Side" was the favorite song of Woody Guthrie
"Nutshell" by Alice in Chains
"Something in the Way" by Kurt Cobain of Nirvana
"Paint It, Black" by Mick Jagger and Keith Richards; performed by Rolling Stones
"All Along the Watchtower" by Bob Dylan, as performed by the Jimi Hendrix Experience
"The Logical Song" by Roger Hodgson; performed by Supertramp
"Sweet Child O' Mine" and "Patience" by Guns 'n' Roses
"The Living Years" by Mike and the Mechanics
"When Doves Cry" by Prince
"I'm Not in Love" by 10cc
"Never Is a Promise" by Fiona Apple
"Wild Horses" by the Rolling Stones
"One Sweet Day" by Mariah Carey and Boyz II Men
"End of the Road" by Boyz II Men
"It's Only Make Believe" by Conway Twitty and Fiona Apple
"I've Been Loving You Too Long" by Otis Redding
"Smells Like Teen Spirit" by Nirvana
"Landslide" and "Go Your Own Way" by Fleetwood Mac
"For What It's Worth" by Stephen Stills; performed by Buffalo Springfield
"Because The Night" by Bruce Springsteen and Patti Smith; performed by the Patti Smith Group
"Beds Are Burning" by Robert Hirst, Peter Garrett and James Moginie; performed by Midnight Oil
"After the Gold Rush" by Neil Young
"Walking on Broken Glass" by Annie Lennox
"She's Gone" by Daryl Hall and John Oates
"Lay Down (Candles in the Rain)" by Melanie
"Leah," "In Dreams," "Only the Lonely" and "Crying" by Roy Orbison
"White Flag," "Thank You" and "Here with Me" by Dido
"Kathy's Song," "America" and "Homeward Bound" by Paul Simon; performed by Simon & Garfunkel
"Don't Think Twice, It's All Right" and "Like a Rolling Stone" by Bob Dylan
"Thunder Road" by Bruce Springsteen
"Abraham, Martin and John" by Dion
"Holding Back the Years" and "If You Don't Know Me by Now" by Simply Red
"My Immortal" and "Bring Me to Life" by Evanescence
"The End" by the Doors
"Someday Soon" by Judy Collins
"White Room" and "Sunshine of Your Love" by Cream
"Roxanne" by Sting and the Police
"Pride (In the Name of Love)" and "With or Without You" by U2
"Imagine" by John Lennon
"Have You Ever Seen the Rain," "Who'll Stop the Rain" and "Someday Never Comes" by Creedence Clear Water Revival
"Free Bird" by Lynyrd Skynyrd
"Unbreak My Heart" by Toni Braxton
"Bleeding Love" by Leona Lewis
"Dream On" by Aerosmith
"Always" and "Livin' on a Prayer" by Bon Jovi
"Maggie Mae" by Rod Stewart
"Crazy" by Willie Nelson, as performed by Patsy Cline
"Let It Be," "A Day in the Life," "Yesterday" and "Hey Jude" by the Beatles
"Careless Whisper" by Wham! with George Michael
"Heart of Glass" by Blondie
"Hatful of Stars" and "Unhook the Stars" by Cyndi Lauper
"True" by Spandau Ballet
"Missing You" by John Waite
"You're Beautiful" by James Blunt
"Apologize" by Timbaland
"It Must've Been Love" by Roxette
"What Hurts the Most" by Rascal Flatts
"Because of You" by Kelly Clarkson
"Independence Day" by Martina McBride
"Strawberry Wine" by Matraca Berg, as performed by Deana Carter
"Here Without You" by Doors Down
"The Flame" by Cheap Trick
"Seasons in the Sun" by Terry Jacks
"My Heart Will Go On" by Celine Dion
"Somebody that I Used to Know" by Goyte featuring Kimbra
"How Can You Mend a Broken Heart," "Words" and "I Started a Joke" by the Bee Gees
"Shadow Dancing" by Andy Gibb
"Heartbreak Hotel," "Are You Lonesome Tonight?" and "It's Now or Never" by Elvis Presley
"Dust in the Wind" by Kansas
"More than a Feeling" by Boston
"Total Eclipse of the Heart" by Bonnie Tyler
"Don't Speak" by No Doubt
"It's All in the Game" by Tommy Edwards
"Losing My Religion" by R.E.M.
"Creep" by Radiohead
"Skinny Love" by Bon Iver
"Need You Now" by Lady Antebellum
"Against All Odds (Take a Look at Me Now)" by Phil Collins

Related pages: The Best Singers of All Time, The Best Singer-Songwriters, The Best Female Singer/Songwriters, The Best Songs of All Time, The Best Sad Songs, The Best Protest Songs and Poems, The Best Love Songs, Rock Jukebox: the Poetry of Rock, The Best Vocal Performances of All Time, The Worst Song Lyrics Ever, The Most Overrated Songs of All Time, The Best Rock Lyrics, The Best Female Poets, The Best Sappho Translations, The Best Metaphors and Similes, The Best Lines from Songs and Poems

The HyperTexts