The HyperTexts

The Best Horror Poetry

Which poets wrote the best horror poems of all time? Eerie, terrifying poems about the supernatural abound in English literature; indeed, some of the oldest extant Celtic and Anglo Saxon poems are about monsters (for instance, those in Beowulf). Early ballads, the precursors of popular music, often involved the undead: for instance, "The Unquiet Grave" and "The Wife of Usher's Well." Common themes included ghosts, witches, hags, hauntings, vampires, ghouls, mysterious strangers, corpses that return to life, zombies, the underworld, the macabre, etc.

The most famous horror poems include "The Raven" by Edgar Allan Poe, "The Apparition" by John Donne, "The Hag" by Robert Herrick, "Goblin Market" by Christina Rossetti, "The Highwayman" by Alfred Noyes, "Christabel" and "The Rime of the Ancient Mariner" by Samuel Taylor Coleridge, "The Eve of St Agnes" and "La Belle Dame sans Merci" by John Keats, "I Felt a Funeral in My Brain" by Emily Dickinson, "Childe Roland to the Dark Tower Came" by Robert Browning, "Haunted Houses" by Henry Wadsworth Longfellow, "Tithonus" by Alfred Tennyson, "The Vampire" by Conrad Aiken, "Ghost House" by Robert Frost, "Halloween" by Robert Burns, "Daddy" and "The Snowman on the Moor" by Sylvia Plath, "Luke Havergal" by E. A. Robinson, and "Darkness" and "The Giaour" by Lord Byron.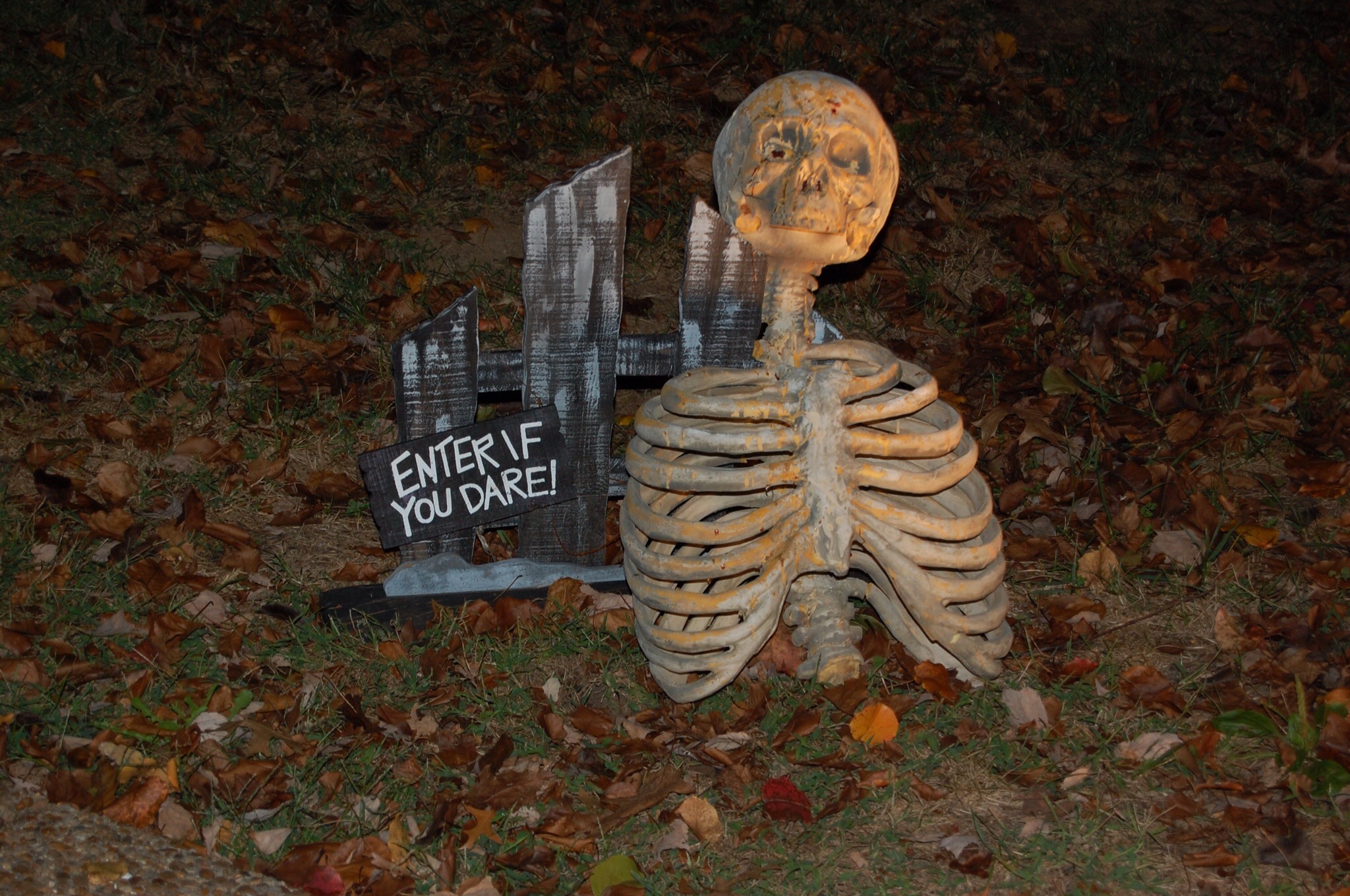 I chose the first poem on this page to complement the ghoulish Halloween picture above. (In fact, I wrote the poem specifically to go with the picture.) The poems that follow include some of the best dark, haunting poems in the English language, by masters of horror and the supernatural ...



Thin Kin
by Michael R. Burch

Skeleton!
Tell us what you lack ...
the ability to love,
your flesh so slack?

Will we frighten you,
grown as pale & unsound ...
when we also haunt
the unhallowed ground?



A Last Word
by Ernest Dowson

Let us go hence: the night is now at hand;
The day is overworn, the birds all flown;
And we have reaped the crops the gods have sown;
Despair and death; deep darkness o'er the land,
Broods like an owl; we cannot understand
Laughter or tears, for we have only known
Surpassing vanity: vain things alone
Have driven our perverse and aimless band.
Let us go hence, somewhither strange and cold,
To Hollow Lands where just men and unjust
Find end of labour, where's rest for the old,
Freedom to all from love and fear and lust.
Twine our torn hands! O pray the earth enfold
Our life-sick hearts and turn them into dust.



Ulalume [an excerpt]
by Edgar Allan Poe

The skies they were ashen and sober;
The leaves they were crisped and sere—
The leaves they were withering and sere;
It was night in the lonesome October
Of my most immemorial year:
It was hard by the dim lake of Auber,
In the misty mid region of Weir—
It was down by the dank tarn of Auber,
In the ghoul-haunted woodland of Weir ...



Pale Though Her Eyes
by Michael R. Burch

Pale though her eyes,
her lips are scarlet
from drinking of blood,
this child, this harlot

born of the night
and her heart, of darkness,
evil incarnate
to dance so reckless,

dreaming of blood,
her fangs—white—baring,
revealing her lust,
and her eyes, pale, staring ...



"Song of the Witches" from Macbeth
by William Shakespeare

Three witches, casting a spell ...

Round about the cauldron go;
In the poison'd entrails throw.
Toad, that under cold stone
Days and nights hast thirty one
Swelter'd venom sleeping got,
Boil thou first i' the charmed pot.

Double, double toil and trouble;
Fire burn and cauldron bubble.

Fillet of a fenny snake,
In the cauldron boil and bake;
Eye of newt, and toe of frog,
Wool of bat, and tongue of dog,
Adder's fork, and blind-worm's sting,
Lizard's leg, and howlet's wing,
For a charm of powerful trouble,
Like a hell-broth boil and bubble.

Double, double toil and trouble;
Fire burn and cauldron bubble.



Vampires
by Michael R. Burch

Vampires are such fragile creatures;
we dread the dark, but the light destroys them ...
sunlight, or a stake, or a cross—such common things.
Still, late at night, when the bat-like vampire sings,
we shrink from his voice.

Centuries have taught us:
in shadows danger lurks for those who stray,
and there the vampire bares his yellow fangs
and feels the ancient soul-tormenting pangs.
He has no choice.

We are his prey, plump and fragrant,
and if we pray to avoid him, the more he prays to find us ...
prays to some despotic hooded God
whose benediction is the humid blood
he lusts to taste.



Sea Fevers
by Agnes Wathall

No ancient mariner I,
Hawker of public crosses,
Snaring the passersby
With my necklace of albatrosses.

I blink no glittering eye
Between tufts of gray sea mosses
Nor in the high road ply
My trade of guilts and glosses.

But a dark and inward sky
Tracks the flotsam of my losses.
No more becalmed to lie,
The skeleton ship tosses.



Her Strong Enchantments Failing
by A. E. Houseman

Her strong enchantments failing,
Her towers of fear in wreck,
Her limbecks dried of poisons
And the knife at her neck,

The Queen of air and darkness
Begins to shrill and cry,
"O young man, O my slayer,
To-morrow you shall die."

O Queen of air and darkness,
I think 'tis truth you say,
And I shall die tomorrow;
But you will die to-day.



Ghost
by Michael R. Burch

White in the shadows
I see your face,
unbidden. Go, tell

Love it is commonplace;
tell Regret it is not so rare.

Our love is not here
though you smile,
full of sedulous grace.

Lost in darkness, I fear
the past is our resting place.



Christabel [an excerpt]
by Samuel Taylor Coleridge

Beneath the lamp the lady bowed,
And slowly rolled her eyes around;
Then drawing in her breath aloud,
Like one that shuddered, she unbound
The cincture from beneath her breast:
Her silken robe, and inner vest,
Dropt to her feet, and full in view,
Behold! her bosom, and half her side—
A sight to dream of, not to tell!
O shield her! shield sweet Christabel!



The Listeners
by Walter De La Mare

'Is there anybody there?' said the Traveller,
Knocking on the moonlit door;
And his horse in the silence champed the grasses
Of the forest's ferny floor:
And a bird flew up out of the turret,
Above the Traveller's head
And he smote upon the door again a second time;
'Is there anybody there?' he said.
But no one descended to the Traveller;
No head from the leaf-fringed sill
Leaned over and looked into his grey eyes,
Where he stood perplexed and still.
But only a host of phantom listeners
That dwelt in the lone house then
Stood listening in the quiet of the moonlight
To that voice from the world of men:
Stood thronging the faint moonbeams on the dark stair,
That goes down to the empty hall,
Hearkening in an air stirred and shaken
By the lonely Traveller's call.
And he felt in his heart their strangeness,
Their stillness answering his cry,
While his horse moved, cropping the dark turf,
'Neath the starred and leafy sky;
For he suddenly smote on the door, even
Louder, and lifted his head:—
'Tell them I came, and no one answered,
That I kept my word,' he said.
Never the least stir made the listeners,
Though every word he spake
Fell echoing through the shadowiness of the still house
From the one man left awake:
Ay, they heard his foot upon the stirrup,
And the sound of iron on stone,
And how the silence surged softly backward,
When the plunging hoofs were gone.



All Hallows Eve
by Michael R. Burch

What happened to the mysterious Tuatha De Danann, to the Ban Shee (from which we get the term "banshee") and, eventually, to the Druids? One might assume that with the passing of Merlyn, Morgan le Fay and their ilk, the time of myths and magic ended. This poem is an epitaph of sorts.

In the ruins
of the dreams
and the schemes
of men;

when the moon
begets the tide
and the wide
sea sighs;

when a star
appears in heaven
and the raven
cries;

we will dance
and we will revel
in the devil's
fen ...

if nevermore again.



Luke Havergal
by Edward Arlington Robinson

Go to the western gate, Luke Havergal,
There where the vines cling crimson on the wall,
And in the twilight wait for what will come.
The leaves will whisper there of her, and some,
Like flying words, will strike you as they fall;
But go, and if you listen, she will call.
Go to the western gate, Luke Havergal—
Luke Havergal.

No, there is not a dawn in eastern skies
To rift the fiery night that's in your eyes;
But there, where western glooms are gathering
The dark will end the dark, if anything:
God slays Himself with every leaf that flies,
And hell is more than half of paradise.
No, there is not a dawn in eastern skies—
In eastern skies.

Out of a grave I come to tell you this,
Out of a grave I come to quench the kiss
That flames upon your forehead with a glow
That blinds you to the way that you must go.
Yes, there is yet one way to where she is,
Bitter, but one that faith may never miss.
Out of a grave I come to tell you this—
To tell you this.

There is the western gate, Luke Havergal,
There are the crimson leaves upon the wall,
Go, for the winds are tearing them away,—
Nor think to riddle the dead words they say,
Nor any more to feel them as they fall;
But go, and if you trust her she will call.
There is the western gate, Luke Havergal—
Luke Havergal.



The Unreturning
by Wilfred Owen

Suddenly night crushed out the day and hurled
Her remnants over cloud-peaks, thunder-walled.
Then fell a stillness such as harks appalled
When far-gone dead return upon the world.

There watched I for the Dead; but no ghost woke.
Each one whom Life exiled I named and called.
But they were all too far, or dumbed, or thralled,
And never one fared back to me or spoke.

Then peered the indefinite unshapen dawn
With vacant gloaming, sad as half-lit minds,
The weak-limned hour when sick men's sighs are drained.
And while I wondered on their being withdrawn,
Gagged by the smothering Wing which none unbinds,
I dreaded even a heaven with doors so chained.



Alone
by Edgar Alan Poe

From childhood's hour I have not been
As others were; I have not seen
As others saw; I could not bring
My passions from a common spring.
From the same source I have not taken
My sorrow; I could not awaken
My heart to joy at the same tone;
And all I loved, I loved alone.
Then—in my childhood, in the dawn
Of a most stormy life—was drawn
From every depth of good and ill
The mystery which binds me still:
From the torrent, or the fountain,
From the red cliff of the mountain,
From the sun that round me rolled
In its autumn tint of gold,
From the lightning in the sky
As it passed me flying by,
From the thunder and the storm,
And the cloud that took the form
(When the rest of Heaven was blue)
Of a demon in my view.



The Lovemaker
by Robert Mezey

I see you in her bed,
Dark, rootless epicene,
Where a lone ghost is laid
And other ghosts convene;

And hear you moan at last
Your pleasure in the deep
Haven of her who kissed
Your blind mouth into sleep.

But body, once enthralled,
Wakes in the chains it wore,
Dishevelled, stupid, cold,
And famished as before,

And hears its paragon
Breathe in the ghostly air,
Anonymous carrion
Ravished by despair.

Lovemaker, I have felt
Desire take my part,
But lacked your constant fault
And something of your art,

And would not bend my knees
To the unmantled pride
That left you in that place,
Forever unsatisfied.



Non sum qualis eram bonae sub regno Cynarae
by Ernest Dowson

"I am not as I was under the reign of the good Cynara"—Horace

Last night, ah, yesternight, betwixt her lips and mine
There fell thy shadow, Cynara! thy breath was shed
Upon my soul between the kisses and the wine;
And I was desolate and sick of an old passion,
Yea, I was desolate and bowed my head:
I have been faithful to thee, Cynara! in my fashion.

All night upon mine heart I felt her warm heart beat,
Night-long within mine arms in love and sleep she lay;
Surely the kisses of her bought red mouth were sweet;
But I was desolate and sick of an old passion,
When I awoke and found the dawn was gray:
I have been faithful to you, Cynara! in my fashion.

I have forgot much, Cynara! gone with the wind,
Flung roses, roses riotously with the throng,
Dancing, to put thy pale, lost lilies out of mind;
But I was desolate and sick of an old passion,
Yea, all the time, because the dance was long;
I have been faithful to thee, Cynara! in my fashion.

I cried for madder music and for stronger wine,
But when the feast is finished and the lamps expire,
Then falls thy shadow, Cynara! the night is thine;
And I am desolate and sick of an old passion,
Yea, hungry for the lips of my desire:
I have been faithful to thee, Cynara! in my fashion.



Like Angels, Winged
by Michael R. Burch

Like angels—winged,
shimmering, misunderstood—
they flit beyond our understanding
being neither evil, nor good.

They are as they are ...
and we are their lovers, their prey;
they seek us out when the moon is full;
they dream of us by day.

Their eyes—hypnotic, alluring—
trap ours with their strange appeal
till like flame-drawn moths, we gather ...
to see, to touch, to feel.

And in their arms, enchanted,
we feel their lips, grown old,
till with their gorging kisses
we warm them, growing cold.



Methought I Saw
by John Milton

Methought I saw my late espousèd saint
Brought to me like Alcestis from the grave,
Whom Jove's great son to her glad husband gave,
Rescued from Death by force, though pale and faint.
Mine, as whom washed from spot of childbed taint
Purification in the Old Law did save,
And such, as yet once more I trust to have
Full sight of her in Heaven without restraint,
Came vested all in white, pure as her mind.
Her face was veiled; yet to my fancied sight
Love, sweetness, goodness, in her person shined
So clear as in no face with more delight.
But O, as to embrace me she inclined,
I waked, she fled, and day brought back my night.



Shock
by Michael R. Burch

It was early in the morning, in the forming of my soul,
in the dawning of desire, with passion at first bloom,
with lightning splitting heaven to thunder's blasting roll
and a sense of welling fire and, perhaps, impending doom—

that I cried out through the tumult of the raging storm on high
for shelter from the chaos of the restless, driving rain ...
and the voice I heard replying from a rift of bleeding sky
was mine, I'm sure, and, furthermore, was certainly insane.



Tom O' Bedlam's Song
Anonymous ballad, circa 1620

From the hag and hungry goblin
That into rags would rend ye,
The spirit that stands by the naked man
In the Book of Moons, defend ye.
That of your five sound senses
You never be forsaken,
Nor wander from your selves with Tom
Abroad to beg your bacon,
While I do sing, Any food, any feeding,
Feeding, drink or clothing;
Come dame or maid, be not afraid,
Poor Tom will injure nothing.

Of thirty bare years have I
Twice twenty been enragèd,
And of forty been three times fifteen
In durance soundly cagèd.
On the lordly lofts of Bedlam
With stubble soft and dainty,
Brave bracelets strong, sweet whips, ding-dong,
With wholesome hunger plenty,
And now I sing, Any food, any feeding,
Feeding, drink or clothing;
Come dame or maid, be not afraid,
Poor Tom will injure nothing.

With a thought I took for Maudlin,
And a cruse of cockle pottage,
With a thing thus tall, sky bless you all,
I befell into this dotage.
I slept not since the Conquest,
Till then I never wakèd,
Till the roguish boy of love where I lay
Me found and stript me nakèd.
While I do sing, Any food, any feeding,
Feeding, drink or clothing;
Come dame or maid, be not afraid,
Poor Tom will injure nothing.

When I short have shorn my sow's face
And swigged my horny barrel,
In an oaken inn, I pound my skin
As a suit of gilt apparel;
The moon's my constant mistress,
And the lovely owl my marrow;
The flaming drake and the night crow make
Me music to my sorrow.
While I do sing, Any food, any feeding,
Feeding, drink or clothing;
Come dame or maid, be not afraid,
Poor Tom will injure nothing.

The palsy plagues my pulses
When I prig your pigs or pullen
Your culvers take, or matchless make
Your Chanticleer or Sullen.
When I want provant, with Humphry
I sup, and when benighted,
I repose in Paul's with waking souls,
Yet never am affrighted.
But I do sing, Any food, any feeding,
Feeding, drink or clothing;
Come dame or maid, be not afraid,
Poor Tom will injure nothing.

I know more than Apollo,
For oft when he lies sleeping
I see the stars at mortal wars
In the wounded welkin weeping.
The moon embrace her shepherd,
And the Queen of Love her warrior,
While the first doth horn the star of morn,
And the next the heavenly Farrier.
While I do sing, Any food, any feeding,
Feeding, drink or clothing;
Come dame or maid, be not afraid,
Poor Tom will injure nothing.

The Gypsies, Snap and Pedro,
Are none of Tom's comradoes,
The punk I scorn, and the cutpurse sworn
And the roaring boy's bravadoes.
The meek, the white, the gentle,
Me handle not nor spare not;
But those that cross Tom Rynosseross
Do what the panther dare not.
Although I sing, Any food, any feeding,
Feeding, drink or clothing;
Come dame or maid, be not afraid,
Poor Tom will injure nothing.

With an host of furious fancies,
Whereof I am commander,
With a burning spear and a horse of air
To the wilderness I wander.
By a knight of ghosts and shadows
I summoned am to tourney
Ten leagues beyond the wide world's end:
Methinks it is no journey.
Yet I will sing, Any food, any feeding,
Feeding, drink or clothing;
Come dame or maid, be not afraid,
Poor Tom will injure nothing.



Solicitation
by Michael R. Burch

He comes to me out of the shadows, acknowledging
my presence with a tip of his hat, always the gentleman,
and his eyes are on my eyes like a snake's on a bird's—
quizzical, mesmerizing.

He cocks his head as though something he heard intrigues him
(though I hear nothing) and he smiles, amusing himself at my expense;
his words are full of desire and loathing, and though I hear,
he says nothing that I understand.

The moon shines—maniacal, queer—as he takes my hand and whispers
Our time has come ... and so we stroll together along the docks
where the sea sends things that wriggle and crawl
scurrying under rocks and boards.

Moonlight in great floods washes his pale face as he stares unseeing
into my eyes. He sighs, and the sound crawls slithering down my spine,
and my blood seems to pause at his touch as he caresses my face.
He unfastens my dress till the white lace shows, and my neck is bared.

His teeth are long, yellow and hard. His face is bearded and haggard.
A wolf howls in the distance. There are no wolves in New York. I gasp.
My blood is a trickle his wet tongue embraces. My heart races madly.
He likes it like that.



Lenore
by Edgar Alan Poe

Ah broken is the golden bowl! the spirit flown forever!
Let the bell toll!—a saintly soul floats on the Stygian river;
And, Guy De Vere, hast thou no tear?—weep now or never more!
See! on yon drear and rigid bier low lies thy love, Lenore!
Come! let the burial rite be read—the funeral song be sung!—
An anthem for the queenliest dead that ever died so young—
A dirge for her the doubly dead in that she died so young.

"Wretches! ye loved her for her wealth and hated her for her pride,
"And when she fell in feeble health, ye blessed her—that she died!
"How shall the ritual, then, be read?—the requiem how be sung
"By you—by yours, the evil eye,—by yours, the slanderous tongue
"That did to death the innocent that died, and died so young?"

Peccavimus; but rave not thus! and let a Sabbath song
Go up to God so solemnly the dead may feel so wrong!
The sweet Lenore hath "gone before," with Hope, that flew beside
Leaving thee wild for the dear child that should have been thy bride—
For her, the fair and debonair, that now so lowly lies,
The life upon her yellow hair but not within her eyes—
The life still there, upon her hair—the death upon her eyes.

"Avaunt! to-night my heart is light. No dirge will I upraise,
"But waft the angel on her flight with a Pæan of old days!
"Let no bell toll!—lest her sweet soul, amid its hallowed mirth,
"Should catch the note, as it doth float up from the damnéd Earth.
"To friends above, from fiends below, the indignant ghost is riven—
"From Hell unto a high estate far up within the Heaven—
"From grief and groan, to a golden throne, beside the King of Heaven."



Kindred
by Michael R. Burch

Rise, pale disastrous moon!
What is love, but a heightened effect
of time, light and distance?

Did you burn once,
before you became
so remote, so detached,

so coldly, inhumanly lustrous,
before you were able to assume
the very pallor of love itself?

What is the dawn now, to you or to me?
We are as one,
out of favor with the sun.

We would exhume
the white corpse of love
for a last dance,

and yet we will not.
We will let her be,
let her abide,

for she is nothing now,
to you
or to me.



The Vampire
by Conrad Aiken

She rose among us where we lay.
She wept, we put our work away.
She chilled our laughter, stilled our play;
And spread a silence there.
And darkness shot across the sky,
And once, and twice, we heard her cry;
And saw her lift white hands on high
And toss her troubled hair.

What shape was this who came to us,
With basilisk eyes so ominous,
With mouth so sweet, so poisonous,
And tortured hands so pale?
We saw her wavering to and fro,
Through dark and wind we saw her go;
Yet what her name was did not know;
And felt our spirits fail.

We tried to turn away; but still
Above we heard her sorrow thrill;
And those that slept, they dreamed of ill
And dreadful things:
Of skies grown red with rending flames
And shuddering hills that cracked their frames;
Of twilights foul with wings;

And skeletons dancing to a tune;
And cries of children stifled soon;
And over all a blood-red moon
A dull and nightmare size.
They woke, and sought to go their ways,
Yet everywhere they met her gaze,
Her fixed and burning eyes.

Who are you now, —we cried to her—
Spirit so strange, so sinister?
We felt dead winds above us stir;
And in the darkness heard
A voice fall, singing, cloying sweet,
Heavily dropping, though that heat,
Heavy as honeyed pulses beat,
Slow word by anguished word.

And through the night strange music went
With voice and cry so darkly blent
We could not fathom what they meant;
Save only that they seemed
To thin the blood along our veins,
Foretelling vile, delirious pains,
And clouds divulging blood-red rains
Upon a hill undreamed.

And this we heard: "Who dies for me,
He shall possess me secretly,
My terrible beauty he shall see,
And slake my body's flame.
But who denies me cursed shall be,
And slain, and buried loathsomely,
And slimed upon with shame."

And darkness fell. And like a sea
Of stumbling deaths we followed, we
Who dared not stay behind.
There all night long beneath a cloud
We rose and fell, we struck and bowed,
We were the ploughman and the ploughed,
Our eyes were red and blind.

And some, they said, had touched her side,
Before she fled us there;
And some had taken her to bride;
And some lain down for her and died;
Who had not touched her hair,
Ran to and fro and cursed and cried
And sought her everywhere.

"Her eyes have feasted on the dead,
And small and shapely is her head,
And dark and small her mouth," they said,
"And beautiful to kiss;
Her mouth is sinister and red
As blood in moonlight is."

Then poets forgot their jeweled words
And cut the sky with glittering swords;
And innocent souls turned carrion birds
To perch upon the dead.
Sweet daisy fields were drenched with death,
The air became a charnel breath,
Pale stones were splashed with red.

Green leaves were dappled bright with blood
And fruit trees murdered in the bud;
And when at length the dawn
Came green as twilight from the east,
And all that heaving horror ceased,
Silent was every bird and beast,
And that dark voice was gone.

No word was there, no song, no bell,
No furious tongue that dream to tell;
Only the dead, who rose and fell
Above the wounded men;
And whisperings and wails of pain
Blown slowly from the wounded grain,
Blown slowly from the smoking plain;
And silence fallen again.

Until at dusk, from God knows where,
Beneath dark birds that filled the air,
Like one who did not hear or care,
Under a blood-red cloud,
An aged ploughman came alone
And drove his share through flesh and bone,
And turned them under to mould and stone;
All night long he ploughed.



Nevermore!
by Michael R. Burch

Nevermore! O, nevermore!
shall the haunts of the sea
—the swollen tide pools
and the dark, deserted shore—
mark her passing again.

And the salivating sea
shall never kiss her lips
nor caress her breasts, her hips,
as she dreamt it did before,
once, lost within the uproar.

The waves will never rape her,
nor take her at their leisure;
the sea gulls shall not have her,
nor could she give them pleasure ...
she sleeps, forevermore!

She sleeps forevermore,
a virgin save to me
and her other lover,
who lurks now, safely covered
by the restless, surging sea.

And, yes, they sleep together,
but never in that way ...
For the sea has stripped and shorn
the one I once adored,
and washed her flesh away.

He does not stroke her honey hair,
for she is bald, bald to the bone!
And how it fills my heart with glee
to hear them sometimes cursing me
out of the depths of the demon sea ...

their skeletal love—impossibility!



The Highwayman
by Alfred Noyes

PART ONE

I
THE wind was a torrent of darkness among the gusty trees,
The moon was a ghostly galleon tossed upon cloudy seas,
The road was a ribbon of moonlight over the purple moor,
And the highwayman came riding—
Riding—riding—
The highwayman came riding, up to the old inn-door.

II
He'd a French cocked-hat on his forehead, a bunch of lace at his chin,
A coat of the claret velvet, and breeches of brown doe-skin;
They fitted with never a wrinkle: his boots were up to the thigh!
And he rode with a jewelled twinkle,
His pistol butts a-twinkle,
His rapier hilt a-twinkle, under the jewelled sky.

III
Over the cobbles he clattered and clashed in the dark inn-yard,
And he tapped with his whip on the shutters, but all was locked and barred;
He whistled a tune to the window, and who should be waiting there
But the landlord's black-eyed daughter,
Bess, the landlord's daughter,
Plaiting a dark red love-knot into her long black hair.

IV
And dark in the dark old inn-yard a stable-wicket creaked
Where Tim the ostler listened; his face was white and peaked;
His eyes were hollows of madness, his hair like mouldy hay,
But he loved the landlord's daughter,
The landlord's red-lipped daughter,
Dumb as a dog he listened, and he heard the robber say—

V
"One kiss, my bonny sweetheart, I'm after a prize to-night,
But I shall be back with the yellow gold before the morning light;
Yet, if they press me sharply, and harry me through the day,
Then look for me by moonlight,
Watch for me by moonlight,
I'll come to thee by moonlight, though hell should bar the way."

VI
He rose upright in the stirrups; he scarce could reach her hand,
But she loosened her hair i' the casement! His face burnt like a brand
As the black cascade of perfume came tumbling over his breast;
And he kissed its waves in the moonlight,
(Oh, sweet, black waves in the moonlight!)
Then he tugged at his rein in the moonlight, and galloped away to the West.

PART TWO

I
He did not come in the dawning; he did not come at noon;
And out o' the tawny sunset, before the rise o' the moon,
When the road was a gypsy's ribbon, looping the purple moor,
A red-coat troop came marching—
Marching—marching—
King George's men came matching, up to the old inn-door.

II
They said no word to the landlord, they drank his ale instead,
But they gagged his daughter and bound her to the foot of her narrow bed;
Two of them knelt at her casement, with muskets at their side!
There was death at every window;
And hell at one dark window;
For Bess could see, through her casement, the road that he would ride.

III
They had tied her up to attention, with many a sniggering jest;
They had bound a musket beside her, with the barrel beneath her breast!
"Now, keep good watch!" and they kissed her.
She heard the dead man say—
Look for me by moonlight;
Watch for me by moonlight;
I'll come to thee by moonlight, though hell should bar the way!

IV
She twisted her hands behind her; but all the knots held good!
She writhed her hands till her fingers were wet with sweat or blood!
They stretched and strained in the darkness, and the hours crawled by like years,
Till, now, on the stroke of midnight,
Cold, on the stroke of midnight,
The tip of one finger touched it! The trigger at least was hers!

V
The tip of one finger touched it; she strove no more for the rest!
Up, she stood up to attention, with the barrel beneath her breast,
She would not risk their hearing; she would not strive again;
For the road lay bare in the moonlight;
Blank and bare in the moonlight;
And the blood of her veins in the moonlight throbbed to her love's refrain.

VI
Tlot-tlot; tlot-tlot! Had they heard it? The horse-hoofs ringing clear;
Tlot-tlot, tlot-tlot, in the distance? Were they deaf that they did not hear?
Down the ribbon of moonlight, over the brow of the hill,
The highwayman came riding,
Riding, riding!
The red-coats looked to their priming! She stood up, straight and still!

VII
Tlot-tlot, in the frosty silence! Tlot-tlot, in the echoing night!
Nearer he came and nearer! Her face was like a light!
Her eyes grew wide for a moment; she drew one last deep breath,
Then her finger moved in the moonlight,
Her musket shattered the moonlight,
Shattered her breast in the moonlight and warned him—with her death.

VIII
He turned; he spurred to the West; he did not know who stood
Bowed, with her head o'er the musket, drenched with her own red blood!
Not till the dawn he heard it, his face grew grey to hear
How Bess, the landlord's daughter,
The landlord's black-eyed daughter,
Had watched for her love in the moonlight, and died in the darkness there.

IX
Back, he spurred like a madman, shrieking a curse to the sky,
With the white road smoking behind him and his rapier brandished high!
Blood-red were his spurs i' the golden noon; wine-red was his velvet coat,
When they shot him down on the highway,
Down like a dog on the highway,
And he lay in his blood on the highway, with the bunch of lace at his throat.

X
And still of a winter's night, they say, when the wind is in the trees,
When the moon is a ghostly galleon tossed upon cloudy seas,
When the road is a ribbon of moonlight over the purple moor,
A highwayman comes riding—
Riding—riding—
A highwayman comes riding, up to the old inn-door.

XI
Over the cobbles he clatters and clangs in the dark inn-yard;
He taps with his whip on the shutters, but all is locked and barred;
He whistles a tune to the window, and who should be waiting there
But the landlord's black-eyed daughter,
Bess, the landlord's daughter,
Plaiting a dark red love-knot into her long black hair.



The Wild Hunt
by Michael R. Burch

Our Halloween is an inheritance from the ancient Celts. The Celts believed that the "otherworld" can sometimes merge with the "real world," so that elves, fairies, witches, warlocks and other fantastical entities are able to either help or harm human beings.

Near Devon, the hunters appear in the sky
with Artur and Bedwyr sounding the call;
and the others, laughing, go dashing by.
They only appear when the moon is full:

Valerin, the King of the Tangled Wood,
and Valynt, the goodly King of Wales,
Gawain and Owain and the hearty men
who live on in many minstrels' tales.

They seek the white stag on a moonlit moor,
or Torc Triath, the fabled boar,
or Ysgithyrwyn, or Twrch Trwyth,
the other mighty boars of myth.

They appear, sometimes, on Halloween
to chase the moon across the green,
then fade into the shadowed hills
where memory alone prevails.



Part 6 from The Dark Side of the Deity: Interlude
by Joe M. Ruggier

When Satan hurled, before the Dawn,
defiance at the Lord of History;
and Michael stood, and Glory shone,
Whose hand controlled the timeless Mystery?
Who but the Insult was the leveler;
Deliverer and bedeviler?

When Athens, sung in verse and prose,
caught all the World's imagination;
when Ilion fell, and Rome arose,
and Time went on like pagination:
Who but the Insult was the leveler;
Deliverer and bedeviler?

When books, in numberless infinities,
cross-fertilize the teeming brain,
and warring, vex the Soul with Vanities,
and Insults hurtle, Insults rain:
Who but the Insult is the leveler;
Deliverer and bedeviler?

And when we too shall cease to be,
like all the Kingdoms of the Past,
and groaning, gasping, wrenching free,
we bite, at last, alone, the dust:
Who but the Insult is the leveler;
Deliverer and bedeviler?

When church‑bells fill the wandering fields
with Love and Fear,
the Flesh and Blood of Jesus yields
deliverance dear,
to them who believe in the Compliment Sinsear.



At Melville's Tomb
by Hart Crane

Often beneath the wave, wide from this ledge
The dice of drowned men's bones he saw bequeath
An embassy. Their numbers as he watched,
Beat on the dusty shore and were obscured.

And wrecks passed without sound of bells,
The calyx of death's bounty giving back
A scattered chapter, livid hieroglyph,
The portent wound in corridors of shells.

Then in the circuit calm of one vast coil,
Its lashings charmed and malice reconciled,
Frosted eyes there were that lifted altars;
And silent answers crept across the stars.

Compass, quadrant and sextant contrive
No farther tides ... High in the azure steeps
Monody shall not wake the mariner.
This fabulous shadow only the sea keeps.



Requiem
by Robert L. Stevenson

Under the wide and starry sky
Dig the grave and let me lie.
Glad did I live and gladly die,
And I laid me down with a will.

This be the verse you grave for me;
"Here he lies where he longed to be,
Home is the sailor, home from sea,
And the hunter home from the hill."



Haunted Houses
by Henry Wadsworth Longfellow

All houses wherein men have lived and died
Are haunted houses. Through the open doors
The harmless phantoms on their errands glide,
With feet that make no sound upon the floors.

We meet them at the door-way, on the stair,
Along the passages they come and go,
Impalpable impressions on the air,
A sense of something moving to and fro.

There are more guests at table than the hosts
Invited; the illuminated hall
Is thronged with quiet, inoffensive ghosts,
As silent as the pictures on the wall.

The stranger at my fireside cannot see
The forms I see, nor hear the sounds I hear;
He but perceives what is; while unto me
All that has been is visible and clear.

We have no title-deeds to house or lands;
Owners and occupants of earlier dates
From graves forgotten stretch their dusty hands,
And hold in mortmain still their old estates.

The spirit-world around this world of sense
Floats like an atmosphere, and everywhere
Wafts through these earthly mists and vapours dense
A vital breath of more ethereal air.

Our little lives are kept in equipoise
By opposite attractions and desires;
The struggle of the instinct that enjoys,
And the more noble instinct that aspires.

These perturbations, this perpetual jar
Of earthly wants and aspirations high,
Come from the influence of an unseen star
An undiscovered planet in our sky.

And as the moon from some dark gate of cloud
Throws o'er the sea a floating bridge of light,
Across whose trembling planks our fancies crowd
Into the realm of mystery and night,—

So from the world of spirits there descends
A bridge of light, connecting it with this,
O'er whose unsteady floor, that sways and bends,
Wander our thoughts above the dark abyss.



More great ghost stories and other eerie, haunting Halloween poems:

La Belle Dame sans Merci by John Keats
The Rime of the Ancient Mariner by Samuel Taylor Coleridge
Mariana by Lord Alfred Tennyson
The Apparition by John Donne
Goblin Market by Christina Rossetti
The Blessed Damozel by Dante Gabriel Rossetti
Sudden Light by Dante Gabriel Rossetti
Allayne by Kevin N. Roberts
Halloween by Robert Burns
The Giaour by George Gordon, Lord Byron
The Vampire by Rudyard Kipling
The Vampyre by John Stagg
Ghost House by Robert Frost
Low Barometer by Robert Bridges
My Hero Bares His Nerves by Dylan Thomas
The Raven by Edgar Allan Poe
Annabel Lee by Edgar Allan Poe
The Haunted Palace by Edgar Allan Poe
Spirits of the Dead by Edgar Allan Poe
The White Witch by James Weldon Johnson
The Hag by Robert Herrick
We're All Ghosts Now by Dara Weir
Shadwell Stair by Wilfred Owen
When You Are Old by William Butler Yeats
the Cambridge ladies who live in furnished souls by e. e. cummings
The Convergence Of The Twain by Thomas Hardy
Cold-Blooded Creatures by Elinor Morton Wylie
Anthem For Doomed Youth by Wilfred Owen
The Poor Ghost by Christina Rossetti

Related pages: The Best Vampire Poetry, The Best Dark Poetry, The Best Dark Christmas Poems, The Best Halloween Poetry, The Best Supernatural Poetry, The Best Elegies, Dirges & Laments

The HyperTexts