The HyperTexts

Joe M. Ruggier

Joe M. Ruggier was born in Malta in 1956 and has written and published poetry in both Maltese and English. He currently resides in Richmond, British Columbia, where he manages a small press, Multicultural Books, and is the editor of a poetry journal, The Eclectic Muse. Multicultural Books publishes poetry, poetry leaflets, sound recordings, fiction and literary fiction.

Ruggier has sold over 20,000 books, many of them door-to-door, including over 10,000 books he wrote and published himself. There are over 5,700 copies of his book Out of Blue Nothing in print. These are amazing figures for a poet of our time: one man willing to buck the system while being commendably unwilling to take "no" for an answer.

There is information at the bottom of this page on Joe Ruggier's books, cassettes, and The Eclectic Muse. We hope our readers will support Joe Ruggier in his efforts to, singlehandedly as it were, create a revival of traditional poetry by literally seeking out readers where they live. Joe is always on the lookout for quality poetry to publish, so we hope the poets who read these pages will both subscribe and submit to The Eclectic Muse.



Part 6 from The Dark Side of the Deity: Interlude

When Satan hurled, before the Dawn,
defiance at the Lord of History;
and Michael stood, and Glory shone,
Whose hand controlled the timeless Mystery?
Who but the Insult was the leveler;
Deliverer and bedeviler?

When Athens, sung in verse and prose,
caught all the World's imagination;
when Ilion fell, and Rome arose,
and Time went on like pagination:
Who but the Insult was the leveler;
Deliverer and bedeviler?

When books, in numberless infinities,
cross-fertilize the teeming brain,
and warring, vex the Soul with Vanities,
and Insults hurtle, Insults rain:
Who but the Insult is the leveler;
Deliverer and bedeviler?

And when we too shall cease to be,
like all the Kingdoms of the Past,
and groaning, gasping, wrenching free,
we bite, at last, alone, the dust:
Who but the Insult is the leveler;
Deliverer and bedeviler?

When church-bells fill the wandering fields
with Love and Fear,
the Flesh and Blood of Jesus yields
deliverance dear,
to them who believe in the Compliment Sinsear.



A Proof of Love

NOW WHEN I was fresh and easy, I would go
to Church ... devotion fill'd my soul with tears.
I guessed not all Gospels could so tiresome grow—
the same words repeated for twice a thousand years.
But middle-aged I have become aware
of all the paranoia, boredom, pain,
where with lame hands I grope ... of empty air
and dust, and chances lost, and littlest gain.
Yet here I am, my God, where I relax
in warmth of heaters, and Thy glowing smile,
where words, repeated, securer are than cheques,
the Love which then I felt, now lost awhile.
Thus We gave God, Whose Love does not change the story,
a proof of Love

—

seal of eternal glory!

From Songs of Gentlest Reflection, copyright © Joe M. Ruggier, 2003, 2004



Old Dante's Damning Powers

Many people, in particular modern Catholics, are scandalized by Dante, particularly by his Inferno, wherein Dante positioned real, historical figures among others which are mythological. I once told the Catholics … "Church teaching about Hell is dogmatic theology whatever you say. Why does Dante make you such a terrible insult with Hell? Because he hates you? Or because he wishes you better? The critics, the poetry lovers, the professors understand Dante correctly, and so do the artists … the artists, in particular, are right to love Dante so deeply because they know that his honour is a sincere honour to them and they understand him most correctly in that they understand that his intentions are to save them!" The poem below is where my further reflections led me … Joe Ruggier

Old Dante's damning powers are as God wants—
he snubs with Hell only where he wishes better.
If people do not like them, people should
control their own —damning powers being,
most likely, the only supernatural power
most people have. Dante's Inferno speaks
to their condition: they read it and reread it;
and in regards to Hell, Church teaching is
dogmatic. If, however, it does not speak
to your condition, you may read Purgatory,
the most human, the most touching, among
great Poems, where, suffer what you may, the edges
are all solace, the consolation of all the faithful
who are not perfect ... to whom the Lord may say:
"I'm going to torture you upon the violin!"
and we learn Love, and Holy Spirit, and enter
Heaven musicians like Yehudi Menuhin:
a school for all — Purgatory the blest!



Saint Mary Christian

Elegy for my mother, Marie Ruggier
7th February 1925—29th April 2008

Saint Mary Christian made her family one prophecy only:
"You will seek me and will not find me!"

I was hungry. My Mother gave me to eat.
I was thirsty. My Mother gave me to drink.
I was naked. My Mother clothed me.
I was bedridden. Mother watched and prayed beside me.

All in all a simple soul, Mother was
most capable, and most clever at what she did well.
She was everywhere, she did everything:
the heartbeat of our family. Every day
she cooked three meals from scratch, proof of her love,
for father and all seven of us: her cooking was,
in its own right, a unique, genuine cuisine—
the proudest thing in her devoted life.
She did the laundry, washed dishes, knitted wool,
(and scarves with the colors of our favorite soccer club),
sewed our clothes, helped us all, with father, with our schoolwork,
and often read my writings. We took her quite for granted, but
we loved her all—except when she yelled, and then
we would all hate her for what she elegantly described
as "behooving sin"!
Her frugality was a work
of exquisite art: nothing was wasted,
all scraps of food consumed, and the leftovers
went to the birds ... With father, she economized
fractions of cents, supporting all seven of us
on pennies—not a lifestyle
that I could ever grow accustomed to;
but excellent preparation for publishing poetry ...

Feminists will look askance at her lifestyle, arguing that
the quality of her life could have been better: one ignores
a movement such as Feminism at one's own peril;
but Mum and Dad would say that Love
is the only quality of life there is; and Salvation
the only sincere honour!
Though she cared for the Arts,
Mother did not know better: to adjust her vision
to feminist viewpoints called for a contradiction
to everything she knew, everything she learnt,
and was conditioned to be, since early childhood,
by her own parents and upbringing;
a major readjustment which could have
positively unhinged her and unsettled her.
Mum and Dad
were happy, a Man and a Woman, permanently in love,
always getting along: their Marriage was a sacred Memory
of a traditional Past; with no guarantee
that modern marriages are happier!

The Mother who, with untold self-denial,
bore us, bred us, fed us, clothed us, educated us,
and every day said prayers with us … is in her grave:
but her spirit of prayer knew no bottom,
Mass and her Rosary being her favorite charms—
her frugal way of maximizing fractions of idle Time!
Laying up treasure for herself in Heaven,
she lives on in the fragrance of her prayers!

May the Divine Will be fulfilled
in her Life and in her passing!
May the Saints she loved immerse her
in the abyss of God's Mercy;
invoking upon her holy Soul
the abundant blessings of Divine Mercy!
And may Saint Mary Christian
still pray for all of us below ...

Copyright © Joe M. Ruggier, 2008



To Rumi

I was impressed by praise your editor penned
for you: "this ocean of sublime jazz
perhaps with no parallel in world literature!"

Islam and its culture remind me of just that,
sublime jazz! As I read on
I could hear it in the atmosphere:
making me think of sex, at the same time
making me think of God, lifting up my mind
to higher things!
That is precisely
what jazz ought to be like, I thought,
and I cheered you, old Rumi, who, centuries ago,
in the middle ages, understood so well
something so primitive, and yet so modern!

That is just what I am missing when I listen
to jazz music, the sublime jazz of Islam!



Copyright © Joe M. Ruggier, 2008





All Love is Sacred

In the jumble and din of modern cities,
immense shopping centres cast in iron cages
and technological jungles, where the constant,
nuclear boom of cars, and planes, and radios
deafens and deadens the sense, by day or night,
bringing the eyes to the constant verge of tears
caused by filth, smog, far too much light and colour,
and noise-pollution, with a cruel, sadistic
wrenching upon the very nerve itself
of sensitive feeling ... ancient Love remains,
perennial as the grass, a holy corner
which the Heart calls Home, where a man takes refuge
with prayers inside his Heart: Eros, Agape,
Thanatos, good Love and bad, or the four Loves—
all Love is sacred ... !



My Daemon

My daemon follows me. I was a child:
his daemon eyes devoured me ever since!
He loves to rule me proudly, goad me wild;
his maddening eyes they rile me, and I wince!
No matter what I do, he is disdain
and negative thought, dogma if I discuss;
ungracious pastor to poetic pain;
dark inhibition in my jail; and boss!
Though he returns but acid, I must say
long years returned me such a yield of art,
and I have earnt such learning through dismay,
that I grow fond; I love to touch his heart!
To our hostilities I see no end;
I tremble! Can I be blam'd to call him friend?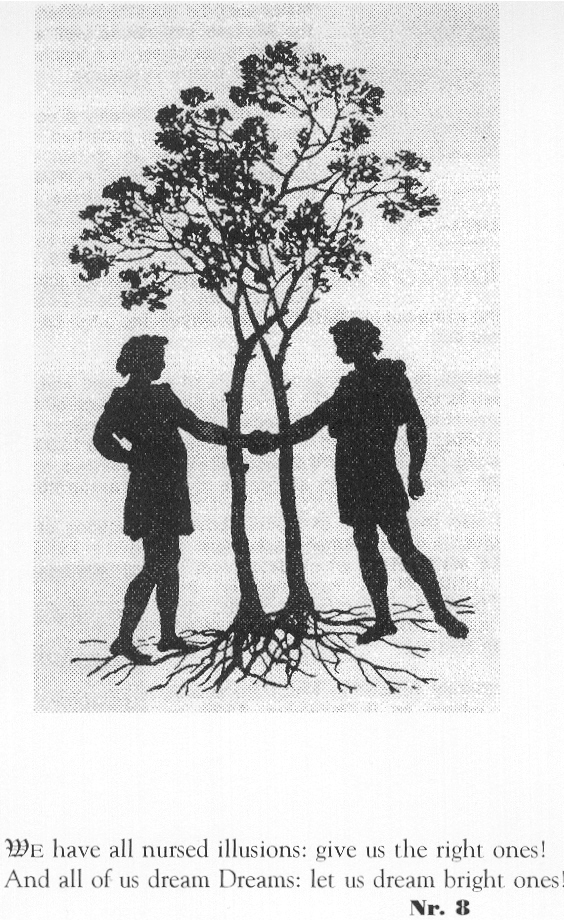 Four Poems from Out of Blue Nothing, a sequence of Twenty-Four Sonnets

1.
AS I stand surveying all that ground I lost,
all that I loved, and love gone out and cross,
love's labour like some burning wreckage tost,
my spirit breathes: "this was eternal loss!"
Had I but known, fair creature of an hour,
sweet love that sank in the bright hills like rain,


had I been subtle to the eleventh power,
I would not drown, and never cry again!
Suppose that all Life Death does end; assume


the worst! Hence the necessity of humour!
Clean jokes are altars blossoming; and the bloom


"another Life". How this one makes me swear!
But books in the raw element immerse,
since love and ready wit suffice for verse.

2.
BOOKS! Voices of Sirens singing, carrying
from undiscovered countries and slow time!
Grand monuments! and Beasts of Troy, ferrying
fast ones; whole hordes of demons clad in rhyme!
New starts and old revisions; worlds unknown,
and all the old eternity on paper!
Merry-go-rounds where all the winds of renown
lead some poor devils round around a caper!
I know them all, how changing, and well I know
brain-spinning disturbs the Peace ... torrential rain!
Into which sense shall I dissolve and go?
Lie where? Would I have done it so again?
Good men are great philosophers; the heart
Is their Ink-pot; sound sense is all their art.

3.
STILL young and green to the school of hard knocks,
flushed senses flaming from the dream you sought,
to drown was sweet when Song seemed like the rocks
beneath, and Books were timeless depths of thought.
Fresh sprung the verse which could not obey your call,
and molded lumber seemed all tomes instead!
Oh well! for the lad and his lass and the team round a ball!
but ah! for the pillar of Fire in your head!
Knocked between books and wild, springing nature,
knocked between Church and this, your wild, first love,
knocked between love and song and wan misfeature,
knocked between dreams and fact, bright stars above,
would you have tumbled had you known? Who knew?
You wrote yourself this Requiem. How true?

4.
THE CHAPEL folded up among the trees
stood open. Winds rushed like children round the steeple.
The metal windmills creaked. Transported Peace
sighed on the leaves, drawn out from a unified people.
Brains are the whirlpools, whirlwinds were the hymns;
the voice of the nameless, pride and soul of the millions!
We clip high dreams. Their true illusion dims,
and dips like a headlight. But stars in their billions
still heave like a wave of the sea and over the hills;
and far away is long ago! The dusk
subdues the nuclear tone, which all but chills
Man's withering dreams but for the priest-like task!
Set down out of blue nothing rhymes unheard!
Redeem the time!—but sexless, Man's absurd!




Haunted House in a Picture

On one side stood a bare, uneven pit
of barren fields where shadows brood and sit,
and sunset's grand design makes lovers rue
the day, and a small path meanders through
the wind-swept grasses, where the oxen browse
all day; on one side stood a haunted House.

Whether the Winds of Time and Fable, That
which in the hinges whined, or else a Bat;
whether Existence sighed inside, or moaned,
or Gales were creaking loud, the hinges groaned;
whether a state of Grace, or Demon's rage,
or souls in bliss held captive in a cage,
or Hell, or Love Eternal sighed inside,
all round the barren fields the cadence cried;
all round the barren fields, and in the Hall,
it settled softly with a dying fall.

The Dead descended on that place in Art,
and through the sense of sound they would depart
like Music, winging wildly, pole to pole,
like Hell and Heaven from the living Soul,
closed fast and racing. Present, Future, Past,
all Time did in that House subsist, the dust
subsiding, First and Last, all Books, all Space:
is Heaven then both State and Solid Place,
by secret hands unsealed, sealed with a Kiss?
Is Heaven then a Place like lost Atlantis?

Is it unlawful thus the Dead to woo?
Is Death a lie when Wrong belies the True?
And that forgotten House, which nowhere is,
but somewhere, somewhere, sure, a Home of bliss,
a Land unknown, a solid, solid Place,
which by an Act of God and Winds of Grace,
blown off the Map in silence, come and gone,
like shadows, when through clouds the Glory shone,
a thought which vanished in the Sun like Time,
a Dream, a sinking star, a sense sublime
of something gone around the open'd Eye,
snuffed like the candle's Light, a last good-bye,
may be, may be the Castle of the Soul,
but haunted by the field-mouse and the mole.

From The Voice of the Millions



chrysanthemums for coffined Eternity

to roy harrison
to edgar poe
to my brothers
and sisters
and to the Memory
of Hiroshima

We are the Dead crush
us not we Eternity are
sense of the Flesh and
eyes shut tight mouth nose and ears
something which somewhere somewhere

clay chokes my tears
fills the throat's climbing Sorrow
what Insult would cry
cry cry and can't what Horror
all of us dead men are Lovers

the Dead wash the wounds
of the Dead with tears forget
us not hurt not us
the Dead need Love feel Fear
the Living feel none help help

line comes through static
lost at Sea this is Doomsday
dark dark dark what Wrath
of Ocean gossamer Sunshine
something which somewhere somewhere

we Eternity are
alone in secret we choke
feel Fear threaten
us not with nuclear Doom
we have striven all of us

Posterity and
Civilization are wreck
us not all of us
Ladies and Gentlemen are
the nuclear tone woke us up

we have striven gone
to rest have heard the Rumour
of Doom let us be
Ladies and Gentlemen we
have striven and gone to rest

in Peace let us be
wreck us not all tell us you
lie lie lie gather'd
on the banks of the River
let us be and strew on us

roses in the depths
of the Forest let us be
something which somewhere
all the dead sleep sound let all
of us Be Existence We

remember us with
Love with Prayers when you think
of us think of us
with tears wish us well we wish
you well and listen feel free

silent all of us
in graves we the four winds are
and graves the Keepers
confess your sins to the Dead
the full moon in churchyards us

love us the Living
must they all Informers are
must sob they must sob
sob for the souls of the Lost
the souls the souls of the Slain

sob sob tell us naught
we know all and sob sob sob
we more real are
than Man alive all of us
Ladies and Gentlemen are

forget us not hurt
not us for like us you must
also die we are
dust crush us not we fear
which somewhere in Art and Love

live on never spurn
the still sad Song of the Grave
love us the Living
all of them must let us be
Ladies and Gentlemen We

line comes through static
something which somewhere somewhere
S.O.S. only

History and Culture We
the Past and Future are
let not Posterity see
Civilization sink like a Star
all of us fear let us be
coffined Eternity We

never deride the lament
of the Dead nor the Grief nor
the Love nor the Sorrow and
Song of the broken-hearted
the Tomb the Grass nor the Verse
coffined Eternity Us

From The Voice of the Millions



Denial or the Arts

THE RICH have art ... and though the cloister's more
enticing than the world that satan paints,
the rich are not the poorest of the poor
like the drug-addicts — without the arts or saints.
Hence, if a rule of life may be devised
for Artists, it would seem they ought to 'nherit
what by the rich and by the poor is prized,
that rich they ought to be in flesh and spirit!

Thus wrote Teresa — squeaming whether Art
is in the self-same spirit as the vows
and counsels of Perfection — that the Heart,
and ways of Love thereof, are holier cows
than denial ...
words inspired from above:
"do not renounce that which awakens Love!"

From Songs of Gentlest Reflection, copyright © Joe M. Ruggier, 2003, 2004
Spiritual Testimonies, No 26: (Avila, date uncertain), Do not renounce what awakens Love. The Collected Works of Saint Teresa, in 3 volumes. Vol 1. Kieran Kavanaugh O.C.D., and Otilio Rodriguez O.C.D., translators. ICS Publications. Institute of Carmelite Studies, Washington, D.C.

In this spiritual testimony, Teresa squeams and agonizes whether a painting, extremely ornate, which she had hanging on the wall, in her room, is consonant with her vows, and with the spirit of mortification which she embraces. The Lord's loving reply to her is very straightforward: "What is greater, mortification or charity? You must never do something like this, neither to yourself nor to your nuns. Do not renounce what awakens love! Satan has in this manner deprived the Lutherans of everything they've got to awaken their loving feelings. My own Christians must in every way strive to do much better." The conclusion is simple and a good argument for the value of the arts: Love is greater than denial.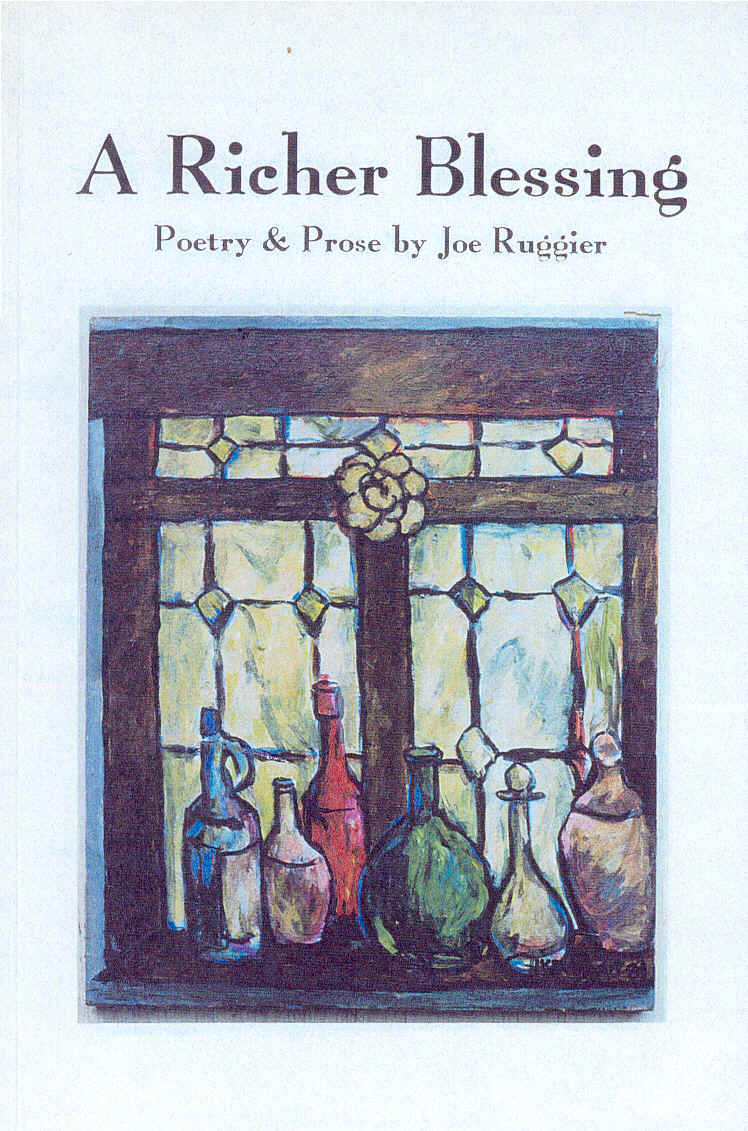 Information on Joe M. Ruggier's books, cassettes and poetry journal:

Intelligible Mystery (1985)
Out of Blue Nothing (1985) ISBN 0-9694933-0-4
The Voice of the Millions (1988)
In the Suburbs of Europe (1991)
Moods for Lovers (1993 ) Cassette
This Eternal Hubbub (1995)
regrets hopes regards and prayers ... (1996)
Lady Vancouver (1997)
A Richer Blessing (1999 ) ISBN 0-9681948-3-4
The Poetry of George Borg Translated from the Maltese by Joe M. Ruggier (2000)
The Eclectic Muse, a poetry journal edited by Joe M. Ruggier

To order any of the above, please write or call first for availability and prices:

Multicultural Books
Suite 307, 6311 Gilbert Road
Richmond, B.C.
Canada V7C 3V7

Telephone: +604 600 8819

Please make out checks to: Joe M. Ruggier.

The HyperTexts