The HyperTexts

AUSCHWITZ ROSE
by Michael R. Burch

Form, Theme, Analysis and Meaning, Tone, Diction and Literary Devices

If you are a student, scholar or educator interested in writing a paper about the Holocaust poem "Auschwitz Rose" or have any other interest in the poem, you can read the author's own analysis and explanations below. You are also welcome to email him if you have questions or comments at mikerburch@gmail.com (please be sure not to miss the "r" between his first and last names). Composers are also welcome, as 26 of his poems have been set to music by 12 different composers.

You can find Burch's analysis of his poems here: "Auschwitz Rose" Analysis, "Epitaph" Analysis, "Something" Analysis, "Will There Be Starlight" Analysis, "Davenport Tomorrow" Analysis, "Neglect" Analysis, "Passionate One" Analysis, "Self Reflection" Analysis

"Auschwitz Rose" is the title poem of upcoming book by Michael R. Burch, with cover art by Mary Rae.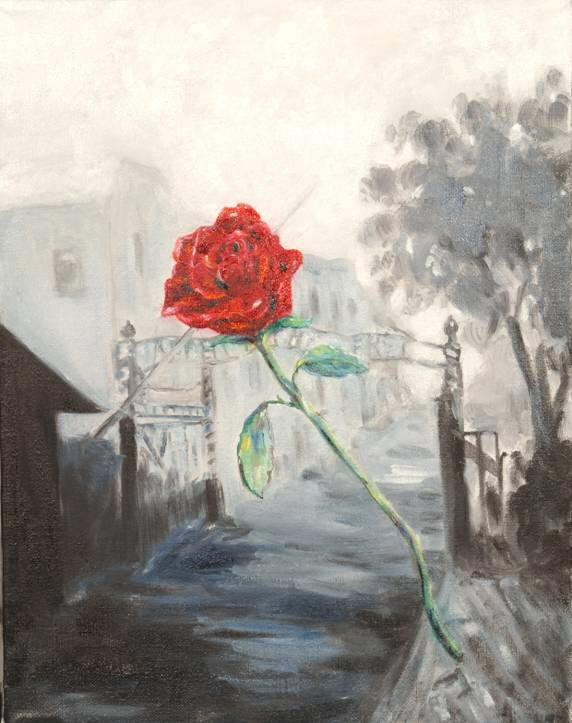 Auschwitz Rose
by Michael R. Burch

There is a Rose, at Auschwitz, in the briar;
a Rose like Sharon's, lovely as her name.
The world forgot her, and is not the same.
I still love her and enlist this sacred fire
to keep her memory exalted flame
unmolested by the thistles and the nettles.

On Auschwitz now the reddening sunset settles.
They sleep alike—diminutive and tall,
the innocent, the "surgeons." Sleeping, all.

Red oxides of her blood, bright crimson petals,
if accidents of coloration, gall
my heart no less. Amid thick weeds and muck
these lies a Rose man's crackling lightning struck—
the only Rose I ever longed to pluck.
Soon I'll bed there and bid the world "Good Luck."

Poem History, Background and Overview: "Auschwitz Rose" is a Holocaust poem that I composed while thinking about the lovely and poetic term "Rose of Sharon." I imagined all the women and children who died during the Holocaust. How many of them were named Rose? What would a man who lost the Rose he loved at Auschwitz have to say? I then had a vision of a thornless, defenseless rose hovering above the Auschwitz death camp. Mary Rae brought my vision of a thornless rose to life and her painting will be the cover of my book Auschwitz Rose when it comes out.

Theme, Analysis and Meaning: "Auschwitz Rose" is a Holocaust poem about the horror of losing someone we love to the madness of racism raised to obscene and grotesque levels. The poem is also an elegy, a eulogy and a lament. The poem is also about loss: the ultimate loss of death. The poem's speaker has lost what mattered most in life to him, and he is ready to mockingly tell the world "Good Luck" and depart. He is bearing a torch both literally and metaphorically. He visits his lost Rose's grave at night, where he finds it overgrown with briars, thistles and nettles. It may be a mass grave. But with the flame he bears, he exalts her memory. He remembers her as she was to him, even though the rest of the world has forgotten her. But everywhere he looks he sees the color of blood: the wild roses, the fire he bears, the sunset reddening overhead. (By the way, when my friend the Maltese poet Joe Ruggier read the "reddening" line, he jumped out of his bus seat!) The bloody colors remind the man of the "surgeons" who carried out ghoulish experiments on the Auschwitz inmates. Many of the "patients" were "diminutive" (i.e., children). The speaker is disgusted by everything he sees and remembers, other than the memory of the Rose he loved and lost.

Tone: The poem's tone can be described as angry, bitter, hurt, mocking, regretful, grieving and mournful.

Poetic Diction: The poem's language is similar to that of an elegy or eulogy: reserved, formal, reverential but tinged with anger and bitterness.

Poetic Form: I consider the poem to be a sonnet, but when I write sonnets I ignore the rules. Purists may disagree, but I like to go with the original definition of a sonnet as a "little song" of indeterminate length and form. Shakespeare sometimes broke the rules of the sonnet form that bears his name, so why not?

Literary Devices: The poem's primary literary devices are meter, rhyme, imagery and metaphor. The sounds of the words help convey impressions and feelings of loss, regret and bitterness.

Genres: The poem is an elegy, a eulogy, a lament, a Holocaust poem and a protest poem.

Publication History: "Auschwitz Rose" has been published by Voices Israel, Other Voices International, Promosaik (Germany), The Eclectic Muse (Canada), Verse Weekly, Black Medina, Poetry Renewal Magazine, Mindful of Poetry, The Neovictorian/Cochlea, Famous Poets & Poems, The Wandering Hermit, FreeXpression (Australia), Inspirational Stories, Poetry Life & Times, Sonnetto Poesia (Canada), Trinacria, Pennsylvania Review, Poems About, Litera (UK), Yahoo Buzz, Got Poetry, and de Volksrant Blog (Holland). The poem has also been taught in middle schools, high schools and colleges, and used in a number of student Holocaust projects over the years.

If you are a student, teacher, educator, peace activist or just someone who cares and wants to help, please read How Can We End Ethnic Cleansing and Genocide Forever? and do what you can to make the world a safer, happier place for children of all races and creeds.

Bio: Michael R. Burch is an American poet who lives in Nashville, Tennessee with his wife Beth, their son Jeremy, and three outrageously spoiled puppies. His poems, epigrams, translations, essays, articles, reviews, short stories and letters have appeared more than 6,000 times in publications which include TIME, USA Today, The Hindu, BBC Radio 3, CNN.com, Daily Kos, The Washington Post, Light Quarterly, The Lyric, Measure, Writer's Digest—The Year's Best Writing, The Best of the Eclectic Muse, Unlikely Stories and hundreds of other literary journals, websites and blogs. Mike Burch is also the founder and editor-in-chief of The HyperTexts, a former columnist for the Nashville City Paper and, according to Google's rankings, a relevant online publisher of poems about the Holocaust, Hiroshima, the Trail of Tears, Darfur, Haiti, Gaza and the Palestinian Nakba. He has two published books, Violets for Beth (White Violet Press, 2012) and O, Terrible Angel (Ancient Cypress Press, 2013). A third book, Auschwitz Rose, is still in the chute but long delayed. Burch's poetry has been translated into fourteen languages and set to music by nine composers. His poem "First They Came for the Muslims" has been adopted by Amnesty International for its Words That Burn anthology, a free online resource for students and educators. He has also served as editor of International Poetry and Translations for the literary journal Better Than Starbucks.

For an expanded bio, circum vitae and career timeline of the poet, please click here: Michael R. Burch Expanded Bio.

Related Pages: "Davenport Tomorrow" Analysis, "Neglect" Analysis, "Something" Analysis, "Will There Be Starlight" Analysis

The HyperTexts