The HyperTexts
Michael Phillips: "Medicaid keeps people like me out of institutions."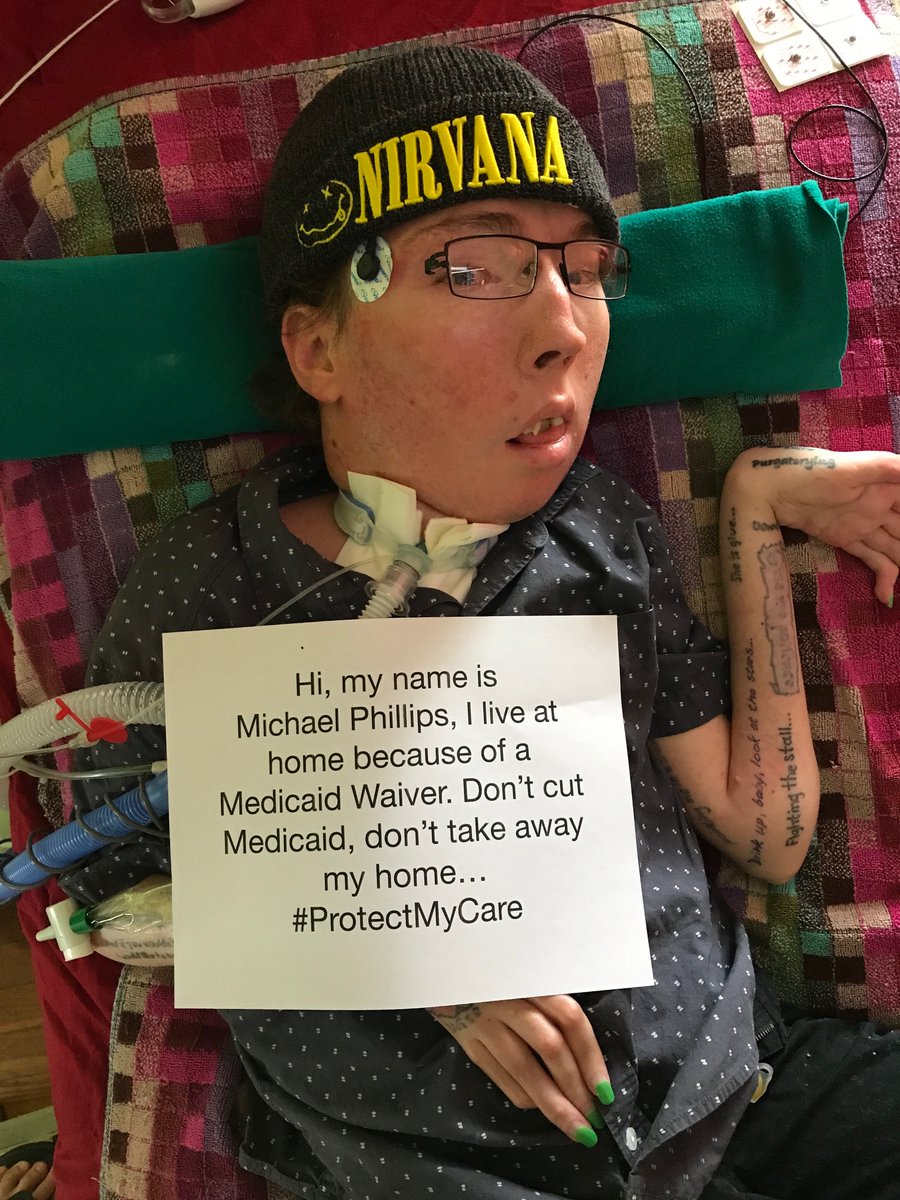 At night, I wish the hardest.
I also write dark things, and beautiful things.


―

Michael Phillips

Michael Phillips is a 36-year-old Tampa resident who enjoys Starbucks coffee, watching movies and hanging out with his friends. He has spinal muscular atrophy, which has severely limited his ability to move his body since birth ― and more recently ― left him unable to speak.

Iím just so fucking tired, uneasy.
Loneliness and bad dreams.


―

Michael Phillips

But being unable to speak hasn't robbed him of his true voice. Michael Phillips is a published writer and a talented poet ...

Iím tired.
Iím nervous.
Iím alone.
I miss Ö someone who probably doesnít want their name written here.
I want to write about some books Iíve read, records Iíve listened to, movies Iíve seen.
I have a bunch of tattoos to post.
I realized the long-time goal of acquiring my dream headphones.
Theyíre the headphones Iíll use until I quit breathing, which is a little morbid.
Iím a little morbid.
Iíve lost much.


―

Michael Phillips

Michael Phillips' voice may be the most eloquent to be raised against what has come to be known as the AHCA, TrumpCare and TrumpedUpCare ...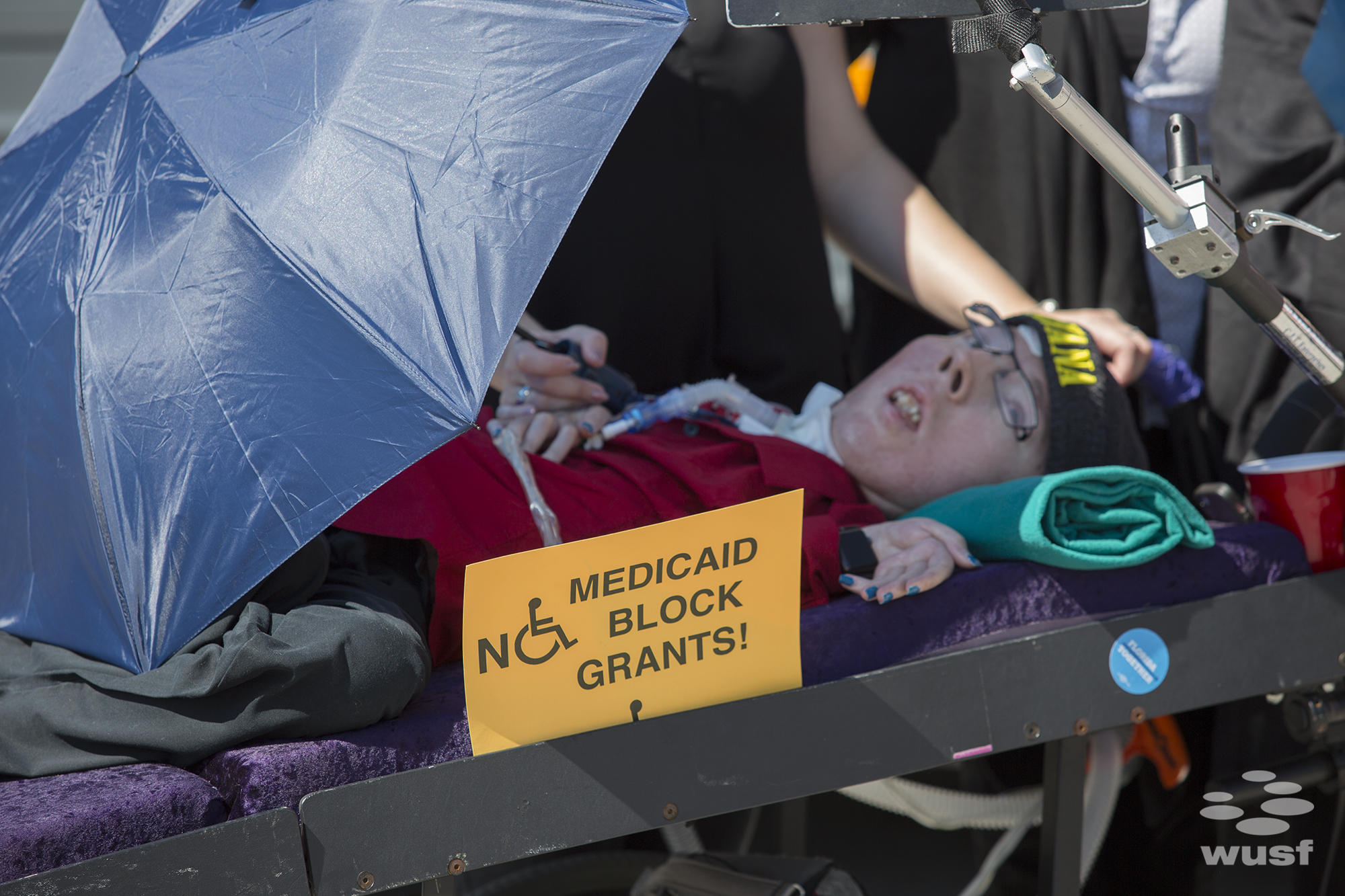 Mike Phillips, who requires a ventilator to breathe, stands to lose Medicaid benefits if the proposed Senate health care bill is passed.



Although Phillips is severely physically disabled, thanks to Medicaid he's been able to be cared for at home by his loving and supportive family. In a remarkable interview with MSNBC's Ari Melber, Mike Phillips and his mother and full-time caregiver Karen Clay explain how Medicaid cuts would literally end life as they know it, together ...



After Clay explained to Melber that her son was diagnosed more than 30 years ago and that the care he needs has increased over that time, she observed that "Medicaid is called a 'lifeline,' but for people like my son, it is a life. If you take away Medicaid from individuals like my son ó and my son in particular ó there would be no place for him." [This is because Florida does not have the facilities her son needs to live. He would be forced to leave home and live in a far-away hospital or institution.]

Phillips, via a computer, then delivered the following statement to Ari Melber:

"Hi and good evening. First, I just want to say it's an honor to be here. I watch your legal analysis every day. You're spectacular!

So ever since November the 9th, 2016, I haven't been sleeping well. I've been scared. I've never been scared by the results of an election. It's an odd feeling. I've always felt like the federal government exists to protect citizens, even when state governments won't do so. Maybe especially when state governments won't do so.

So, yes, I'm scared. Scared of what could happen to me if the Medicaid cut comes to pass in Florida, and scared because Florida is bent on doing so because they know the federal government won't stop them. Though I'm quite disabled, Medicaid services allow me to live a full, productive life, interacting with the community, being cared for at home. I live at home. I have a personal care assistant. She takes me anywhere I want to go ó the movies, Starbucks, dinner with friends, the tattoo shop, when the mood takes me, which is often enough.

I don't have a girlfriend right now, but I had one for quite a while, and I'd like to give things another go. I'm a published writer. I helped develop assistive technology. I'm not exactly Ryan Gosling, but I lead a good life. Losing Medicaid, being forced into an institution, I'd lose everything. I'd lose the rights guaranteed to me under the Constitution ó life, liberty, and the pursuit of happiness. People with disabilities know happiness isn't guaranteed, but we want a shot at it just like anybody else."

"Mike, thank you for sharing that," Melber responded, obviously fighting through tears. "Itís very eloquent."

Still emotional, with his voice cracking, Melber then asked Karen if there was anything else she wanted people to know about the bill, to which she replied that it was "not just mean" but also "cruel."
In a previous interview, Phillips spoke at a "Save My Care" Bus Tour when it made a stop in Tampa. Phillips spoke in front of the bus morning using assistive technology called a "NeuroSwitch."

"If Medicaid services are cut or capped because of block grants, I could lose everything. I could go from living at home to living in an institution," Phillips said.

Medicaid lets him live at home with a personal care assistant. It pays for the device that allows him to speak and gives him the freedom to spend his free time working with developers to improve devices like the NeuroSwitch to help people like him communicate with friends and family.

Without that, Phillips said, "I don't want to live such a life. Nobody would."

Phillips said he will continue to fight to keep the Affordable Care Act, and to expand Medicaid.

A St. Petersburg doctor also spoke against block grants for Medicaid. "We already have this experiment here in Florida that's been going on for several years where they take this pot of money and they give it to private Medicaid providers and we find that that limits access to care," said Dr. Mona Mangat. "You either don't have providers for miles and miles, you have a lot of red tape to try and get through to get access to care."

The Save My Care Bus Tour is a two-month, nationwide tour focused on telling the stories of Americans who could be affected by a repeal of the Affordable Care Act and changes to Medicaid. So far, the bus has held 39 events in 18 states.

Excerpts from an article by Daylina Miller were used to create this page.

Michael Phillips

@wholeexpanse

Tweets

Make people understand, @chrislhayes @HardballChris @maddow @Lawrence @JoyAnnReid, Medicaid keeps people like me out of institutions.

@EJDionne Why does NOBODY cover the AHCA and the disabled? Iím 36, trached, and facing institutionalization. Tweeting until you reply.

Hey, @marcorubio @SenateMajLdr @RandPaul Would you drag me out of your office if I stopped by? #ProtectOurCare

Hey, @SenateMajLdr, having folks yanked from wheelchairs and dragged from your office was vile, and worse, I think youíll sleep just fine.

You know, @HardballChris, Medicaid also allows the severely disabled to be cared for at home rather than in institutions Ö Talk about this!

When Iím removed from my home and forced into an institution because of the #AHCA and its Medicaid cuts, will @marcorubio come visit?

You know, Trump telling NATO to basically, arm-up, makes me feel Ö uneasy. The world powers arenít militarily soft. Itís like he wants WWIII.

Trump wouldnít say a strong word against Russia if you held a gun to his head.

Trump just makes me sick, physically sick. He wears ignorance like a badge of honor, he isnít fit for office.

I really dislike how people try to ascribe some kind of strategy to Trumpís ramblings Ö He has NO STRATEGY, he has NO ELABORATE plan Ö

I miss the @BarackObama days when @MSNBC was tame tv because President Obama never said anything CRAZY and the governing was smooth.

Ending Michelle Obamaís childrenís health and education programs is just spiteful Ö

Trumpís a psychotic surrounded by enablers.

The Handmaid's Tale Ö It's fucking disturbing, and amazing Ö We cannot allow the unthinkable to become ordinary.

The HyperTexts