The HyperTexts
Israel's Amud Annan "Pillar of Fire" and the Child Martyrs of Gaza


by Michael R. Burch, an editor and publisher of Holocaust and Nakba poetry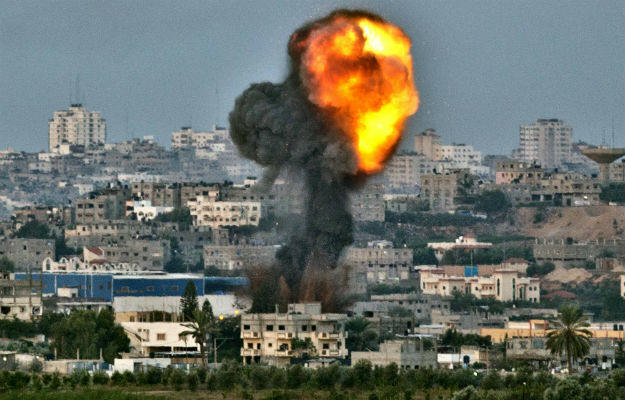 Note: Since the article below was written about Israel's "Pillar of Defense," there has been a new military offensive against Gaza called Operative "Protective Edge" or "Defensive Edge." These are clearly not "defensive" operations, but highly offensive attacks against 1.8 million civilians, most of them completely innocent children and their mothers.

Israel's latest military operation against Gaza has been named Amud Annan, or "Pillar of Defense." But this "Pillar of Defense" seems to be a smokescreen and should more accurately be called "Pillar of Fire," since Amud Annan was a column of fire and smoke that led the ancient Hebrews to highly offensive orgies o

f

ethnic cleansing and genocide during the first invasion of Palestine, according to the Bible. Now, once again, completely innocent Palestinian women and children are suffering and dying because men with massively superior military power want to take their land and water without paying for it. Anywhere else in the world that w

ould be

called armed robbery and the murder of innocents! Surely it is time for the world to end the charade that the laws of civilization and human decency apply to every nation on earth except Israel.

Israel claims the right of "defense" against terrorism, while practicing terrorism on a much larger, daily, systematic basis. What Israel lacks is a national sense of justice. The U.S. went through a similar period of national brat-hood, when it denied justice to Native Americans and African Americans. The result was massacre after massacre and the Civil War, with more than a million casualties and much of the nation in flames. Large-scale racial injustices will always result in large-scale violence on both sides. Here on planet earth, peace requires justice and justice requires equality. Israel has still not learned the first and most important thing about democracy, which is the need for equality and justice.

Moshe Sharett, Israel's second Prime Minister, once asked: "Do people consider that when military reactions outstrip in their severity the events that caused them, grave processes are set in motion which widen the gulf and thrust our neighbors into the extremist camp? How can this deterioration be halted?" His questions are rhetorical, because military "solutions" cannot correct large-scale racial injustices. Only fair, nonracist laws and courts can correct racial injustices.

I am an editor and publisher of Holocaust poetry, not an anti-Semite or enemy of Israel. But I strongly and firmly believe that all nations are responsible for establishing equality and justice for all human beings, not just the self-appointed "chosen few." In particular, all nations must respect and protect the human rights of all children, which Israel and its superpower patron the United States have clearly failed to do in regard to Palestinian children and their families. We need to consider the sage advice of two of the world's greatest hearts and minds:

The births of all things are weak and tender,
therefore we should have our eyes intent on beginnings.
—Michel de Montaigne

If we are to have real peace in the world,
we will have to begin with the children.
―Gandhi

Warning: The images on this page are graphic ... the evidence of a new Holocaust, the Nakba, which is Arabic for "Catastrophe."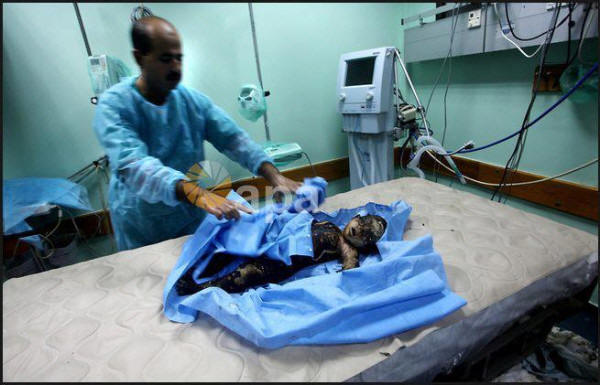 A tiny baby charred to death by Israel's Pillar of Fire.




Israel has been accused of using white phosphorous bombs against the smallest and most innocent human beings: babies.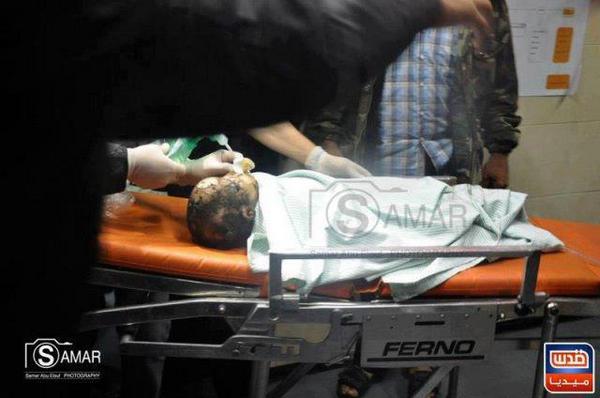 Babies have become the victims of Israel's advanced weapons, including white phosphorous bombs ... a killing inferno.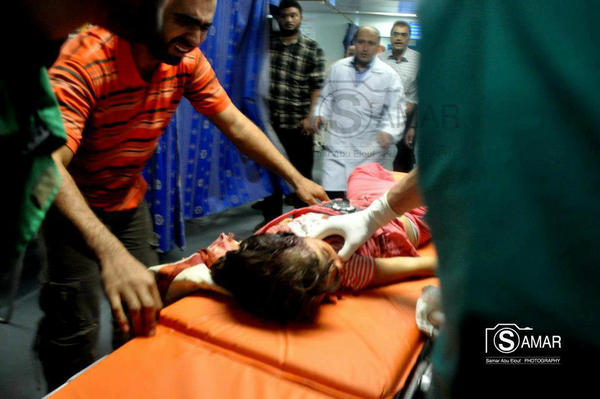 Raneen Yousef Arafat, age four, killed in Gaza by an Israeli airstrike during Operation Pillar of Fire on November 14, 2012.

Epitaph for a Palestinian Child

by Michael R. Burch

I lived as best I could, and then I died.
Be careful where you step: the grave is wide.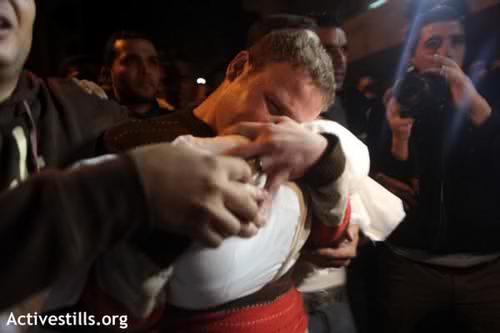 Omar Masharawi, dead at 11 months old, is held by his father, BBC correspondent Jihad Masharawi.




This is the human price of Israel's land-grabbing, apartheid and ethnic cleansing.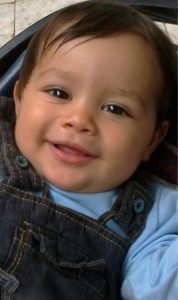 This is Omar Masharawi, a beautiful child full of the promise of life, before Israel murdered him.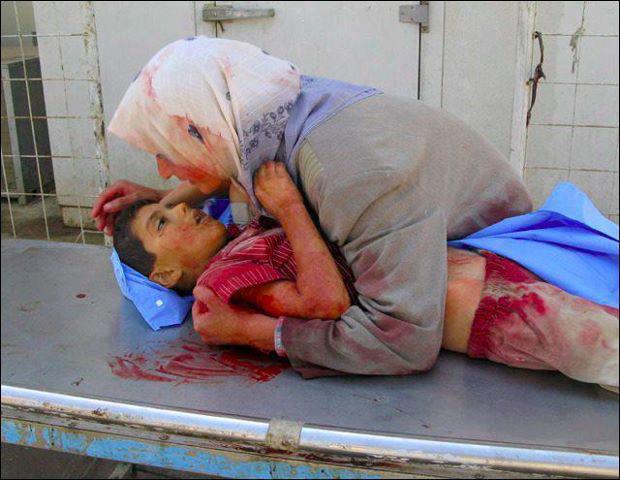 Another tragic scene that reminds us of the Holocaust.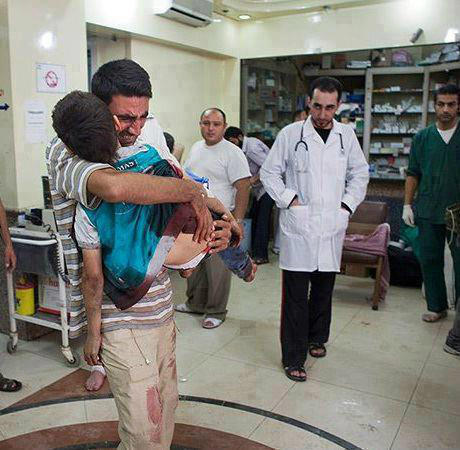 A father hugs his dead son after the doctors couldn't save him.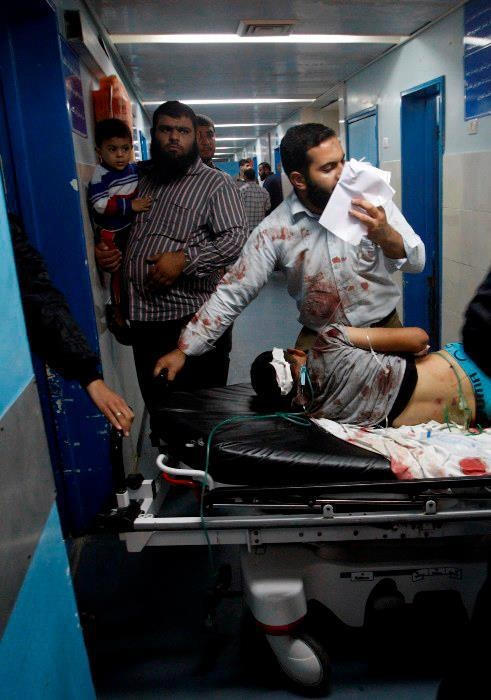 All too often, the victims of Israeli air strikes and missiles are innocent children. According to If Americans Knew, more than 1,400 Palestinian children have been killed by Israel since the year 2000, a number that is constantly increasing. "The majority of these [Palestinian] children were killed and injured while going about normal daily activities, such as going to school, playing, shopping, or simply being in their homes. Sixty-four percent of children killed during the first six months of 2003 died as a result of Israeli air and ground attacks, or from indiscriminate fire from Israeli soldiers."

While the latest military operation against Gaza has been called "Pillar of Defense" and "Pillar of Cloud," the Hebrew name Amud Annan was taken directly from Exodus and refers to the pillar or column of fire that at the time of Moses led the ancient Hebrews from one war to another, culminating in the original invasion, ethnic cleansing and genocide of Palestine. There was nothing "defensive" about the column of fire, as Moses and his protégés Joshua and Caleb slaughtered multitudes of defenseless women and children, according to the Bible, making it unlikely that they were being led by a loving, wise, enlightened God. And history does seem to have a way of repeating itself, as in 1948 the first major action of the new state of Israel was to destroy hundreds of Palestinian villages and turn approximately 750,000 Palestinians (mostly weaponless, defenseless farmers and their families) into homeless refugees. Approximately 80% of the people living in Gaza today are refugees and their descendents.

I have dedicated the poem below to the memory of Raneen Yousef Arafat, a four-year-old Palestinian girl who was killed by an Israeli airstrike on Gaza. Please feel free to share the poem or email it ...

For a Child of Gaza, with Butterflies

by Michael R. Burch

Where does the butterfly go
when lightning rails, when thunder howls,
when hailstones scream while winter scowls
and nights compound dark frosts with snow?
Where does the butterfly go?

Where does the rose hide its bloom
when night descends oblique and chill,
beyond the capacity of moonlight to fill?
When the only relief's a banked fire's glow,
where does the butterfly go?

And where shall the spirit flee
when life is harsh, too harsh to face,
and hope is lost without a trace?
Oh, when the light of life runs low,
where does the butterfly go?

According to Reuters during the early stages of Israel's Operation Pillar of Fire, "Panicking civilians ran for cover and the death toll mounted quickly. Ten people including three children were killed, the health ministry said, and about 40 were wounded. Also among the dead were an 11-month-old baby and a woman pregnant with twins."




Israel's Pillar of Fire sets Gaza aflame, incinerating babies and their mothers.

What happens to prospects for world peace when Israel chooses to massacre Palestinians rather than return enough land for them to live normal lives?

"The two-state solution could disappear completely as an option very soon," according to British Foreign Secretary William Hague, speaking in Cairo as Operation Pillar of Fire continued to unfold. "We are in danger of sleepwalking into a serious crisis." He was making a point about Israel denying Palestinians any chance at normality, then attacking Gaza as the Israeli-Palestinian relationship constantly deteriorates as a result, making peace impossible.

Gaza s

eems to

be a smokescreen for Israel's land-grabbing in the West Bank. Israel recently published its tender for the construction of more than 2,000 housing units in East Jerusalem and the West Bank. Arab East Jerusalem, the putative capital of a Palestinian state, has witnessed twice the number of Israeli housing tenders this year than in the previous three years combined. Meanwhile, Israel's hawkish foreign minister, Avigdor Lieberman, has urged that the Palestinian President, Mahmoud Abbas, should be toppled from power if he presses ahead for UN recognition of the state of Palestine. Lieberman seems to think any Palestinian state should occupy only 40% of the West Bank, which would mean that Israel would have 92% of the land of Palestine despite Palestinians having a much larger population, especially if the refugees are considered. How is that fair?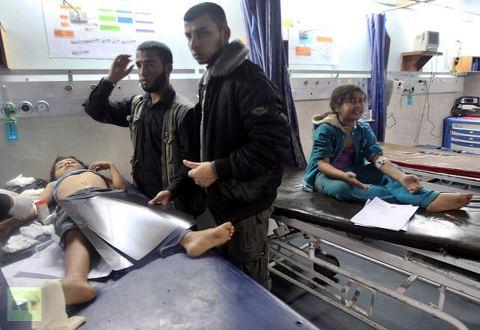 More small victims of Israel's advanced weapons, supplied in support of apartheid and ethnic cleansing by U.S. taxpayers, to the tune of billions of dollars per year.

Frail Envelope of Flesh

by Michael R. Burch

Frail envelope of flesh,
lying cold on the surgeon's table
with anguished eyes
like your mother's eyes
and a heartbeat weak, unstable ...

Frail crucible of dust,
brief flower come to this—
your tiny hand
in your mother's hand
for a last bewildered kiss ...

Brief mayfly of a child,
to live two artless years!
Now your mother's lips
seal up your lips
from the Deluge of her tears ...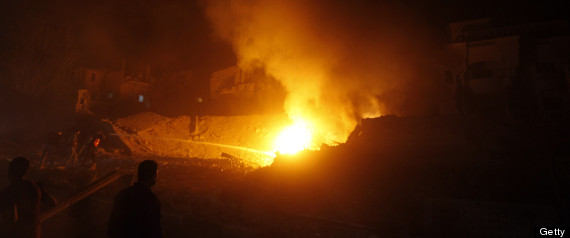 More carnage.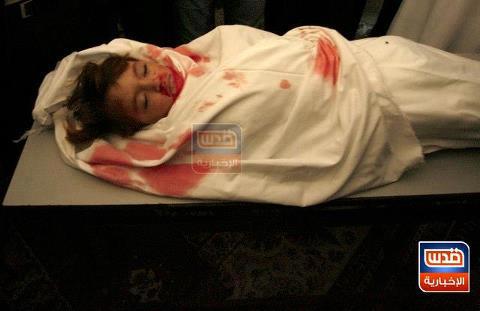 The body of two-year-old Palestinian Walid Abadleh, killed in Israeli airstrikes, is brought for prayers before his burial in the southern Gaza Strip town of Khan Yunis on November 15, 2012.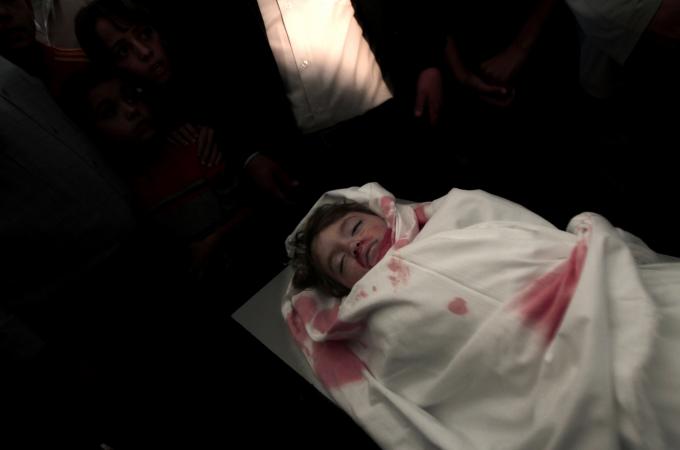 Is "free" land for Jewish robber barons worth this terrible price?


More shell-shocked Palestinian children; what if they were our children? Are they not our children, and the world's?

These are the names of just a

few

of the other Palestinian babies and children martyred for the sake of Israel's racist land-grabbing. There are, unfortunately, many others ...

Omar Masharawi; 11 months old; al-Sabra
Walid Abadleh; 2; Khan Yunis/Gaza
Maram Emad Hssouna; 3; Ramallah
Ahmed Reyad Mohammed al-Sinwar; 3; Al-Zahra City/Middle Gaza
Sidqi Zeyad Mahmoud al-'Absi; 4; Yebna Refugee Camp/Rafah
Tamer Hassan Ali al-Akhras; 5; Al-Zaytoon/Gaza
Samar Anwar Khalil Ba'alousha; 6; Jabaliya Refugee Camp/Northern Gaza
Dina Anwar Khalil Ba'alousha; 6; Jabaliya Refugee Camp/Northern Gaza
Mu'ath Yaser al-'Abed Abu Teir; 6; Abasan al-Kabira/Khan Younis
'Uday Abdul Hakim Rajab Mansi; 6; Deir al-Balah /Middle Gaza
Ahmed Amin Al-Khuffash; 7; Salfit
Ebtehal Abdullah Tawfiq Keshko; 8; Al-Zaytoon/Gaza
Jawaher Anwar Khalil Ba'alousha; 8; Jabaliya Refugee Camp/Northern Gaza
Sami Fathi Abu Jazar; 12; Rafah
Eyad Ossama Shaath; 12; Khan Yunis
Mohammed Saleh El-A'rja; 12; Rafah
Mo'ayyad Usama Al-Jawarish; 13; Bethlehem
Wae'l Mahmoud Emad; 13; Jabalia
Mohammed Khater Al-E'jleh; 13; Al-Shojae'ya/Gaza
Salim Mohammed El-Hamayda; 13; Rafah
Jehad Suhail Abu Shahmeh; 13; Khan Yunis
Abdel-Rahman Ziad El-Dahshan; 14; Al-Zaytoun/Gaza
Karam Fathi El-Kurd; 14; Rafah
Mohammed Mohammed El-Mashharawi; 14; Al-Tuffah/Gaza
Mohammed Ibrahim Hajjaj; 14; Shojaeya/Gaza
Ahmed Suleiman Abu Tayeh; 14; Al-Shati/Gaza
Alla' Mohammed Mahfouzh; 14; Hebron
Rae'd Abdel-Majid Daoud; 14; Hares/Salfit
Fares Fae'q Oudeh; 14; Al-Zaytoun/Gaza
Mousa Ibrahim El-Debes; 14; Jabalya
Shadi Ahmed Za'oul; 14; Housan/Bethlehem
Alla' Bassan Abdullah; 15; Salfit
Ashraf Habayeb; 15; A'skar/Nablus
Ramzi A'adel Bayatneh; 15; Abu Qash/Ramallah
Ibrahim Hassan Al-Moqannan; 15; Khan Yunis
Aysar Hammoudeh Hassis; 15; Jenin
Majdi Ali A'abed; 15; Gaza
Salah Fawzi Nejem; 15; Al-Maghazi
Rami Ahmed Abdel-Fattah; 15; Hazma/Jerusalem
Bahir Saleh Shalawi; 15; Qalqilya
Ibrahim Rezeq Omar; 15; Al-Shati/Gaza
Wjdi A'llam Hattab; 15; Tulkarm
Ossama Mazen A'zzouqa; 15; Jenin
Mahmoud Nafedh Abu Naji; 15; Sheikh Radwan/Gaza
Saber Khamis Ebrashi; 15; Al-Ama'ri/Ramallah
Ahmed Samir Bassal; 15; Tal El-Hawa/Gaza
Jaddou' Manei' Abu Al-Kebash; 16; Al-Samou'/Hebron
Ahmed Sae'id Sha'ban; 16; Jenin
Omar Ismail Al-Boheisi; 16; Deir El-Balah
Samer Talal Al-Oweisi; 16; Qalqilya
Nedal Mohammed Aibaki; 16; Gaza
Yasser Taleb Nabtiti; 16; Tulkarm
A'mmar Salim El-Mashni; 16; Beit O'ur/Ramallah
Moutaz Azmi Ismail (Teilakh); 16; Al-Doheisha/Bethlehem
Mohammed Abdel-Jalil Abu Rayyan; 16; Halhoul/Hebron
Maher Mohammed El-Se'idi; 16; Al-Boreij
Ibrahim Fuad El-Qassas; 16; Khan Yunis
Mohammed Mesbah Abu Ghali; 16; Khan Yunis
Sami Hassan Salama; 17; Tulkarm
Walid Mohammed El-Badan; 17; Taqqoua'/Bethlehem
Medhat Mohammed Jadallah; 17; Zuhair
Mustafa El-Hattab; 17; Al-Tuffah/Gaza
Mahmoud Abdullah Yahia; 17; Kufor Rae'i/Jenin
Alla' Abdel-Latif Abu Jaber; 17; Al-Moghayar/Jenin
Tareq Ismail Hantoli; 17; Jenin
Sae'd A'dnan Al-Tanbour; 17; Nablus
Thae'r Ibrahim El-Zeid; 17; Jalazon/Ramallah
Khaled Ahmed Rezeq; 17; Hazma/Jerusalem
Mohammed Nawwaf El-Ta'ban; 17; Deir El-Balah
Yahia Nayef Abu Shammala; 17; Kan Yunis
Ossama Samir Al-Jerjawi; 17; Al-Daraj/Gaza
Mohammed Nasser Al-Sherafi; 17; Al-Nasser/Gaza
Ibrahim Abdel-Rao'uf Je'idi; 17; Qalqilya
Samer Mohammed Al-Khadhour; 17; Al-Fawwar/Hebron
Ibrahim Ahmed Othman; 17; Rafah
A'bdel-Mone'm Mohammed Ezzeddin; 17; Arrabeh/Jenin
Mahdi Qassem Jaber; 17; Qalqilya
Abedel Hmid Taye' Zeq; 18; Al-Mazra' Al-Sharqia/Ramallah
Hilal Rashad Salahat; 18; Ya'bad
Mahmoud Abdel-Jawad Ese'id; 18; Hazma/Jerusalem
Khalil Yousef Sa'd; 18; Al-Shati/Gaza
Mahmoud Kamel Abed Shorrab; 18; Khan Yunis
Munib Mohammed Barakat Abu Monshar; 18; Hebron
Mohammed Nasser Al-Tawil; 18; Khan Yunis
Fathi Oudeh Joma'a Salem; 18; Tulkarm
Rami E'mad Yassin; 18; Gaza
Taysser A'dnan Abu El-A'rraj; 18; Khan Yunis
Zakaria Hammodeh El-Khour; 18; Al-Sabra/Gaza
Ahmed Hassan Dahlan; 19; Khan Yunis
Yazan Mohammed Halaiqa; 19; Al-Sheyoukh/Hebron
Mohammed Mustafe El-Jazzar; 19; Rafah
Ayman Salah Wadi; 19; Khan Yunis
Emad Adib El-Dayeh; 19; Al-Shati/Gaza
Karam O'mar Qannan; 19; Khan Younis
Thae'r Ali Daud Moa'lla (Al-Malhi); 19; Al-Ama'ri/Ramallah
Ziad Ghaleb Selmi; 19; Qalqilya
Ashraf Abdel-Karim El-Bassous; 19; Gaza

The HyperTexts